How Super Are Lion City Sailors Superfans? One Of Them Shows And Wows Us
For some, football is a fun thing to watch over the weekend with the bros, and participating in the lifelong debate about whether Liverpool or Manchester City is going to win this year's EPL.
For others, football is practically a religion - and mad respect sia if the team they support is their hometown squad whose members are all but relatable idols primed for feverish worship.
That's what newly crowned Singapore Premier League (SPL) Champions Lion City Sailors (LCS) are to Aiman Rifqi, a diehard fan of the team since they were called Home United. ICYMI the name change occured when local tech firm Sea (parent company of Shopee) took ownership of the club in early 2020.
The YouTuber from Choa Chu Kang is currently doing national service with the Singapore Police Force and deployed under the Airport Police Division Unit. Does a passion for SPL unite him and his NS mates? "Nope, they only focus on world football. None of them know much about Singapore football," Aiman says, laughing. We hear you, bro - smh. SPL fans can totally relate.
The 21-year-old LCS superfan is also the main man behind the Lion City Sailors Adventure Vlogs, which chronicled the Sailors' journey towards their maiden championship in 2021 from the perspective of the fans.

Tip: If you're new to the SPL and have heard rumblings of LCS, Aiman's vlog is the best way to get acquainted with the champions - the first local team to win the SPL since 2014.
So... exactly how does Aiman - who is also a founding member of LCS fan club The Crew - put the "super" in "superfan"? Let us count the ways by making some comparisons between him and the casual football follower.
1. He is (and will be) loyal to the very end
A casual fan... watches the usual EPL teams.
This LCS superfan... supports his hometown SPL football team - no matter what.
Says Aiman: "Before LCS was formed, it was formerly known as Home United and I'd been supporting them since 2015. Despite the privatisation, I remained supportive of the club and still gave my heart regardless of its status because I wanted to remain loyal to the football club that made me love Singapore football in the first place.
"The Lion City Sailors mean so much to me because of how much the club has acknowledged its supporters, myself included. The Sailors are more than just a football club with big ambitions. It's a place where everyone can feel inspired to dream big and soar high with whatever ambitions we have in life."
2. He gladly experiences the highs and lows of football
The casual fan... watches football over the weekends on TV.
This LCS superfan... hosts a vlog of the match "live" at the stands and interviews the players.
Says Aiman: "The idea of creating vlogs started back when LCS was just getting started. I did two episodes of the Adventure Vlogs in 2020 but due to the poor equipment and quality, it wasn't as amazing as I had hoped it would be. The series was halted after the pandemic and the series was shelved until last year. I restarted the vlog series once fans were allowed to return to the stadiums.
"Plus, it was a close title race between Sailors and Albirex Niigata Singapore and I wanted to vlog the journey towards the SPL title. The 10 episodes left a special unforgettable memory. Through the highs and lows, even the viewers could experience the intensity in each episode, as if they were part of it too.
"[Those] vlogs were never just about the team. It was about everyone on and off the field who made a significant difference to winning our first title!"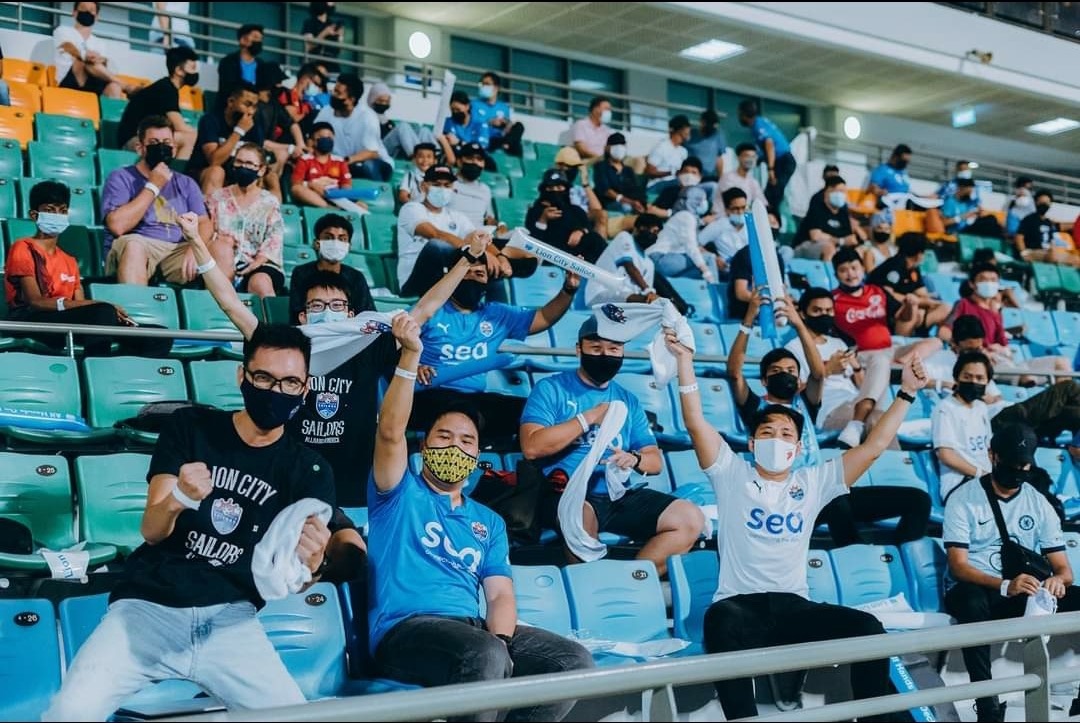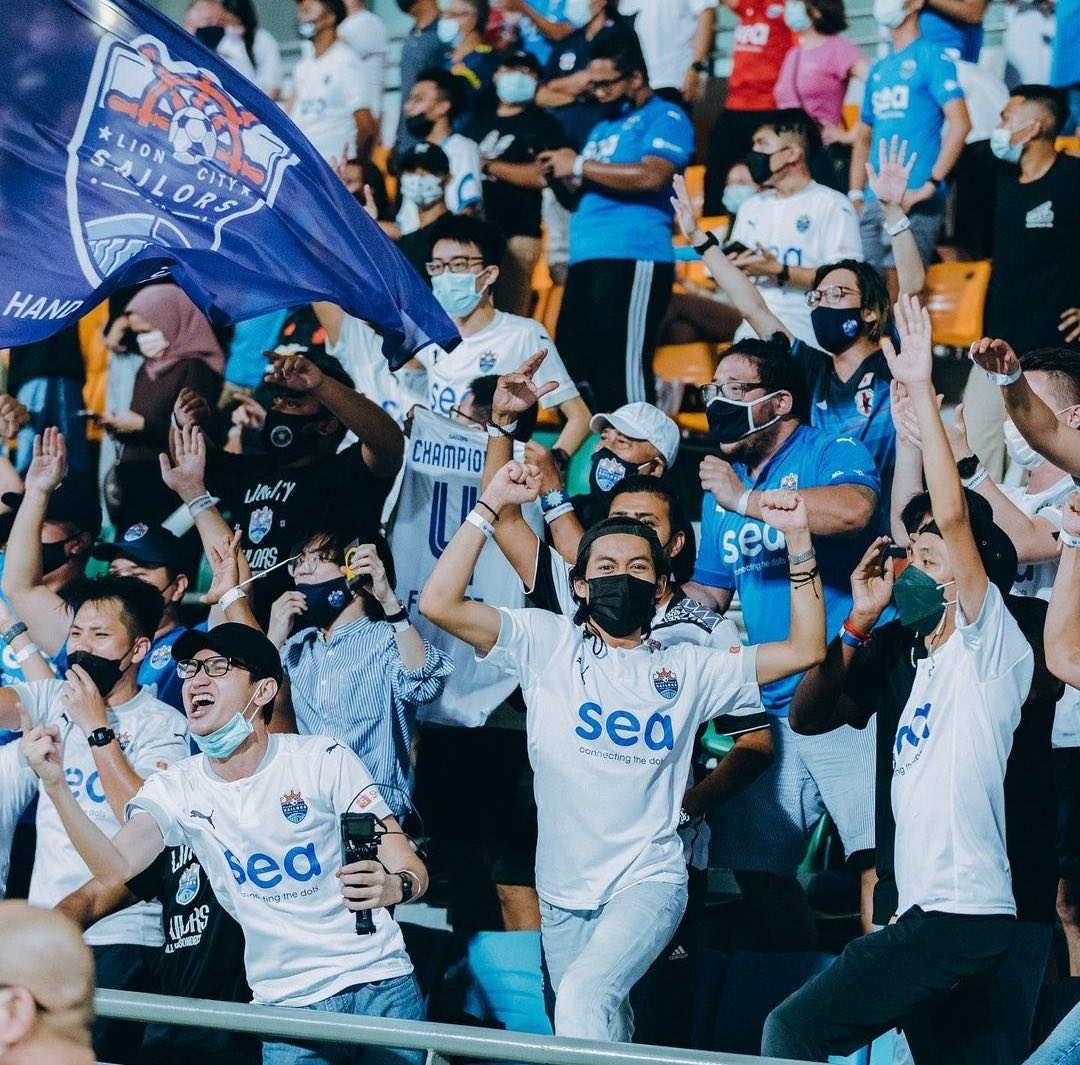 3. He helps to build a spirit of community
The casual fan... attends football matches and leaves when it ends.
This LCS superfan... starts a fan club called The Crew, which leads the fan chants at the stadium to support the team!
Says Aiman: "The Crew wasn't actually a thing when the Sailors were formed. We were on a transition from being the Homeboys (Home United fan club) to the Sailors Supporters Club. Only four of us remained (Eddy, Wen Qing, Ethan, and myself), and we were the only ones who decided to keep supporting the club as it went through privatisation.

"We first heard about an Instagram account called 'The Crew' in March 2021, which the founder, Kim, created out of the blue. We decided to approach him to see if he would be interested in joining forces with us, and thank goodness he said yes! The Crew became formalised when another new friend of ours, Joseph, also joined the group and we ended up becoming the core members of The Crew.
"Eddy is our main man in-charge of the group as he has super close connections with the club and he is basically our go-to guy for LCS games and other important information.
"Kim remains in-charge of handling our social media accounts as he himself created The Crew on instagram, while Ethan, Joseph, and Wen Qing are in charge of fan-chants since they have the voice to lead the fans.
"I can lead the chants too, but I'm mostly in-charge of content creation on YouTube since I've been doing so for quite some time.
"We caught so many people's attention and they ended up joining The Crew. We ended up having lots of supporters of different races, and we also have supporters outside Singapore, from Australia, South Africa, and Canada, for instance. It blows my mind!
"I believe it's because of our motto, 'All Hands On Deck', which is something we have always followed since Day 1 - and everyone believes that they can be a part of it too. We believe in uniting everyone together regardless of race, language, or religion, and everyone can support the club that has become the local heartbeat of football!
"That's why we've become one of the biggest fanbases of Singapore Football, and I'm super proud of how far we have come."
4. He makes the team his life; and the team changes his life
The casual fan... forgoes the match if there's a date with bae, and gets results on LiveScore.
This LCS superfan... cancels dates and bro meetups to accommodate LCS events, and schedules his life around his fave football team.
Says Aiman: "There've been times when I've chosen football over friends and family. I have to be brutally honest about this because football is part of my heart and soul.
"Before the Sailors or even the early days of running my own football club (Ed's note: Aiman is a co-founder of his neighbourhood football team Teck Whye Squad), I never really had friends outside of football. It was a harsh and lonely world for me as I was not a good friend to begin with.
"I made so many mistakes in the past that led to me being alone. These mistakes are hard to forget as they've impacted my social life outside of football very badly. I'd always eat alone, watching football videos - I've gotta admit, it was one of the darkest times I've ever experienced in my life.
"While I witnessed my former friends succeed with their own batch of friends, I was on my own with nothing to motivate me in almost everything.
"It's hard to create content when you're alone and no one is there to give you the moral support you need. Although I had my family, my close friends in my team, and my subscribers, I still felt empty and depressed.
"That's when Sailors became a thing, and with the additional support from the core members of The Crew, I felt a huge relief, and I started to enjoy creating content again.
"Even though I did get closer to my family and friends, it was because of Sailors that my motivation to become whomever I wanted to be was back at 100% - no, make that 300%!
"It felt like a second home. There's a well known phrase: "there's no place like home", and indeed, there is no other place. I can't imagine what it would be like without the Sailors being part of my life, and I thank God for this blessing in disguise."
5. He analyses the team and knows it through and through
The casual fan... can name their favourite players and the first team.
This LCS superfan... can name every member of the LCS team, and even knows players in the youth team and the club's up-and-coming stars.
Says Aiman: "I believe that you should keep a lookout for Nur Adam (above) and Hami Syahin (top)! Nur Adam has been rocking the SPL since he joined Sailors and you have to admit, he was one of the reasons why our defence was really impressive throughout 2021.
"As for Hami Syahin, he came back after being on loan to the Young Lions. I was impressed with his work-rate in 2019 when he was playing in Home United. I think everyone - especially new fans of local football - should be on the lookout for these upcoming stars."
For the latest updates on Wonderwall.sg, be sure to follow us on Facebook, Instagram and Telegram. If you have a story idea for us, email us at [email protected].