Spotify Spotlight: Thanimai (Solitude) by Shabir
They say it's lonely at the top.
Thankfully, for prolific local singer, actor, and Kollywood producer Shabir, he is anything but. Which could mean he's either very blessed or he's not at the top. Yet.
But Shabir is definitely on the up and up, and his CV is, oh, how shall we put this eloquently, sibei tok kong. Here are some highlights:
- he was the inaugural winner of Vasantham Star in 2005.
- he composed the beautiful "Singai Naadu" in 2012, prompting Prime Minister Lee Hsien Loong to gush in a Facebook post: "Among our National Day songs, Singai Naadu is one of the most soulful and heartfelt."
- he received the Edison Award for Best International Artiste in 2013.
- he was the first Singaporean to sign a deal with Sony Music India in 2017, and a recipient of a Singapore Youth Award in the same year.
- his hit song "Yaayum" from the movie "Sagaa" has garnered millions of views (and we're talking one hundred million collective views) on YouTube.
Following the release of his latest single, "Thanimai" (Tamil for "solitude"), which was inspired by countless stories of couples being separated during the Circuit Breaker, we speak to the illustrious and very inspiring 35-year-old about going through 2020 as an artist, being a young father, and the challenges of dividing his time between Chennai and Singapore, and get a sense of why "thanimai" is something he won't be experiencing any time soon despite his success.

How has a prolific songwriter, actor and composer like yourself survived 2020?
Although live performances came to a halt, musicians could still create music. That's the greatest blessing of technology. If this pandemic happened 15 years ago, it would have been so difficult because you still needed to get into the studio to complete stuff, you know. So in that sense, this is the silver lining.
I actually put out a lot of work this year that was not commissioned - independent, community work, like "Letters" that we did with Teng Ensemble and CMSC (COVID-19 Migrant Support Coalition).
So, instead of halting, I think it made me make my team and I work harder, and do the best we can to serve people around us through our music, and also explore ourselves by creating music.

"Letters" was the title of a series of musical webisodes that Shabir created in collaboration with CMSC (COVID-19 Migrant Support Coalition) to uplift the spirits and bring some cheer to our migrant worker friends.
What was the biggest challenge for you in crazy 2020?
The biggest challenge was not travelling to Chennai (I'm based there), because I love that city. I love the industry. I love the people there.
[Being there] makes a difference to me. There's a psychological shift - I'm on the edge and competitive when I'm in India. So, trying to keep that competitive spirit, while being in Singapore, was one of the biggest challenges.
But, at the same time, I could actually catch up with all the things that I missed in Singapore - primarily, a lot of time with family and friends. So that was a huge blessing in disguise, in that sense.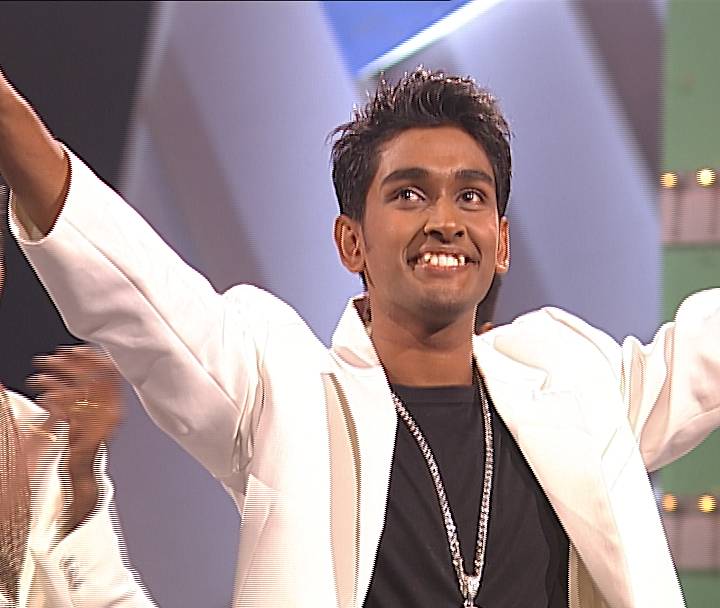 It's been fifteen years since you were crowned the inaugural Vasantham Star. What is your secret to success and longevity in the music business?
I think the one thing that keeps me going in the industry is, I'm very curious. I always see myself as a student of the game. I have so much to learn and so much to contribute. And this will happen even when I'm 50, 60, 70, I'll always be changing course, changing my direction and creating differently at that point. I'll be trying to explore my existence as a human being in this world and this time and space differently at that point, so there's always something to say, something to contribute.
The other thing that helped was going to India in 2016 - it was like a semi sabbatical for me, when I wasn't very active in Singapore anymore. So maybe me going missing for a while is also a secret to the longevity because when I'm back, people are like, "oh he's back!". It's not like, "I got to see this guy again and again".
If you could give 20-year-old newly-crowned "Vasantham Star" Shabir a piece of life advice, what would it be?
"You are going to meet challenges that you didn't know that you're capable of overcoming. Buckle up. Be ready. Shit is about to hit the fan!"
The song "Better" talks about 2020 being a rough one and how "tomorrow will be better". But it's also quite significant when you think of those lyrics in terms of your rough teenage years, involvement in gangs, and how you've emerged stronger. How did you cultivate such a strong, resilient, fighting spirit?
There is this Rumi quote: "When someone beats a rug, the blows are not against the rug, but against the dust in it." I think that's what life does to us, we go through so many challenges, only to strengthen ourselves purify ourselves and become stronger.
As long as you believe that you have a purpose, and you can bring about even a very small amount of change through your words, your deeds, your work, whatever work it may be, will definitely have the spirit to continue fighting no matter how hard life knocks you down.
In June, we saw your touching Father's Day post. And recently, one of your daughters just started secondary school! In this day and age, it's very rare for someone your age to already be a father of two grown daughters. What was the biggest challenge being such a young parent?
Thank you so much for noticing all that! I think a lot of people take the route where they prepare themselves to be parents - financially, emotionally - before becoming parents. But in my case, you know, I had to work on that, while I had the kids, so it was very different.
It was definitely challenging, but also a blessing because the age gap between us is very minimal so we can actually vibe to the same music, we share each other's playlists, and we check out songs and share the songs on WhatsApp to each other. That's the good thing about being a young father - so much energy to play with them, and be curious about what they are curious about - whatever they are listening to and watching and experiencing, you're also able to, because, you know, you're just a little bit older than them.
I really think having daughters made me a better man.
You divide your time between Chennai and Singapore. Would you say you have two homes? Or will Singapore always be #1?
Singapore is definitely my home, for sure. This is where I come from. This is the place I was born. But Chennai is the city where I really live and the whole of Tamil Nadu is a beautiful state with so many beautiful people.
I will always love Chennai, as a Singaporean.
---
Wonderwall.sg on Spotify
Yes! We're on Spotify. Check out our "I M SGPN" playlist comprising all the cool local artists we fetaure in our Spotify Spotlight series:
Click the tag "Spotify Spotlight" below to read all our other Spotify Spotlight articles.
For the latest updates on Wonderwall.sg, be sure to follow us on TikTok, Telegram, Instagram, and Facebook. If you have a story idea for us, email us at [email protected].