Local Productions That Put The N-tertainment In "NS"
Everyone loves to see a celebrity in peril. What's even better: seeing them in real situations like queuing up for groceries at FairPrice, waiting in line to get vaccinated, or, in the case of "CAMOKAKIS: Whole Lot Fall In", seeing them step into the shoes of the men and women who serve and protect our nation.
The action-variety series by local media and entertainment outfit So Drama! Entertainment, which kicked off on 28 Sep 2022 on Mediacorp Channel 5, sees influencers, DJs, singers and all manner of artistes braving military challenges as a way of giving us a glimpse into a soldier's life (particularly useful and eye-opening for pre-enlistees).
Why so random? Well, it's not. You see, this year marks the 55th anniversary of national service, and you probably could have guessed it from the slew of NS-related activities that have taken place so far, including the Army Open House, the distribution of NS55 credits, and the composition of an original NS55 theme song, "Back In The Day" (see below), by Don Richmond.
Here, a list of local productions (some new, one classic) that bring their A-game to entertain and educate us about national service, and celebrate this duty of keeping our home and future secure: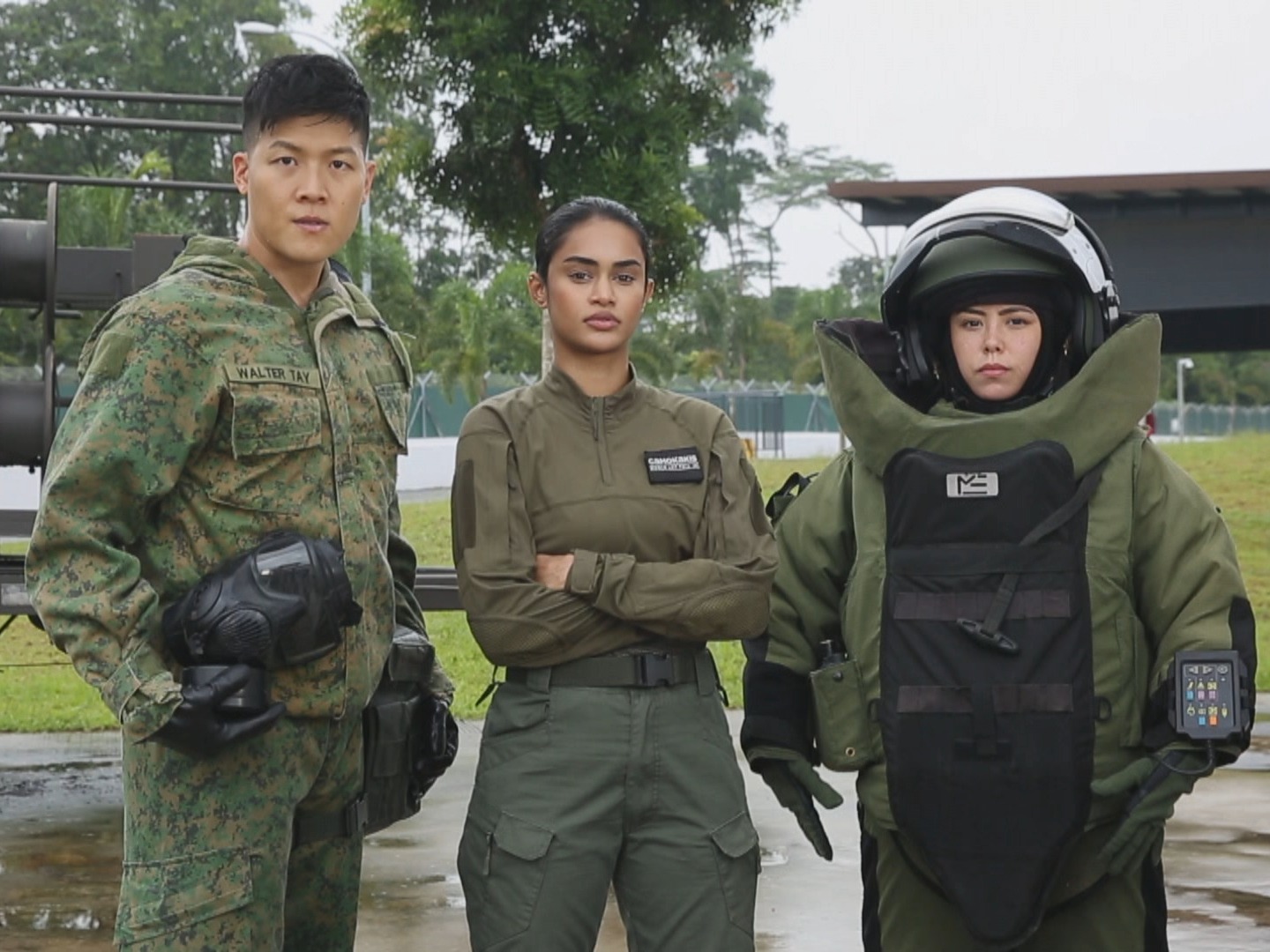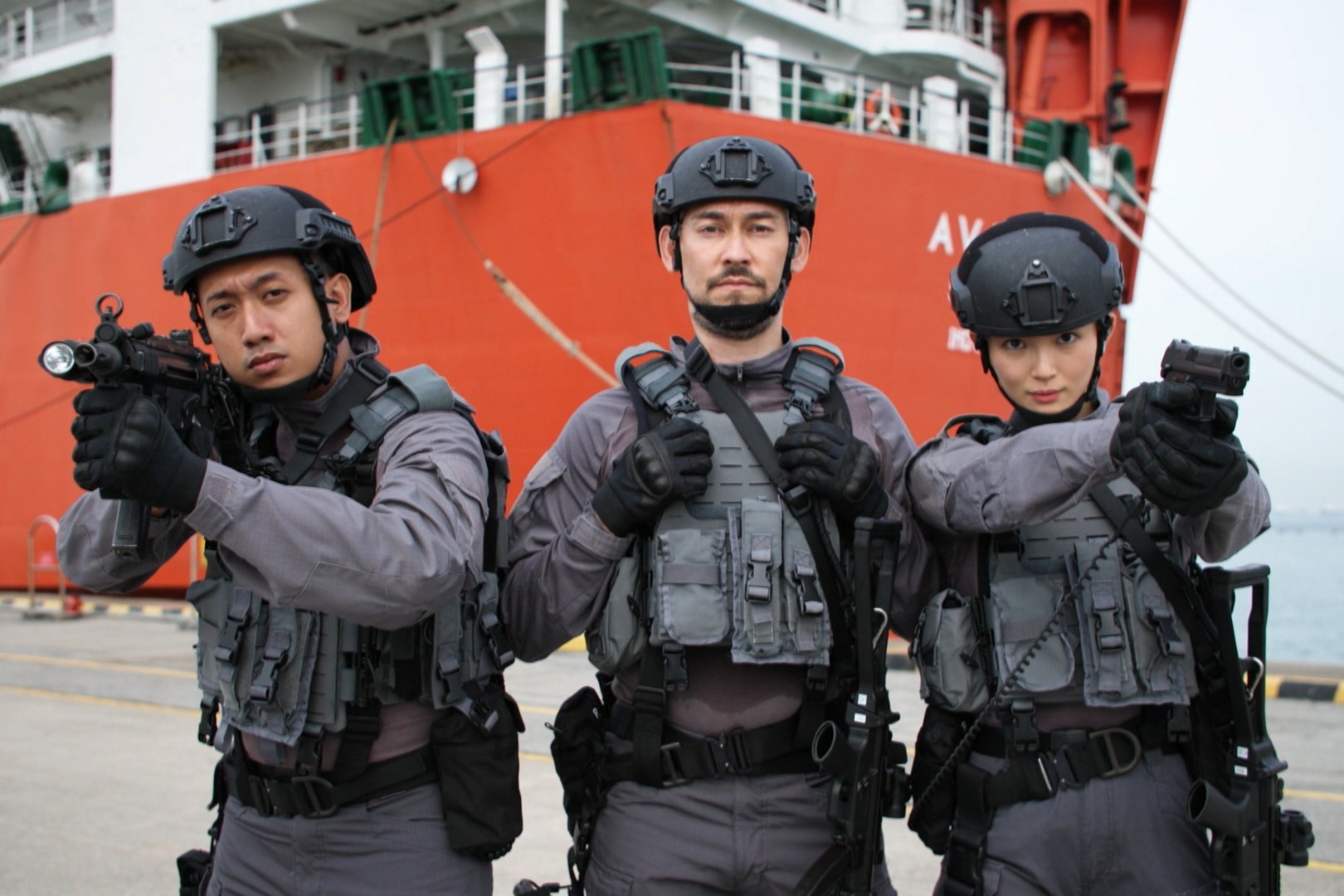 CAMOKAKIS: Whole Lot Fall In
Format: Action-variety series
Where/when to watch: Mediacorp Channel 5, every Wed, 8pm (until 21 Dec)
No. of episodes: 13
Model, actor and host Paul Foster and Miss World Singapore 2017 Laanya Ezra are the leaders of two respective celeb teams. In each episode, the teams battle it out at various locations (including Pulau Tekong, and the RSAF Aeromedical Centre), and take on challenges such as SAR-21 Live Firing, going through a Bombsuit Obstacle Course, doing a freefall tandem jump, and tackling an Underwater Knot Tying Challenge, among other SAF-related tasks.
Influencers Munah Bagharib, Tasha Low, and Tiong Jia En; DJs from Power98 and 883JIA; actors Constance Lau, Joshua Tan, Iswan Ismail, and Cheryl Chou; and comedians Das DD and Haresh Tilani are just some of the numerous personalities screaming "I'm a celebrity... get me out of here!" locked in combat to see if they've got what it takes to defend our land, sea and skies, while educating us about the Singapore Army, Republic of Singapore Air Force and Republic of Singapore Navy.
---
When Duty Calls 2
Format: Drama series
Where to watch: MeWatch or YouTube
No. of episodes: 20
Set against a backdrop of the Army Deployment Force's training and missions is a riveting love triangle that involves strong, silent and aloof Chan Oon King (OK Chan, played by Tyler Ten); the object of his affection Pey Jing Yu, a tomboyish medic officer played by Felicia Chin; and romantic rival Apollo, a helicopter pilot played by Nick Teo, who is also after Jing Yu's heart.
---
Back In The Day
Format: Music video
There are countless phrases tied to NS, so why did composer Don Richmond zero in on "back in the day" when he wrote the NS55 theme song?
"I think 'back in the day' is easily the most common phrase among generations of NSmen - everyone insisting that their time was the toughest and most siong!" says Don. "And it's almost like a badge of honour in claiming your 'back in the day'... so I thought that phrase would be a great jumping off point to be the pillar of the song."
And "Back In The Day" doesn't just end at a music video - there's also a TikTok dance challenge, featuring TikTok star and dancer Kevin Tristan.
How's that for putting the N-tertainment in "NS"? Take that, Uncle Raymond!
---
Zombiepura
Format: Horror-comedy film
Where to watch: Disney+
In this genuinely hilarious and entertaining 2018 piece directed by Jacen Tan, a lazy reservist soldier (Alaric Tay) and a tough commander (Benjamin Heng) have to put aside their differences to battle zombies animated by a mysterious virus in an ulu army camp.
The premise is so ridiculous, it couldn't be better! Fun fact: the film might be just over 70min long, but it took seven years for Jacen to produce. His inspiration: waking up in the wee hours of morning during NS to do guard duty, which made him feel like, you got it, a zombie.
---
NS-related videos on MINDEF's YouTube
Format: Short documentaries and video clips
Where to watch: MINDEF Youtube
Ok, so this is where s*** gets real, as they say. These clips are not only informative, they're pretty useful and well produced, and make our SAF look damn seh. On this page, you'll find out what Exercise Wallaby is all about; how to navigate the new NS pay system; the capabilities of our military assets and so much more about national service and life in the SAF. The journey of every Singaporean Son ought to start here, honestly.
For the latest updates on Wonderwall.sg, be sure to follow us on Facebook, Instagram and Telegram. If you have a story idea for us, email us at [email protected].