Through Stories, Parents In Prison Are Reconnecting With Their Children
"Papa, Mama and their baby cat Sofia, lived happily under the cosy shade of their big, bright, beautiful tree. Be it rain or shine, they were always happy.
One dark and stormy night, a group of big, bad boys saw Papa fishing for supper by the river.

They threw a net over him and ran away.

Mama and Sofia waited and waited, but Papa never returned."

These are the opening lines of "Sofia", a story about a family of cats, written by Fia to his daughter while he was in prison. Following Papa's disappearance, Mama sends Sofia to school with words of wisdom from her father. After Sofia uses these words to resist bullies, Papa reappears, the story ending with an illustration of the three cats embracing within a heart.

Fia's personal story, like the one he wrote, ends on a hopeful note: now that they have been reunited through New Life Stories, a non-profit that aims to prevent intergenerational incarceration, Fia and his daughter can talk openly with each other. Sometimes they even hug.

You can read "Sofia" and more stories like it in Love Beyond the Walls: Stories from My Father, a collection of 8 heartfelt stories written by dads to their kids as part of New Life Stories' in-care programme. Here's how it works: every week, trained counsellors conduct customised self-awareness and resilience-building in-prison workshops to parents close to their release date. Parents are encouraged to write and narrate stories to their children, who receive an MP3 player filled with the recordings of stories at the end of the programme. Eventually, incarcerated individuals and their families have the opportunity to meet in person during family visits, offering parents a precious chance to further rebuild connections with their children.
Love Beyond the Walls: Stories from My Father is the second collection in New Life Stories' Love Beyond the Walls series - the first book, released in 2021, contained stories from incarcerated mothers to their children. And there are more in the works: just this week, New Life Stories invited volunteer illustrators to join their efforts.

So why stories? Countless studies have cited the benefits of reading to children. More than helping them with cognitive skills, it also gives them a sense of reassurance, which in turn deepens the familial bond – something that New Life Stories hopes that parents can reclaim even while behind bars.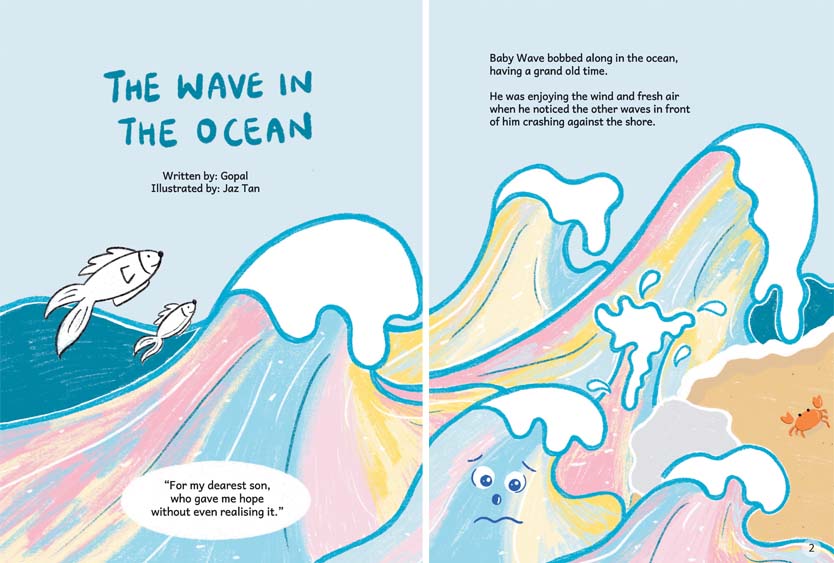 IMAGE: NEW LIFE STORIES
Take Gopal, who wrote the collection's opening tale, "The Wave in the Ocean." Whenever the lights went off, Gopal would lie awake in his cell, imagining his son being there with him, regretting the number of significant moments he missed in his wife and child's lives. Writing a story gave him a means to reconnect, and today he and his son are inseparable.

Or take W.H., whose multiple periods in prison eroded his relationships. Through the in-care programme (aptly also called Dear Papa/Dear Mama), he felt a pull to restore their relationship, and he started by writing a story – called "A Mother's Land" – which he hopes can guide his son through life.
Flip through the book and you'll find an array of tales in different genres, all lovingly illustrated by volunteers. "Qhalisah and Her Magical Ukelele", written by Adzhori, is about a girl whose music summons sunshine and rainbows. "Lessons From Nature", written by Samad, draws from his real-life desire to spend more time with his children - in this story, a father neglects his children to fish every day, only to notice that the animals around him all feed and protect their offspring.
Some of the authors wrote stories as a way to convey gratitude to their family members for never giving up on them. Suhairi, whose wife and children visited him in prison, pledged to give back to them through "The Woodcutter", about a man who restores a lonely, run-down cabin.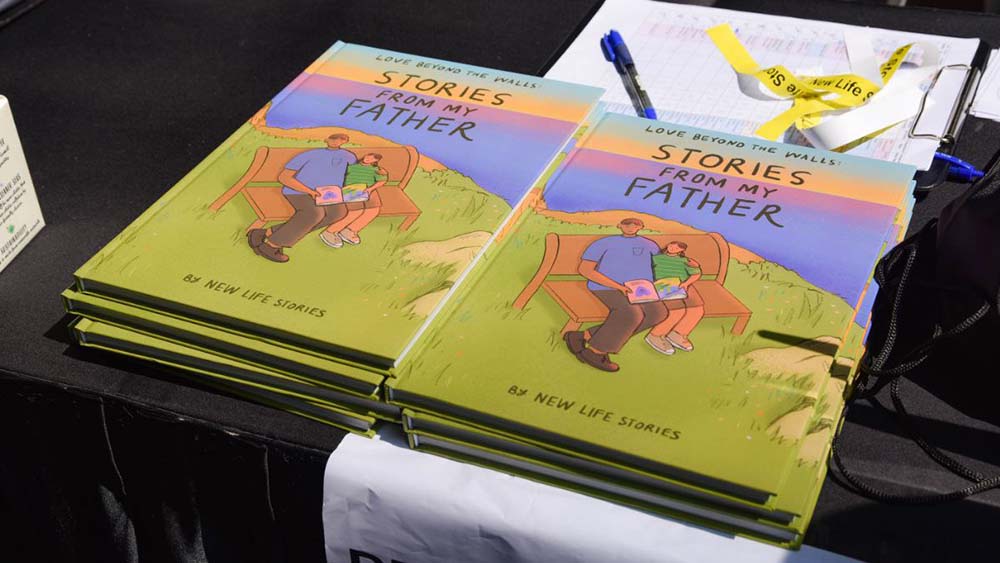 Love Beyond the Walls: Stories from My Father launched in June 2023 at an event graced by President Halimah Yacob, who also penned the book's introduction | IMAGE: FACEBOOK/@NEWLIFESTORIES

In the books opening pages, Madam Halimah Yacob writes: "Stories have a magical way of uplifting not only readers, but also its writers." Love Beyond the Walls is so much more than a collection of stories; it is a testament to the determination of parents longing for a chance to make memories with their children, even behind bars.
As the concluding line in Suhairi's story goes, "Bad times are only temporary, you can find light wherever you go if you look hard enough."
If you'd like to get your own copy of Love Beyond the Walls: Stories from My Father, you can do so online via New Life Stories or through their Giving.sg page. For every donation of $40, you'll receive a copy of the book of your choice.
Find out more about New Life Stories' work here

For the latest updates on Wonderwall.sg, be sure to follow us on TikTok, Telegram, Instagram, and Facebook. If you have a story idea for us, email us at [email protected].