Regular Yu Sheng? Boring. How About Foie Gras, Flowers And... Medium-Rare Steak?
Like mooncakes, the options for yu sheng (raw fish salad) get ever more creative each year. Heck, some even forgo the yu (fish) altogether, which raises some questions, but hey, there's something for everyone.
We checked out the bounty of offerings from restaurants across the island and found a few that are unique, decadent, creative and… well, different.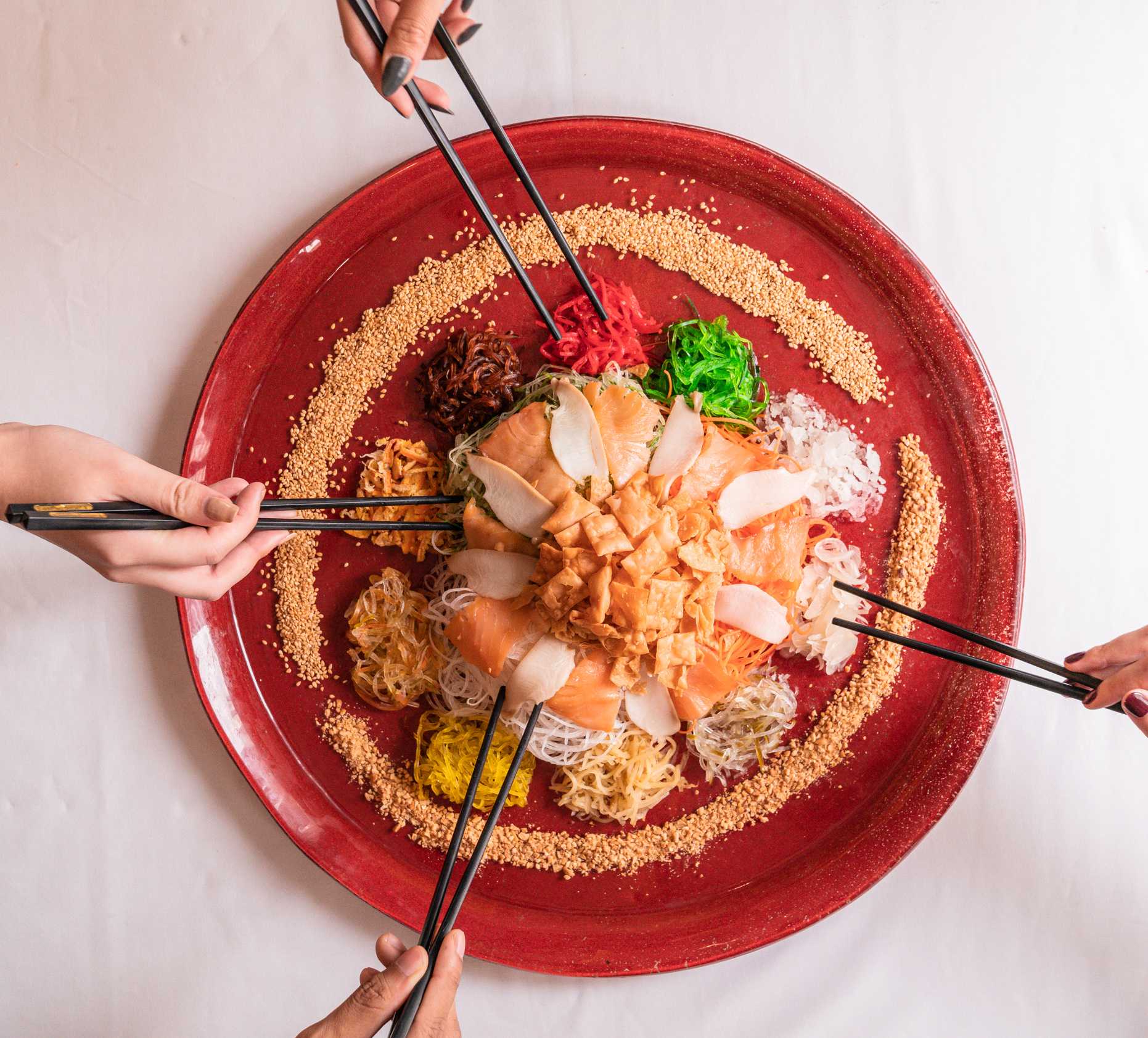 Foie Gras Yu Sheng Platter from Tablescape
If there's ever a time to be extra, the Lunar New Year is it. For added abundance in your yu sheng, check out this one (from $88) that comes with unctuous foie gras terrine.
This gets tossed into the mix of crispy fish skin, yuzu peel, daikon, cucumber, pickled red yam, wakame, pomelo, ginger, carrots, roasted sunflower seeds and golden crackers.
The accompanying sauce is bright and piquant with apple, passionfruit and plum.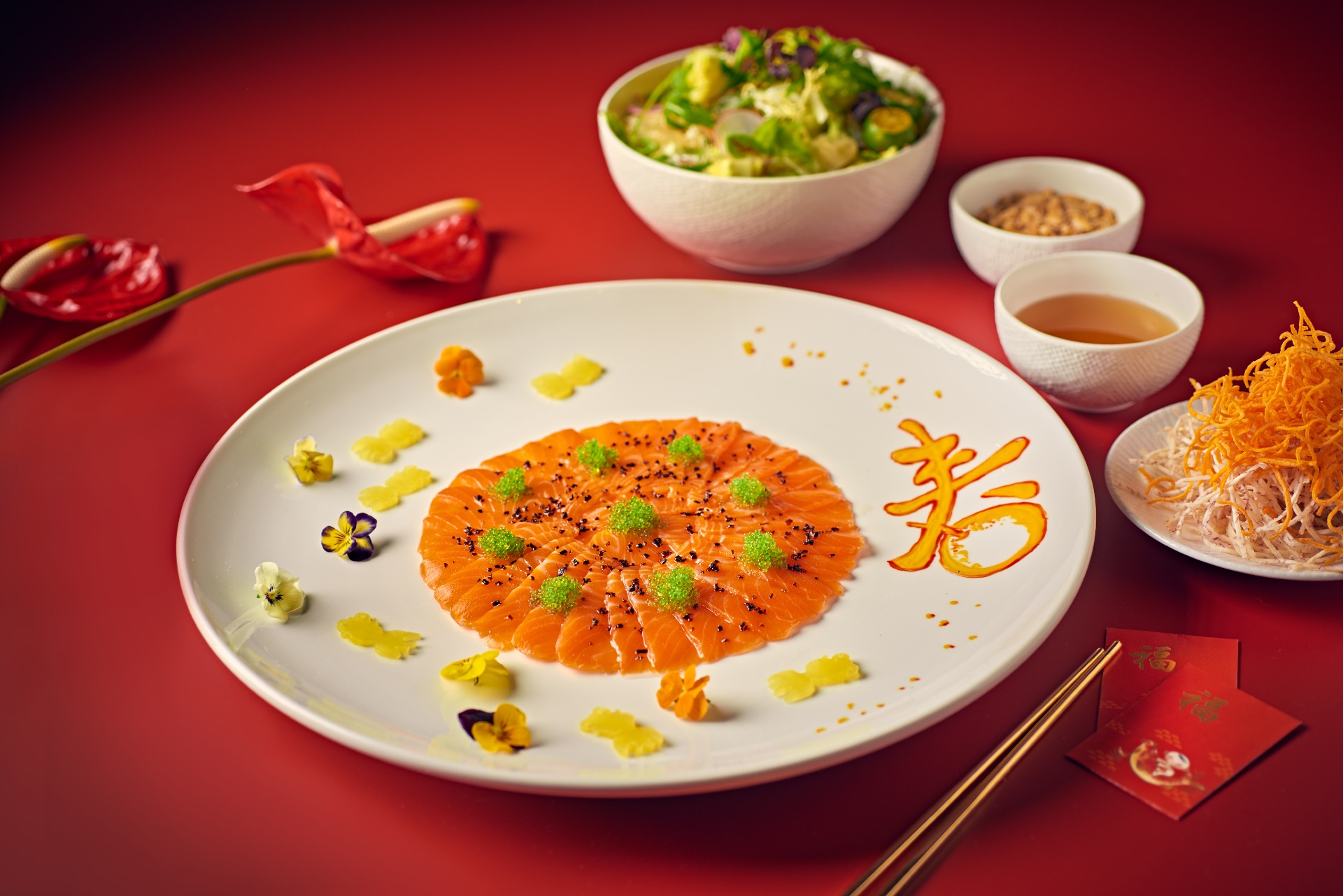 Joyful Blessings Lo Hei from Min Jiang
Yu sheng gets an artful contemporary touch with the addition of edible flowers and goldfish-shaped Japanese pickles that symbolise the fish migrating to a new spring. On the platter is also a hand-illustrated Chinese character, 春 (spring).
Aesthetics aside, this lo hei (starts from $188) comes topped with wasabi-spiked flying fish roe and dried konbu for delicious umami depth and lots of fresh crunch in the form of ingredients like jellyfish, agar agar, yellow frisee, fresh pomelo and red shiso.
And who needs gold crackers when you have strips of deep-fried yam, sweet potato, crushed peanuts, pine nuts and sesame seeds?
To tie it all together is a dressing of plum sauce, strawberry jam and calamansi juice.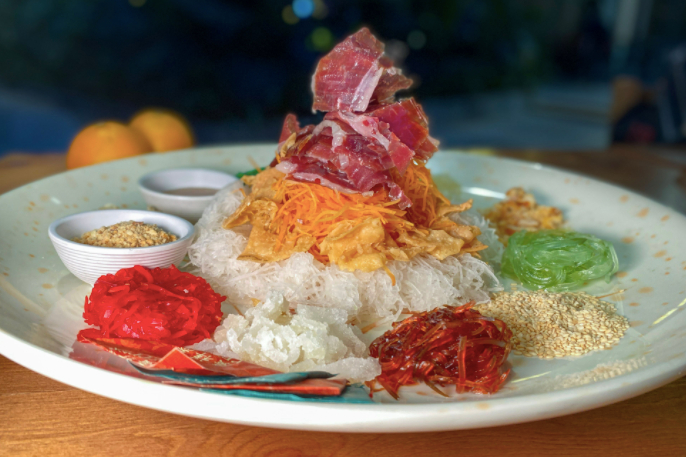 Spanish-inspired yu sheng from Pura Brasa
Why anyone would choose yu sheng with ham instead of fish is beyond us, but if you are so inclined, there's 5J Cinco Jotas Jamon Ham Lou Hei (from $78) from Spanish restaurant Pura Brasa. Granted, it is really good cured ham, which should pair well with a medley of fruit, vegetables and sweet yu sheng sauce.
Should you want to venture to Spain by way of a Josper grill (essentially a charcoal oven), there is the Josper-grilled Abalone Lou Hei (from $98) that comes on a bed of shredded papaya, ginger and yam, among other vegetables.
Thai Chin Yu Sheng from Blue Jasmine
The Thais know how to make a good salad and this one ($68), with its mountain of crisp shredded rice crackers looks divine. The mix of vegetables include Thai green mango and papaya, pomelo and pickles tossed in a unique dressing made of plum and passionfruit. The yu part of the yu sheng comes in the form of silky slivers of smoked salmon.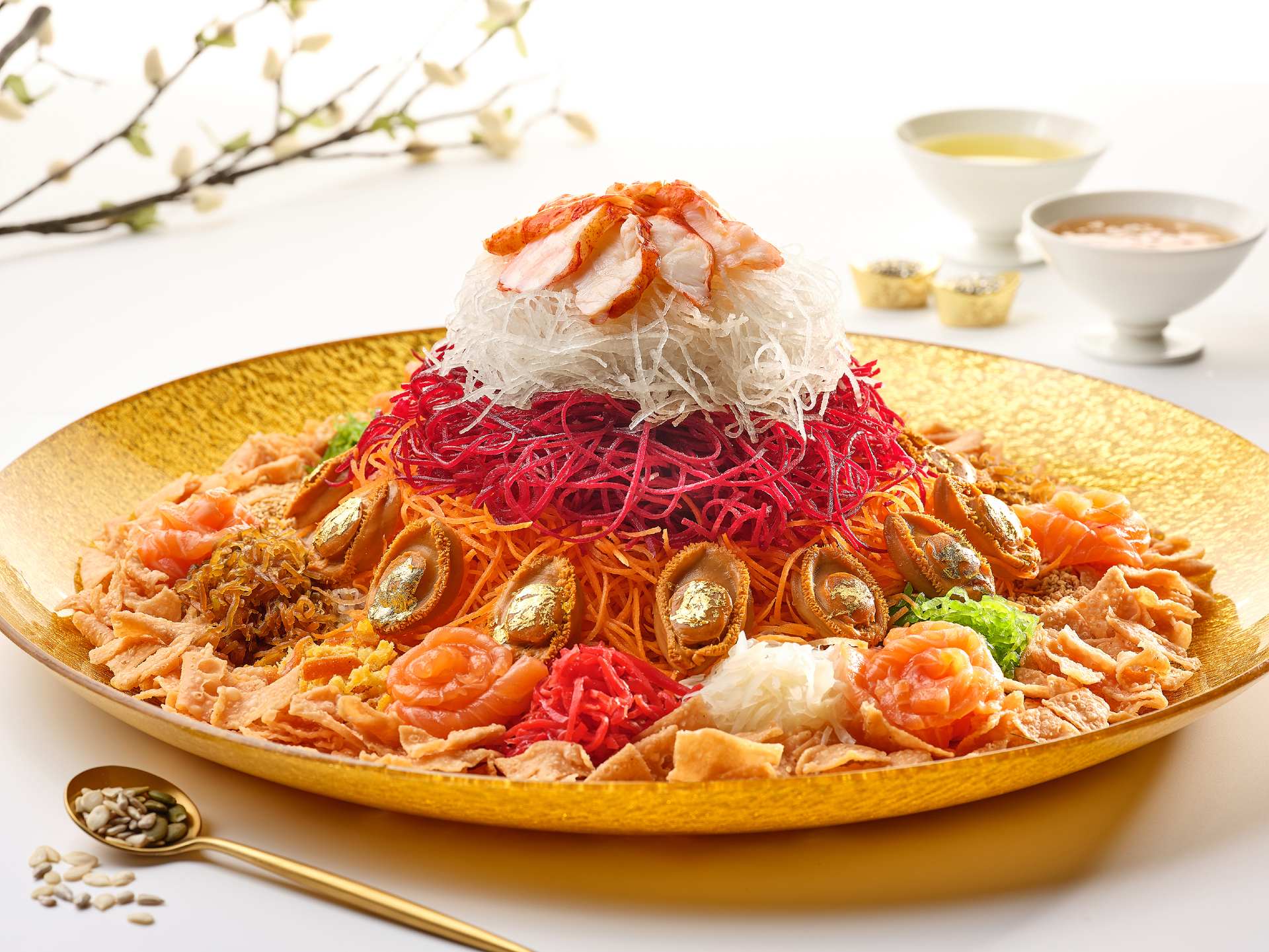 Abundance Yu Sheng from Jiang-Nan Chun
More is definitely more when it comes to Chinese New Year, so why not have salmon, lobster and abalone in your yu sheng? Executive Chinese Chef Albert Au has created this decadent blend with seasonal vegetables, pumpkin seeds, melon seeds and sunflower seeds.
If yours is a preference for more classic yu sheng, there's also the Prosperity Smoked Salmon Yu Sheng (from $98) with crispy vermicelli, sweet potato strips, preserved papaya, beetroot and shredded relish. A dressing is made of plum sauce and pineapple paste gives it an extra festive touch.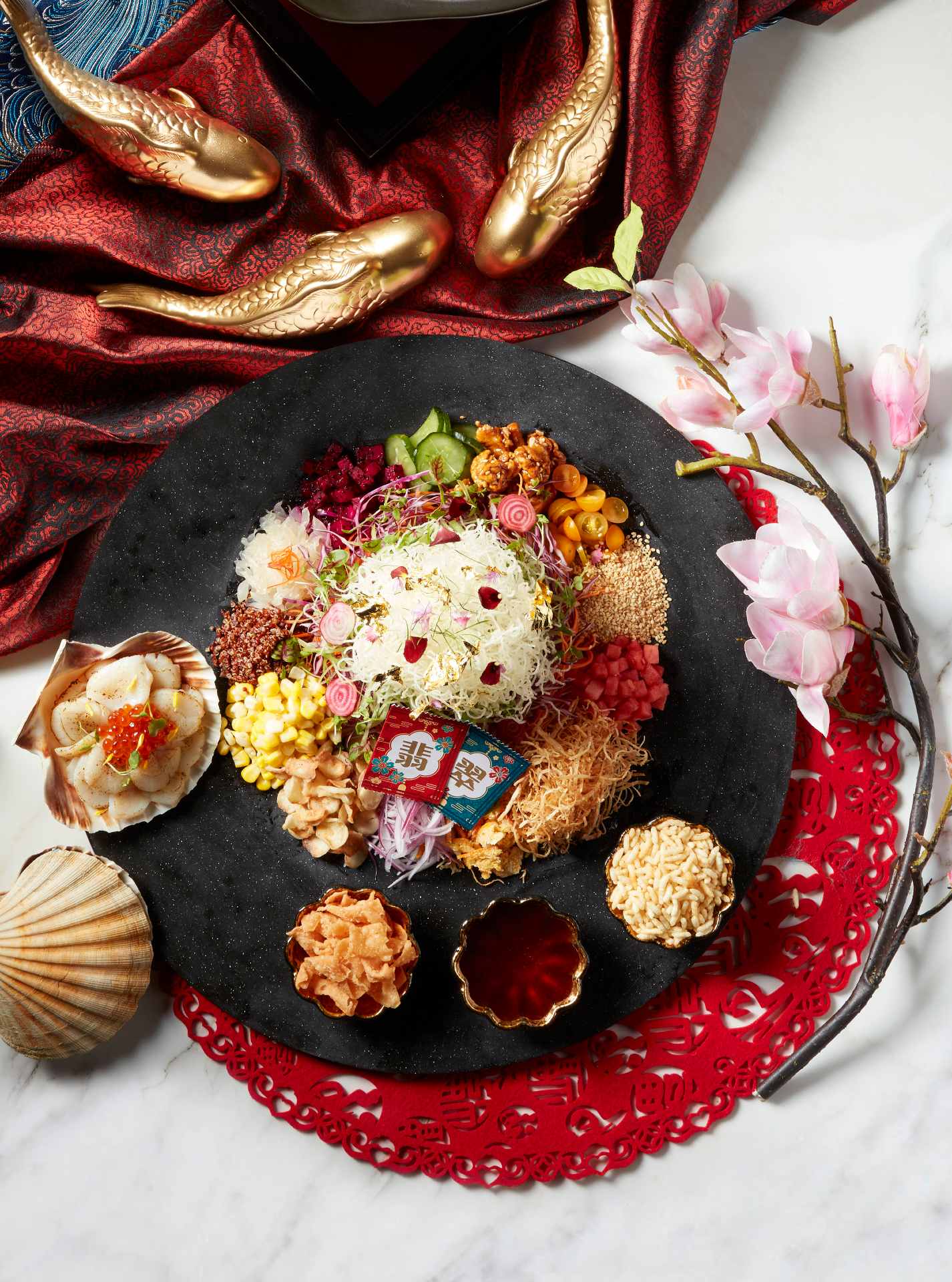 Season Of Wealth Golden Scallop Yu Sheng from Crystal Jade
Fresh fruit like red dragonfruit, watermelon, tomatoes and pomelo give this salad (from $108) a sweet, colourful lilt, while burdock, quinoa and walnuts make it extra wholesome. For added texture, there are deep-fried yam strips, crispy rice and Hsin Chu bee hoon.
And it gets better. Sweet slices of torched salmon join gleaming coral orbs of salmon roe before all of it is tossed in a flower blossom syrup and plum sauce. Available at Crystal Jade Palace, Crystal Jade Golden Palace, Crystal Jade Dining IN and for takeaway.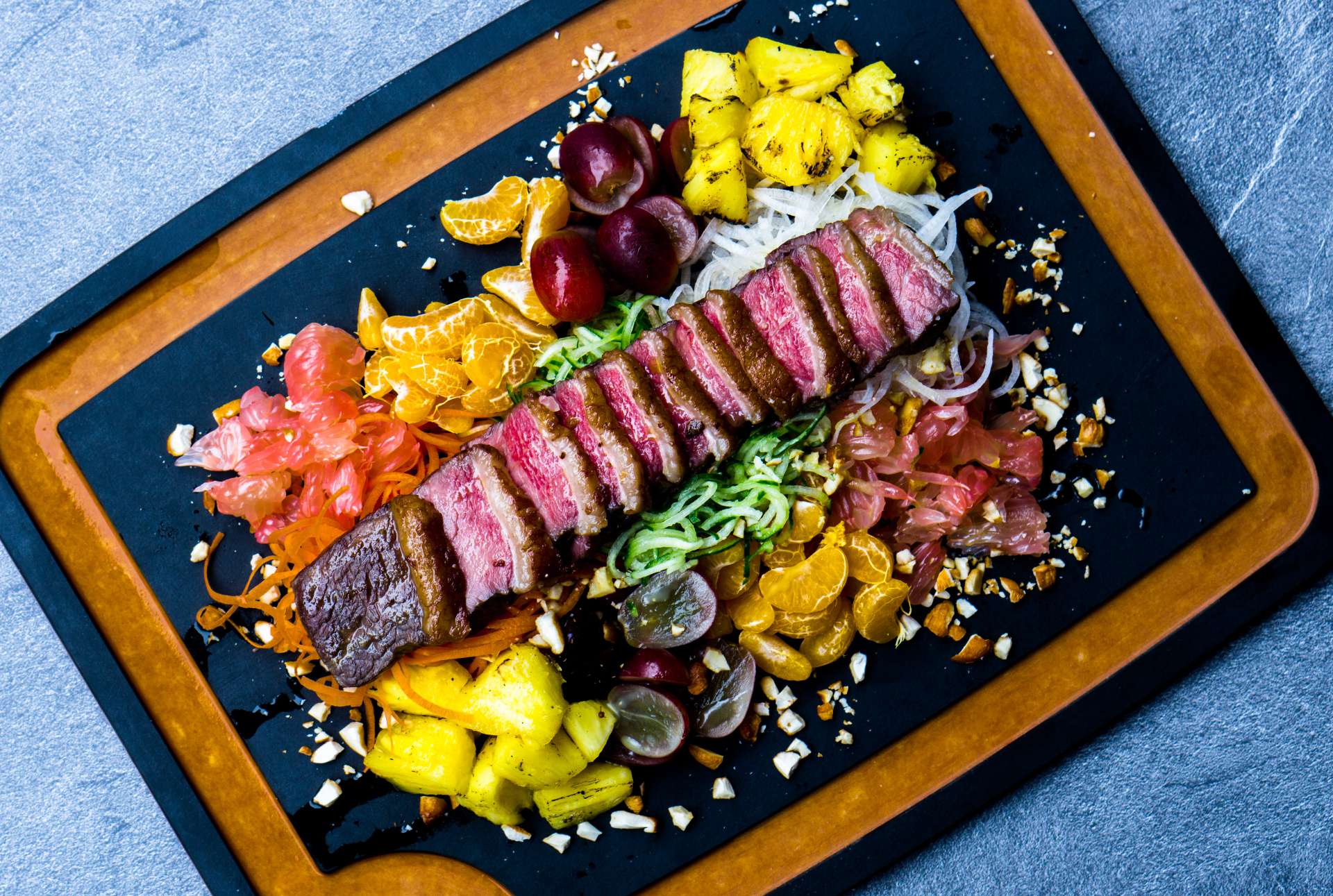 Gyusheng from Picanhas
If you're a diehard, hot-blooded meat lover, you're in for a treat this year with "gyusheng" (quite clever, lah).
At this relatively new Brazilian-style steakhouse, you get medium-rare slices of steak (from $9 for two people) served with every symbolically important fruit for Chinese New Year - think pineapple, orange slices, pomelo and grapes (for prosperity, apparently).
The mix is studded with cashews (standing in for gold ingots) and glazed with smoked chrysanthemum butter (which supposedly represents the constant flow of wealth).
Not that we need any excuse to reach for steak over fish.
For the latest updates on Wonderwall.sg, be sure to follow us on Facebook and Instagram. If you have a story idea for us, email us at [email protected].