Not Only Does He Defend Our Skies, He Also Makes A Mean Aglio Olio
One of the highlights at this year's National Day Parade (NDP) taking place at the Padang will most certainly be the carefully crafted Total Defence Parade (TDP). Throwing the spotlight on each of the six pillars of Total Defence (Social, Psychological, Economic, Digital, Civil, and Military), the TDP underscores their role as the foundation for the strength and security of our nation.
Moreover, the TDP aims to instil in Singaporeans the understanding that every individual has a role to play in supporting the various aspects of Total Defence.
Some of the participants and assets that will be part of the Total Defence Parade at this year's National Day Parade. | IMAGE: NDP 2023 EXCO
In this segment, you'll see a display of six large floats (each symbolising one of the six pillars of Total Defence); a combined procession featuring 20 assets from the Singapore Armed Forces (SAF), Singapore Police Force (SPF), and Singapore Civil Defence Force (SCDF); and a finale that pays tribute to all Singaporeans who have contributed to Total Defence.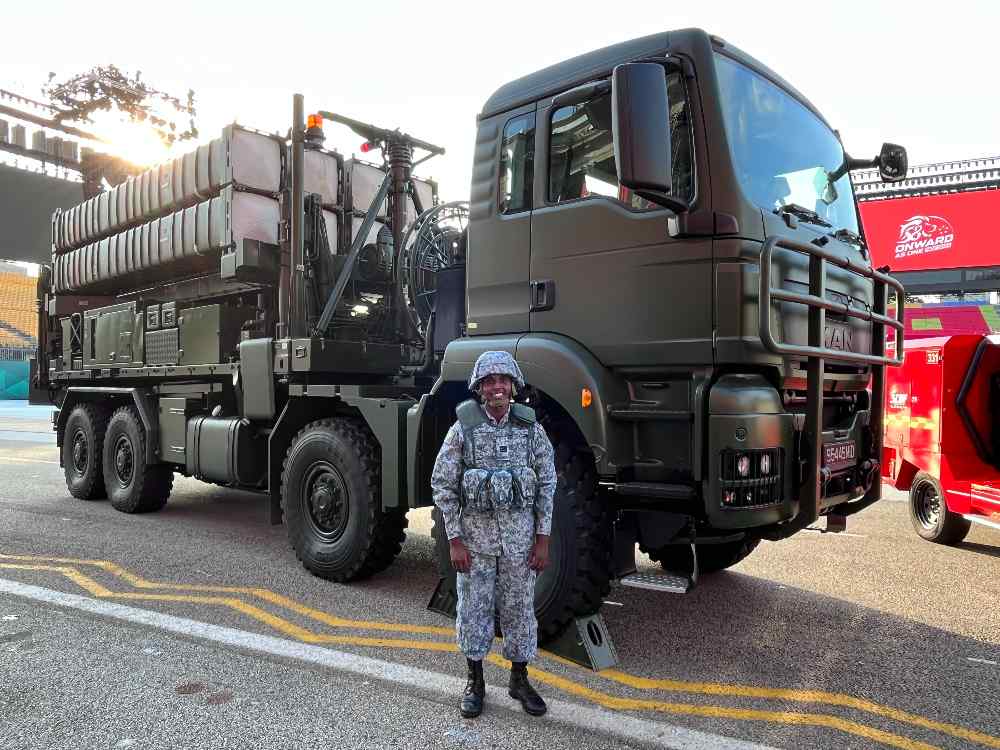 CPT Naveen leads his team in the development, operation and control of the Aster 30 Missile System, one of 20 TDP assets. | IMAGE: SIM DING EN
Extremely excited and bursting with pride to be a part of the TDP is Captain (CPT) Naveen S/O Gunasakaram, an Air Warfare Officer in 163 Squadron of the Republic of Singapore Air Force (RSAF).
"It's been my childhood dream to participate in NDP, and today, this dream has come true - especially now that I am also part of the Total Defence Parade as well as the RSAF's 55th anniversary celebrations," he says. "I'm proud to play my part in the defence of Singapore's skies, and contribute to a resilient and united nation."

CPT Naveen will be part of the crew on the Aster 30 Missile System (find out more about it at the end of this article) as it trundles by during the TDP asset display.
We speak to the 27-year-old about what – or rather, who – drew him to the RSAF, giving back to the community, and his passion for the culinary arts.
How did you develop a love for aviation?
My passion for aviation began when I was doing my diploma [in Aviation Management at Republic Polytechnic]. When I started learning about the aviation industry, aircraft and our airspace, my interest grew. So I told myself that if I want to pursue a career, I had to do something related to aviation, because I hold on to the belief that if you do what you love, it will never be work every day.
I also like being in a uniformed group. In school, I was part of the National Police Cadet Corps – that's when my interest in uniformed group regimentation developed. I wanted a career that could accommodate both passions, so I chose a career with the Republic of Singapore Air Force.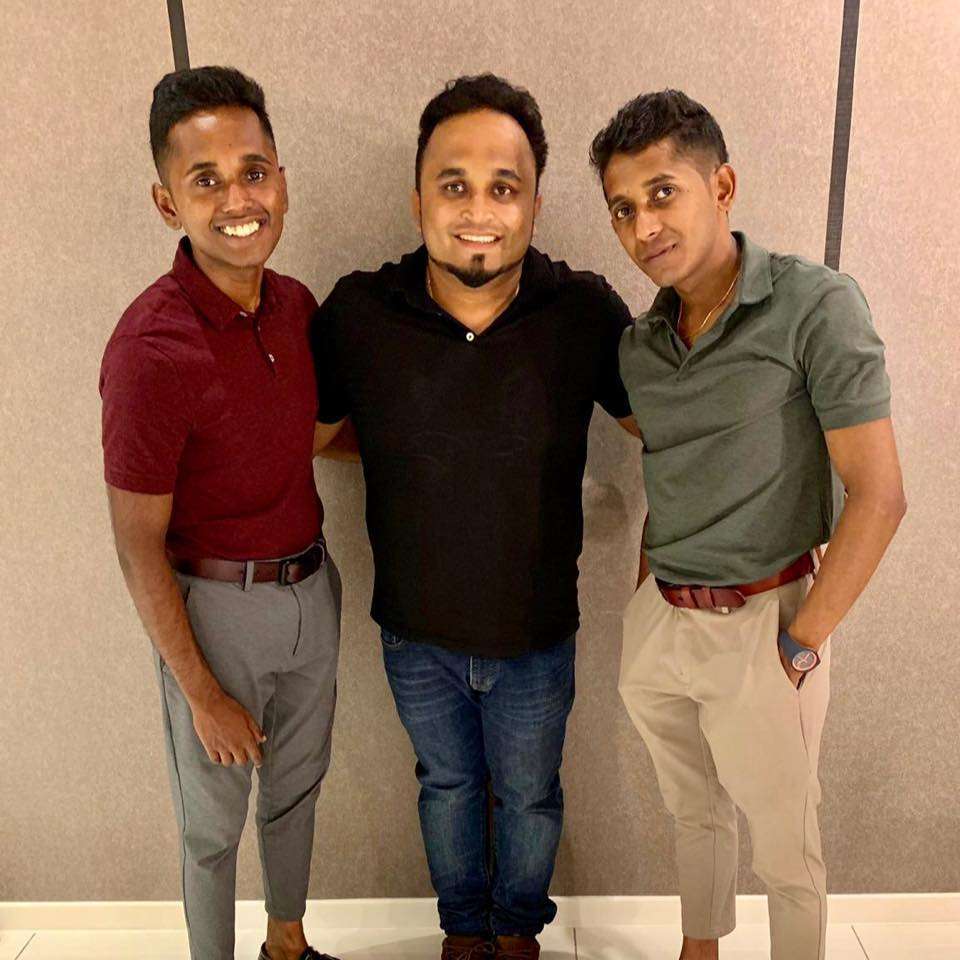 CPT Naveen (left) and his brothers, Narain (centre) and Naresh. I IMAGE: FACEBOOK/@NARAIN.GUNASAKARAM
What or who inspired you to join the RSAF?
One of those people would definitely be my brother, ME2 Naresh, a Naval Warfare System Expert with the Republic of Singapore Navy. He used to come home every day, and share his stories. I had huge respect for him. He would sail for months, and not come home, and all for one reason – for Singapore. So I felt that I wanted to play my part to protect our skies, and be here at the frontline. That's something that inspires me on a day-to-day basis.
Naveen's parents don his new 2LT rank for him in 2018.
Your parents must be so happy and proud that their brood is keeping Singapore safe!
My parents are definitely very proud with the careers we've chosen, and they have been very supportive. They are always there for special moments, like when I'm part of a promotion ceremony – they'll bring me out to eat and to celebrate. They're proud that I'm playing a part in Singapore's air defence today, and they always go around sharing with their neighbours, friends and family about what my brother and I do. So ya, I think they got three good sons lah – one who did national service in the Army, one in the Navy, one in the Air Force!
To foster a spirit of volunteerism among Singaporeans and to continue doing meaningful work in the community, the NDP 2023 Executive Committee has launched two campaigns: #GiveAsOneSG and #UniteAsOne. You yourself actively give back to the community in your own way, too. Please tell us more.
I've done international service programmes where I built solar panels for a monastery in Yangon, Myanmar. Locally, I've worked with kids at Pertapis Children's Home and the APSN community where I built a product for them to enrich their learning process.
When I joined the RSAF, we had yearly squadron events like doing charity runs, and going to the homes of the elderly to help them out.
This year, a significant portion of the RSAF's 55th anniversary is the launch of RSAF Cares, the RSAF's community service and engagement campaign. I feel that it's very much aligned to my personal values, which is to give back to the community. And I'm looking forward to contributing towards not just military defence, but also social defence through these efforts.
The best part of this is that we are all going to be in a large group, working together for one objective.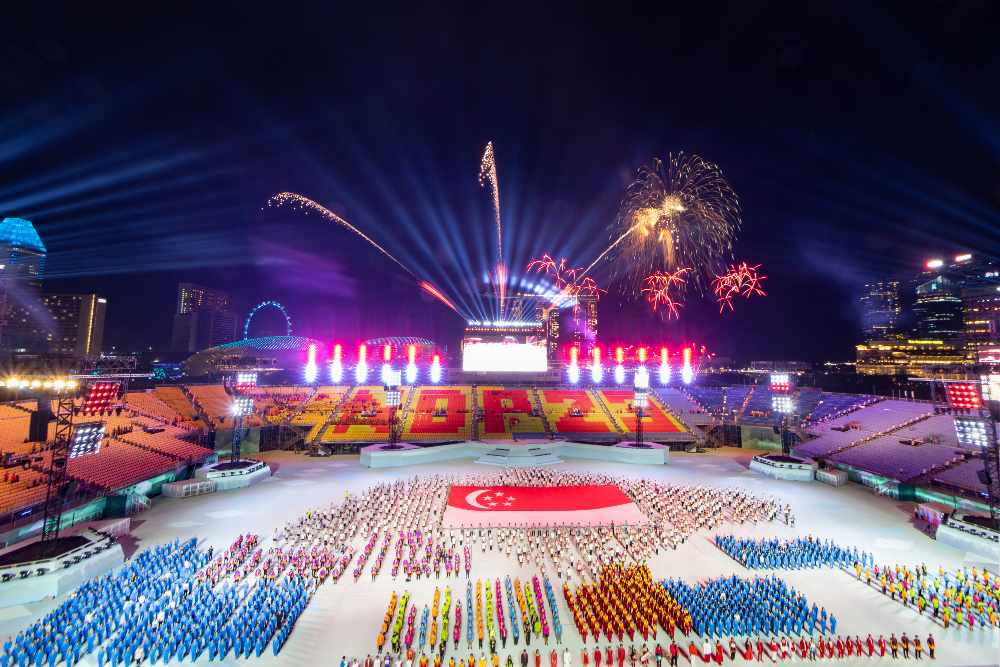 This year's NDP will see the return of a full-scale physical Parade and Ceremony at the Padang. | IMAGE: NDP 2023 EXCO
What's been your biggest takeaway from the NDP 2023 training and experience?
It's definitely about seeing everybody working hand in hand together to meet a common objective as a squadron. Being part of NDP has also given me many opportunities to learn about other services; I even got a chance to explore their systems, and see how holistic we are in terms of our defence. I'll definitely walk away with lots of good friends, and lots of proud moments!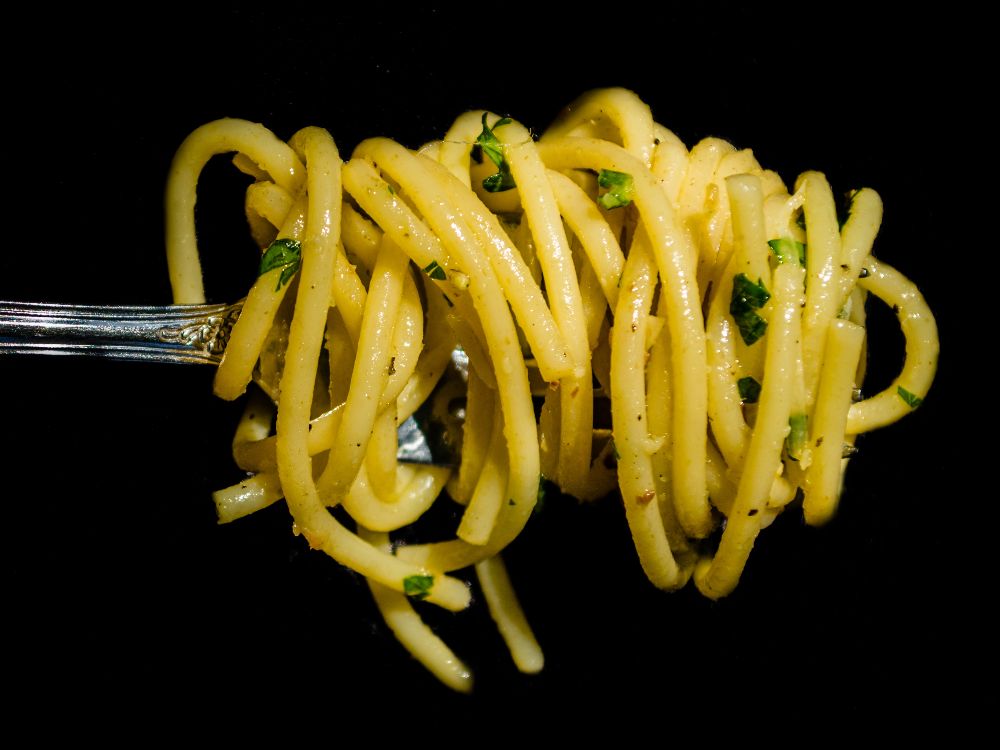 Everyone needs an outlet for creativity. CPT Naveen's is in the kitchen. | IMAGE: UNSPLASH
Kaypoh question: What do you enjoy doing in your free time?
I like cooking! It allows me to grow into another zone where I try to innovate and be creative. Making someone happy with my food is something that I always try to do.
Nice! Do you have a hit dish?
Yes! It's definitely my aglio olio pasta. I know I can nail that dish cuz it took me years to master it!
---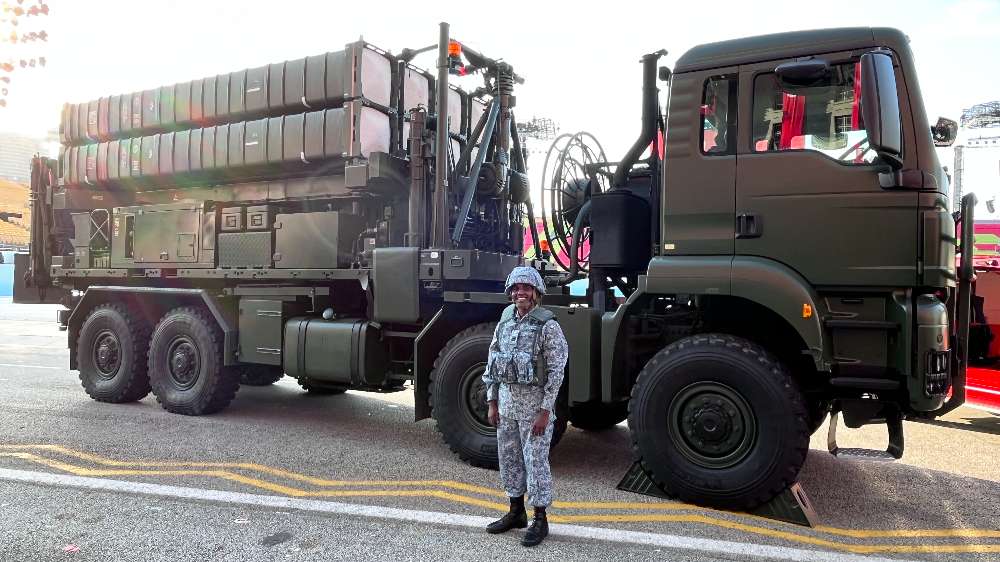 IMAGE: SIM DING EN
About the Aster 30 Missile System
If the Aster 30 Missile System looks familiar, it's because it made its debut appearance in NDP 2019 as part of the Mobile Column.
Employed for 24/7 air defence operations since Aug 2020, the all-weather Medium-range Surface-to-Air Missile (MSAM) system is capable of engaging a range of air threats such as fighter aircraft, helicopters, unmanned aerial vehicles and precision-guided munitions.
This Ground-Based Air Defence system has a range of up to 70km against fighter aircraft, and the ability to engage multiple air threats simultaneously. With its integration into the RSAF's Island Air Defence (IAD) system, the IAD system is capable of engaging, intercepting and neutralising a wider spectrum of air threats such as air munitions at a longer range and with greater precision.
For the latest updates on Wonderwall.sg, be sure to follow us on TikTok, Telegram, Instagram, and Facebook. If you have a story idea for us, email us at [email protected].