A Memorable NDP Debut: Fresh Faces Add Vigour To The Total Defence Parade
At the heart of every National Day Parade (NDP) are the dedicated individuals involved in putting up a successful and meaningful show – and, boy, are there a lot of them this year!
NDP 2023 at the Padang will not only see the return of a full-scale physical parade (with the involvement of over 1,700 participants from 34 marching contingents), but also include a carefully crafted Total Defence Parade (TDP) that throws the spotlight on each of the six pillars of Total Defence (Social, Psychological, Economic, Digital, Civil, and Military), underscoring their role as the foundation for the strength and security of our nation.
Moreover, the TDP aims to instil in Singaporeans the understanding that every individual has a role to play in supporting the various aspects of Total Defence.
What you'll see in the TDP segment:
a display of six large floats, with each float symbolising one of the six pillars of Total Defence
a combined procession featuring assets from the Singapore Armed Forces (SAF), Singapore Police Force (SPF), and Singapore Civil Defence Force (SCDF)
a finale that pays tribute to all Singaporeans who have contributed to Total Defence
Here, some of the TDP participants who are also involved in the NDP for the first time: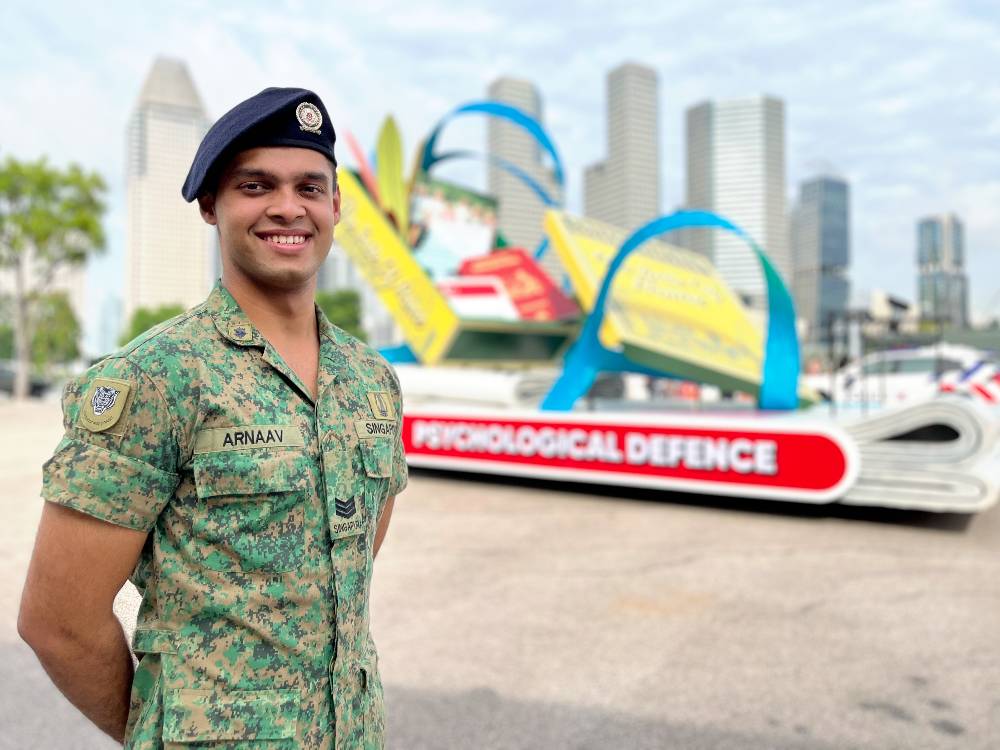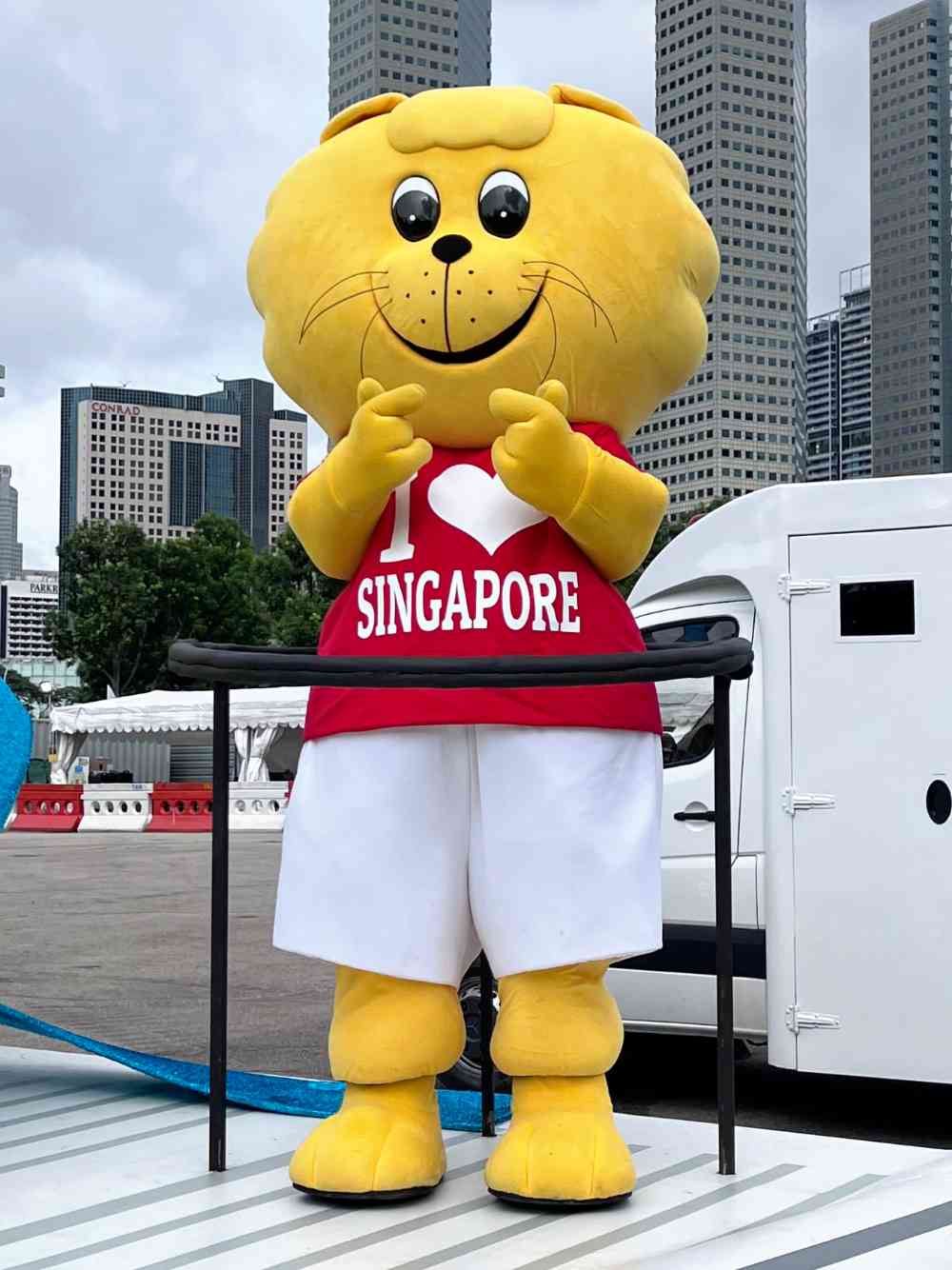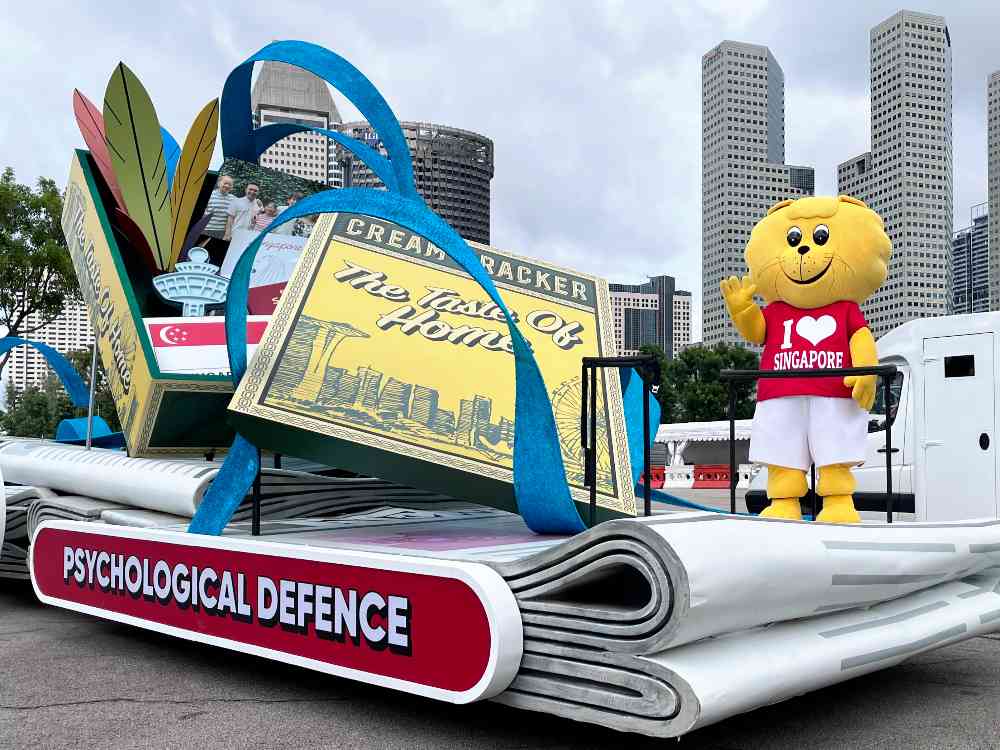 3SG Arnaav steps into the shoes (literally) of Singa the Kindness Lion Mascot. | IMAGES: SIM DING EN
3SG Arnaav Karan Chabira
His role in TDP: Singa the Kindness Lion Mascot on the Psychological Defence float
As a survivor of the 2015 Sabah Earthquake, 19-year-old 3SG Arnaav is well aware of the importance of Psychological Defence and mental resilience in the wake of a traumatic experience that left him with injuries including a broken collar bone, shoulder and upper arm, plus internal damage to his ear.
The physical healing process took over a year, but, upon enlisting for national service, 3SG Arnaav was determined not to fall back on his injuries and mental trauma as an excuse not to perform during Basic Military Training. In fact, he achieved Gold for his Individual Physical Proficiency Test.
"I did receive a lot of mental health support from everyone around me; they were very supportive of me moving forward," recalls the 19-year-old who is a Full-Time National Serviceman in the 30th Battalion, Singapore Combat Engineers. "It is very important for Singaporeans to also display this kind of mental resilience. It is, I would say, one of the most important things in working together as a country to move forward together."
As Singa the Kindness Lion Mascot, 3SG Arnaav literally steps into a role that he is glad to embrace.
"It's nice to be able to have this unique role in the parade, and get all the attention! It's quite fun being there in the middle of the stage, waving at everyone," he says, adding that his biggest takeaway from being the mascot is being an advocate for Psychological Defence.
"Hopefully people who see this, see my story about resilience and get encouraged by it."
---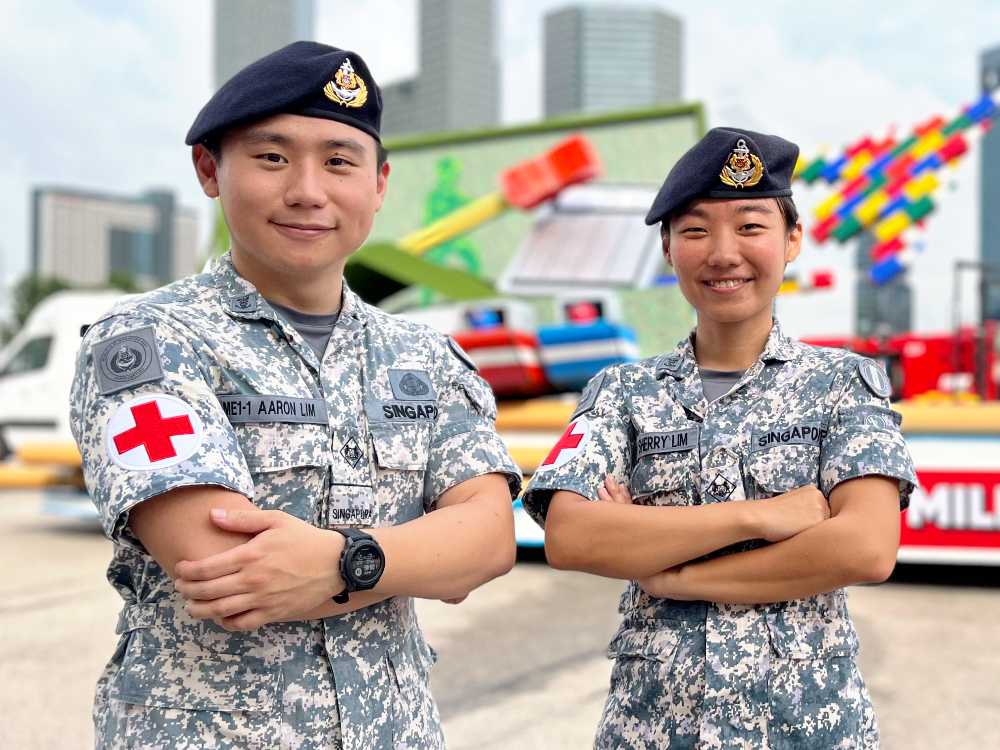 ME1 Aaron Lim (left) and ME1 Sherry Lim. | IMAGE: SIM DING EN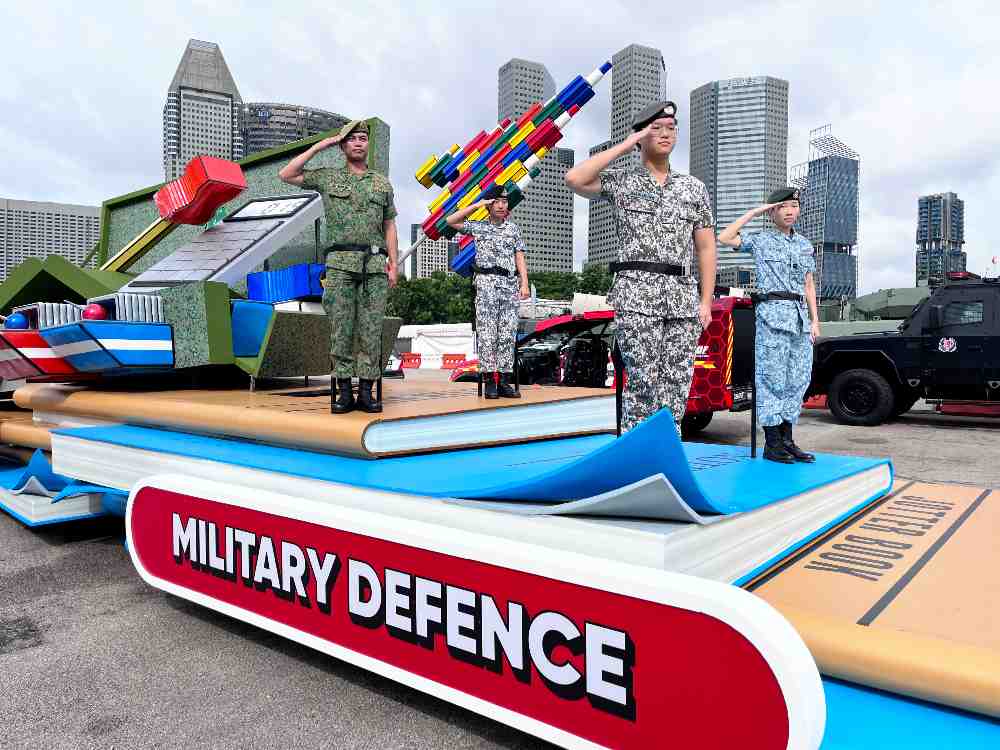 ME1 Sherry (second from left) is a participant on the Military Defence float. | IMAGE: SIM DING EN
ME1 Aaron Lim and ME1 Sherry Lim
Their roles in TDP: TDP Flag Participant and TDP Float Participant, respectively
Not only are ME1 Sherry Lim, 23, and ME1 Aaron Lim, 25, both Underwater Combat Medics in the Republic of Singapore Navy, they're siblings who've continued a "family tradition" of sorts – their father and uncle are regulars in the Army and Navy, respectively.
It came as a pleasant surprise to the duo to find out that they would both be involved in this year's TDP: ME1 Sherry as a participant on the Military Defence float, and ME1 Aaron as a Flag Participant who will be part of a group unfurling a large Total Defence flag in a salute to the nation.
"During the float segment, we went past a crowd of people, and among them were kids – they were waving and smiling. It was really precious!" says ME1 Sherry, recounting one of the highlights during training.
"The interaction with members of public is important in inspiring the next generation to take on that role of playing a part in Singapore's defence," adds ME1 Aaron, who admits that serving the nation as siblings is a "very unique experience that perhaps not a lot people may be able to relate to", but will nonetheless be an exciting one for both him and his sister for years to come, especially since they've made a career out of it.
---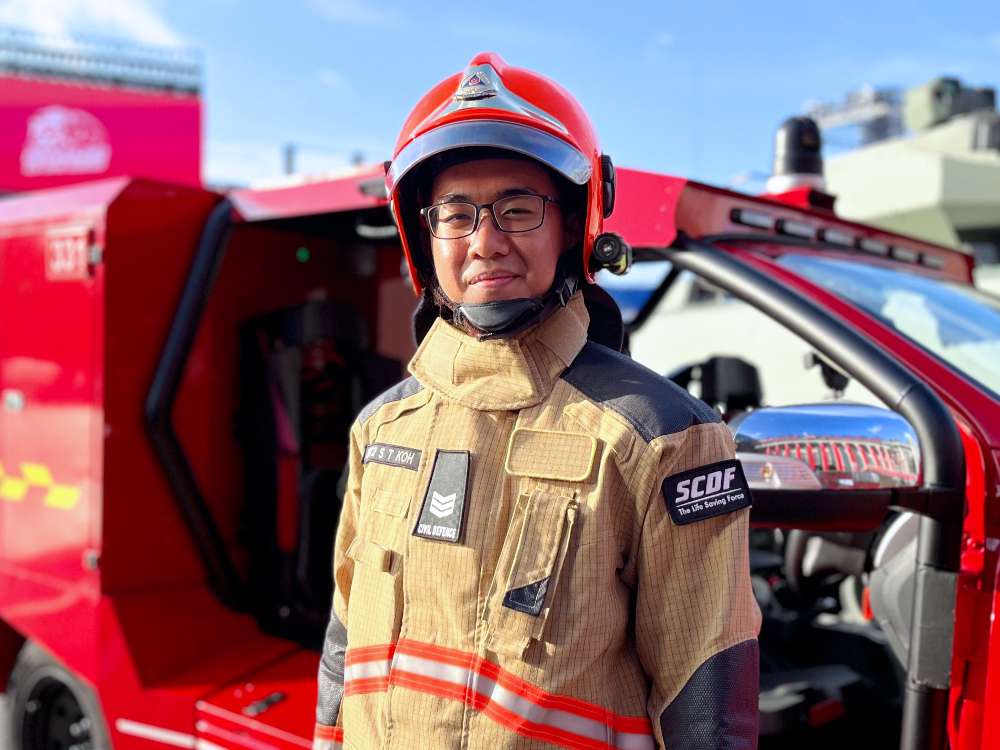 SGT2 Andy Koh. | IMAGE: SIM DING EN
The 6th Generation Light Fire Attack Vehicle and Red Rhino Robot (foreground). | IMAGE: SIM DING EN
SGT2 Andy Koh
His role in TDP: Vehicle Commander, 6th Generation Light Fire Attack Vehicle (LF6G)
Fire and Rescue Specialist SGT2 Andy Koh is noticeably excited about being part of this major national event as the Vehicle Commander of the LF6G, which will be making its debut in NDP for the first time.
"The LF6G is equipped with cutting-edge technology and state-of-the-art features. It is conceptualised and designed in-house by the SCDF to tackle operational challenges with the use of advanced technologies and robotics," says the 23-year-old, adding that the LF6G comes equipped with the Red Rhino Robot (3R), which complements SCDF's 3-person Concept of Operations by freeing up responders to perform other critical tasks, such as rescue and extrication of casualties.
One of the most awesome features of the LF6G: the Red Rhino Robot, also known as the 3R. The 3R is SCDF's latest and smallest firefighting robot, capable of manoeuvring easily in confined spaces while carrying out remote firefighting and reconnaissance work across various terrains.
"My colleagues advised me to treasure the moment as it is an honour to be able to represent SCDF at the National Day Parade," says the 23-year-old who has found NDP training to be meaningful.
"I can't wait to see all the participants come together to celebrate our nation's birthday!"
---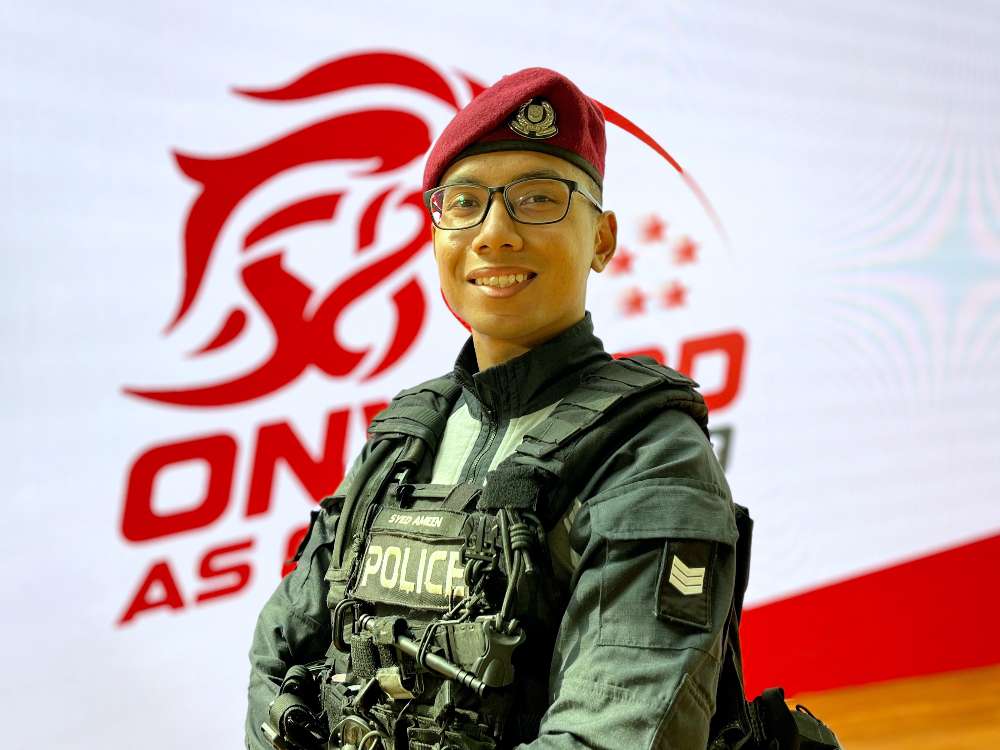 SGT(3) Syed Ameen Hussain. | IMAGE: SIM DING EN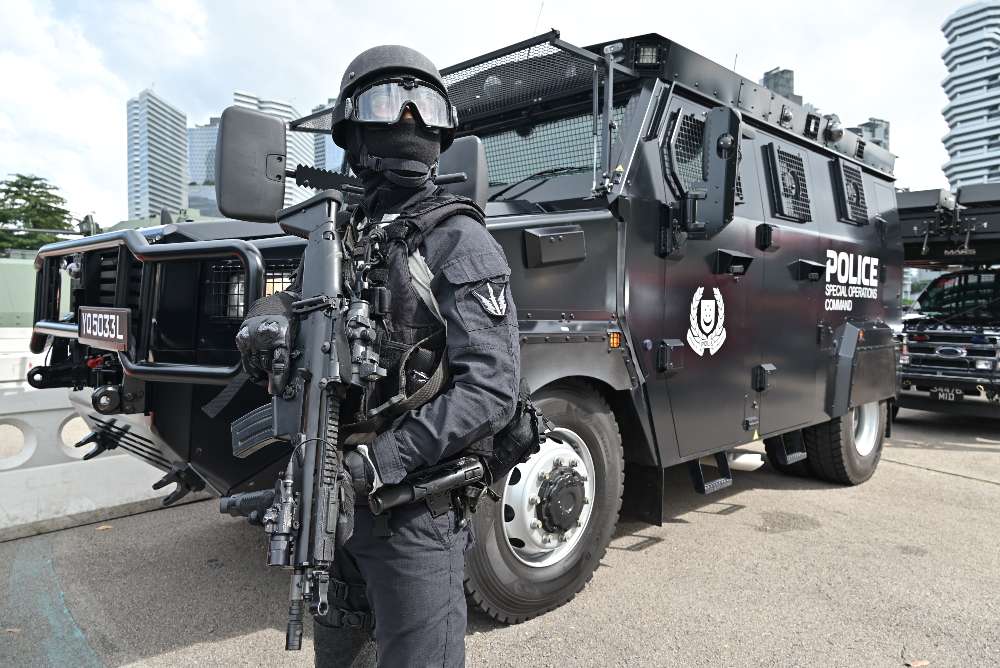 The Singapore Police Force's Tactical Strike Vehicle, the latest addition to the Special Operations Command's arsenal of tactical vehicles. | IMAGE: NDP 2023 EXCO

SGT(3) Syed Ameen Hussain
His role in TDP: Main Driver, Tactical Strike Vehicle (TSV)
In a collaborative effort between the Singapore Police Force and the Home Team Science and Technology Agency, the TSV has been created to enhance the tactical capabilities of the Rapid Deployment Troops.
With a robust protective mesh and an armoured body, it ensures superior safeguarding for the troops and enables rapid penetration into the core of public security incidents for prompt threat neutralisation.
As the main driver of the TSV, SGT(3) Syed Ameen is unquestionably happy and proud to be part of NDP 2023, especially since it will be his first time participating in the NDP, and the first time that the public will set its eyes on the SPF's latest addition to the Special Operation Command's collection of tactical vehicles.
Balancing the training schedule and weekend rehearsals with family and social time have been challenging but worth it for the 28-year-old.
"Most of the time, I wouldn't really have much time for myself. After rehearsals, I still need to carry on with my shift," admits SGT(3) Ameen, who has found being part of NDP an eye-opening experience as he gets to work with other agencies and uniformed groups.
When asked what the theme of NDP 2023, "Onward as One", means to him, he says: "The phrase emphasises the collective effort of all individuals with similar aspirations working together to achieve a better Singapore."
Check out other NDP 2023 stories on Wonderwall.sg here.
For the latest updates on Wonderwall.sg, be sure to follow us on TikTok, Telegram, Instagram, and Facebook. If you have a story idea for us, email us at [email protected].