Let's Go, Singapore! Notable Moments On The Global Scene In 2023
Can you believe it's almost National Day again? To celebrate our nation's 58th birthday, we've curated a list of notable moments when our Little Red Dot made waves on the world map this year.
February 2023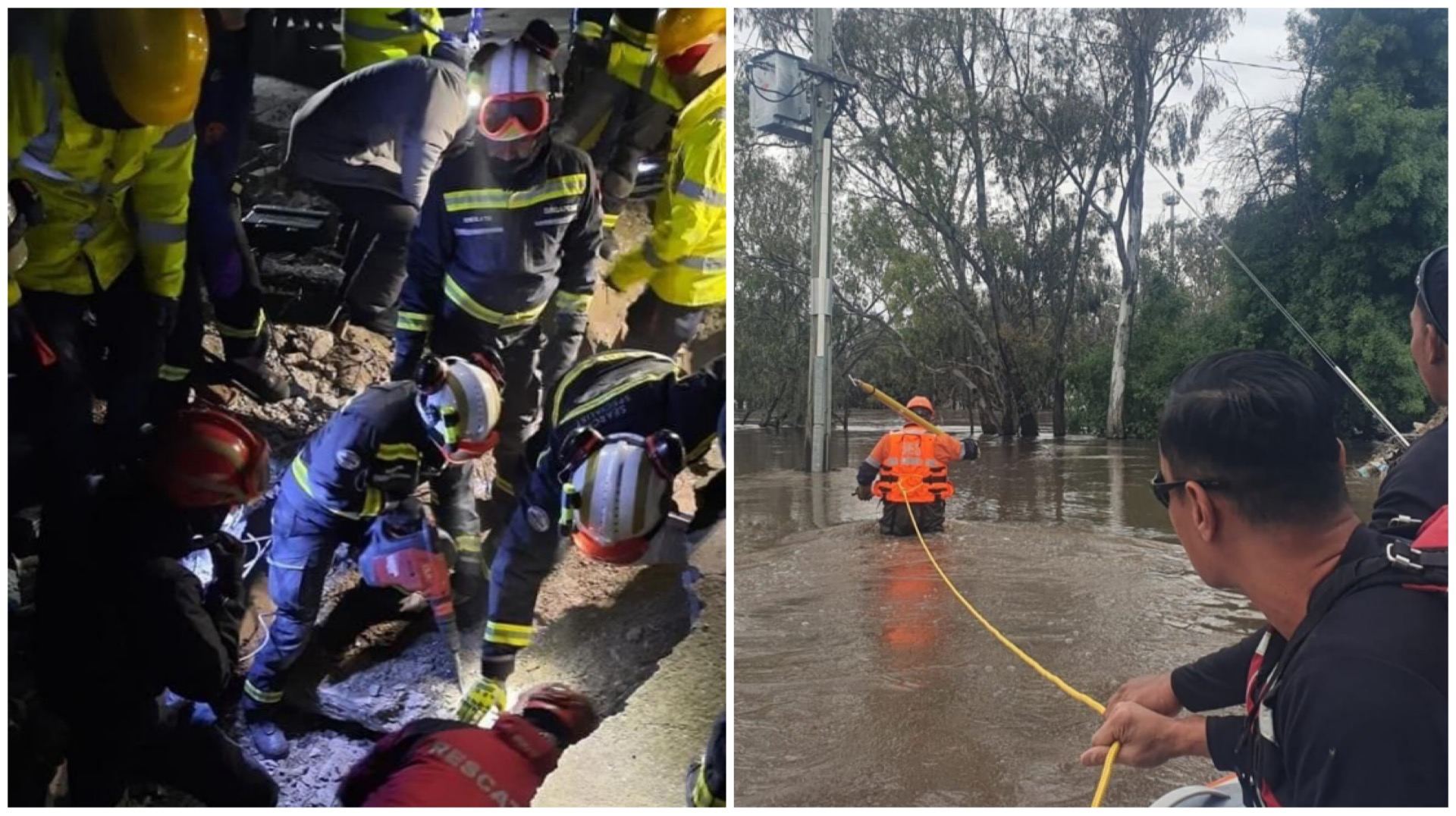 IMAGES: FACEBOOK/@SCDFPAGE
7 Feb: SCDF's Operation Lionheart team aids in Turkey earthquake rescue efforts
On 6 Feb, a magnitude-7.8 earthquake hit Turkey and Syria, leaving thousands dead and injured. To facilitate the search, rescue and relief efforts, the Singapore Civil Defence Force (SCDF) sent a 20-man team from its 79-member Operation Lionheart contingent.
Operation Lionheart is a dedicated 79-member contingent of the SCDF on standby round-the-clock. Its core function is to provide urban search and rescue and/or humanitarian relief assistance to countries afflicted by major disasters.
---
March 2023
15 Mar: Changi Airport reigns supreme at the World Airport Awards
After losing out amidst the Covid-19 pandemic in 2021 and 2022, Changi Airport was named the world's best airport by London-based research firm Skytrax for the 12th time at the 2023 World Airport Awards.
Changi Airport held the top spot for eight consecutive years from 2013 to 2020 – the longest winning streak since the World Airport Awards were first given out in 2000.
In addition, the airport was also named best in Asia, best in the world for leisure amenities, and best in the world for airport dining, while Crowne Plaza Changi Airport was named the world's best airport hotel for the eighth year in a row.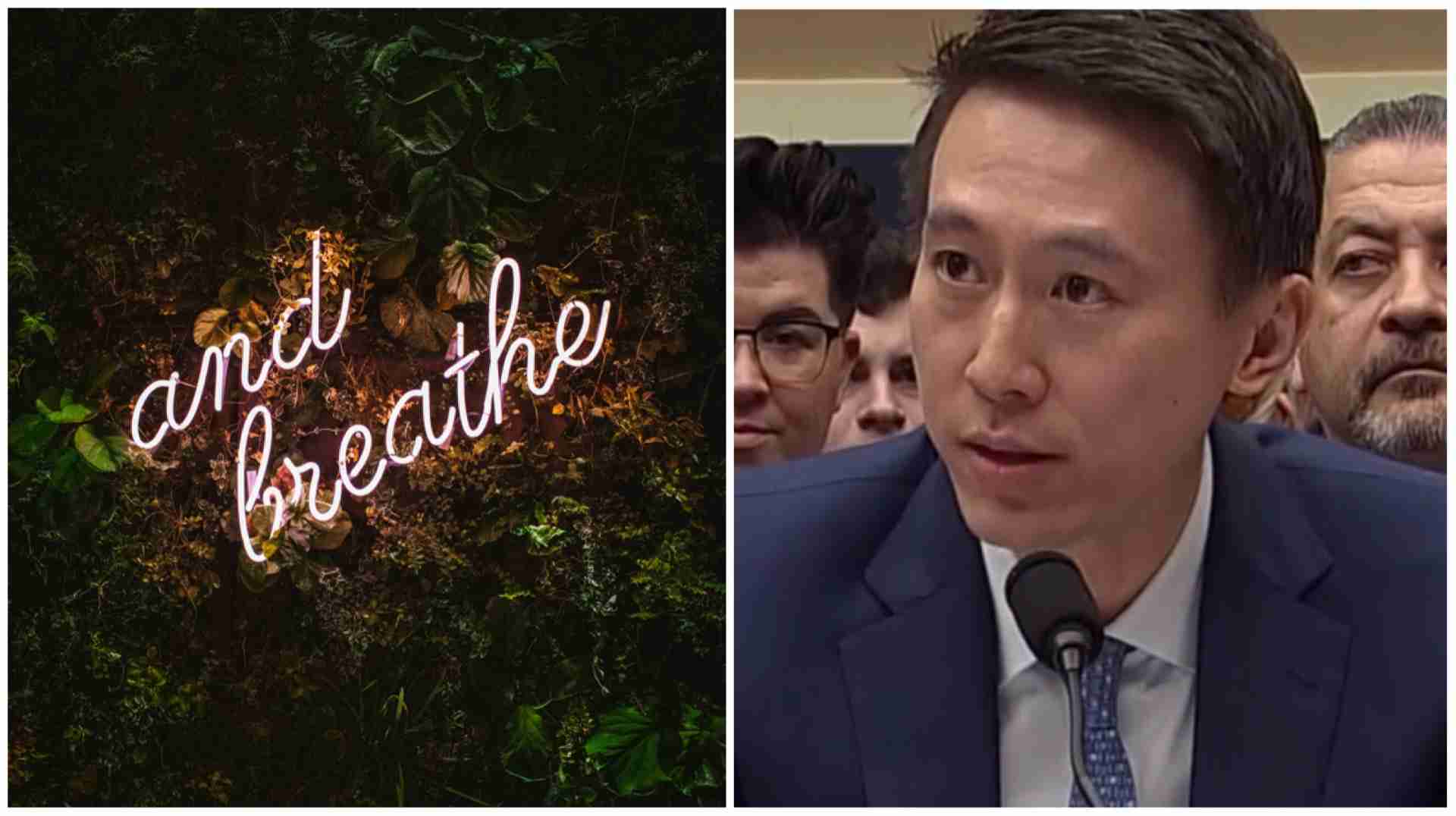 IMAGES: UNSPLASH AND YOUTUBE
23 Mar: TikTok CEO Chew Shou Zi is a picture of calm as he gets grilled by Congress
On 23 March, TikTok CEO and fellow Singaporean Chew Shou Zi was grilled by Congress for over 5 hours on TikTok's usage and data collection practices. Despite the long and gruelling hearing, Mr Chew was calm and collected throughout, representing Singapore with dignity.
---
April 2023
2 Apr: Sprinter Shanti Pereira becomes first Singaporean woman to run under 23s in 200m race
While competing at the Australian Open Track and Field Championships in Brisbane, 26-year-old sprinter Shanti Pereira became the first Singaporean woman to go under 23 seconds in the event, clocking 22.89 seconds during the heats.
The reigning SEA Games women's 200m gold medallist also broke the national women's 100m record twice in two days, clocking 11.38 seconds during the heats on 31 March, followed by 11.37 seconds to place first in the finals on 1 April.
(More awesomeness from Shanti in May and July below!)
11 Apr: Casuarina Primary School student Elizabeth Ng is the first Singaporean to broadcast an original song in space
10-year-old aspiring cosmo-artist Elizabeth Ng Ziqi, who was enrolled in the Wall-Pie Space Juniors Program to learn about rocketry ballistics and space control systems, created an AI song, Space Nomad, which was broadcasted on the International Space Station (ISS).
Her achievement was made possible with the help of Singapore-based Space Education and Technology company Wall-Pie and the Tabernacle Health Group, another Singapore-based company which is collaborating with Wall-Pie on the future of space health.
22 to 24 Apr: World indoor skydiving champion Kyra Poh clinches her first World Indoor Skydiving Championships (WISC) gold
Singapore's only Red Bull athlete and reigning world indoor skydiving champion Kyra Poh added another medal to her collection of over 60 after winning a gold medal at the 4th FAI WISC 2023, held from April 20 to 22 in Liptovský Mikuláš, Slovakia.
This is her sixth consecutive gold win since 2020, 14th gold overall for the Solo Freestyle Open discipline, and first gold in the WISC competition.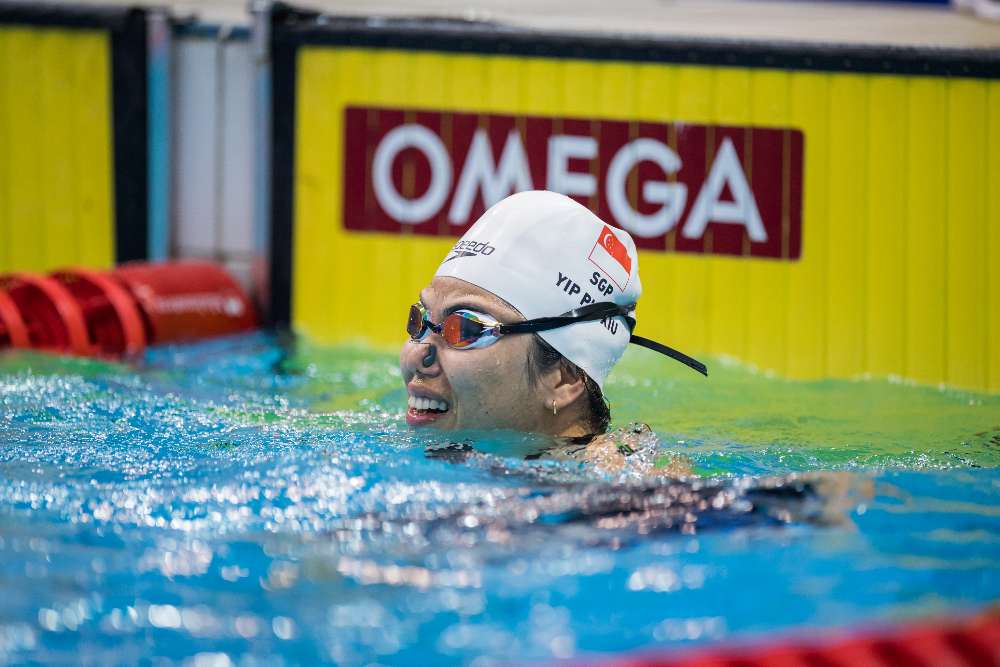 IMAGE: SINGAPORE DISABILITIY SPORTS COUNCIL
29 Apr: World record and gold for Yip Pin Xiu at Citi World Para Swimming World Series Singapore 2023
Yip Pin Xiu broke the world record for S2 Women's 200m Free with a timing of 4:41.46, almost six seconds faster than the previous record held by China's Feng Yazhu. She finished with 1003 points to win gold, 95 points ahead of Thailand's Nattharinee Khajhonmatha.
"I did not expect the world record because I just started swimming the 200m last year. It was only during the heats when I swam just 0.4 seconds behind it – I knew I had to go for it," said Yip.
"Singaporeans have been so supportive here at OCBC Aquatic Centre and I really enjoy swimming in this pool. To break another world record again, eight years after my 50m backstroke at the ASEAN Para Games is very special to me. I am very grateful that what my team has done in the lead up to this meet has come to fruition."
30 Apr: Badminton player Loh Kean Yew becomes the first Singaporean to reach the Badminton Asia Championships Final
Badminton player Loh Kean Yew made history when he became the first ever Singaporean to qualify for the Badminton Asia Championships Final in Dubai. Not only that, he brought home a hard-won silver medal for his efforts.
---
May 2023
5 to 17 May: Singapore bags 51 golds, 43 silvers and 64 bronzes at the 32nd SEA Games held in Phnom Penh, Cambodia this year
Talk about a medal sweep! Here are some highlights:
6 May
Ju-jitsu exponent Noah Lim bags Singapore's first gold medal for the 2023 SEA Games - while recovering from a dislocated finger, which left him with only one functional hand at the time.
Swimmer Jonathan Tan breaks records at the 2023 SEA Games, clocking 21.91 seconds in the 50m morning heats and 21.95 seconds in the finals.
On that day, Jonathan became the first to win both the 50m and 100m freestyles since Joseph Schooling at the 2015 SEA Games. Not only that, his time for the 50m freestyle qualified him for the 2024 Paris Olympics!
Also in swimming, the women's swimming 4x100m freestyle relay quartet of Quah Ting Wen, Nur Marina Chan, Quah Jing Wen and Amanda Lim win Singapore's 1,000th SEA Games gold medal.

7 May: Silat exponents Amirah Sahrin, Iffah Batrisyia Noh and Nur Ashikin Zulkifli clinch Singapore's first-ever gold in the women's artistic silat team event.
The artistic team event is where trios perform a group routine, showcasing a variety of silat moves during a three-minute period, and are given points on their combined synchronisation, execution of technique and energy.

8 and 12 May: Sprinter Shanti Pereira becomes the first Singaporean to win both the 200m and 100m women's events at the same edition of the SEA Games, clocking 22.69 seconds in the 200m event on 8 May and 11.41 seconds in the 100m event on 12 May.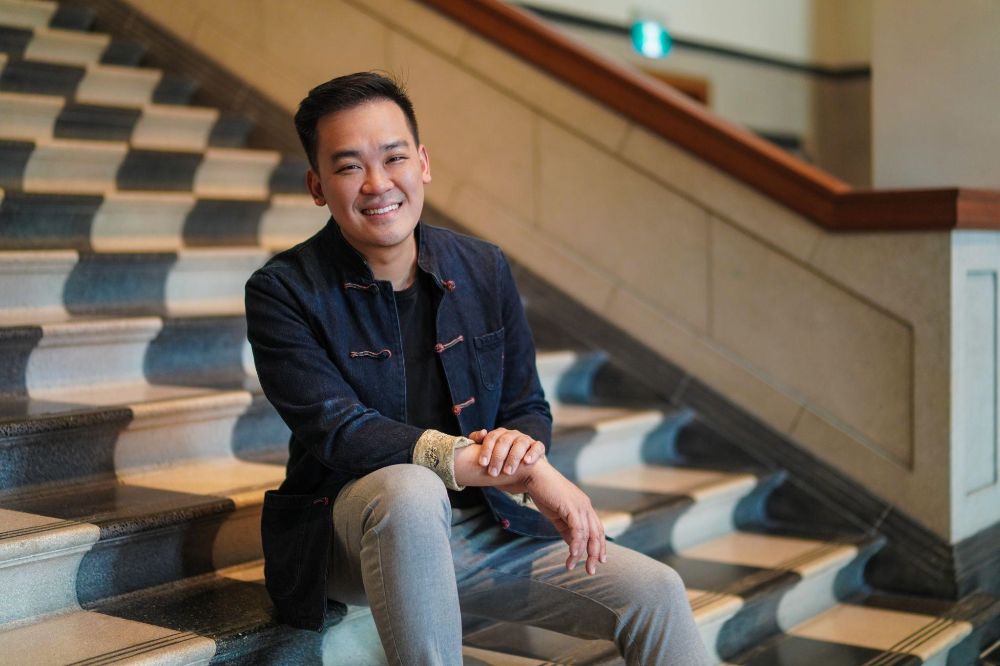 IMAGE: VOICES OF SINGAPORE
11 May: Singaporean composer and conductor Darius Lim appointed board member of the International Federation for Choral Music (IFCM)
Dr. Darius Lim, composer, conductor, and Artistic Director of Voices of Singapore (VOS), was appointed to the Board of Directors of IFCM after a rigorous election process conducted by IFCM earlier in the year.
"I am thrilled about the opportunity to promote Singaporean and Asian choral cultures to the world and to effect positive change through choral singing," Dr Lim said.
"Collaborating with my fellow board members, many of whom I have long admired for their trailblazing and inspirational work in their respective countries, will be an exciting endeavour."
27 May: Local dance studio STEP Studio wins international dance competition
STEP Studio's STEP Youth Crew took home 1st prize at "FINALS", an international dance competition held at the 8,000-capacity Volkswagen Halle indoor sporting arena in Braunschweig, Germany.
"I think what was most amazing was that full house standing ovation that we got at the end of the piece, the whole stadium cheering "Singapore! Singapore! Singapore!", and just everyone giving us hugs and crying with us because the love and support this country and this community has is immeasurable," said STEP studio co-founder Stephanie Loh.
---
June 2023
3 to 9 Jun: Team Singapore makes an impressive showing at the 12th ASEAN Para Games (APG) in Cambodia
25 para-athletes representing six sports brought home Singapore's second largest APG medal haul (12 golds, 15 silvers, 17 bronzes), 16 new national records, 9 new games records, and 17 new personal bests.
9 Jun: Danelle Tan is the 1st Singaporean to join Borussia Dortmund's women's football team
Aside from being the 1st Singaporean and Asian to make the German team, the 18-year old athlete has also made history in the world of sports by being the first Singaporean woman to play in a European league, FA Women's National League South, where she played for the London Bees till May 2023.
She is also the first Singaporean to be accepted into a National Collegiate Athletic Association Division 1 football programme, a leading football programme in the United States.
10 Jun: Voices of Singapore Children's Choir is the first children's choir from Singapore to make a Carnegie Hall debut
Under the direction of Artistic Director and Composer-Conductor Dr. Darius Lim (see May above), the choir delivered stunning renditions of choral arrangements of Singaporean folk tunes and international choral pieces that evening.
The young singers demonstrated an impressive mastery of their craft with perfectly synchronised choreography, earning them a standing ovation and thunderous applause at the end of their performance segment.
11 Jun: Powerlifter Farhanna Farid reclaims her women's Under-52kg deadlift world record at the World Open Classic Powerlifting Championships held in St Julian's, Malta
Her hard-won victory came two months after a back injury that left her unable to walk or lift her legs without excruciating pain.
Thanks to her unbreakable focus and willpower, Farid not only reclaimed her title but also set a new world record at 203kg, marking her 6th world record in a year.
18 Jun: Team Singapore fencer Amita Berthier claims a historic bronze at the Asian Fencing Championships in Wuxi, China
The 22-year-old wrote in an Instagram post: "This is a huge milestone for me, and words cannot describe the gratitude I have for all the support I've received up to this point."
In 2021, Amita - who is refining and perfecting her skills at the University of Notre Dame in the United States - became the first Singaporean fencer to be part of a National Collegiate Athletic Association team championship win. That same year, she also became the first Singaporean fencer to clinch a spot at the Olympic Games (Tokyo 2020).
---
July 2023

IMAGE: SINGAPORE DISABILITY SPORTS COUNCIL
8 to 14 Jul: Singaporean duo Aloysius Gan and Yan Jia Yi secure historic victory at inaugural World Boccia Youth Championships
Singaporean boccia athletes Aloysius Gan and Yan Jia Yi etched their names in history by capturing the championship title in the BC3 Pairs event at the inaugural World Boccia Youth Championships, which took place in Povoa de Varzim, Portugal, featuring close to 50 aspiring youth athletes with disabilities from 12 nations.
They also secured resounding victories in their BC3 Individuals events, where Aloysius Gan emerged as the Champion in the BC3 Individuals (Male) category, and Yan Jia Yi claimed a well-deserved bronze medal in the BC3 Individuals (Female) category.
14 and 16 July: Sprint queen Shanti Pereira is Singapore's Wonder Woman
At the Asian Athletics Championships in Bangkok, the 26-year-old sprint queen clocked a time of 11.20 seconds in the 100m event and 22.70 seconds in the 200m event to earn a historic double gold.
For the latest updates on Wonderwall.sg, be sure to follow us on TikTok, Telegram, Instagram, and Facebook. If you have a story idea for us, email us at [email protected].