National Monuments Of Singapore: Victoria Theatre and Victoria Concert Hall
What is a National Monument? Who gazettes them? How many national monuments are there in Singapore? To date, the Preservation of Sites and Monuments, a division of National Heritage Board, has identified and gazetted 75 buildings, structures and sites of national significance as an integral part of Singapore's built heritage.
And we're here to tell you all about them - one National Monument at a time!
Here they all are on a Google Map we specially created. Every Wonderwall.sg logo, or "W", indicates a spot where a National Monument of Singapore is located:
You've probably passed by or stepped into more than a few of them without realising they were National Monuments: Al-Abrar Mosque, Asian Civilisations Museum (ACM), the Civilian War Memorial, Saint Andrew's Cathedral, the Esplanade Park Memorials, Fort Siloso on Sentosa - no need to plan an itinerary for friends visiting from overseas; just show them this article ✌️
In this edition, we throw the spotlight on a performing arts centre that houses two of Singapore's oldest existing purpose-built performance venues: the spectacular Victoria Theatre and Victoria Concert Hall.
📍 Location
National Monument #26 is located right in the heart of Singapore's Civic District, behind the Asian Civilisations Museum. The nearest MRT stations are City Hall MRT or Raffles Place MRT.
📅 Significant dates
Dates built:
1855-1862: Town Hall (Victoria Theatre today)
1903-1905: Victoria Memorial Hall (Victoria Concert Hall today)
1906-1909: Renovation of Town Hall into Victoria Theatre
1979-1980: Renovation of Victoria Memorial Hall into Victoria Concert Hall
Milestones:
1862: Town Hall
11 Feb 1909: Victoria Theatre
18 Oct 1905: Victoria Memorial Hall

1 Oct 1980: Victoria Concert Hall



Date collectively gazetted as National Monument: 14 Feb 1992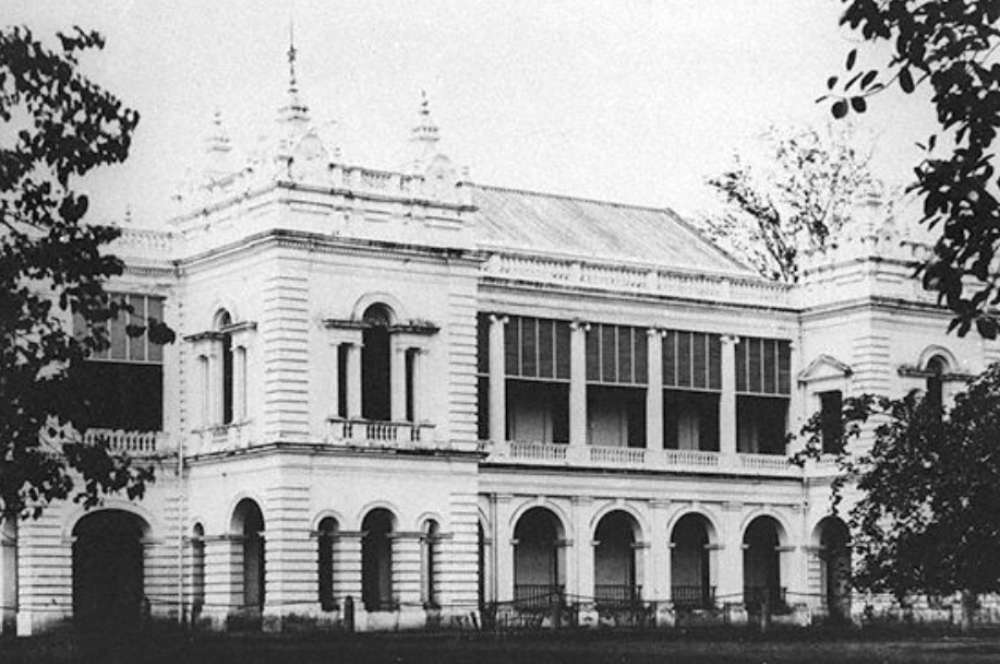 The Town Hall circa 1880.| IMAGE: WIKIMEDIA COMMONS/@NATIONAL MUSEUM OF SINGAPORE
📜 History
Town Hall (Victoria Theatre today)
Victoria Theatre began its life as the Town Hall. Designed by John Bennett (the engineer who was also responsible for Saint Andrew's Cathedral), the Town Hall was constructed between 1855 and 1862 with funds set aside by the British Administration and from public donations. It also housed the Singapore Library from 1862 to 1876.
The Town Hall was built during an era of Victorian Revivalism that was then popular in Britain, and its design therefore reflected this architectural style with Italianate windows. In fact, it was the first structure in Singapore to be built in this style.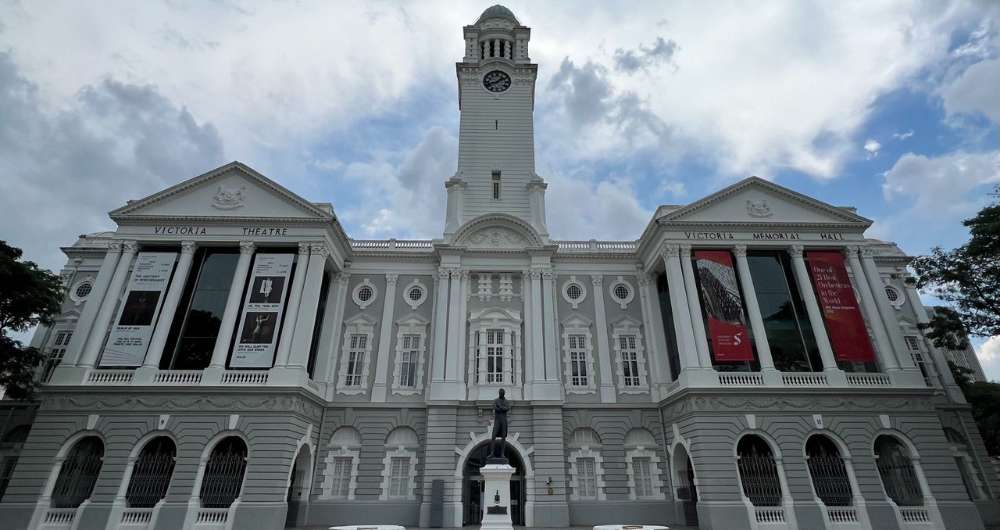 Public funds for construction of the Memorial Hall exceeded the construction costs, thus leaving a surplus for the renovation of the Town Hall later on so that it blended in with the new hall. | IMAGE: NG KAI
Victoria Memorial Hall (Victoria Concert Hall today)

Victoria Memorial Hall was built next to the Town Hall between 1903 and 1905 in memory of Queen Victoria who passed away on 22 Jan 1901. Regent A. J. Bidwell from the well-known architectural firm Swan & Maclaren (the same firm that designed the Cenotaph and Civilian War Memorial), designed the Memorial Hall. The foundation stone was laid during the auspicious occasion of King Edward VII's coronation celebration on 10 Aug 1902.
A portico (a structure consisting of a roof supported by columns at regular intervals, typically attached as a porch to a building) was created on the Town Hall, mirroring that of the new Memorial Hall, thereby creating a unified appearance.
On 18 Oct 1905, Victoria Memorial Hall was declared open by Governor of the Straits Settlements Sir John Anderson. The elegant building had electric fans that cooled the interior, making it possible for a large crowd to meet in comparative comfort.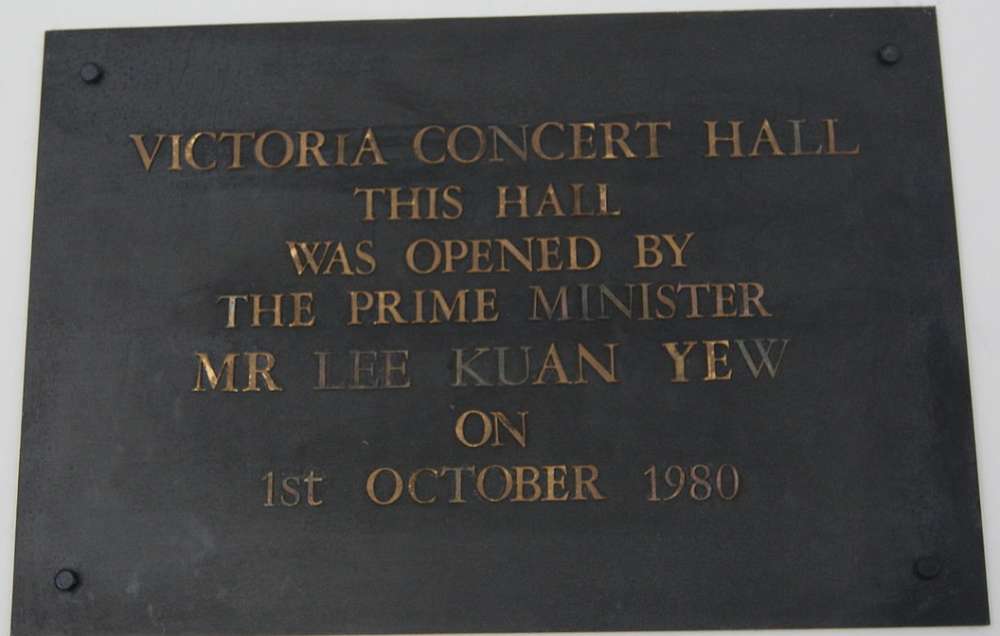 The Victoria Memorial Hall underwent a year-long revamp in 1979, and reopened as the Victoria Concert Hall. | IMAGE: WIKIMEDIA COMMONS: JACKLEE
The Victoria Concert Hall was inaugurated on 1 Oct 1980 by then-Prime Minister Lee Kuan Yew. Mr Lee's inauguration speech was followed by a performance from the concert hall's new resident orchestra, the Singapore Symphony Orchestra (SSO).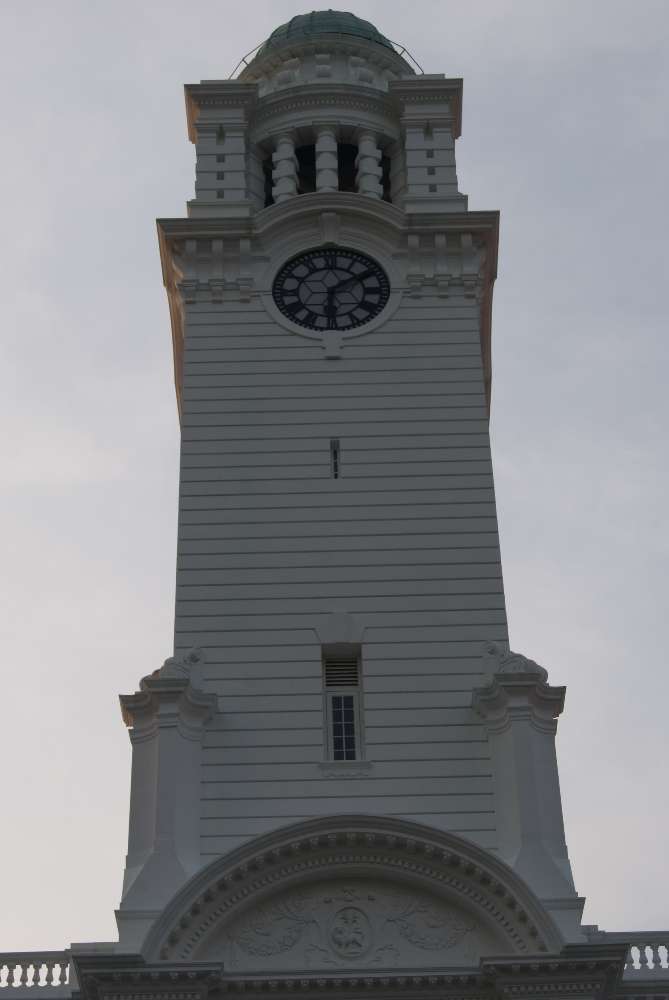 The clock is 4m wide and weighs 1 tonne. There is a bell turret above it, which is capped by a cupola (a small dome adorning a roof or ceiling). | IMAGE: WIKIMEDIA COMMONS/@JACKLEE
The iconic Clock Tower
The two buildings - the Town Hall and the Victoria Memorial Hall - were joined together by a Clock Tower built in 1906 to give the impression of a single building. The iconic 54m-tall structure connects the two buildings with a common corridor, and is topped by a timepiece donated by the Straits Trading Company. The Duchess of Connaught, Princess Louise Margaret of Prussia, ceremoniously set the clock in motion on 1 Feb 1907.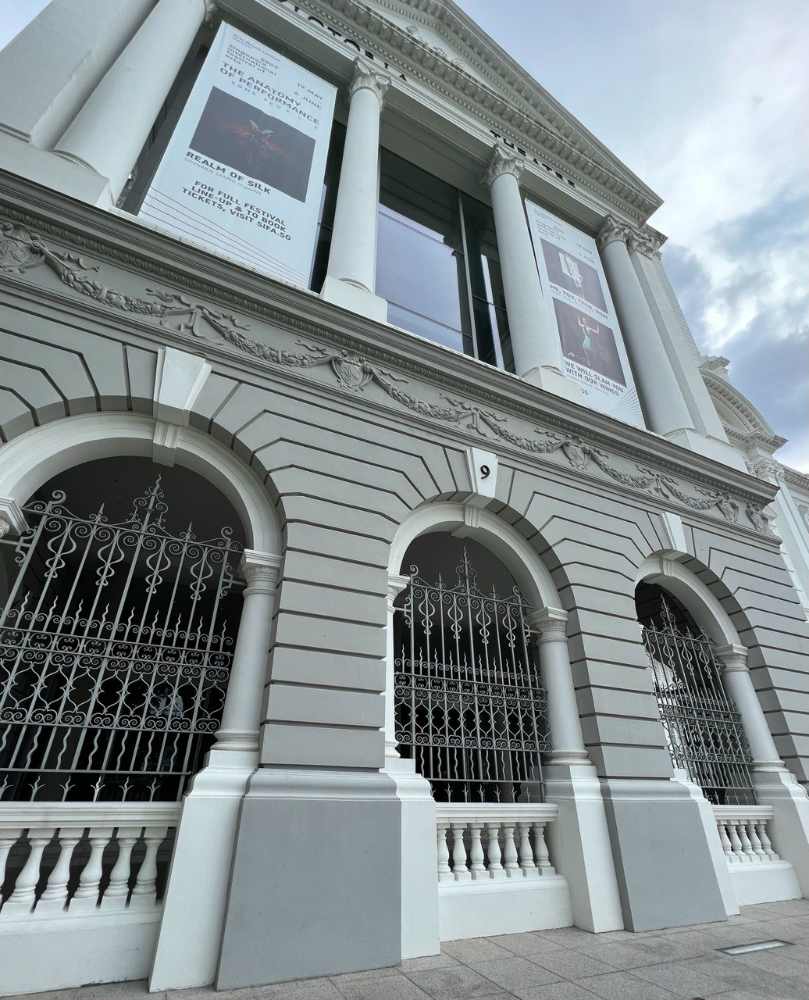 The Pirates of Penzance, a comic opera about pirates, was the first performance to be staged in the renovated Town Hall when it reopened as Victoria Theatre. | IMAGE: NG KAI
Victoria Theatre
After the completion of Victoria Memorial Hall, it was decided that the Town Hall should be remodelled into a proper theatre, and, at the same time, replicate the Victoria Memorial Hall's charming façade. Renovation works were executed by Swan & Maclaren according to the plans prepared by Bidwell. Victoria Theatre greeted the world on 11 Feb 1909.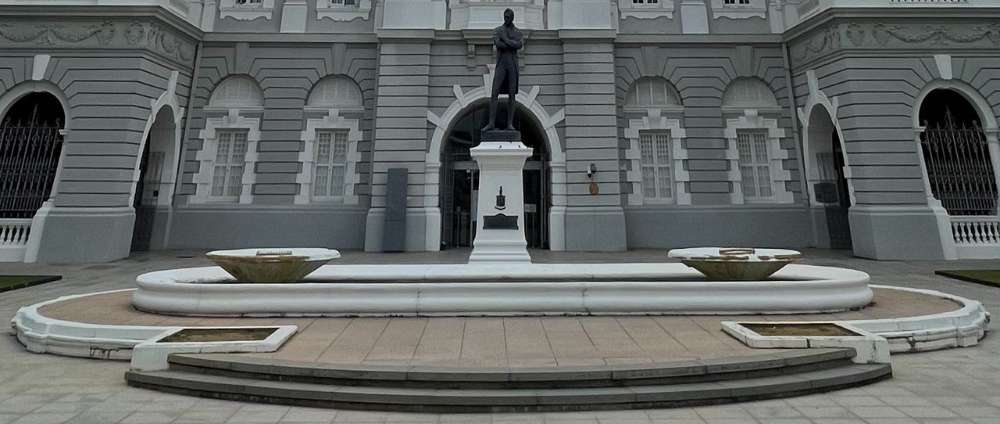 IMAGE: NG KAI
On 6 Feb 1919, the centenary of Singapore's founding, a statue of Stamford Raffles by T. Woolner was moved from the Padang to the front of the Memorial Hall. The statue was accompanied by a new semicircular colonnade and a pool.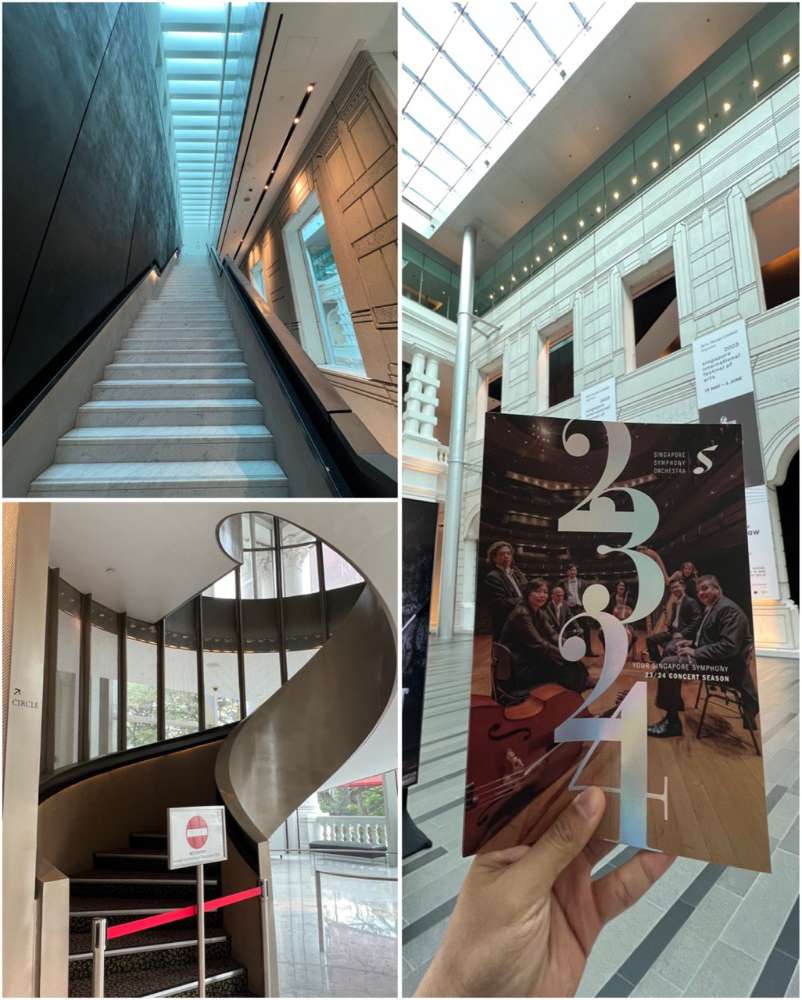 IMAGES: NG KAI
📐 Design and architecture
Victoria Theatre and Victoria Concert Hall
The architecture of this National Monument is greatly influenced by the Neoclassical style. This architectural style was also adopted for other colonial civic buildings in Singapore, such as the nearby Former City Hall and Former Supreme Court. Some prominent Neoclassical features in Victoria Theatre and Victoria Concert Hall include the tall Corinthian columns on their façades that are topped by triangular pediments now bearing the State Crest of Singapore.

Mouldings of festoons – decorative bundles of fruits, flowers, and ribbons – and other beautiful plaster details adorn both the interior and exterior walls. In addition, stucco cartouches (oval shield motifs) bearing the monogram with the letters "V", "R", and "I" can be seen around the monument; the letters stand for Victoria, Regina ("Queen" in Latin), and Imperatrix ("Empress"), in memory and honour of the late Queen Victoria.
🕖 Opening hours

10am to 9pm daily.
🎟️ Admission
Free, except for ticketed events. Find out more here.
If you're lazy to head down, you can even explore the site via a 360° virtual tour.
For the latest updates on Wonderwall.sg, be sure to follow us on TikTok, Telegram, Instagram, and Facebook. If you have a story idea for us, email us at [email protected].