Chocolate, Silver And Saints: A Voyage Through The Manila Galleon Trade Route
Globalisation. We often take for granted how it ushered in a rapid age of convenience. (Of course, with the pros, there are major cons as well, but that's another story.) Yes, we're referring to the advent of e-commerce platforms like Shopee and Amazon, where it's so easy to order just about anything from another continent, and have it delivered within a few days.
Now, picture our ancestors living during the 16th to 19th centuries, who had to wait months for items to arrive. Could you wait four months for your parcel? 🥹 And how did people in Asia get goods from way across the world, aka the Americas?
Enter one of the first avenues of globalisation - the Manila Galleon Trade Route. Back then, Spanish ships would journey across the vast Pacific Ocean, from Acapulco, Mexico to Manila, Philippines, facilitating the trade of once-exotic items such as chocolate and silk. And apart from trading foodstuff, linguistic and cultural exchanges were also made that have helped shape the identities of South-east Asia and Latin America.
All this is now on full display at the Asian Civilisations Museum's (ACM) newest show, Manila Galleon: From Asia To The Americas, which runs till 17 Mar 2024.
The exhibition showcases over 140 artefacts, some of which have been sourced from the National Collection, while the remainder are on loan from global institutions and private collectors. Among these are rare items previously confined to their home countries, which make their debut in Singapore and Asia. Notable inclusions are gem-encrusted chalices and pre-colonial artefacts from the Philippines and Mexico.
We had a preview, and here are six displays which we think you die-die cannot miss: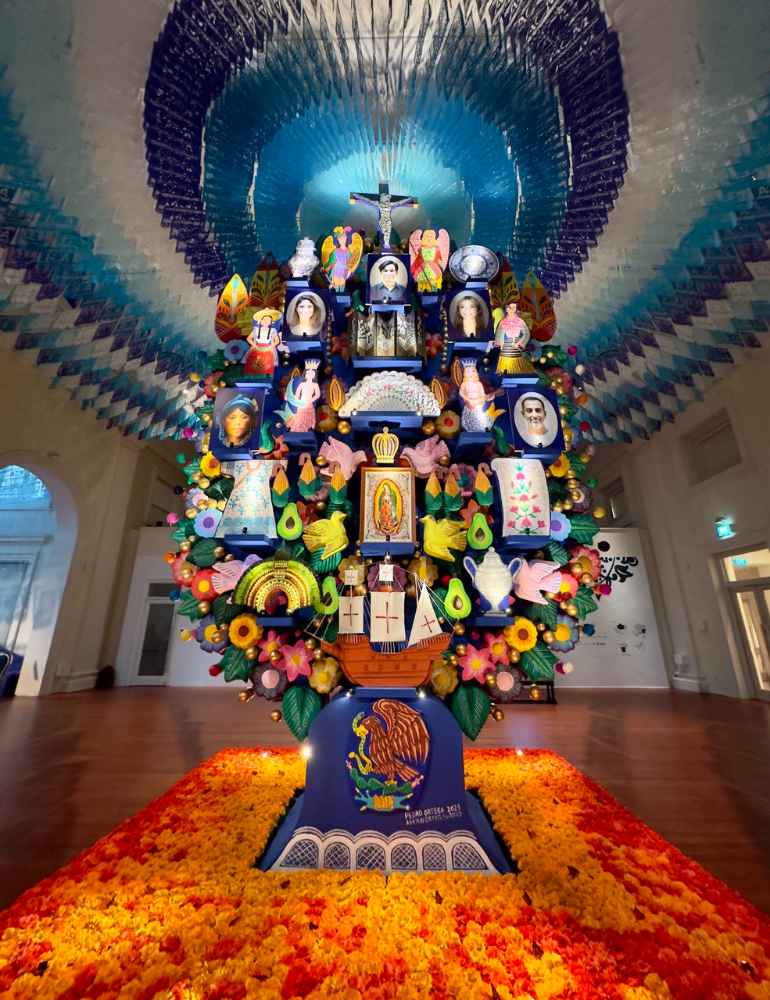 IMAGE: NG KAI
Tree of Life
The Tree of Life is an ancient symbol used by cultures all around the world. It is most commonly used to represent a family tree, illustrating the connections and relationships between ancestors, parents and descendants.
This installation takes inspiration from the family trees of mestizo communities (referring to people of mixed heritage) that developed as a result of the Manilla galleon trade. Photos of people of African, Chinese, Filipino, Mexican and Spanish descent are hung on the tree, as well as some of the goods traded.
FYI: A team of volunteers painstakingly crafted nearly three thousand paper flowers that make up the base of the installation. Kudos to their hard work!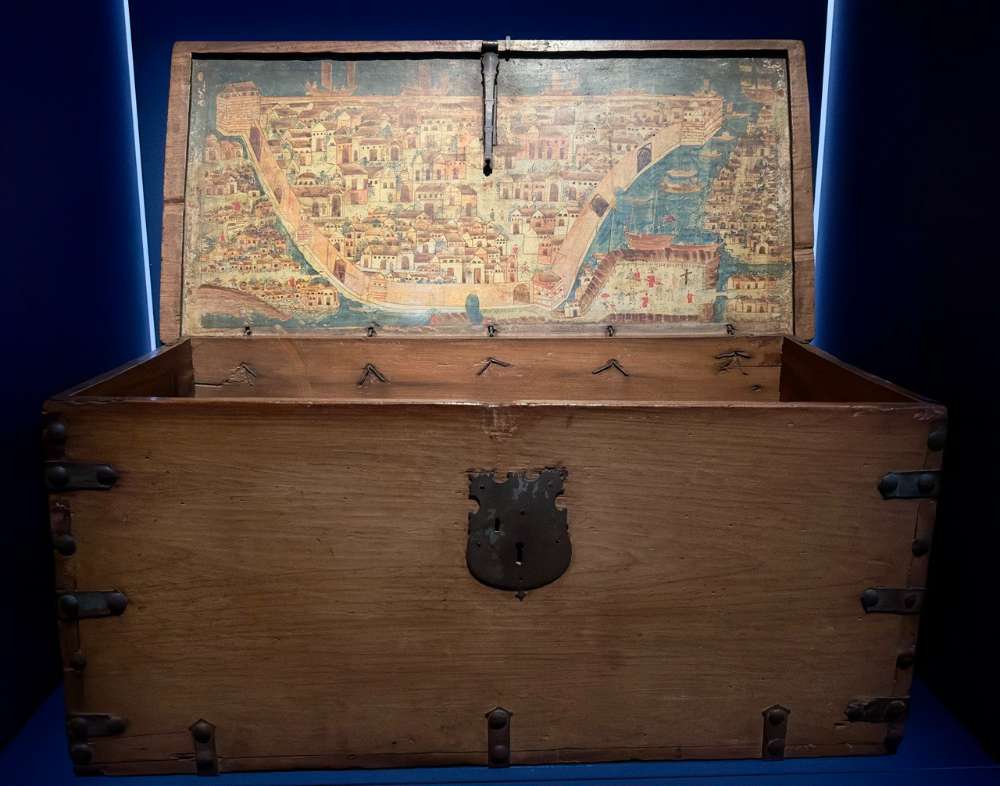 IMAGE: NG KAI
Chest with view of Manila (The Philippines, circa 1650 to 1660)
This travelling chest once held all sorts of goodies. But more importantly, it is decorated with a map of Manila. This map is one of the oldest views of the city, showing a walled town facing the sea and land, surrounded by water.
Interestingly, upon closer inspection, many details have associations with China, leading to speculations that the map was painted by a Chinese artist who lived in Manila. Chinese ships are spotted in the harbour, and there are figures draped in Ming dynasty clothing strolling about a plaza at the lower-right portion of the map.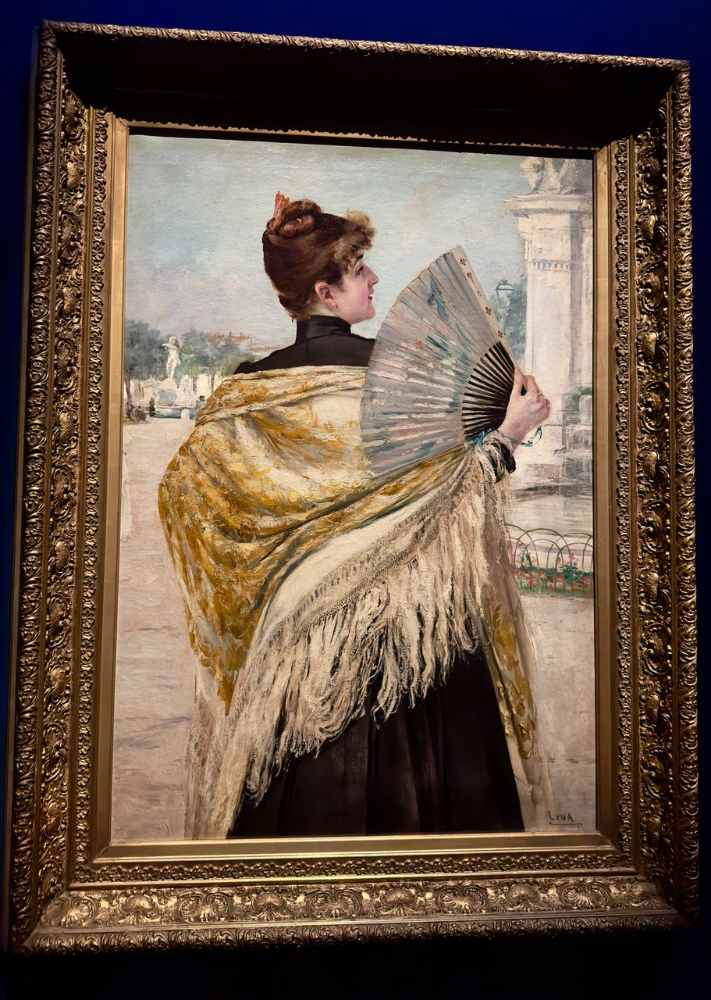 IMAGE: NG KAI
Woman in Manton painting (1880s)
The painting depicts a Manila shawl draped around a fashionable European woman. Shawls like this - highly sought-after accessories in the 19th century - would have heightened one's the fashion status, and would probably be equivalent to an item from a luxury brand like Fendi today.
The artist, Juan Luna, was the first Filipino painter to gain international fame. He even won a gold medal at the Madrid exposition of 1884, and received prestigious commissions.
But there's a violent twist to his story: In 1892, Juan killed his wife and mother-in-law in a jealous rage. Things got even more complicated because he was acquitted on the grounds that it was a crime of passion. Go figure.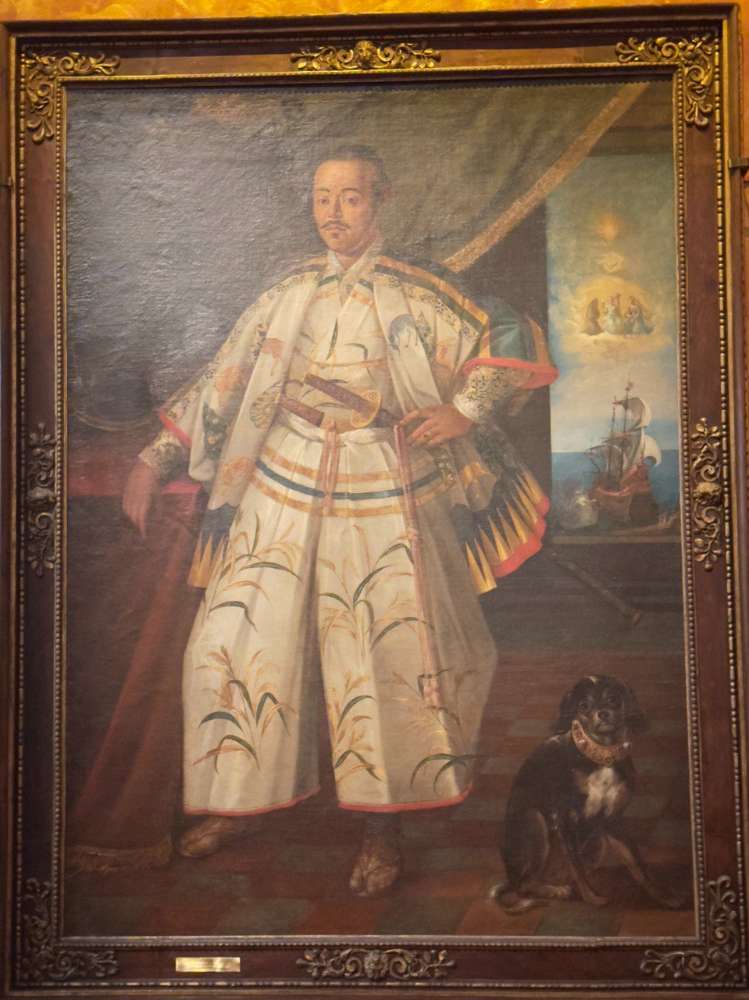 IMAGE: NG KAI
Portrait of Hasekura Tsunenaga (around 1615)
This striking portrait was commissioned to commemorate the historic visit of a Japanese delegation to Rome. In the background, a ship symbolises the long voyage undertaken, and the angelic figures above the ship represent Hasekura's Christian faith.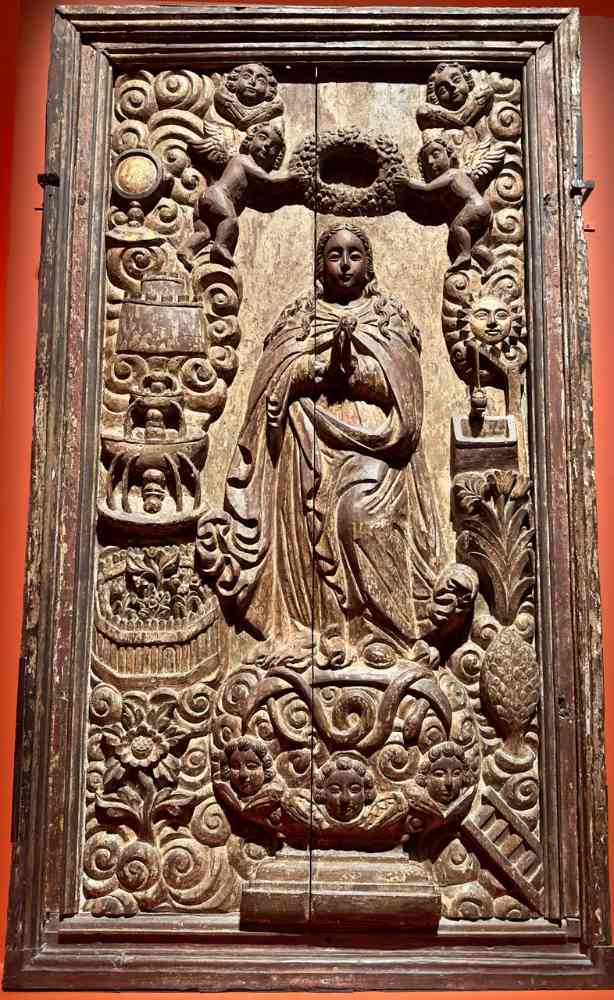 IMAGE: NG KAI
Virgin of the Immaculate Conception
Fun fact: Some time in the mid-16th century, the Christian faith had arrived on the shores of Philippines, brought by the Spanish. This intricately-carved artefact of the Virgin Mary originated from the 18th century. She stands on an inverted crescent moon with a coiled serpent, and is surrounded by angels and symbols from the Old Testament.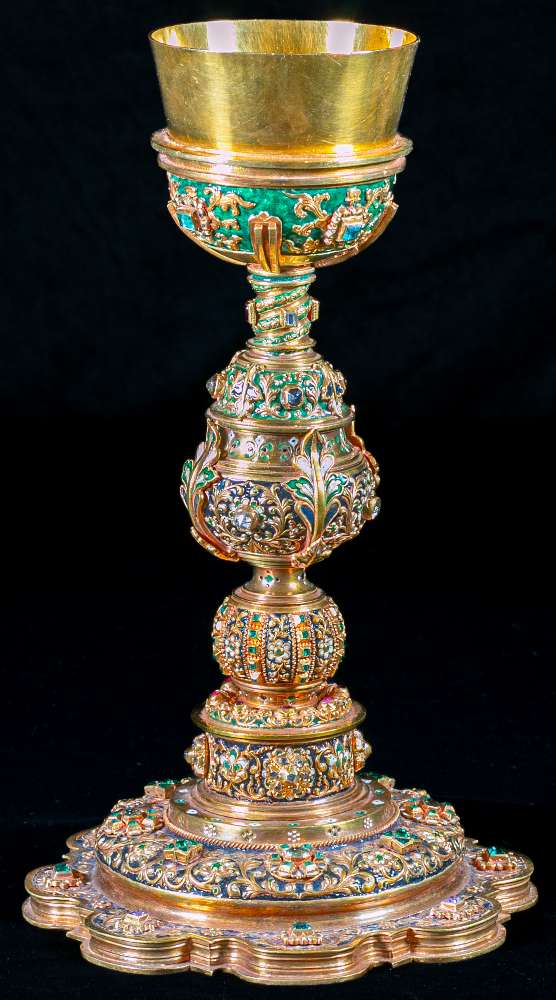 IMAGE: COURTESY OF THE INTRAMUROS ADMINISTRATION COLLECTION
Chalice
A total of 148 gems in the form of gold, diamonds, rubies, emeralds, topaz and amethysts adorn this chalice from the 17th century. This goblet held the consecrated (declared sacred) wine for services at the San Agustin Church in Manila.
---
Exhibition details
Venue: Asian Civilisations Museum, 1 Empress Place, 179555
Admission: $12 for Singaporeans and permanent residents, $25 for foreign visitors, free for children aged six and below
Duration: From now till 17 Mar 2024
Opening hours: 10am to 7pm daily; till 9pm on Fridays
Find out more here.
As part of the exhibition's opening weekend, enjoy free admission to various programmes, such as learning paper craft from a Mexican maestro or listening to folk stories from the Philippines.
---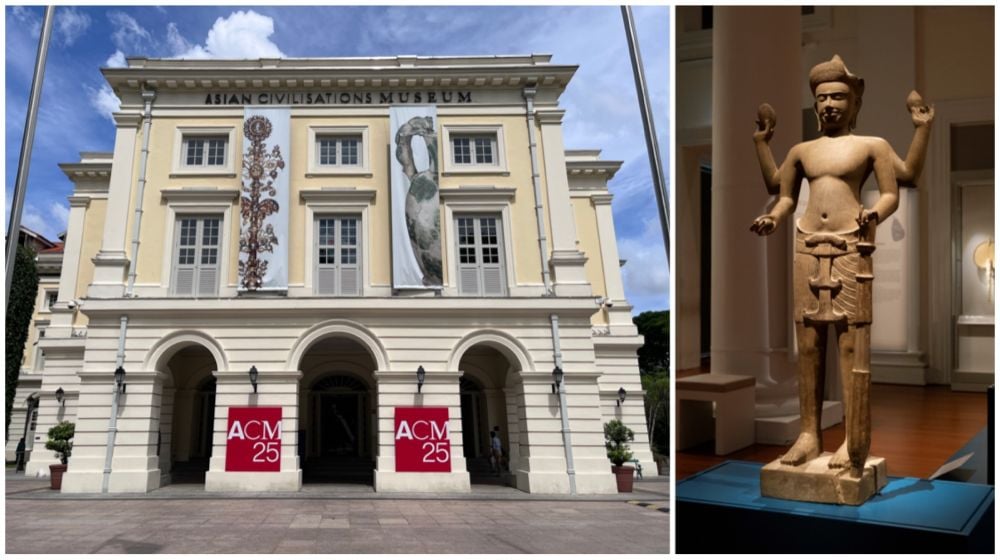 IMAGE: SIM DING EN (LEFT) AND ASIAN CIVILISATIONS MUSEUM
The Asian Civilisation Museum, a National Monument of Singapore
Did you know that when the building was first constructed in 1867, it was built with the intention of being a courthouse? Its first occupant was the Government Secretariat in 1865. So, it became known simply as the Government Offices.
The edifice was renamed "Empress Place Building" in 1907 when the Municipal Council renamed the adjacent pedestrian space in honour of Queen Victoria who had died in 1901.
Read more about this National Monument here, and embark on a journey of discovery in our "National Monuments of Singapore" series here.
For the latest updates on Wonderwall.sg, be sure to follow us on TikTok, Telegram, Instagram, and Facebook. If you have a story idea for us, email us at [email protected].