What To Do This Weekend (20 to 23 Jan 2023)
Ready for the weekend? Here's what you can look forward to this week.
1. Lunar New Year Istana Open House 2023
Make the most of your long weekend and pay a visit to the Lunar New Year Istana Open House (IOH) this Monday (23 Jan). You can look forward to a series of onsite guided tours throughout the day, from tours of the Istana Main Building to nature tours conducted by volunteers from NParks.
In addition, there will also be other onsite activities such as band and dance performances by student groups from local schools, a calligraphy booth, candle-making workshops, and much more. Be sure to check out the merchandise booths selling limited-edition Istana and President's Challenge souvenirs and memorabilia.
Do note that while entry to IOH is free for all Singaporeans and Permanent Residents, guided tours require registration onsite and have fees that will be collected on the spot. Only cashless payments via SGQR will be accepted for all tour fees and merchandise purchases. All proceeds will go towards charities supported by the President's Challenge.
8.30 am to 6 pm, 23 January 2023
Find out more here
2. Usher in a hare-py Lunar New Year @ Mandai Wildlife Reserve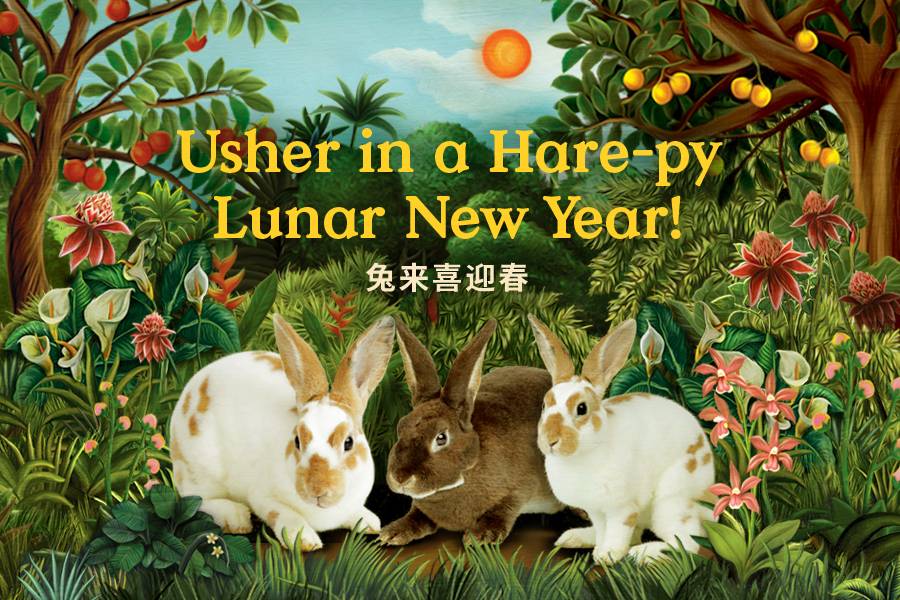 Hop on down to Mandai Wildlife Reserve's nature parks (Singapore Zoo, River Wonders and Night Safari) to celebrate the Lunar New Year. You're invited to "Lo-HAY" with adorable Mini Rex Rabbits at the Singapore Zoo's Buddy Barn, learn about your zoo-diac predictions with your animal friends, be wowed by auspicious greetings at animal presentations and shows, enjoy a majestic lion dance, and much more.
21 January to 5 February 2023
Find out more here
3. River Hongbao 2023
Join River Hongbao's new bunny mascots Prosperity (福儿, pronounced Fu-er) and Longevity (寿儿, pronounced Shou-er) for an amazing Chinese New Year experience with glowing lantern displays, spectacular stage performances, carnival games, and an exhibition where you'll learn about the evolution of greeting cards and Chinese motifs. The best part? Admission is FREE!
Adding to the festive celebration are virtual activities, including an adorable bunny mascot AR filter on Tiktok that mimics your actions, a live Feng Shui show on Facebook, and online contests with prizes to be won.
20 to 28 January 2023
Find out more here or here
4. Disney100: Experience Wonder at Jewel
Celebrate 100 years of magic from Disney at Jewel Changi Airport's Disney100. Be enthralled by the Disney100 Light & Sound show featuring a plethora of characters from iconic Disney films over the century, then step through the Disney100 archway and emerge in front of a 4-metre-tall platinum statue of Mickey Mouse. You're also invited to explore exclusive Disney-themed photo spots at Shiseido Forest Valley, inspired by scenes from Disney, Pixar, Marvel and Star Wars movies.
In collaboration with the Singapore Tourism Board (STB), four other photo spots have also been created with a local twist. Discover interesting elements of Singapore combined with intriguing features from some of Disney's films such as Singapore's national flower, Vanda Miss Joaquim, with the flowers seen in Encanto, as well as images of the red pandas residing in River Wonders with Turning Red, and more.
Till 9 April 2023
Find out more here
5. Mattel Playhouse @ Marina Square
Take your kids to Marina Square to play, learn and have fun at Mattel Playhouse, an all-new experiential pop-up playspace that brings together various beloved Mattel brands to provide a fun, diverse and immersive atmosphere for young kids across 12 activities.
Your kids can become young champion racers with Hot Wheels and having fun driving on the iconic orange track, unlock their limitless creative potential to become a pop star, gymnast, painter and more with Barbie, take a train ride and enjoy three Thomas the Tank Engine themed arcade machines, and much more.
Till 9 April 2023
Find out more here
For the latest updates on Wonderwall.sg, be sure to follow us on TikTok, Telegram, Instagram, and Facebook. If you have a story idea for us, email us at [email protected].