Father's Day Order-in Ideas For That Most Special Person
Whether he's your hero, your personal driver, your therapist or your football buddy, your dad is always there to pick you up, dust you off, or just give you a big old hug. Now that work shirts and ties are off the table since he's probably working from home more often than not, gift him something he'll love to eat or drink, and share in some quality time with him at home.
For dads with a sweet tooth
Dads with a sweet tooth will appreciate the marble-glazed Father's Day Cake ($88) from Janice Wong Singapore. It's all a little extra, what with the gold-dusted orbs that adorn it and a video tutorial on how the cake is made (though that seems a tad indulgent on the pâtissier's part). But squirreled beneath that glaze are layers of crushed Biscoff cookies, coffee ganache, chocolate sponge, Biscoff mousse and milk chocolate mousse. It's smooth, sweet and rich — all the adjectives mum might have used to describe dad when she first met him.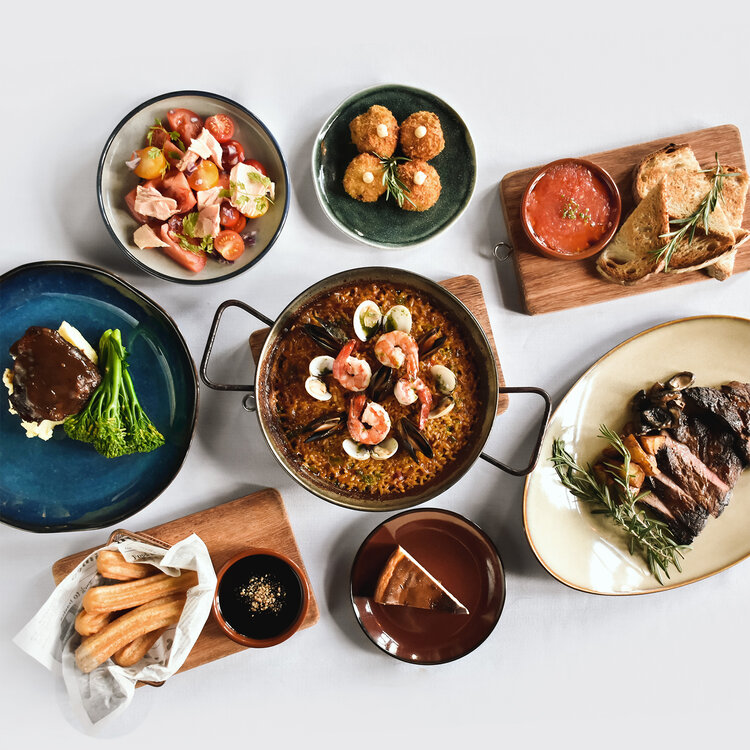 For dads missing travel
"You can't buy happiness, but you can go to Spain," goes the old trope. Well, these days, you can't even go to Spain, but you can buy your main man a taste of it to enjoy together at home. Una's Father's Day Delivery Bundle ($188) feeds up to four people amply, with classic dishes like a seafood paella, jamon croquettes, braised beef cheeks in red wine, burnt Basque cheesecake and a bottle of red or white wine.
For dads who like bourbon whiskey
If dad is the sort that likes a quiet drink on his own every now and again, then this makes a great gift, complete with his name on the bottle. For the month of June, Maker's Mark is providing a customisation service for personalised messages on its bottle labels from $58. You can input your dad's name and the option of a pre-set Father's Day message that'll warm his heart. Available at Wines & Spirit SG or Lazada.
For carb-loving dads
Who needs a full meal when you can sit down to a selection of five freshly baked breads, house-churned lobster butter, truffle oil, and a generous array of charcuterie. Fashioned after its lavish bread trolley, Tablescape is offering this irresistible Charcuterie & Bread Set ($70.20, serves two) that comprises the likes of a slow-fermented sourdough loaf, brioche, baguettes, onion bread and multigrain bread, as well as a whole bunch of cheeses and cold cuts. Bonus points if you take dad out on a picnic with it.
For dads who like it spicy
There is so much flavour packed in this six-course meal ($98, feeds four) from Thai restaurant Blue Jasmine. Gather round the table with dad and dig into Thai fish cakes with cucumber relish, nourishing tom kar gai soup, sundried chicken with green chilli dip, and gaeng som (a tangy, fiery curry). The meal ends with an indulgent Thai dessert platter, which you'll need to temper all that spice.
For the hot-blooded, meat-loving dad
With a name like Meet Our Meat Platter ($158), you'd expect plenty of protein to sate dad's need for red meat. Thankfully, this one from Botanico (yes, we realise the irony) doesn't disappoint. Expect to find Australian OP ribs, Kurobuta pork belly and lamb neck grilled to charred, succulent goodness. These are balanced out by grilled piquillo peppers and leek flowers, and served with a tart jicama slaw, buttery scallion mash and beef jus sauce. Order for delivery three days in advance.
For the latest updates on Wonderwall.sg, be sure to follow us on Facebook and Instagram. If you have a story idea for us, email us at [email protected].