From Cockpit To Cockles: How The RSAF Inspired Me To Give Up A Corporate Job To Be A Hawker
Just two years ago, Daniel Teo spent his nights mingling with the stars at movie premieres and media events. When COVID-19 struck, he continued hustling as a business director in a digital media network.
Today, you'll find Daniel cleaning cockles and testing chili sauce for Kin Hoi, the Thai seafood hawker stall he co-founded with business partner Atchara Nimnuan – a far cry from the cushy corporate job he enjoyed before, but one he jumped into willingly, even amidst the uncertainties of 2020.
Kin Hoi, whose mission is to "share good, authentic Thai flavour coupled with fresh shellfish and other delicacies with fellow Singaporeans," began in October 2020 as a home-based business, using Facebook as their primary medium for sales. On 26th November, their first physical store opened in Holland Close – "with our menu written on a piece of mahjong paper," Daniel quipped, in an email interview with Wonderwall. He and his co-founder worked 20-hour days when it first started, doing everything from sourcing seafood to manual labour.

To call Kin Hoi's offerings "diverse" would be an understatement. Their menu features crowd-pleasers like Indo Pacific Deep Sea Jumbo Grilled Prawns and House Special Vermicelli Claypot With Crayfish, as well as delicacies like Gong Gong (Sea Conch) and Sweet Asean Tiger Clams (Sea Whelk). And of course, there's their Signature Half Shelled Cockles marinated in a special blend of their Thai Spicy Chilli Sauce, which Daniel is working on bottling as we speak.
While the array of seafood sounds happening for sure, we could only wonder why anyone would choose to start a business like this during such an unstable time for F&B. Daniel certainly isn't the only person to give up a corporate job to be a hawker in amidst COVID-19, but we were especially intrigued by what he cited as the catalyst for his risk-taking, never-say-die spirit: his acceptance into the Republic of Singapore Air Force (RSAF).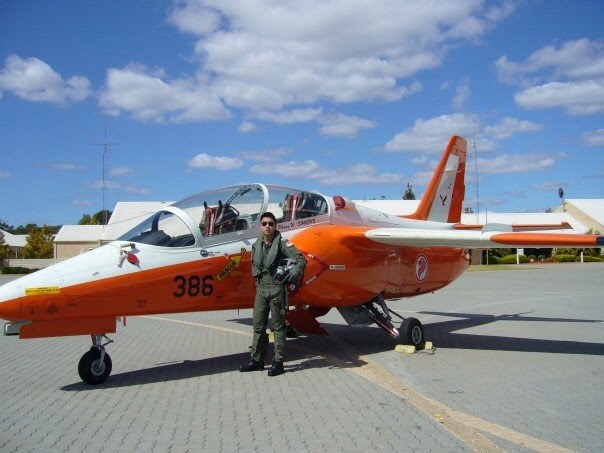 But er, where is the link between the cockpit and uh, cockles?
One look at Daniel's Instagram feed will show that while he's passionate about all things military, growing up, no one believed that the self-described "black sheep" and "naughty rebel" with mediocre grades would have what it took to get in to the RSAF.
But pursuing it helped Daniel develop the determination and courage to take risks later in life – because even if no one thought he could succeed, he had to at least give it a fair shot.
Kin Hoi has since opened a second stall in Toa Payoh, but Daniel still waxes lyrical about how the challenges he endured in the RSAF gave him the mettle to run the business today.
Here's what he went through, and the lessons he learned, in his own words: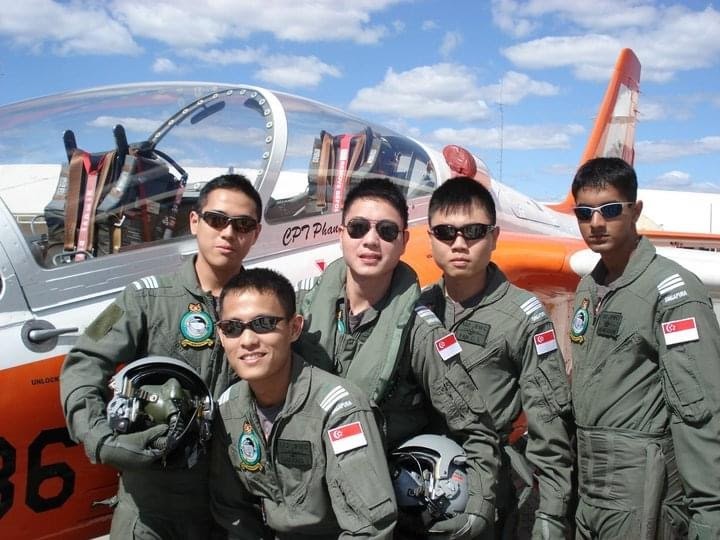 Being accepted into the RSAF was a significant milestone for you. To what extent do you think it contributed to your career choices, especially your choice to co-found Kin Hoi amidst COVID-19 restrictions?
I would say the RSAF set the tone for me to want to be the best. Being accepted as a Pilot trainee and going through the training was really tough but it also made me know that being the best is not a given but a choice.
For Kin Hoi, I went in all guns blazing, taking the risk because I believed in myself and the products that we sell. Risk-averse people might think I am crazy but I remember one of my instructors who was a fighter pilot telling me "the best pilots always fly their aircraft with a light buffet". This actually means to fly your aircraft till it nearly stalls as the manoeuvres are so intense and crazy that even the aerodynamics of the plane cannot undertake the inputs, causing it to nearly spin out of control. That made me know that risk-taking should be part and parcel of life and not something which we procrastinate about. In the end, if it fails, it's on me. I'll start over again. I have a functioning brain, I am able bodied.

Can you tell us about some experiences that taught you resilience?
I remember clearly when I walked for the first time into Flying training school at Paya Lebar, there were two words that were hung up , "FORTITUDE" and "TENACITY". Those two words stuck with me forever. One incident not related to flying was when we had to undergo a Jungle survival Training in OCS. To be honest, I wasn't as fit as everyone and during one of the treks I was already hallucinating and my mind was telling me to give up. Suddenly I just looked at my peer in front of me and he was going strong. I told myself we are the same. And a kick of adrenaline came in and I pushed on. I started to sing rap songs from Eminem and our section of 7 sang along with me and we all were distracted from our pain and made it back to base.
What are some of the challenges you faced starting Kin Hoi, especially in 2021 when the rules for dining out kept on changing?

It is still a roller coaster ride for me. When I first started it was 6am to 2am. Receiving shellfish in the morning and processing them with only me and my co-founder – many times there were signs of giving up but we pushed on. It was madness to me. However, we saved up the revenue and invested in a physical stall and always did our best to grow a trustworthy and reliable team. Right now, we have a central kitchen to process our food giving us more time for rest. We lost revenue when the rules for dining in changed, but we never gave up. We focused more on our delivery options and are doing our best to streamline workflows. It basically is like a constant need to evolve. I always tell myself…Be like water. Flow into any form.
How have you dealt with those challenges – both practically, as well as emotionally & mentally
Practically I know revenue is the most important hence we don't splurge or try to grow too fast, emotionally it took a huge toll but we are all human. I haven't really fellowshipped with my friends in a while but they all understand. Mentally it's been a battle, there are so many times I want to give up, sell the business, move on to something comfortable or higher paying, it's the battle most people have I think. But I keep reminding myself of the END GOAL. Forward is forward no matter the pace.
How was business affected by the latest round of Phase 2 (HA) restrictions? Especially with the tightened safety measures at Jurong and Senoko fishery ports
The first phone call and WhatsApp messages I received was that some of my suppliers had to increase the price because JP closed and they had to reroute the processing. Well that's life isn't it. I can't blame them. But I told the team we shouldn't pass down the cost to the customers. We made a commitment on prices stated. We aren't a petrol station.
I have my own suppliers for some, but not all products hence we are affected. The last round of Phase 2 HA did affect us a lot to be honest. Sales did drop quite drastically. But again TENACITY… forward is forward no matter the pace… This too shall pass.
Physical stalls located at 6 Holland Close and 168 Toa Payoh
Online orders available for islandwide delivery. Find out more on Kin Hoi's website
For the latest updates on Wonderwall.sg, be sure to follow us on Facebook, Instagram and Telegram. If you have a story idea for us, email us at [email protected].