Lightning Strikes, Foreign Travels And Other Quirky Facts About The Merlion
What has the head of a lion, the body of a fish, and constantly spews water? That's right: It's the Merlion! Our official mascot turns 51 today (15 Sep), but it's still as lively as ever.

In honour of the Merlion's birthday, here are some things you might not know about it.
1. The basics
Clocking in at 8.6m tall with a weight of 70 tonnes, the Merlion was first designed in 1964, although construction didn't begin for another 7 years.
2. From the hands of babes
When local sculptor Lim Nang Seng began building the Merlion in 1971, all 8 of his children pitched in to help out with the construction. The younger children worked on its body, while the older children actually scaled the scaffolding to work on its eyes and mouth!
3. The case of the mysteriously appearing eyes
When the Merlion was first unveiled on 15 September 1972, the irises of its eyeballs were the same white colour as the rest of it. However, at some unknown point between then and the present, its eyes became painted black, as they remain today.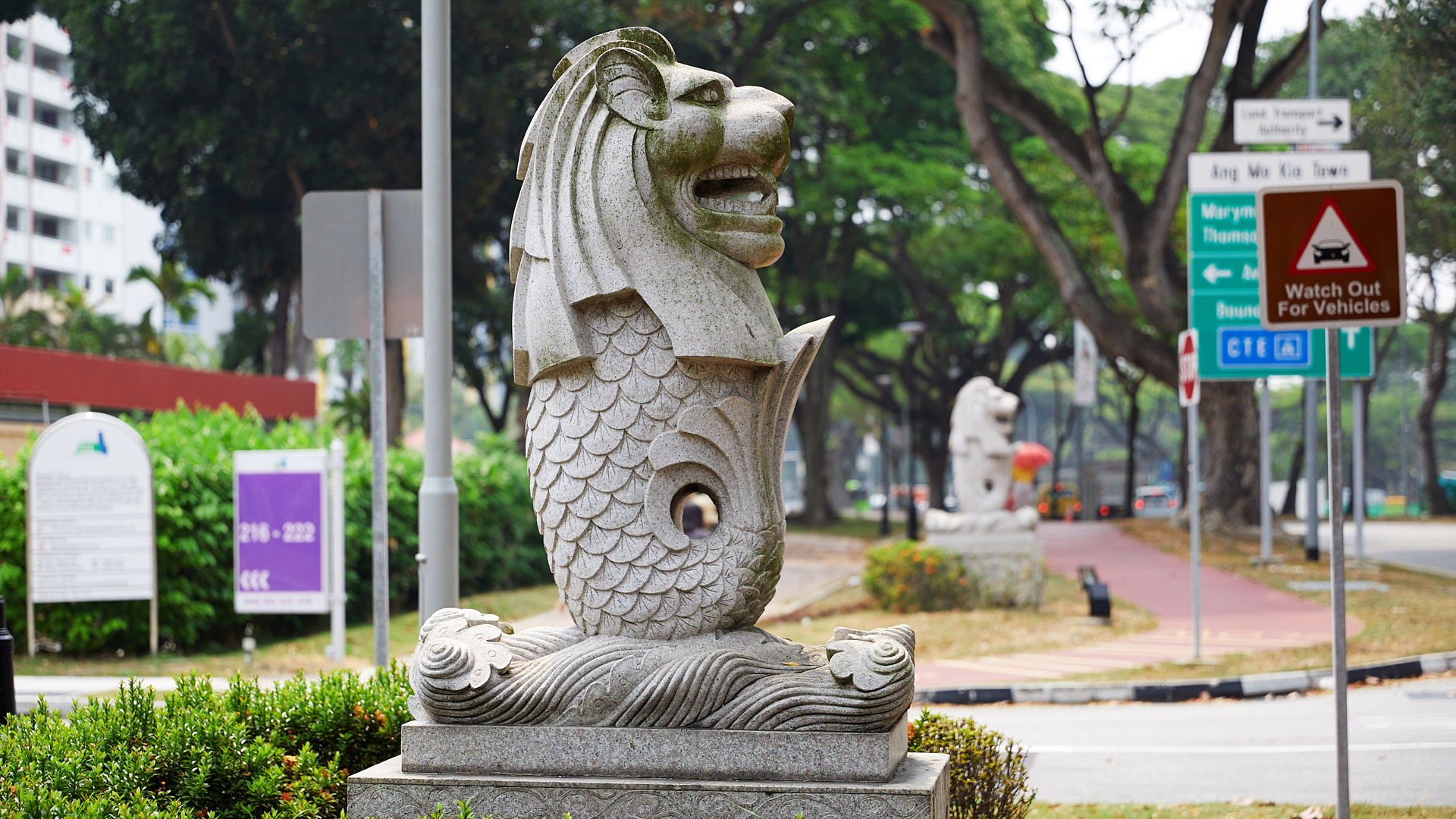 4. The great migration
In 1997, the Esplanade Bridge was completed. Unfortunately, this meant that the Merlion, which sat at the mouth of the Singapore River, could no longer be properly viewed from the waterfront. After 5 long years of being overshadowed by the Esplanade Bridge, the Merlion was finally moved to a new Merlion Park at One Fullerton in 2002.
5. A bolt from the blue
In 2009, the Merlion was tragically struck by lightning and afflicted with a serious condition known as "Hole in the Head" (along with the base, which was struck by falling debris from said head). Fortunately, some emergency surgery by construction workers led to it making a full recovery, albeit with lightning protection installed this time. After all, they say lightning never strikes twice, but it never hurts to be careful.
6. Large extended family
There are actually 6 official Merlions installed at 4 sites across Singapore. Firstly, there's the main Merlion (aka the star of this story), which is accompanied by a smaller Merlion cub that's only 2m tall with a weight of 3 tonnes.
Merlions 3 and 4 are a pair of 2.5m tall twins which sit at the entrance to the carpark for Blocks 216 to 220 in Ang Mo Kio Avenue 1. Finally, there's the Merlion in Tourism Court and another one in Mount Faber, both of which stand at 3m tall.
7. A fish by any other name (or form)
Despite its regal stature, the Merlion has adopted other forms on occasion in an attempt to better connect with common citizens. For example, in 2010, it became a blue-maned female named Merly for the Youth Olympic Games. More recently, it reimagined itself as a cute cartoon character named Merli in 2018, hoping to endear itself to young children with its whimsical appearance.
8. Globetrotting and wanderlust
Of course, standing in the same spot all the time and spitting water at tourists must get boring after a while. So, it should come as no surprise that the Merlion often roams the world in search of adventure. For instance, it's been spotted relatively frequently in Japan, with sightings in Hakodate and Karuizawa, among other places.
Naturally, its pilgrimages have been the source of much inspiration for creators and artists, resulting in its likeness being reproduced in Japanese vending machines and designer toys. It's even ventured into the digital realm, with appearances in cartoons like Phineas and Ferb, Japanese anime like Cowboy Bebop, and even video games like Nintendo's Animal Crossing!
For the latest updates on Wonderwall.sg, be sure to follow us on TikTok, Telegram, Instagram, and Facebook. If you have a story idea for us, email us at [email protected].