Thailand Beyond the Beaches: Uncovering Hidden Gems In The Land of Smiles
One cannot deny that Thailand remains one of the most popular destinations in Southeast Asia, but there's actually so much more to the country than being synonymous with the beaches of Phuket, Krabi and Koh Samui.
Rather than jostling with other tourists for a serene stretch of the beach to yourself, consider making a visit to these parts of Thailand on our list instead and contributing to the local economy there:
Mae Hong Son: an underrated gem of the North
Located near the Burmese border in Northern Thailand, Mae Hong Son is not your typical tourist destination. In fact, forget about having a readily available selection of resorts, restaurants and bars to choose from. Think about it this way, though – you'll have bragging rights among your friends for having gone off the beaten track.
As with all places untouched by mass tourism, it's no easy feat getting to Mae Hong Son. We recommend flying to Chiang Mai, then taking a 5-hour ride by minivan.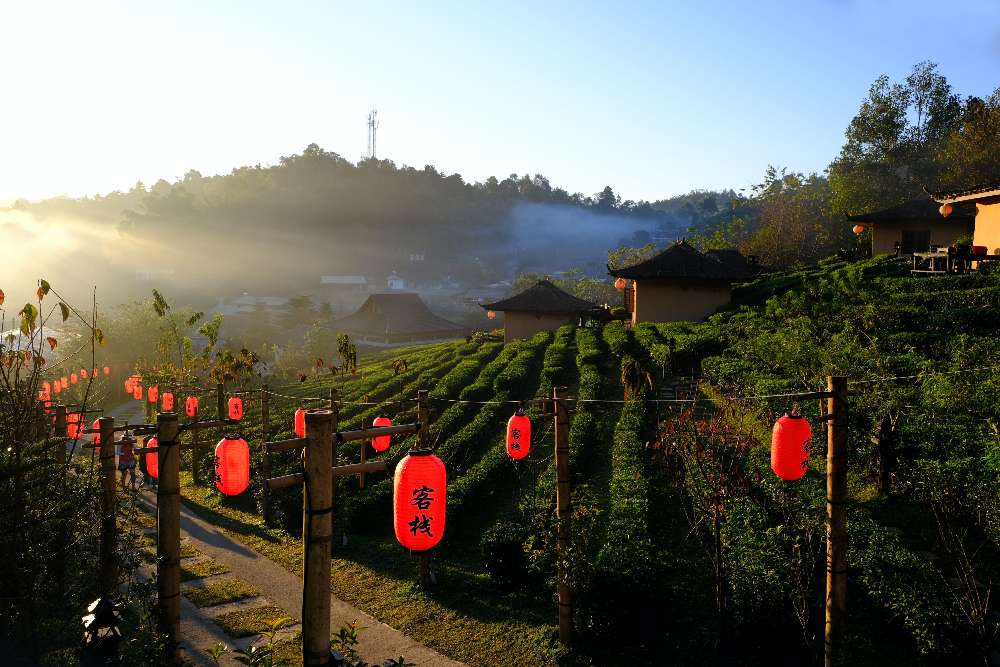 Baan Rak Thai is known for its scenic tea plantations. | IMAGE: PEXELS
Do what
For nature lovers, combine a visit to Baan Rak Thai, a Chinese village right on the Burmese border that's known for its picturesque tea plantations, with an overnight camping session at Pang Oung Lake. Rise early in the morning to catch a spectacular sunrise with the lake shrouded in magical mist. Romantic sia.
If you happen to be visiting during the winter months (December to February), you might want to make a detour to the Thung Bua Tong fields to marvel at the blooming Mexican sunflowers in all their glory.
Sleep where
Fern Resort is perfect for its proximity to Mae Hong Son town and its rustic countryside vibe. Also, do check out Lee Wine Rak Thai Resort if you make the trip to Baan Rak Thai.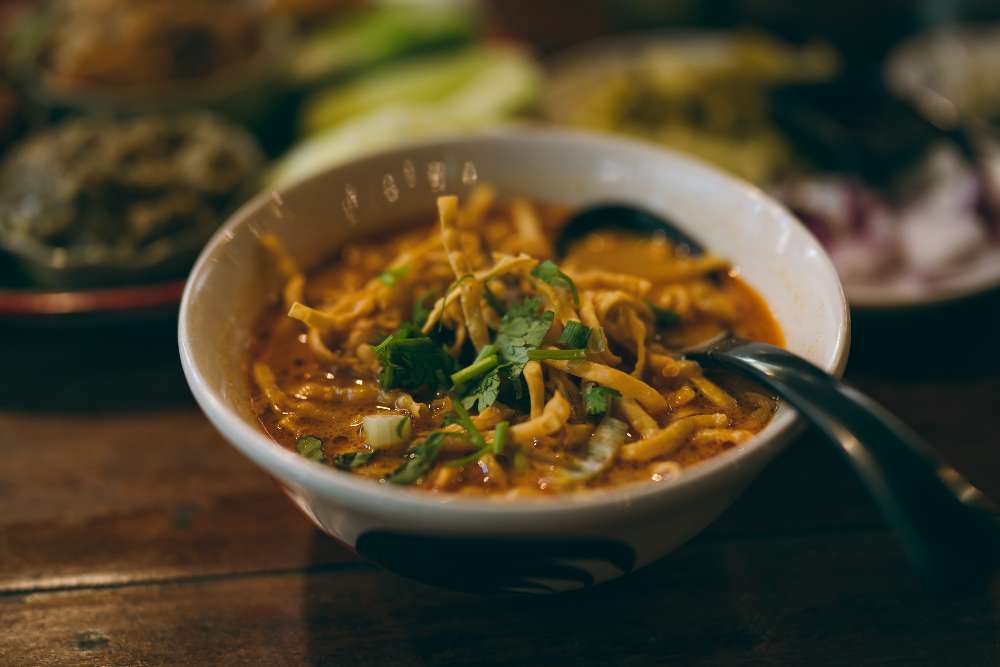 Khao soi is coconut curry noodle soup. | IMAGE: UNSPLASH
Jiak simi
Savour Thai-Burmese specialities with a lake view at Salween River Restaurant. Make sure to try the highly-rated potato eggplant curry and khao soi (coconut curry noodle soup) that is native to Northern Thailand, Myanmar and Laos.
---
Sai Yok National Park: journey to the West for an unforgettable night with nature
Sai Yok National Park is renowned for its stunning natural beauty, with lush forests, scenic waterfalls, and tranquil rivers. Approximately 180km west of Bangkok, travellers can take a bus or minivan from Mo Chit in Bangkok to the Kanchanaburi bus stop. From there, you can board another bus to Sangklaburi and alight at Sai Yok National Park bus stop.
As you'll be spending your entire trip being one with nature, it's best to avoid visiting during the monsoon season from May to August. For the most ideal conditions, plan your trip around the winter months between November and January.
Do what
Rent a longtail boat or bamboo raft from your accommodation and go on an adventure down the River Kwai. Stop by the Sai Yok Yai and Sai Yok Noi waterfalls, check out the impressive limestone caves and visit a Mon tribal village. If you have extra time on your hands, head over to the nearby Erawan National Park for its jaw-dropping waterfalls.
Stay where
Obviously, at a floating raft hotel on the River Kwai! Go back to basics by living with no electricity and surrendering yourself to the wonders of Mother Nature. Splurge on a night's stay at The FloatHouse River Kwai and wake up to the soothing sounds of water lapping against the riverbank.
Jiak simi
While there isn't any food that's noteworthy in the national park, all floating raft hotels have onsite restaurants that serve both local Thai fare and Western dishes. Confirm won't hangry.
---
Sukhothai: wat a lot of temples!
Did you know that Sukhothai once represented the golden era of Thai art and architecture as it was the first capital of the Kingdom of Siam? It's no wonder that there are many historical monuments in Sukhothai that have been designated as UNESCO World Heritage sites. If you're a history buff or culture junkie, this is the perfect place to visit and immerse yourself in Thai history.
Getting to Sukhothai is relatively easy. We'd recommend catching a domestic flight from Bangkok Don Mueang or Suvarnabhumi airport. Upon your arrival at Sukhothai Airport, you can use the mini-van shuttle service for an affordable 300 Baht to get to the hotels in Sukhothai New Town or Old Town.
Sukhothai Historical Park. I IMAGE: PEXELS
Do what
Go temple-hopping at the Sukhothai Historical Park, a sprawling collection of wats divided into various zones. Time your visit to Wat Mahathat in the Central zone so that it coincides with sunset time to get a view you'll never forget. Seeking refuge from the sun? Duck indoors and tour the Ramkhamhaeng National Museum for a piece of Thai history while you're there.
Stay where
The old town is where you want to be staying the night, especially if you want to be close to the Sukhothai Historical Park. Sawasdee Sukhothai Resort is a clear crowd favourite with a high rating of 4.8 on Google and is a welcome sight for those weary legs after a day of temple-hopping.
Jiak simi
Don't leave Sukhothai without trying the Sukhothai noodles – an appetising bowl of rice noodles (sen lek) topped with BBQ pork slices, minced pork, crispy pork rinds, fried wantan skin and delivers a sweet yet citrusy and spicy punch. Look no further than Jae Hae, a household name in Sukhothai that's loved by both locals and tourists alike.
For the latest updates on Wonderwall.sg, be sure to follow us on TikTok, Telegram, Instagram, and Facebook. If you have a story idea for us, email us at [email protected].