20 Things To Look Forward To In 2020
Maybe 2019 sucked for you. Maybe didn't like Lil Nas X's songs, or the TikToks everyone keeps reposting.
Or maybe you're just bummed out that you can't ride your PMD like you used to. (Press f to pay respects)
No, there is currently no good news about PMDs. Old Town Road actually won a few awards and TikTok is thriving more than ever... but here are 20 new things happening next year that may make your 2020 suck less.
Concerts
1. Pentatonix – The World Tour Singapore 2020
You've probably heard of them from Youtube or attended their last concert here in 2016. Or 2015. Or 2014.
If you still miss them, you might want to put your post-concert depression on hold come 11 February. This Grammy Award-winning band hits The Star Theatre at Star Vista, 8pm.
Tickets are priced between $88 to $228.
2. Rupaul's Drag Race Werq The World Tour 2020

Hitting Star Vista (again) is none other than the queens of Rupaul's Drag Race, following Aquaria, Kim Chi, Naomi Smalls and Violet Chachki along with Rupaul's Season 11 stars Plastique Tiara, Vanessa Vanjie Mateo and current reigning Yvie Oddly.
If you haven't watched them, you might want to borrow your friend's Netflix account. Just remember to give it back after you're done binging it at 3am.
VIP tickets have already been sold out, but standard prices range between $108 to $158.
Music Festivals
Okay, maybe concerts aren't your thing. You crave a more festive feel, something you can enjoy with friends and just vibe with.
3. Stereofest
The largest Malay Music festival in Singapore features 20 musical acts, namely from Indonesia, Malaysia and of course, Singapore.
Entertainment aside, the festival also features a (surprise!) Festival Village with plenty of retail and F&B options to choose from.
Each date features different artists, with tickets ranging from $68 to $368 depending on the number of days and admission types.
4. Hydeout Music Festival
The region's first multi-genre music festival takes place at The Meadow at Gardens By The Bay over two weekends, 10 and 11 April, and 17 and 18 April.
If you are a fan of artists like DJ Snake, Martin Garrix, Gucci Mane and A$AP Rocky to name a few, then you already know how you would be spending your April weekends.
YPs, don't give up hope. You may not have your PMDs, but at least you can enjoy the music you blast them from.
Ticket prices range between $162 (Single Day Pass) to $262 (Weekend Pass).
Musicals
Okay, maybe you are not the partying type, but you still want an excuse to head down to the city.
5. CATS the Musical
Ascend to Heaviside Layer at the CATS Musical, with the last show date being 5 January 2020, not to be confused with 2019.
Tickets range between $50 to $800. SGD of course.
6. Now You See Me Live
I'm sure you remember this clip from the movie, Now You See Me 2.
Based on the "magic heist" film, Now You See Me (surprise!), the biggest tourist magic show is the first to ever premiere in Singapore from 26 March to 5 April.
Led by world-leading illusionists, The Horsemen, the show brings the movie magic live on stage.
Tickets are priced between $50 to $1000. Now you see your money, now you don't.
Exhibitions
Alright, maybe you don't like music in general. (Hello, polis?)
You just want to sit back and take it all in, maybe even get yourself educated in the process.
7. The Lives of Women: How have women progressed in Singapore since independence?
A collaboration between the Singapore Women's Hall of Fame (yes, it's a thing!) and the National Museum of Singapore, this exhibition is second in a three-part series about the lives of women in Singapore.
The exhibition ends on 19 January and references some of the 160 women in the SWHF.
Admission is free and takes place at the National Museum of Singapore, The Concourse, Level 1.
8. Singapore Biennale 2019: Every Step in the Right Direction
The 6th edition of the Singapore Biennale features 77 artists and art collectives from Singapore, Southeast Asia and other parts of the world.
The exhibition focuses on the importance of "making choices and taking steps to consider current conditions and the human endeavour for change".
The exhibition takes place in 12 locations, such as Gillman Barracks, The Asian Civilisations Museum and even Far East Plaza to name a few.
Admission is mostly free, with the exception of National Gallery Singapore.
Access and visiting hours are subject to their respective venues.
Honourable Mention, 2219: Futures Imagined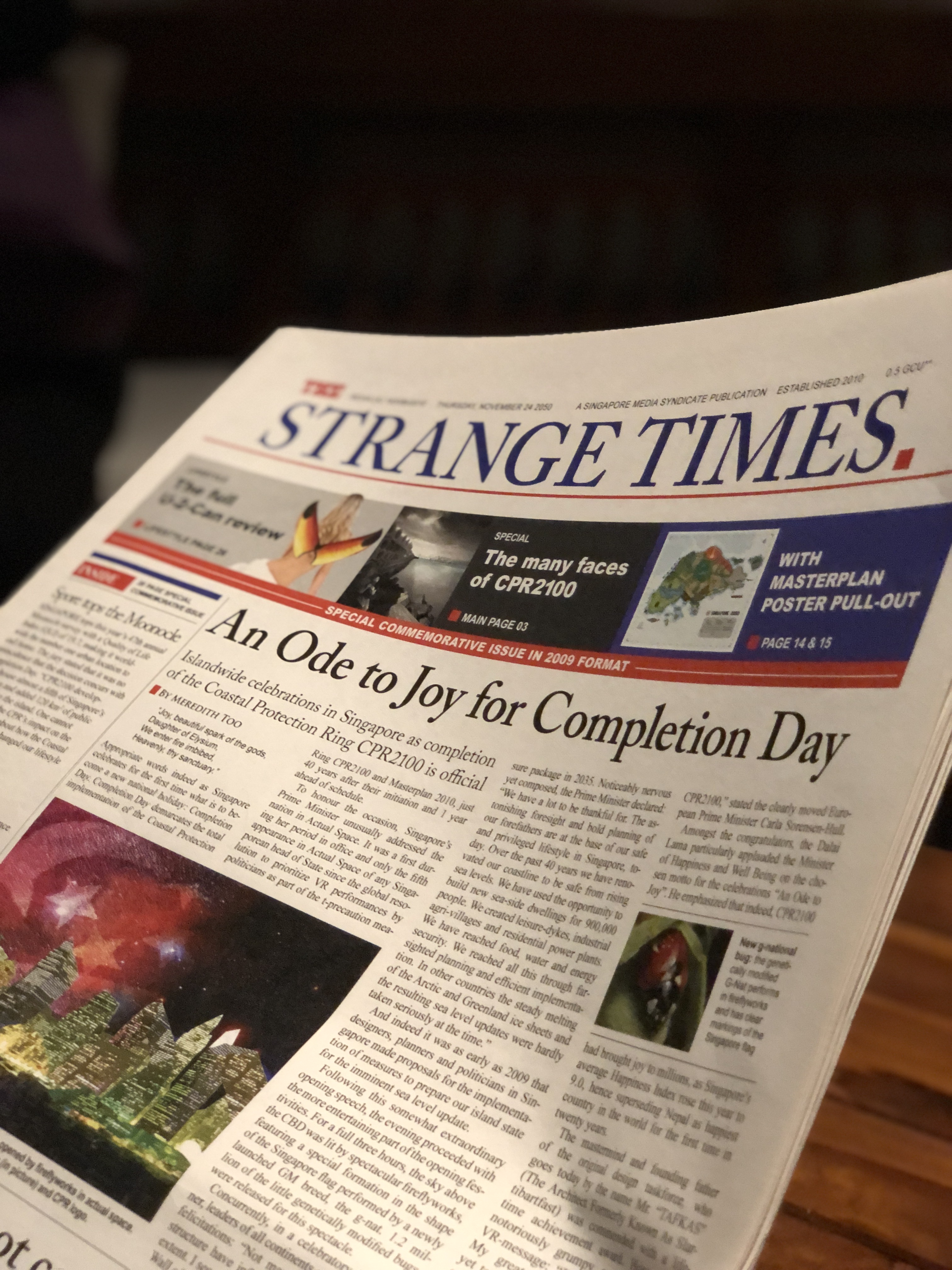 The ArtScience Museum's exhibition, 2219: Futures Imagined, gives a glimpse into what Singapore will look like 200 years down the road.
Tickets range between $16 to $19 and ends 11 April.
Funny, it's like we've seen this somewhere before. (It's the 6th one!)
Runs
Okay, maybe 2019 was so bad you feel like running away from it. Literally.
9. Run For Hope 2019
Tag the friend(s) you think got no hope.
Seriously though, it's an annual run organised by Four Seasons Hotel Singapore and the National Cancer Centre Singapore (NCCS) to raise awareness and support for cancer research.
Fees vary based on age, who you're going with, distance and dates.
The run happens on 23 February, though the routes are still being confirmed.
10. Income Eco Run 2020
If you're into metal straws and saving the turtles, this is the run for you. Starting off on 26 April at the F1 Pit Building.
Fees are dependent on the chosen categories, along with a Zero Waste Runner discount and a Buddy promo to boot.
Shows
Not performances, but still shows in their own right.
11. ITSHOW 2020

From a teen trying to flex to a boomer trying to be hip, this event is a must-go for anyone wanting anything and (well, almost) everything tech-related.

Showing from 12 to 15 March at Suntec, the tech show takes place on Levels 3 (11am to 9pm), Level 4 and 6 (12 to 9pm).
12. Singapore Airshow 2020

Maybe you want a different kind of show.
The commercial and military air people want to flex too, being Asia's Largest Aerospace and Defence event and all.
The Singapore Airshow displays everything, from flying planes (will we finally get to see the F-35's that we purchased?) and flying (kind of) people doing stunts, to static plane displays both commercial and military.
The Airshow takes off on 15 and 16 Feb, from 9:30am to 5pm.
Tickets are priced at 27 (adults), 14 (children ages 3 – 12) and 192 (group package, 4 tickets + 1 car label). SGD, of course.
The public tickets also come with a two-way shuttle service from Singapore Expo to Changi Exhibition Centre.
Movies

Okay, fine. Maybe you're not adventurous enough and you don't have the energy to go out and look at everything fancy.
You just want to sit back, switch your mind off and enjoy your time.
13. Wonder Woman 1984
Everybody's talking about Black Widow, but DC has their own heroine too. Wonder Woman 1984 is expected to hit theatres on 4 June.
Set in (surprise!) 1984, the trailer also shows us Steve Trevor's return, Wonder Woman's new armour and possibly new villains.
See if you know anyone that was born or lived in the 80s. Definitely a throwback.
14. A Quiet Place: Part II
Honestly, they should have named this "A Quieter Place".
Following the events of the previous movie, the (very) short teaser shows Evelyn and her kids, Regan and Marcus as they take their first step outside of their usual sand path.
A Quiet Place: Part II creeps into theatres 19 March. Don't buy popcorn.
Food

Okay, so nothing has appealed you so far. But food, food always wins.
15. Shake Shack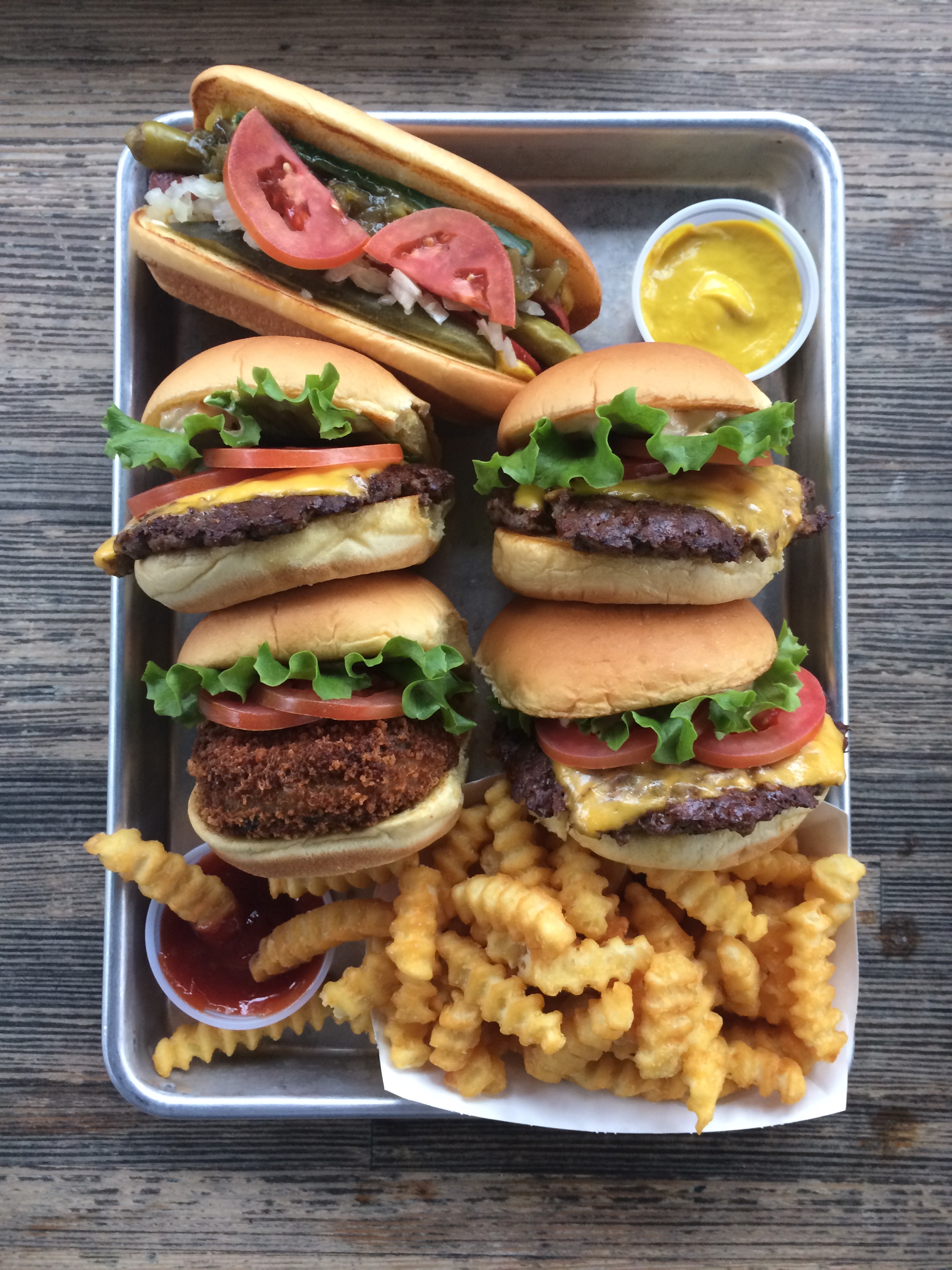 If 2019 sucked because you gave up with Shake Shack's long queue, then 2020 might suck less.
Shake Shack hits the Central Business District at 89 Neil Road, which focuses on art and design: A hoarding artwork by Singaporean artist Sam Lo.

The building it occupies was also the former Eng Aun Tong factory where Singapore's Tiger Balm was produced for almost 50 years.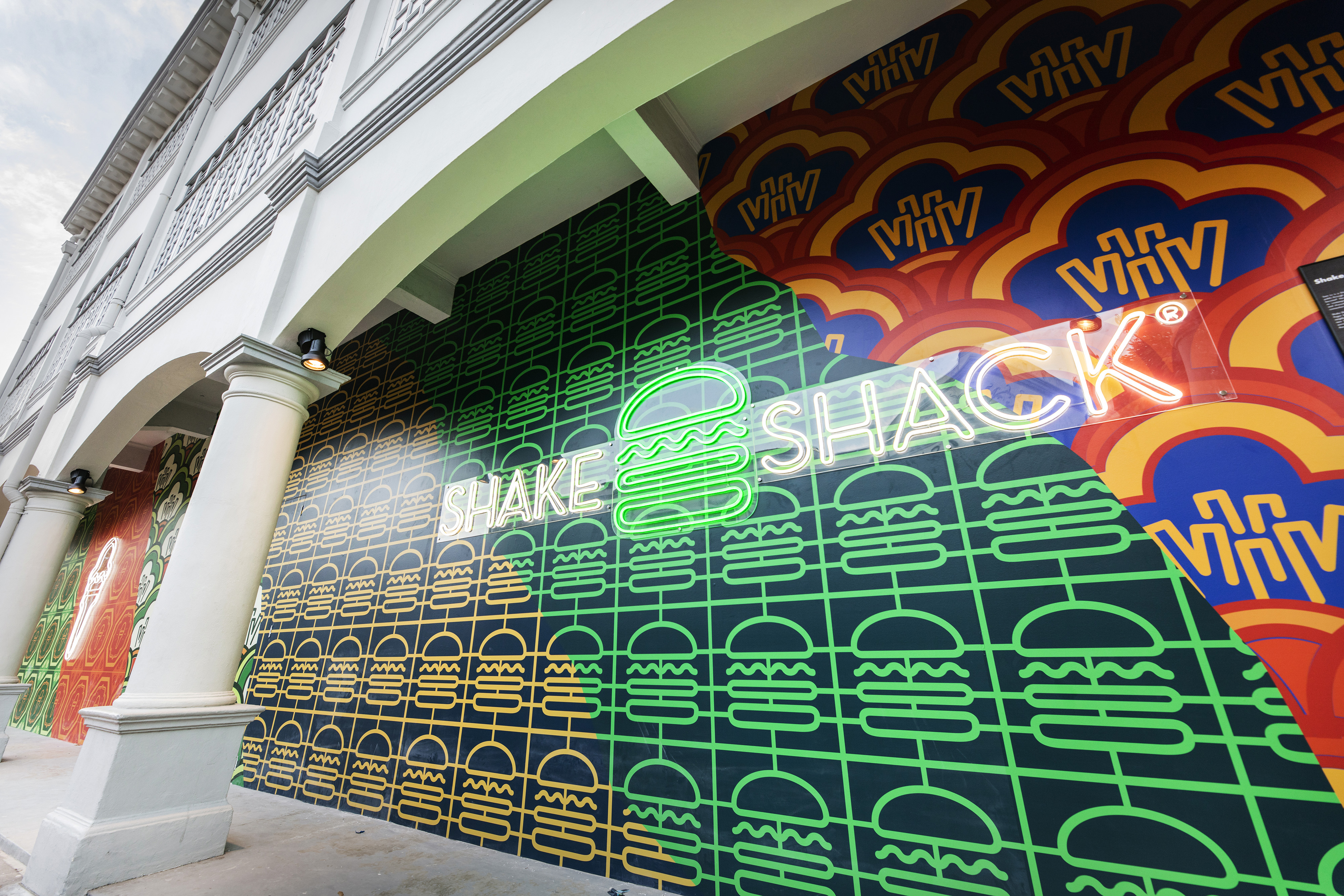 As a bonus to anyone wanting to flex on Instagram, visitors can take a picture with the hoarding in the background and post it with the hashtag #shackARTintown.
The best one wins a collection of "exclusive to 89 Neil Road swag".
There's only one way to find out what the swag really is right?
But let's be real, you would probably still go to the one at Jewel in hopes that the queue there got shorter.
16. We Bare Bears Themed Café
You've seen the show. You've seen the plushies. You've even seen the merch.
Come January 2020, you will see its pop-up café for a limited time.
Featuring exclusive We Bare Bears art and a show-inspired and themed menu by Instagram artist, Shirley Wong, diners can also participate in a lucky draw by spending a minimum of $108 in a single purchase.
So, if you are a secondary school kid and you're thinking of bringing your girlfriend here, you might want to find another place.
Prices range between 10.90 to 26.90.

The event ends on 5 April and is located at Kumoya @ 8 Jalan Klapa. Operating hours are subject to certain days of the week.
KPOP
Of course, the year isn't complete without a KPOP group making its comeback every now and then.
17. NCT Dream Tour "THE DREAM SHOW"
@NCTsmtown_DREAM will be visiting \ud83c\uddf8\ud83c\uddec with their new concert NCT DREAM TOUR "THE DREAM SHOW" on 15 Feb 2020 at The Star Theatre!

ON-SALE:#SingtelPrioritySale: 21 Dec, more info @Singtel #GenSale: 22 Dec, 12pm onwards via APACTix

#NCTDREAM #NCTDREAMINSG #THEDREAMSHOWINSG pic.twitter.com/avbkAFpZwn

— OneProduction (@OneProductionSG) December 16, 2019
If you're an NCTzen, 15 February is a special date for you…other than the first time NCT 127 came last year.
NCT Dream comes hits The Star Theatre on their first concert tour at 6:00pm, with tickets ranging between 148 (CAT 5) to 268 (CAT 1).
18. Winner CROSS Tour
Making a recent comeback with their latest album, WINNER kicks off their [CROSS] tour from Seoul in October to Singapore in 8 February as their last stop at The Star Theatre.
Sensing some pattern with Star Theatre here.
Starting at 6pm, the tickets are priced from 118 (CAT 4) to 288 (VIP), with the latter entitling ticket holders to soundcheck, send-offs and fansign events.
Clean Ups
Maybe you've made a mess in 2019 and you want to clean up your act in 2020. Well, this is something like that.

19. New Years Big Beach Clean Up
Organised by Seven Clean Seas, the New Year Clean Up crashes on 5 January PAssion WaVe @ Sembawang from 1:30pm to 4:30pm.
Remember to bring the relevant items, such as safety gloves (they will be selling those for $5 on the day itself), water and closed toe shoes, to name a few.
If you didn't save the turtles in 2019, you can still save them now.
20. 51st Trash Hero Beach Clean Up - East Coast Park
Sometimes, we think we're trash. Some of us still do. At least in 2020, you can change that.
Instead of becoming trash, you can be a Trash Hero. No, really.
On 18 January, Trash Hero Singapore is organising a beach cleanup at East Coast Park, Parkland Green.
It's kid-friendly too.
Reusable gloves, trash bags and tongs will be provided but Trash Heroes are encouraged to bring their own. Items such as water bottles and closed shoes are also a must.
For the latest updates on Wonderwall.sg, be sure to follow us on TikTok, Telegram, Instagram, and Facebook. If you have a story idea for us, email us at [email protected].