Local Fashion: Expensive And Boring? Not So Fast
What comes to mind when you think of local fashion? Maybe the phrase conjures up 2022's Gen Z and Millennial archetypes: the OCS singlet, the Uniqlo Boy, and the Love, Bonito girl. But if 'Singapore fashion' feels a little, well, uninspiring, then you're not alone: according to findings from the team behind the Made By Singapore campaign, only 8 percent of Singaporeans favour local brands over global brands, while 75 percent of Singaporeans surveyed associate it with mass market brands, leading to the perception that local fashion is boring, expensive, and homogenous.
Made By Singapore (MBSG) began in 2020 when four students from NTU's Wee Kim Wee School of Communication and Information launched a final year project to drum up support for local fashion and beauty brands. The new team decided to extend the project by focusing solely on local fashion brands, and by steering it toward 25-40 year-olds (Singapore's largest fashion consumer segment), particularly working professionals in the marketing and communication industry.
But telling people to support local and to take pride in homegrown industries is a tall order when locally made products are perceived to be of lower quality at a higher price. Which is why the four NTU students behind the second edition of Made By Singapore – Janessa Tan, Nurfatin I'llyya, P A Annmarie, and Tiffany Chee – have embarked on a mission to change our minds about local fashion.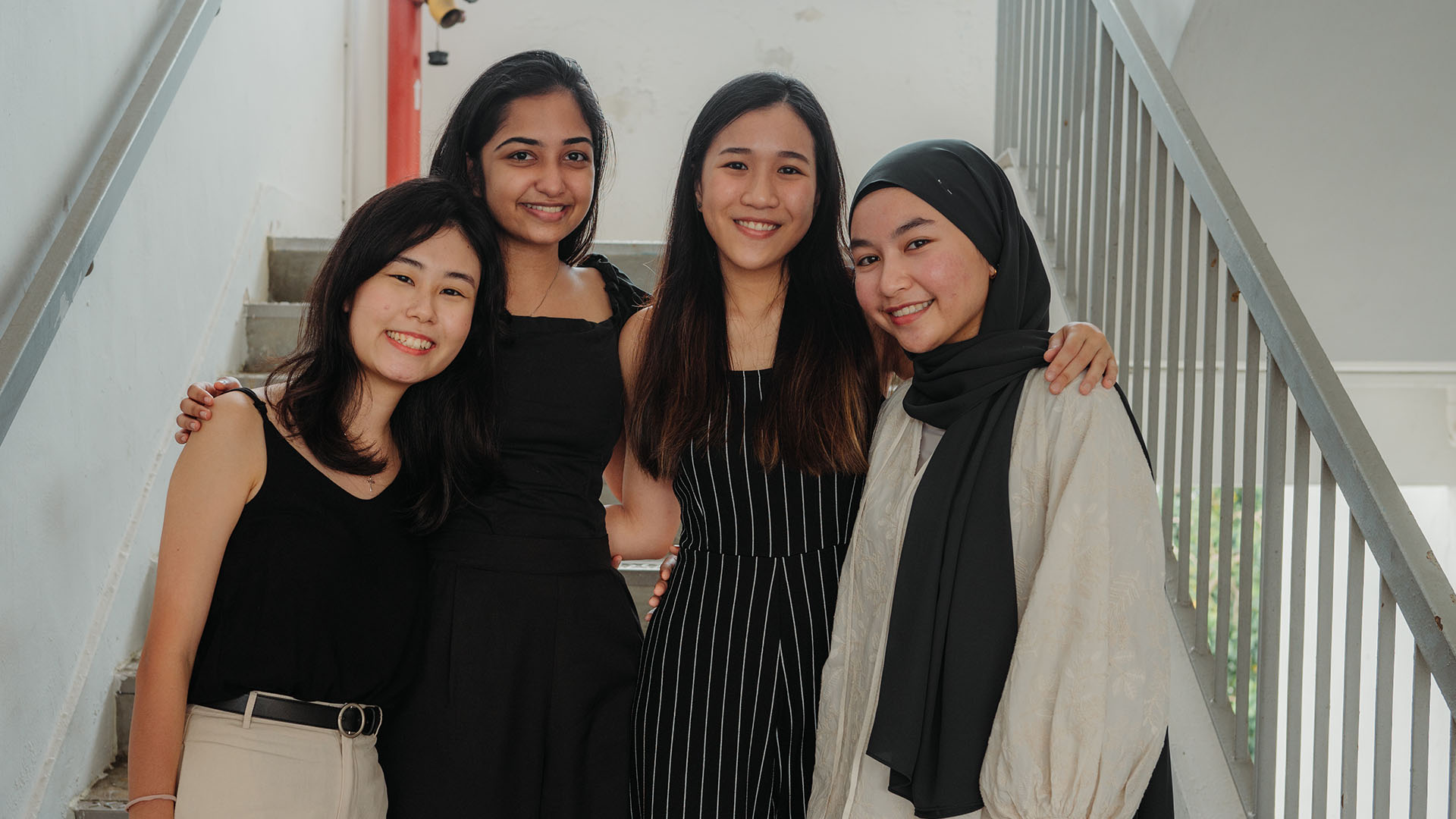 'Singaporeans are generally more pragmatic than patriotic,' Annmarie said, while speaking to us about the resistance Singaporeans often feel toward celebrating local fashion. 'Some people have said local fashion is just Korean fashion, in terms of the style. There's nothing very distinctive. Somebody even said if you walk into a local store, or local fashion brand, and you didn't see the signboard, you wouldn't be able to tell because the architecture and the colour schemes look the same. This kind of perception that there's no originality in the local scene is a major resistor because that's all they see.'
'Maybe what would make people more interested in local design is getting to know the process behind the design. Maybe getting exposed to a variety of local designers would make Singaporeans take an interest. And maybe also seeing the impact that local fashion makes on communities – how it helps to safeguard the environment, preserve heritage, lead innovation in the fashion tech space, how it's empowering people.'
'When people see that fashion is more than what you wear, that it actually means something, that it's making a difference in this world…I think that might make people a bit more interested.'
In other words, blogshops represent just one facet of local fashion. There are also labels that cater to those who are plus sized, who prefer modest wear, or who have disabilities – but these rarely have the same type of marketing budgets that mass market labels do. To help reshape the negative perception of local fashion, the team focused on niche labels that explore the role fashion plays in celebrations (such as weddings), in heritage, in social movements, in creativity, and in empowering the marginalised. Here's what they had to share:
Based on your findings, 'support local' for the sake of supporting local doesn't necessarily inspire action the way that stories can. So if fashion is more than just something we wear, what are some examples of, say, 'fashion as heritage'?
Annmarie: [Fashion as heritage] focuses on how fashion tells a Singapore story and it even lets you wear it as part of your identity. We interviewed brands like Binary Style, and it's quite interesting, they have scarves that represent local architecture, local flora and fauna, and even local folklore. They have a swordfish scarf, which represents how Redhill got its name: the swordfish attack on Singapore.
What about some of the other categories? What does 'fashion as creativity' and 'fashion as empowerment' look like in Singapore?
Annmarie: We also wanted to put some spotlight on innovation in fashion in the tech space. So Singapore has this brand called Republiqe, which does digital fashion, which is up-and-coming, and things like NFTs in the fashion space.
And then finally we have fashion as empowerment. The brand Will & Well makes clothes for people who are handicapped in certain ways. The placement of the zip and buttons being like snap on and snap back makes it easier for people who are handicapped to dress themselves. You're able to dress yourself in your own freedom and privacy because of how the clothes have been designed. And we also have The Curve Cult, which is a plus size inclusive kind of brand. We will be featuring these two brands, because they way they make their clothes for specific target audiences empowers these customers.
Which brands or designers made you see local fashion in a different way?
Janessa: For me, it would be Stylemart. We went to her shop, and it was my first time being in a bridal shop. The designer of Stylemart is called Kavita, and she actually has a collection that is inspired by goddesses from different cultures. So like Durga, and Kuan Yin.. And she actually had fashion shows every year, except during COVID. But I thought that that was really very interesting, because my own understanding of local fashion was basically just mass market brands. And I didn't know that there were these kind of brands out there that really put in so much effort to showcase their craft in very different ways.
She has been doing this for many years now. And her passion just doesn't really pan out. I think that's like really very amazing to be in the industry for so long, but yet still have so much inspiration. She told us that she got inspiration for movies, she actually watches Chinese movies, some of which I've never even heard of.
That was one of the moments that made me realize that local fashion is a lot more interesting than I thought, and there's just so much more to it that we needed to uncover.
Fatin: For me, one was Hafizah Ghazali, mostly because when we talk about 'support local' or when we talk about local fashion brands, these movements rarely feature Malay Muslim models and brands. There's this other part to Singapore's local fashion scene - modest fashion is a huge part. It's just that a lot of it is usually like blogshops, like younger people starting their businesses on Instagram. So to encounter it as an established brand was really rare.
She does not have a lot of designs, but a lot of thought and a lot of time has been put to designing each and every one of the pieces. And it was very nice having to talk to about how difficult it is to be in the industry. And just seeing someone who looked like me, wearing a hijab, and that they're in the movement, was something quite personal for me as well.
When I came face to face with Hafizah and spoke to her, she said that fast fashion is just not it. We really need to rethink about what our clothes mean to us, and how much buying actually hurts the environment. Fashion is one of the most polluting industries and as much as I love it, I really need to rethink my choices, what I put in my wardrobe, and what what I'm supporting. So she left quite an impact on me.
Now that you've taken a closer look at what actually encompasses local fashion, how would you describe 'local fashion' to an outsider?
Fatin: Fashion now is a "rojak moment", where it's a combination of everything that makes each individual unique. And I think that sort of reflected in our campaign as well in that the brands that we the brands that we partner with, they're all not all going for like a specific kind of personality. We really wanted to showcase every facet of what makes Singaporean fashion, fashion. We all are different people, we know we come from different races, different cultures, I don't think it's very easy to sort of melt everything into a pot and then say that, you know, this is, this is us.
What do you hope to achieve through Made By Singapore or see at the end of it once it concludes in March - even beyond?
Janessa: In my group of friends, I know quite a few of us actually buy from local brands, like The Editor's Market. But our reasons for doing so were not just like, 'oh, I want to support local', it's more like we like the designs and they're relatively affordable, trendy, and have many, many launches. And they fit very well to the Singaporean physique. Through this campaign, we want to change that perception - don't just buy local clothes, because it's trendy, because it's convenient, and because it's relatively affordable. But mostly because you know the story behind it.

People don't know, the quality and the effort that goes into it. And what makes a local brand stand out over a global brand. So we're trying to shed light on this.
Annmarie: We want to raise awareness of more brands, and an interest in local fashion as well. And obviously, sales, so that people will not just say that they support local, will actually buy local. In 2020, 'support local' was quite big. But then when we actually asked people about it, it was more of a sentiment rather than an action. So hopefully, the campaign generates some sales and appreciation for local brands as well, like that people see the brands are what they really are that they do put in effort into their designs and that they're creative. It's not just a copy paste moment.
Made By Singapore will run until 27 March, 2022. Find out more about the campaign here.
Keep a lookout for promos and a new giveaway on their Instagram page as well!
For the latest updates on Wonderwall.sg, be sure to follow us on TikTok, Telegram, Instagram, and Facebook. If you have a story idea for us, email us at [email protected].