What To Do During This Phase 2 Weekend (31 Jul to 2 Aug)
It's the Hari Raya Haji long weekend, and you know what that means: An extra day to relax and unwind. Here's what you look forward to this week.
1. Zoom into History
Get up close and personal with pieces of history via Zoom into History. Hosted by the National Museum of Singapore, Zoom into History consists of a series of lively Zoom sessions where local actors and comedians bring museum objects to life while taking the audience on a journey back in time.
1 to 9 August 2020
Find out more here
2. National Day Istana Virtual Open House
In celebration of National Day, President Halimah Yacob will be hosting a virtual Istana Open House this Sunday. Members of the public are welcome to engage with the Open House via the livestream, which will be available on President Halimah's Facebook and Instagram.
The Open House offers a multimedia interactive tour of the Istana grounds, including lesser-known areas such as a 14.5-metre-deep well and an old air raid shelter, which are usually off-limits to the public. In addition, viewers can also get sneak peeks of the Asian Civilisations Museum's virtual galleries and upcoming NDP programmes.
2 August 2020, 10 am
Find out more here
3. 8th World Oyster Festival
This one's for the oyster lovers: Greenwood Fish Market will be hosting the 8th World Oyster Festival all throughout August. We're talking 28 varieties of oysters from around the globe, from the rare Canadian Belons to the classic French Gillardeaus and even new additions like the American Moonstones. You won't want to miss this gastronomic delight!
1 to 31 August 2020
Find out more here
4. Zero Latency Promo: 30% Off Online Bookings
To celebrate the launch of their new game, "Undead Arena", Zero Latency is offering 30% off on all online bookings from now till 31 August. Simply use the promo code "YAYNEWGAME" and get ready to slaughter some zombies.
Till 31 August 2020
Find out more here
5. Wild Wild Wet Promo: Going Wild The Safe Way
It's time to have a splash with Wild Wild Wet's reopening promo, Going Wild The Safe Way. From now till 31 August, you can enjoy Wild Wild Wet Day Pass for just $15 (U.P. $18 to $32).
Till 31 August 2020
Find out more here
6. 1-for-1 Weekend Movie Tickets at Cathay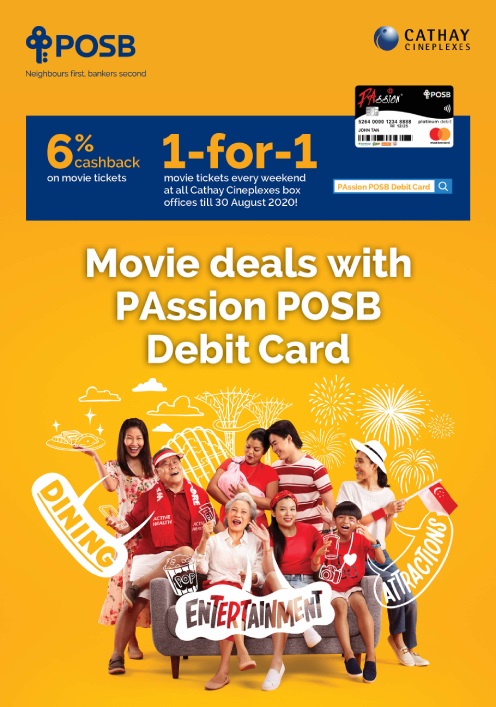 For the whole month of August, PAssion POSB Debit Cardholders can enjoy an exclusive 1-for-1 offer on Cathay movie tickets every weekend. Do note that this offer is limited to the first 800 redemptions per weekend, so hurry on down with bae if you're hoping to catch a movie together!
1 to 30 August 2020
Find out more here
For the latest updates on Wonderwall.sg, be sure to follow us on TikTok, Telegram, Instagram, and Facebook. If you have a story idea for us, email us at [email protected].