Swipe Right…To Find A Confinement Nanny
Congratulations, you're expecting! But now comes the real work: preparing for the birth of your child and for postpartum recovery.

For many mummies and daddies-to-be in Singapore, hiring a confinement nanny is an essential rite of passage into parenthood. Whether you're having your first child or your second, hiring an extra pair of hands can help alleviate post-baby stress, especially if you don't have (or would rather not accept) help from relatives.

But finding a confinement nanny can be a little overwhelming for first-time parents or for people juggling parenthood, work, and family responsibilities. Some hire them through an agency, others hire via referral from friends or family members. But these processes often entail a boatload of administrative duties, such as handling permit applications, applying for social visit pass extensions, and purchasing confinement nanny insurance. Moreover, not all agencies will allow you to directly interview your confinement nanny before hiring her.

Louis Looi, 35, and a first-time father, experienced the struggle first-hand – and this in spite of co-founding a traditional agency known as Homey Confinement. When his wife gave birth to their son amidst the pandemic, he found that on top of the COVID-era challenges, agencies couldn't always provide the depth of information that parents-to-be needed before hiring a confinement nanny.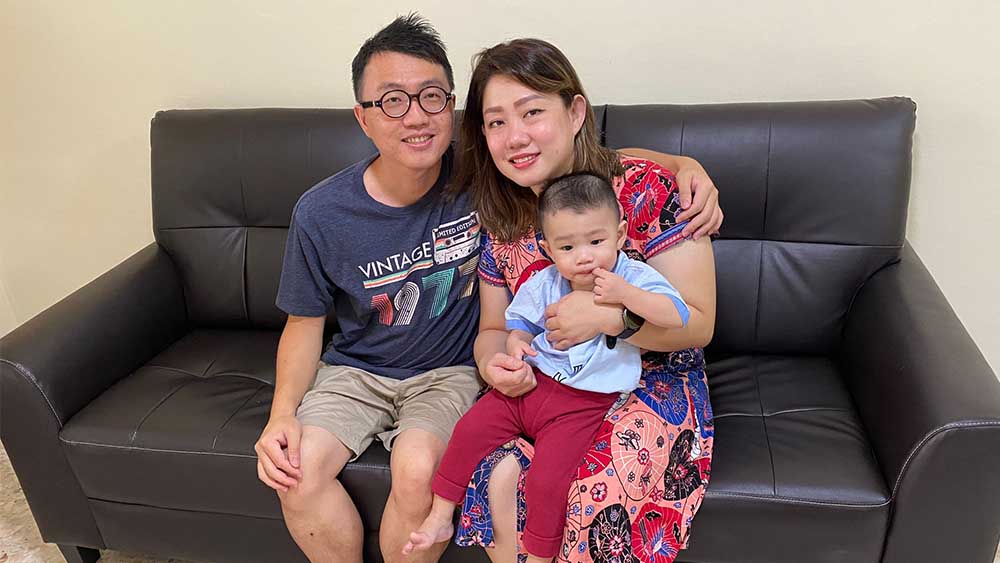 Louis, his wife, and their 20-month-old son | IMAGE COURTESY OF LOUIS LOOI

"This frustrating experience made me realise that there was a pressing need for a more efficient and reliable platform to connect expecting parents with qualified confinement nannies," he shared.

His clients had similar experiences. "During the days of 'Homey Confinement', the business operated similarly to traditional confinement agencies, where confinement nanny profiles were shown to clients, and they would choose based on the information provided," said Louis.
"However, the team noticed that clients often wanted to know more about the nannies beyond the basic profile information. They desired a deeper understanding of the nanny's personality, background, and experience, as well as the ability to assess whether they would click and form a good working relationship."

"In the traditional agency format, it was challenging to facilitate this level of interaction between clients and nannies. Therefore, in response to these client needs and to enhance the service provided, the team at Homey Confinement decided to evolve the business into what is now known as NannyStreet."

What is NannyStreet, you ask? In short, it's a matchmaking app for expectant parents and nannies.

With this app, parents-to-be can communicate and negotiate directly with shortlisted confinement nannies via text messaging, voice, or video call using NannyStreet's platform. This eliminates the need for parents to rely on reviews or to liaising with a middleman for matters like job scope, compensation, or the confinement lady's eating habits.
"Clients wanted transparency in the hiring process. Allowing them to interact with nannies directly built trust and eliminated potential misunderstandings, leading to more informed hiring decisions," Louis said.

On top of finding a confinement lady, the app can also help you book long term babysitters, post-partum massages, and even a helper. Nannies undergo stringent background checks based on job records from the Ministry of Manpower (MOM) and and must fulfil several strict requirements: for instance, NannyStreet only onboards nannies with a minimum of 3 years of work experience and who have worked in Singapore before.
Best of all, NannyStreet will help you handle the paperwork at an affordable processing fee. Plus, the app is free to download! You can try using it to source for nannies without paying a cent.

As someone who is used to using apps to find things like a private car, a vacation home, or a date, I thought this idea was ingenious. But I had so, so many questions. For instance, who facilitates the matching? An algorithm or a human agent? So I reached out to Louis to get the lowdown. Here's what he had to share:

Tell me about the mechanics behind the matching - what can parents-to-be expect after submitting the form?

After parents-to-be submit the form on NannyStreet to find a confinement nanny, they can expect the following mechanics behind the matching process:

Matching Timeframe: The matching process typically takes around 2-3 days. During this time, the team at NannyStreet will review the form submitted by the parents-to-be and assess their specific requirements and expected due date (EDD).

Matching Process: NannyStreet takes charge of the matching process. They will reach out to potential confinement nannies in their network and inquire about their availability and willingness to take up the job based on the client's requirements and EDD.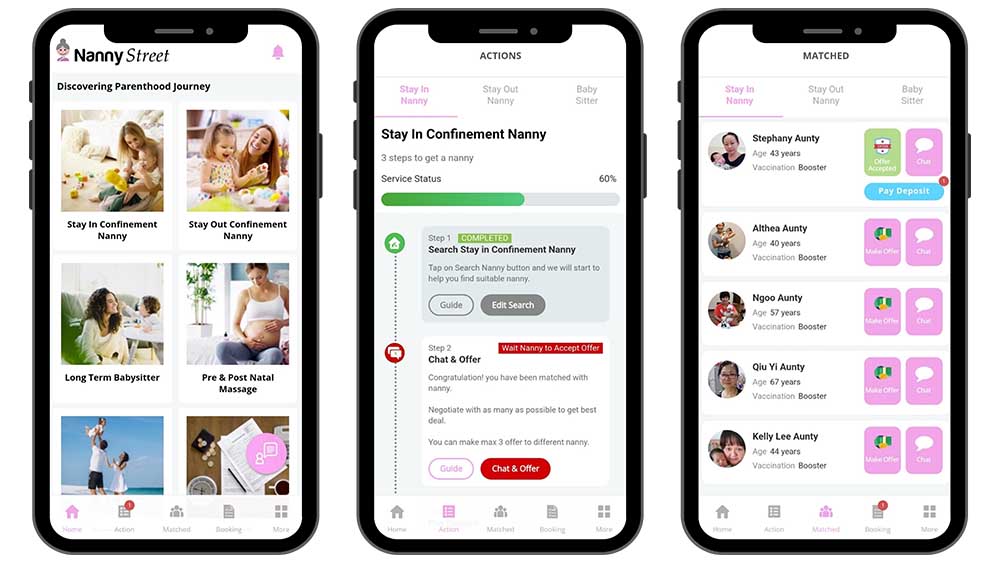 IMAGE: NANNYSTREET
On dating apps, you can talk to multiple people. Can parents-to-be interview multiple nannies?

Yes, parents-to-be can interview multiple nannies. After the potential confinement nannies are identified and agree to be matched with the clients, the clients are given the opportunity to communicate directly with them through the platform. This way, they can conduct interviews and discussions with different nannies to determine the best fit for their needs.

NannyStreet "only accepts nannies with a minimum of 3 years of work experience and who have worked in Singapore before while possessing a good understanding of the local culture." How is a good understanding of local culture gauged? In your opinion, which aspects of local culture are important for a nanny to know?

In our opinion, it is crucial for a nanny to possess a good understanding of the local culture in Singapore as it directly influences their ability to provide effective and culturally sensitive care to families. During our interview process, we specifically inquire about certain aspects of the local culture to gauge the nanny's familiarity with these important factors, including:

Dietary Practices: Singapore has a diverse culinary landscape, and certain dietary practices may be unique to the local culture. Nannies need to be aware of common dietary restrictions, traditional postpartum foods, and cultural beliefs around food choices during the confinement period.

Cultural Traditions and Customs: Singaporean families may have specific cultural practices and traditions that they follow during the postpartum period. Nannies should be knowledgeable about these customs to provide support and respect the family's beliefs and preferences.

Social Norms: Familiarity with social norms and etiquettes in Singapore is essential for nannies to integrate seamlessly into the family's daily life and routines.

Respect for Multiculturalism: Singapore is known for its multicultural society, and it is essential for nannies to show respect and sensitivity towards diverse beliefs, practices, and backgrounds.

By preferring nannies with previous experience in Singapore, we aim to ensure that they have a foundation in these cultural aspects and can seamlessly integrate into the local environment. This helps create a more positive and harmonious experience for both the nanny and the family they are supporting during the confinement period.

Additionally, nannies with prior Singapore-specific experience are likely to be more familiar with local resources and support networks, making them better equipped to navigate potential challenges that may arise.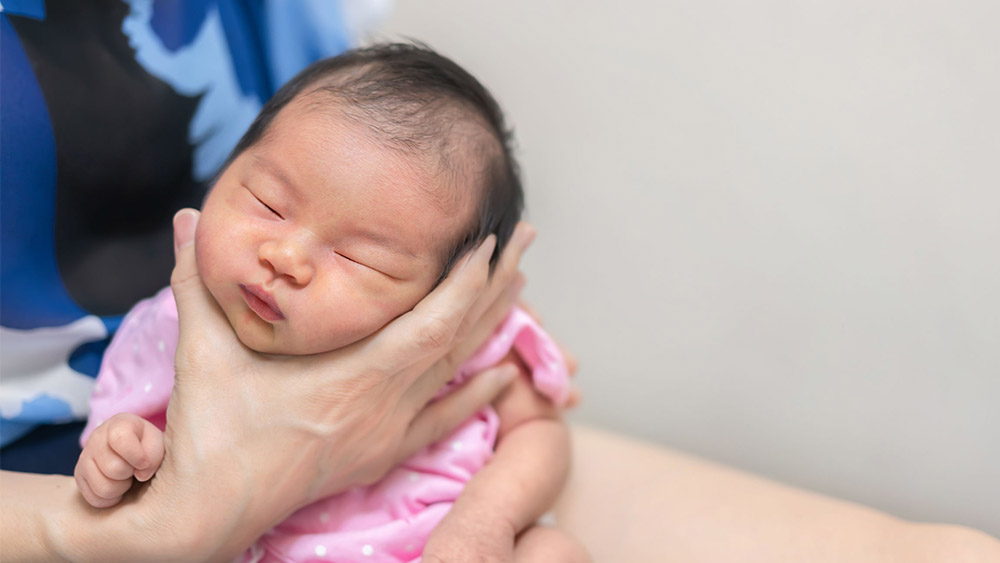 IMAGE: UNSPLASH

Sounds exciting! Any new features in the works for NannyStreet that you're particularly excited about?
We are continuously working on exciting features to enhance the platform and provide an even better experience for our users. While we cannot disclose specific details just yet, we encourage everyone to stay tuned for upcoming announcements. We're excited about the improvements in the pipeline and can't wait to share them with you in the near future. Keep an eye out for updates and be ready to discover the latest enhancements to NannyStreet!
Find out more about hiring a confinement nanny via NannyStreet here
Stay tuned for Louis' tips on how to interview a confinement nanny!
For the latest updates on Wonderwall.sg, be sure to follow us on TikTok, Telegram, Instagram, and Facebook. If you have a story idea for us, email us at [email protected].