At The Heart Of Province Restaurant: Family, Farm-To-Table, Flavours Of SE Asia
One morning in 2006, during the lull after taking the PSLE, a boy decided to watch TV. Jamie Oliver's "Jamie At Home" was on, and the British chef was making a pumpkin soup. The kid thought to himself, "Hmm, I can do that!" With his pocket money, he bought some ingredients to replicate the dish, and it turned out… a lumpy mess. Instead of being a deterrent, the culinary disaster sparked a passion for cooking, and by secondary school, the boy imagined himself running a restaurant in time.
Today, Law Jia-Jun (or JJ) is the chef-owner of Province at 153 Joo Chiat Road, a snug 8-seater farm-to-table joint secreted at the rear of 808 Eating House. Barely two months old, Province throws the spotlight on ingredients and flavours of Southeast Asia, and offers a $138++ seven-course prix-fixe menu that changes every three months. Even so, expect the unexpected nightly, as Chef JJ is prone to making slight adjustments on the fly.
"Not because I'm flaky or anything, it's just the way I am!" he says, laughing. "I'm constantly figuring out how to make things taste a little better, how to make the product shine a little better."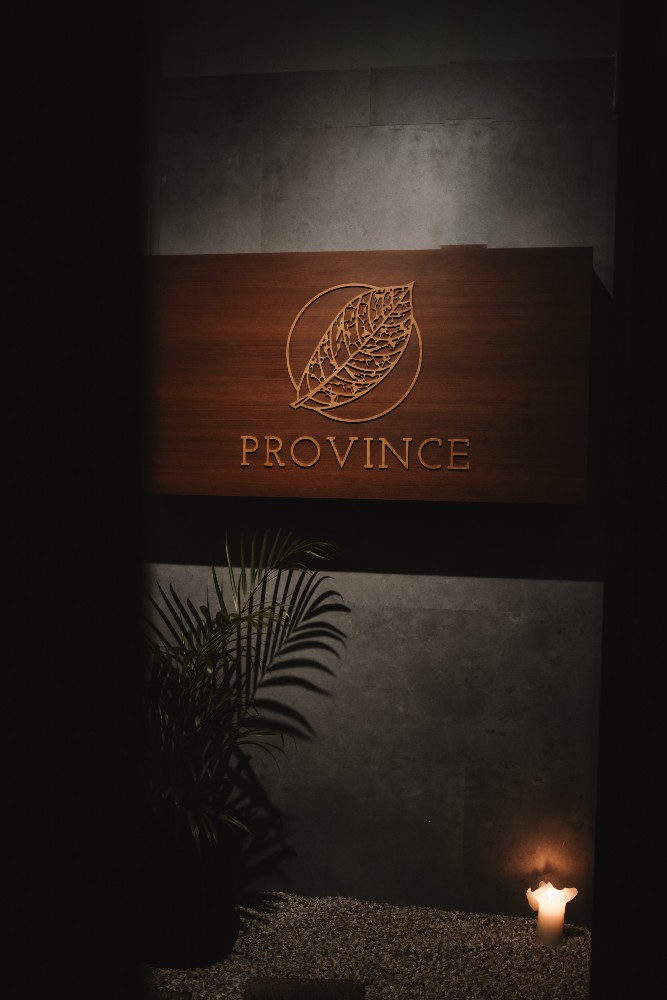 Enter the main entrance at 808 Eating House, then walk to the back where you'll find the entrance to Province. | IMAGE: PROVINCE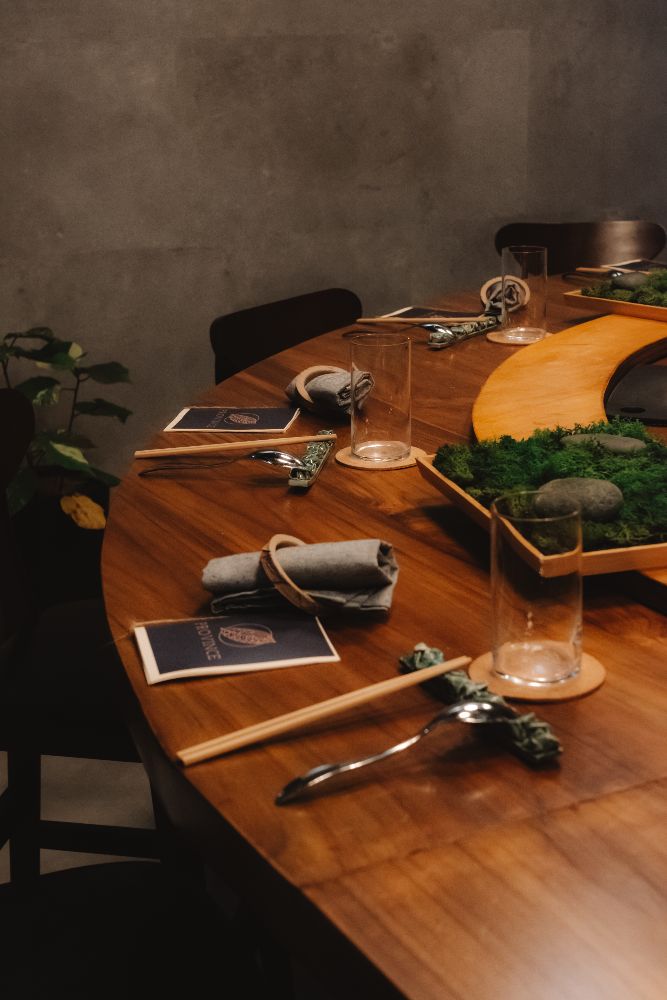 In the cosy set-up for eight guests, you are encouraged to be curious and engage the chefs in conversation – don't shy! | IMAGE: PROVINCE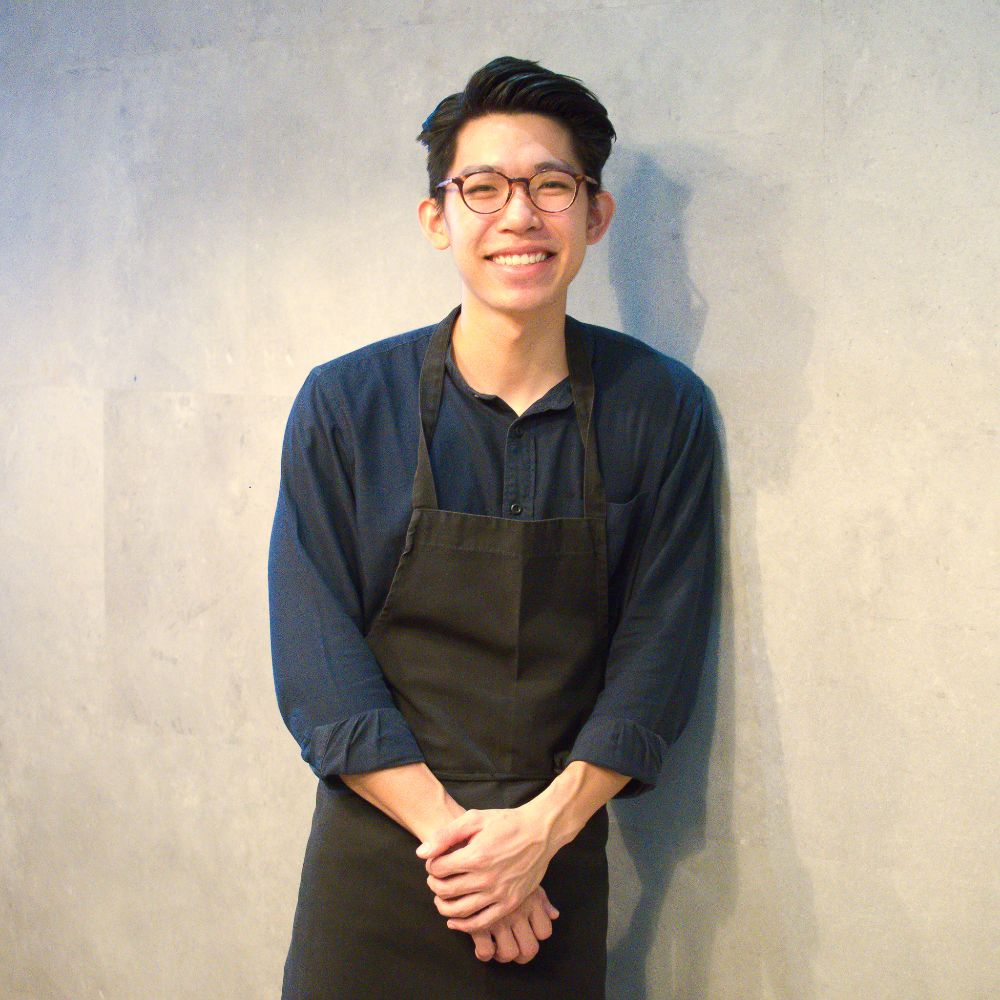 Chef JJ draws inspiration from his Teochew-Hokkien family dining experience, and ingredients and produce from Southeast Asia. | IMAGE: PROVINCE
The Culinary Institute of America graduate with a Bachelor's Degree in Food Business Management has had more than a few golden opportunities, having "staged" (a term that means working for free at a fine-dining establishment) at 3-Michelin-starred Manresa, the esteemed Los Gatos restaurant by David Kinch which shuttered its doors at the end of 2022. JJ also had a stint at 3-Michelin-starred Atelier Crenn in the San Francisco Bay area, and was one of the young talents at local chef incubator Magic Square.
More recently, travels to Thailand and Malaysia in search of ingredients and suppliers for Province have made the 28-year-old more attuned to those who live off the land and within their means.
"I'm just slowly trying to build my encyclopaedia of Southeast Asia," says JJ. "I would like to travel to Vietnam, Philippines, Indonesia to source for more ingredients cuz I'm pretty sure they have a spice or a vegetable that we don't have here that I can hopefully get into the restaurant eventually."
We pull up a chair and tuck into JJ's tales of his Teochew-Hokkien roots, his fondness for glutinous rice, and how national service made him kinder and more resilient in the kitchen.
Your dad is Teochew and your mum is Hokkien. How much does that play a part in your cooking?
My mom and my Ah Ma cook very well. So did my Lao Yi (my dad's auntie). There was a lot of steamed fish. I didn't really realise it growing up as I ate their food, but as I started to work in a restaurant, and when I was asked to create something, I would draw a lot from the family dining experience first. Even now, that's my priority, my first instinct.
I have a rice course on the menu that's a mix of glutinous rice and jasmine rice, because I love glutinous rice – I can eat bak chang any day, every day! Every morning when I was in primary school, my Ah Ma would buy this glutinous rice that had been fried with a bit of soy, garlic, hae bee, then steamed and cut up into squares with peanut, chang chu la (shallot oil), spring onions. And then I would just eat it like that, damn shiok!
Speaking of shiok, what amazing opportunities you had in the US! How did those experiences inspire you?
Right after national service, I took whatever I had and went overseas. I went to "stage" at Manresa. They were doing farm to table, and they would source specifically from certain farmers – and that opened my eyes to this philosophy of just using within your means. As long as you find the right people who enjoy what they do, and you get that produce, it'll just translate on the plate very easily.
Subsequently, I went to the Culinary Institute of America. I got a chance to work at Atelier Crenn, and they also followed the same philosophy. And I slowly observed other chefs – Alain Passard, Alain Ducasse – and they always say that sourcing ingredients is the most important thing for a chef. And, really, if you just find a good ingredient and cook it in the right way, it will just shine – you really don't have to do too much.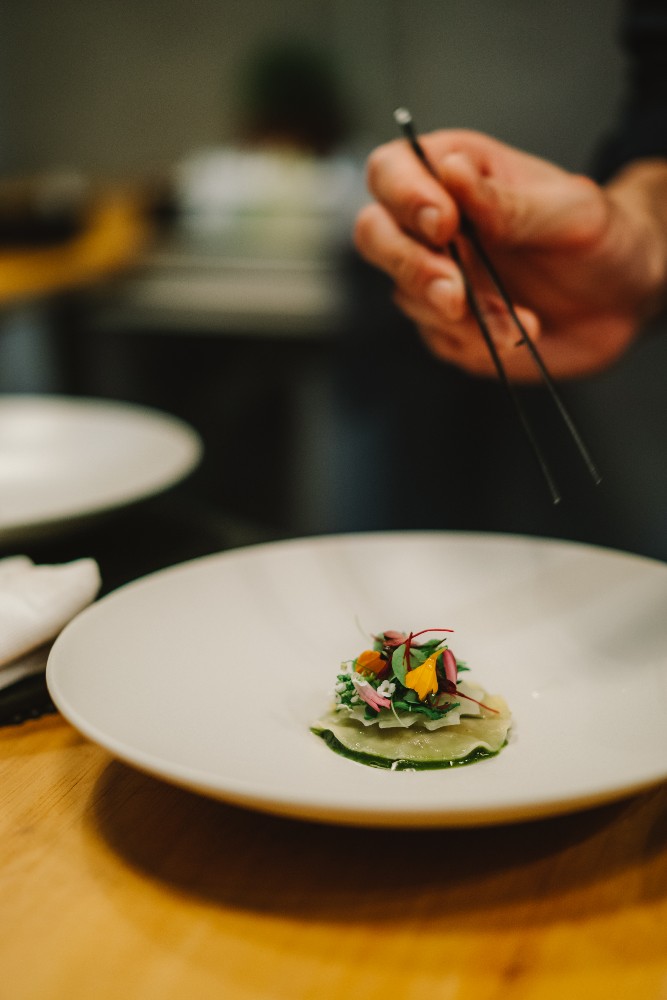 Province's vegetable-centric second course, "Into The Garden", is a tribute to Michelin-starred David Kinch, one of the earliest proponents of farm-to-table, ingredient-driven cooking. | IMAGE: PROVINCE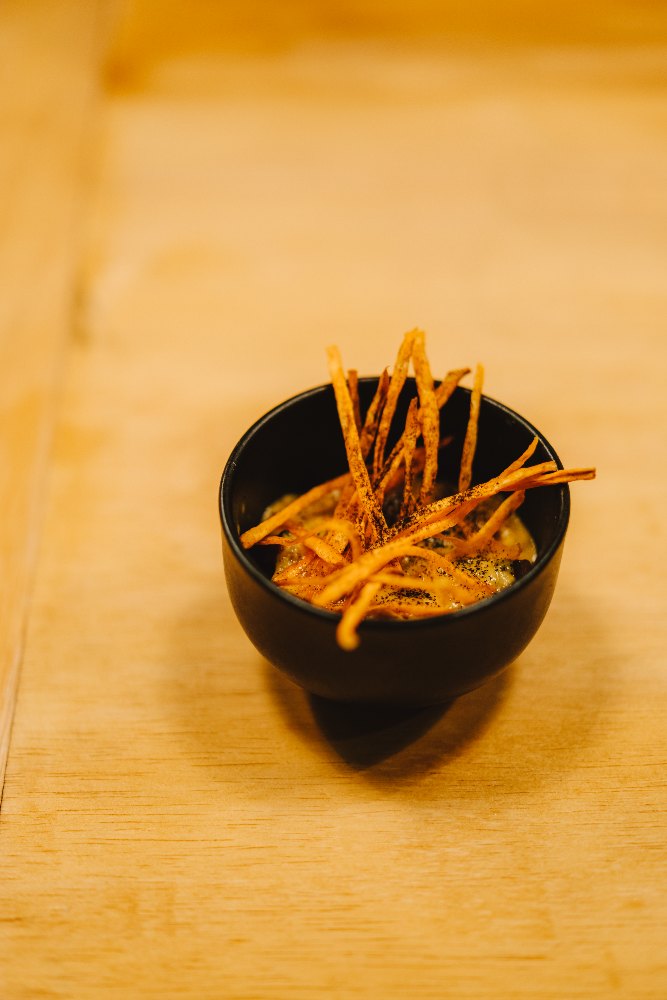 Third course, "Tubers", features everything from the ground and spotlights purple, yellow and orange varietals of Japanese sweet potatoes which are slow roasted at 150°C for an hour. | IMAGE: PROVINCE
Your menu focuses on ingredients sourced around Southeast Asia. What ingredient speaks to you the most?
Japanese sweet potatoes [grown in Chiang Rai, Thailand]. When we cooked it and I tasted it, I was blown away. We grilled it over the fire, low and slow. And because it was grown there and hadn't gone through any air conditioning or been transported for a long duration, the sugars were still sugars. They hadn't converted into starches yet. So, when you open it up, the centre is a bit white – that's where the starch is. But when you look outside, it becomes almost translucent because the sugars have caramelised. And that can only happen if the transport doesn't take too long. That's something I'm trying to recreate – the textures, the flavours, the smokiness, the different layers.
This ingredient is featured in the dish, Tubers, which is made up of things from the ground. At the base, you have a buah keluak purée, and then a variety of sweet potatoes on top – Japanese, purple, orange, yellow – which we fry in duck fat. We make gnocchi out of the native ones, and top it off with a smoked sweet potato espuma, a garnish of fried julienned sweet potato and a bit of burnt onion powder.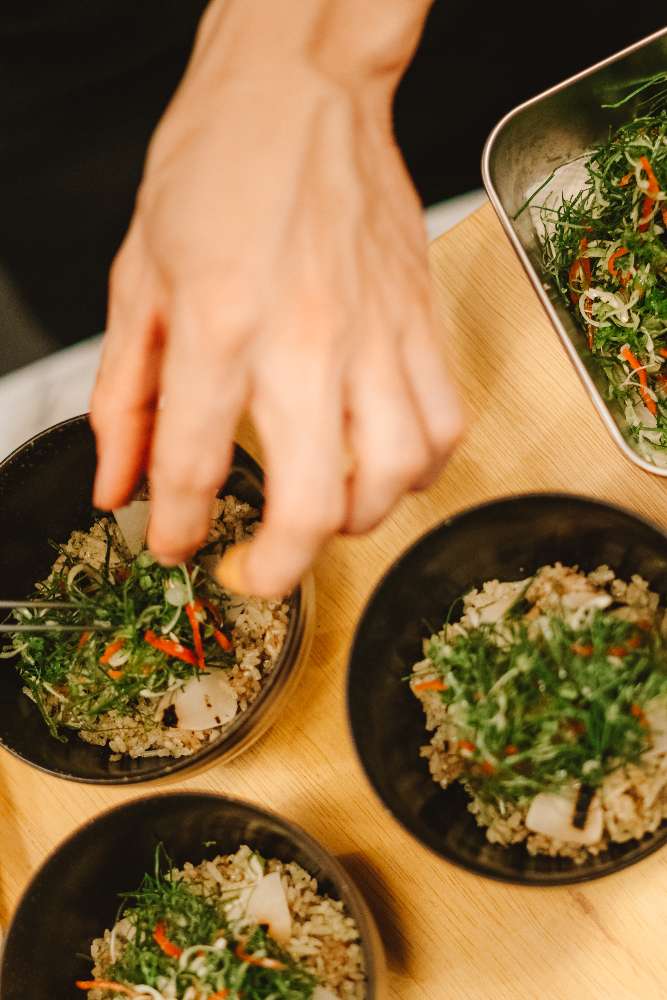 The fourth course, "Molluscs", is a rice course in two parts, and is inspired by nasi ulam. | IMAGE: PROVINCE
It'll probably be as cruel as asking a parent who their favourite child is, but... what's your favourite course on this current menu?
Ya that's tough! <pauses> I like the rice a lot cuz it's a staple. We all eat rice. When I was in the US, I had to scrimp and save, so I would eat a lot of rice, and had to figure out all sorts of ways to make the rice taste new and different.
This course has different textures – you get the softness of the jasmine rice and the chewiness of the glutinous rice. I soak the glutinous rice, then dry-fry it. I dry-fry kerisik, lemongrass, kaffir lime, garlic and diced onions, and season those aromatics before adding the rice. Then I steam it.
As for the jasmine rice, I cook it with chicken stock, fish sauce, salt and dried cuttlefish (which is an umami component). I season it quite heavily and steam it. Then I mix both types of rice, and season it with a laksa leaf relish.
This dish developed along the way because I learned about nasi ulam six years back, and it's garnished with Shishito peppers that are grown here by Ben [Ang of Natsuki's Garden], and topped off with herbs and any kind of protein.
I make this in two parts: after you finish half of it, I'll come out and pour a smoked broth over it for you, and it becomes a chazuke (an idea that my chef Wei Xiang came up with), which creates a different experience.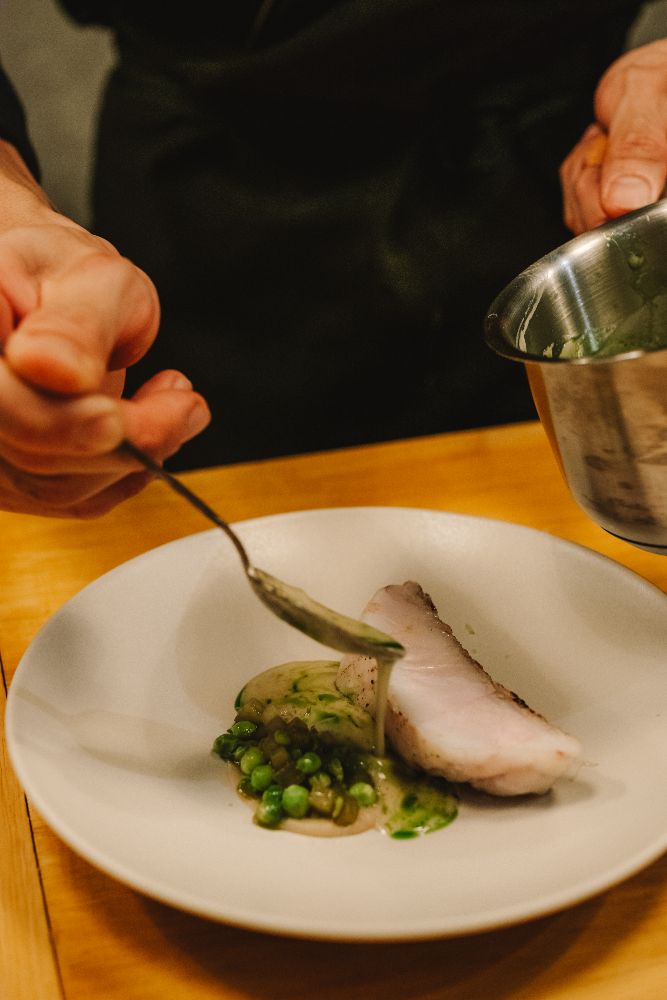 The fifth course, "Finned", is dependent on and inspired by what Ah Soon, Province's supplier of fish and seafood, can offer. | IMAGE: PROVINCE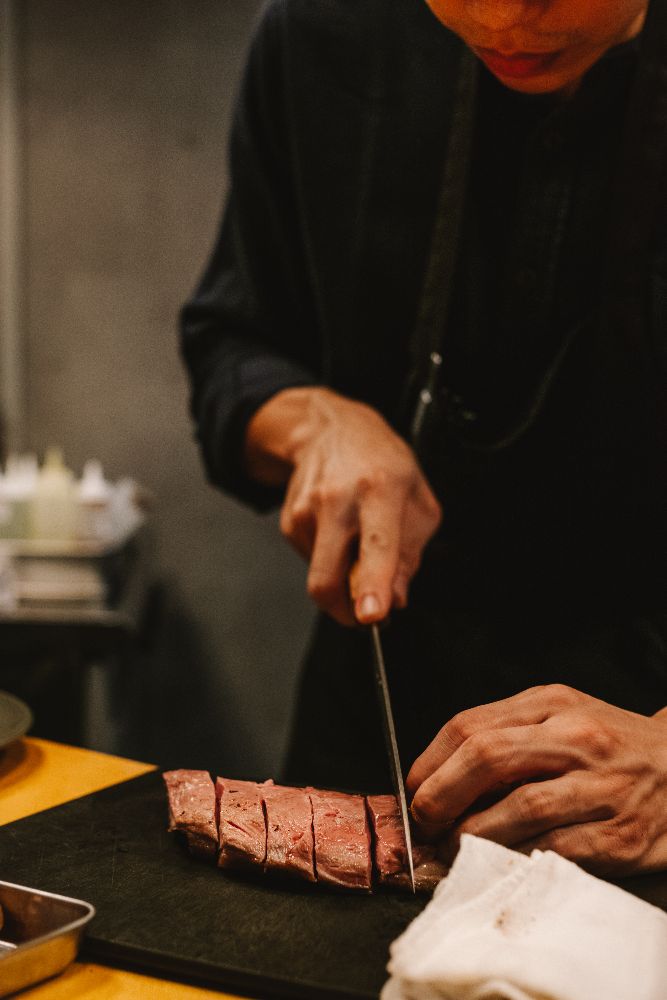 "Feathered", the penultimate course, puts the focus on a Long Island duck aged for 14 days, and seasoned with malehsa, a spice with a citrus note that JJ came across in Mae Hong Son, Thailand. | IMAGE: PROVINCE
What sort of dining experience do you want guests to have?
I hope people come in curious and with an open mind. We're not a fine dining place, I won't charge you $500 so that you can have caviar and uni on your plate. We can't get that here, and I won't serve it. Just like how you won't get beef here. I'll serve you chicken, pork and duck. Crocodile or frogs – maybe, in the future. But I still want to follow the philosophy of using just within the means.
Besides eating and enjoying the food, connect with us, and be talkative! That's why I have counter seating, and I always introduce my kitchen staff, my front of house, whoever's there. I think that it's necessary, moving forward in F&B, to be able to showcase the work. You have to give credit where credit is due.
And leave Province learning, knowing and understanding that we have a lot of ingredients – and you don't have to pay a bomb to enjoy it!
A random but pertinent question for any true-blue Singaporean Son: How was national service for you? Did it inspire you in any way?
Training was rough (I'm an Armoured Infantry Officer), but it built me up to tahan things a bit better. I learned to be more resilient and to persevere through hardships, and also to be kinder – it shifted my view of being a negative person in the kitchen.
After coming out of NS, I was still "in the army", cuz that's how kitchens are run. [Georges Auguste] Escoffier [who served in the French army] built a kitchen system with a ranking hierarchy. It's necessary in certain areas, but nowadays, I think hierarchy is not important. I think it's about giving chefs opportunity to share their thoughts, their ups and downs, and understand why they feel the way they feel.
For the latest updates on Wonderwall.sg, be sure to follow us on TikTok, Telegram, Instagram, and Facebook. If you have a story idea for us, email us at [email protected].