Thosai 10 Ways: Start The Year On A Sweet Note With This Dessert Thosai
"Thosai 10 Ways" is a Wonderwall.sg series helmed by MasterChef Singapore Season 2 contestant Vasunthara Ramasamy aka Vasun, an amateur baker and cook, and the blogger behind Monsoon Table.
As the thosai is quite plain on its own, it is the chutneys and numerous variations such as Mangalorean turmeric and multigrain thosais which make the plain thosai a little more exciting and interesting. Pair a savoury thosai with chutneys, sambhars, and podis and you have a flavour explosion in your mouth.
One variation of a thosai is the Vellai (White) Sweet Thosai - an instant sweetened thosai which is a favourite breakfast and teatime treat. Many mothers also pack this easy-to-make treat in their children's lunch boxes.
In India, the term "thosai" is a catch-all term for anything that is like a crêpe, and so, my version of a Vellai thosai that is not pale in colour, Dessert Thosai with a Caramelised Banana and Coconut Stuffing, can also be called a thosai.
Inspired by my travels to Penang (above) and the crispy apom baliks and apom manis that are popular on the island state, I have adapted my own crispy apom balik recipe for this sweet thosai.
I've used coconut sugar instead of sugarcane jaggery, and caramelised sliced bananas to add more complexity in flavour and a Southeast Asian twist to the dish.
These dessert thosais are just sweet enough to qualify as dessert and wonderfully fragrant from the ground ginger, cardamom and coconut sugar. To enjoy these treats, roll them up into a cigar or fold them over like a taco to ensure every bite contains fresh coconut, caramelised bananas and the soft and moreish dessert thosais.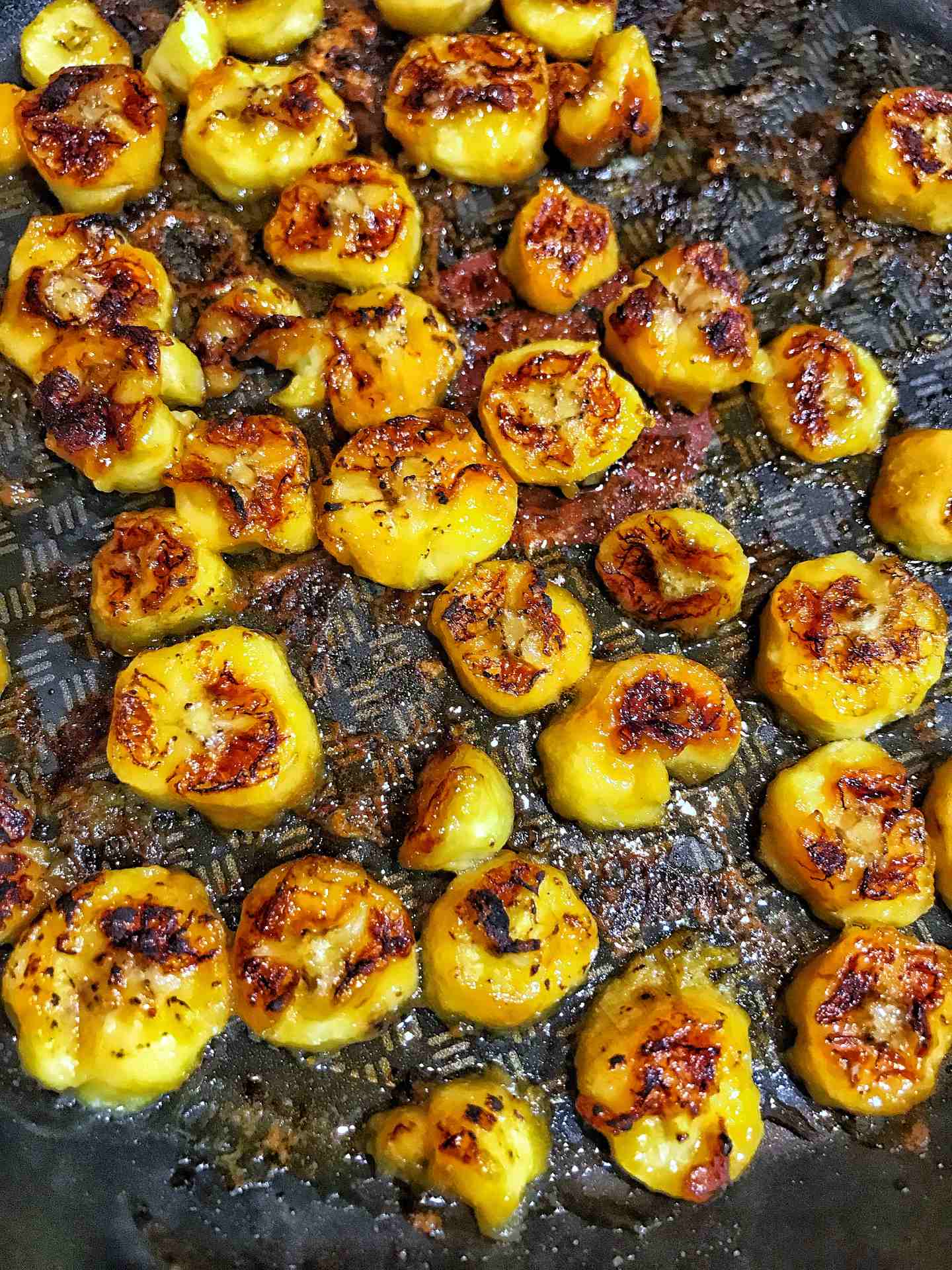 Caramelised Bananas
Ingredients

About 1 cup thickly sliced, ripe bananas
1 tbsp caster sugar
Method
1. In a bowl, add caster sugar to sliced bananas and toss the banana pieces to evenly coat with sugar.
2. In a medium non-stick pan on medium high heat, add bananas and sugar. Gently adjust the banana pieces such that each banana slice is flat on the pan.
3. Leave the banana slices to brown for about 1 minute, undisturbed.
4. Using a flat spatula, gently turn the banana pieces to caramelise on the other side for another 30 seconds.
5. Remove caramelised bananas to a plate to cool.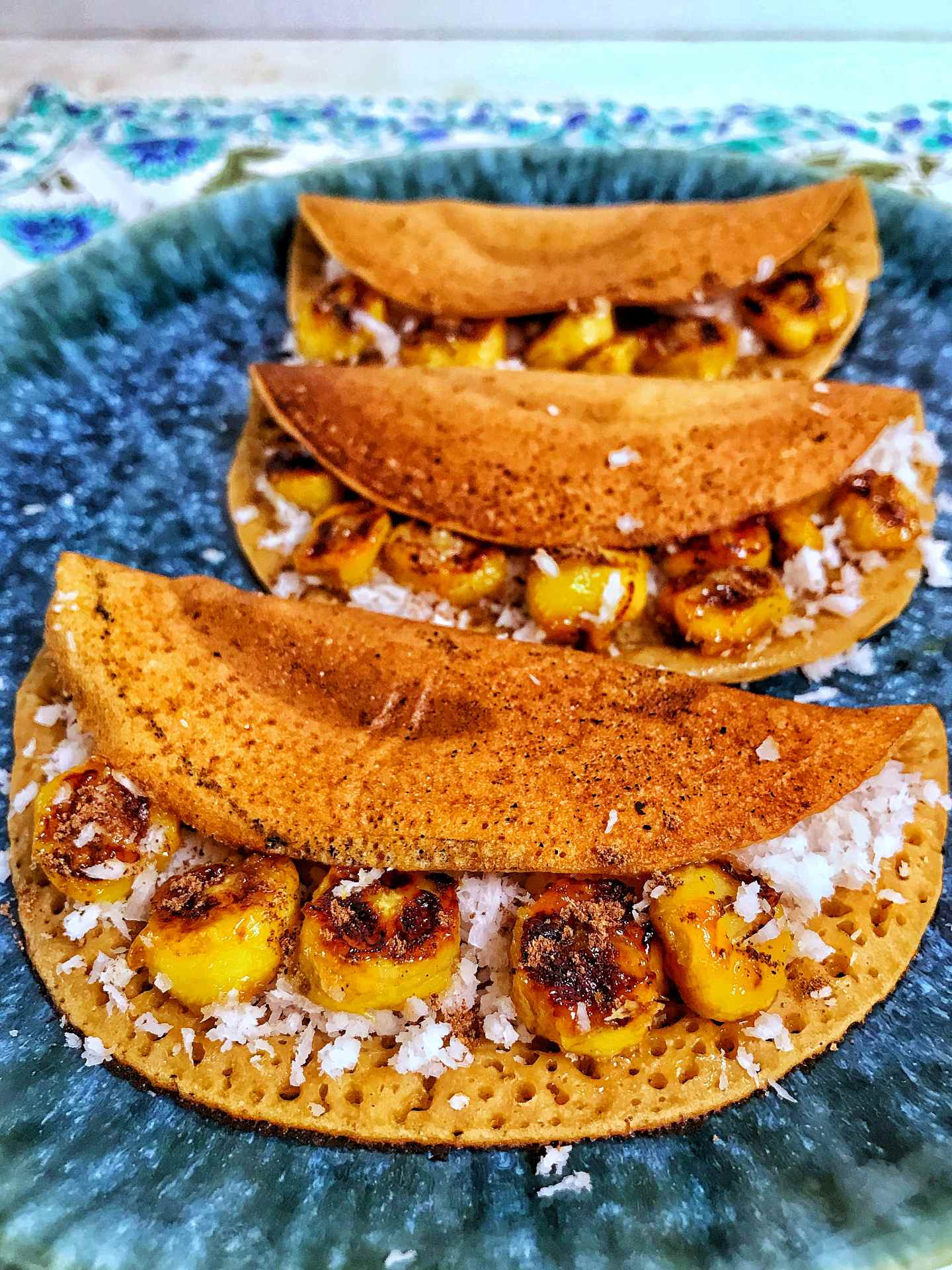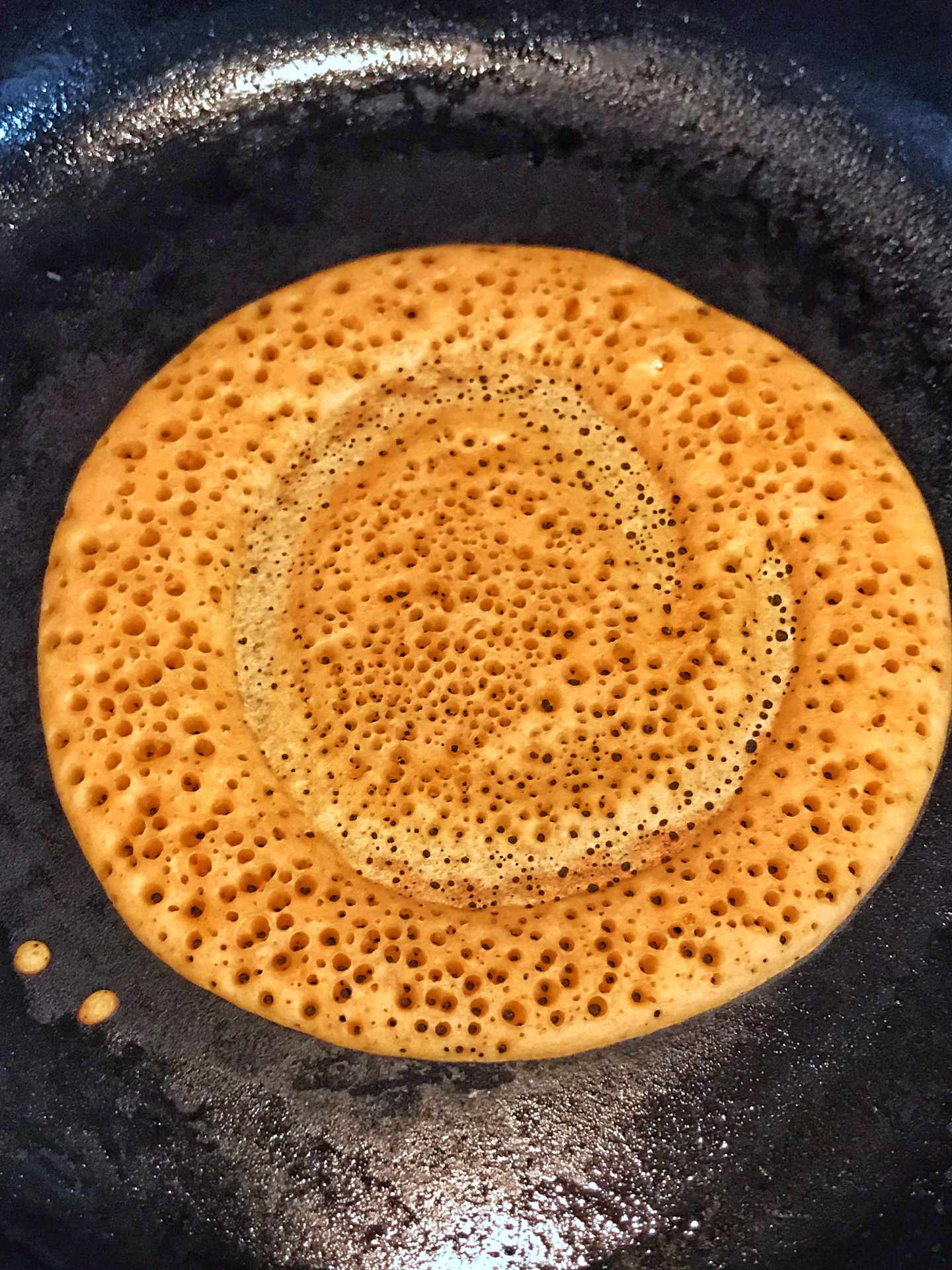 Dessert Thosai
Ingredients

100g plain flour
100g rice flour
¼ tsp fine sea salt
½ tsp baking soda
pinch of baking powder
½ tsp ground ginger
¼ tsp cardamom powder
25g castor sugar
25g coconut sugar
50ml water + more, if required
250ml milk
vegetable oil or extra virgin coconut oil
100g grated coconut, steamed or lightly pan toasted
Method
1. In a large bowl, mix the plain flour, rice flour, salt, baking soda, baking powder ground ginger and cardamom powder. Set aside.
2. In a large measuring jug, castor sugar, coconut sugar and water with 1/2 the amount of milk till all the sugar has dissolved.
3. Add wet ingredients to the flour mix and using a sturdy whisk, combine until all the ingredients are thoroughly mixed. Add the other 1/2 amount of milk slowly while whisking. The batter should be uniformly mixed. Cover and set aside for about 1 hour. This is to relax the gluten in the flour.
4. After an hour, give the batter a good mix. Batter would have stiffened. Add a little water until the batter is thick and pourable . When you lift your whisk over the batter, the dribble from your whisk should take about 2 seconds before it completely disappears – just a simple test for viscosity.
5. Heat your pan or cast iron skillet on low flame for about 10 minutes until pan is considerably hot, not smoking hot.
6. Spread a very thin layer of oil (I use a clean kitchen towel that's soaked in a little oil) on the skillet.
7. Using a small ladle scoop with about 1/3 cup of batter, pour the batter onto the centre of the skillet and immediately drag the batter in circular motions, as you would spread a thosai. Spread the batter as thin as possible.
8. Leave the thosai to cook, undisturbed and uncovered for 30 seconds until bubbles appear. Leave to cook until golden brown on the bottom and the dough on top has all cooked. Use a spatula to lift the edges and check. You might need to give the edges a little nudge.
9. Gently lift using an offset spatula/ fish turner and immediately fold while it's hot to make a taco shape or roll into cigars after step 10. Repeat the steps with the remaining batter.
10. Add caramelised bananas and warm grated coconut inside each dessert thosai. Sprinkle more cardamom powder if desired. Serve warm.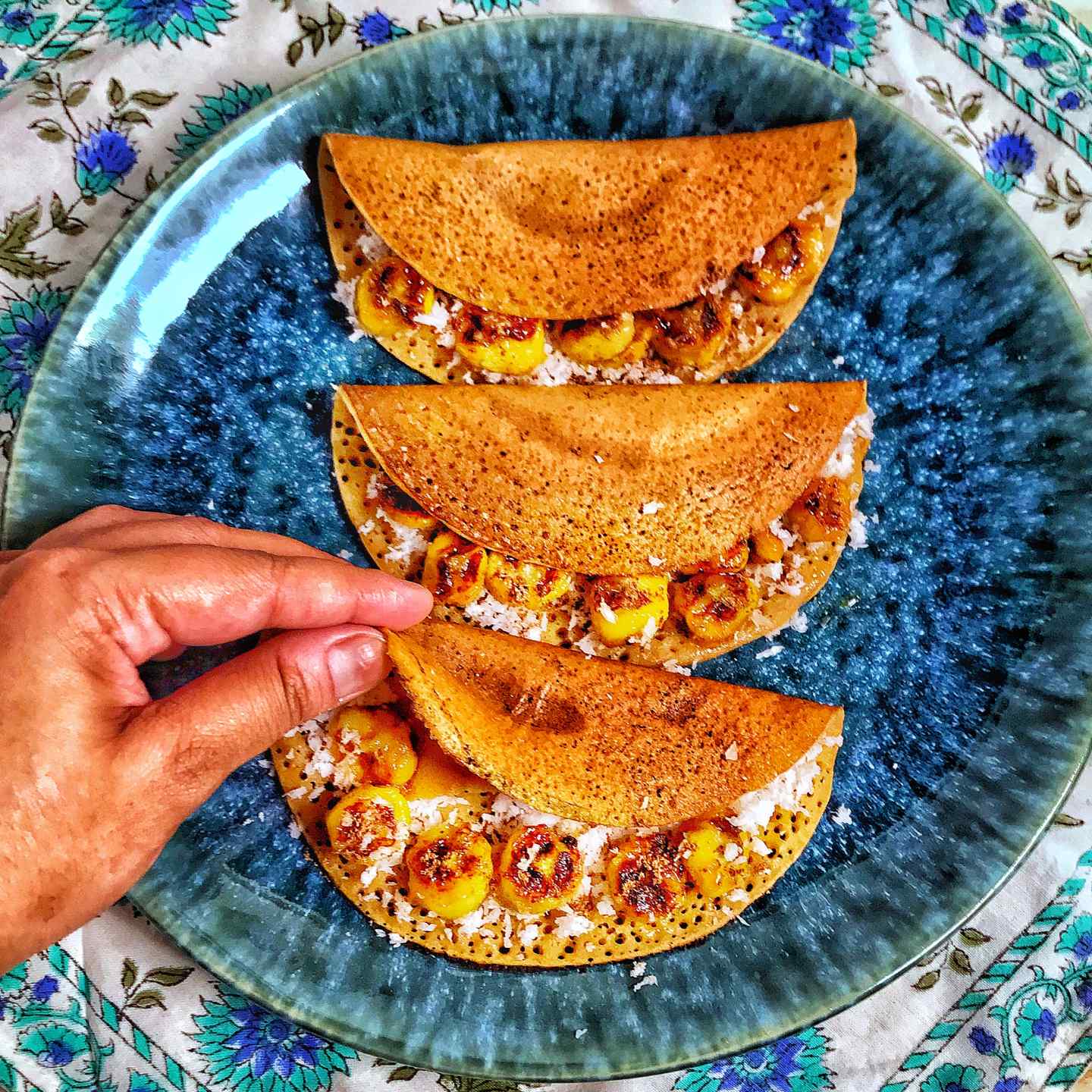 ---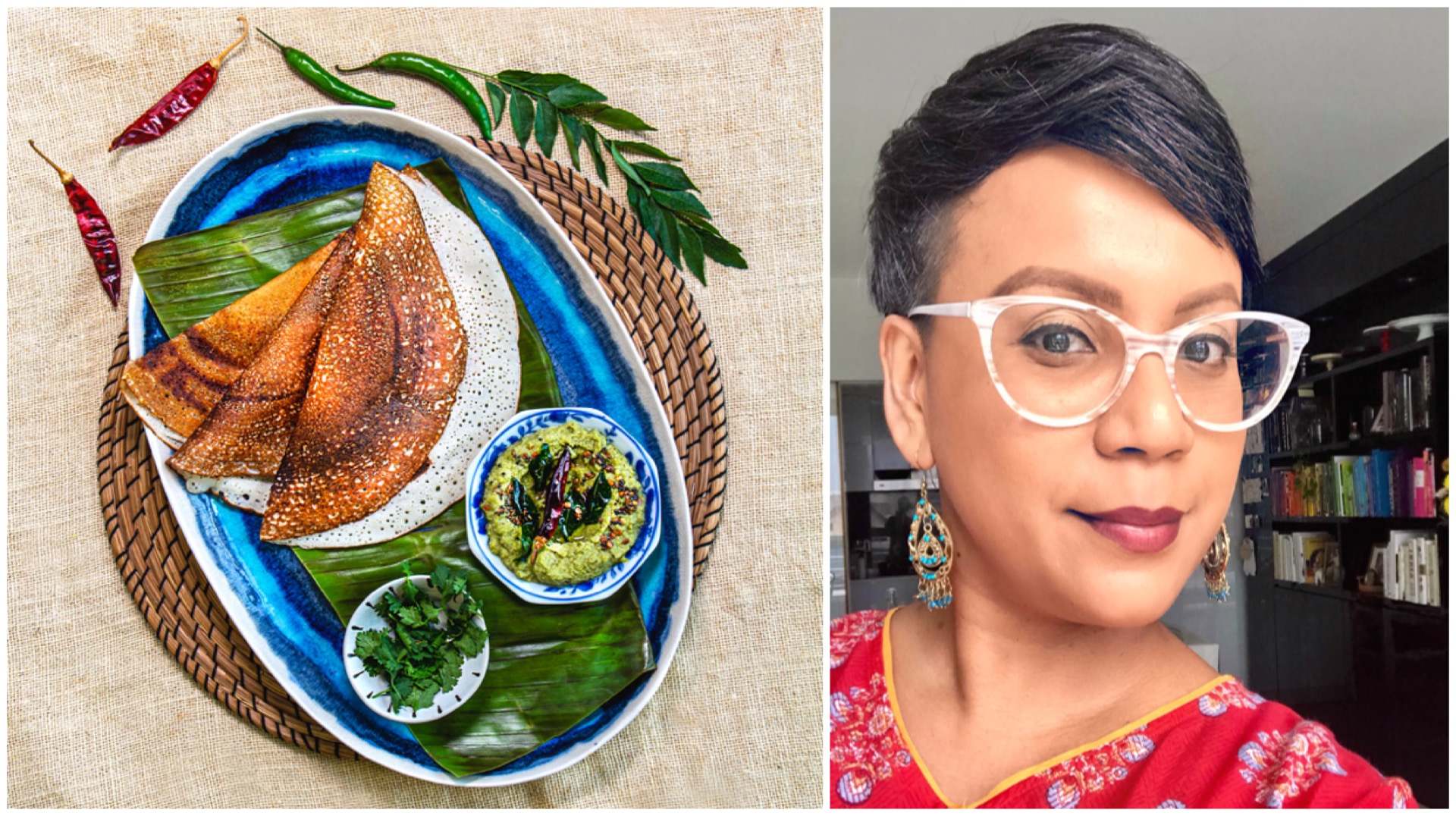 Vasun's thosai masterclass
Want to learn more? Vasun teaches the art of making thosai from scratch at her home. She's inspired by the nostalgia of her grandma's kitchen and the exacting science of thosai fermentation.
Thosai masterclass partipants will learn the basic science of thosai, how to soak and grind the batter from scratch, master the art of swirling and cooking thosais.
At the end of the 4-hour $180 class, they also get to enjoy a tiffin meal with two chutneys and gunpowder podi, bring home all the food and successfully ferment their first batch of thosai.
For now, the thosai masterclass is for a maximum of two partipants, and held every Wednesday and Sunday.
For enquiries or to book a class with Vasun, email [email protected] or drop her a DM via Instagram @vasunthara.r
For the latest updates on Wonderwall.sg, be sure to follow us on Facebook, Instagram and Telegram. If you have a story idea for us, email us at [email protected].