Are You Overlooking These Unexpected Factors When Choosing Your Wedding Bands?
If you're reading this, you might be thinking: "What factors can there possibly be when it comes to choosing a wedding ring? I just want a plain one without any fuss. It'll be ridiculously simple and quick to make."
We're going to stop you right there and tell you that you may be surprised once you actually go down to the jewellers' to order your rings, even if you wanted a plain and simple band. Don't believe us? Read ahead to see if you've really considered everything there is to think about wedding bands.
1. To what extent do you need your bands to match?
This is the question that will affect all questions – is it important to you that your wedding bands look the same? And by "the same", do you mean an exact match, or just in matching styles, colour, and material?
A note to the grooms: with brides, there's also an additional question of whether they'd be wearing their wedding band by itself most of the time, or with their engagement rings. If she intends to stack it with the engagement ring, the wedding band will need to match the engagement ring in terms of the material used and the general dimensions.
If matching is important to you, during the research phase, make sure there are options for both of you at the place that you choose. When I (Diane) was getting married, I was determined to find a wedding band that would stack nicely against my engagement ring, which wasn't easy since my now-husband had purchased it overseas. Miraculously, I found a local jeweller who had gone for training at the exact place that had made my engagement ring, so his wedding bands suited my existing ring nicely. The problem? His plain wedding band were a bit on the skinny side, meaning my husband had limited choices for width. Thankfully, he was happy to wear a thinner band, but if he'd wanted something thicker, we'd have had to find another jeweller.
2. The "flatness" of the ring
When talking about rings, most people would immediately begin considering the width of the ring, that is, how thick it looks on your finger. While that is certainly important, we think a factor that requires just as much consideration is how rounded or flat the ring is as well, since it changes the entire look of the piece.
Rounded rings have always been the go-to wedding band design for centuries now. Recently, however, flatter rings have started coming into vogue for both men and women thanks to the popular Cartier Love Wedding Band design, which features a super-harsh flatness that was rarely found in wedding bands before its release.
3. The design of your ring: should it be something timeless, something unique, or a little bit of both?
Plain wedding bands are a popular choice because of how fuss-free it is. Its popularity is unfortunately also its downside – your wedding band will look the same as half the married population on the planet. It would certainly not be fun for you if you ever lost it in a public place.
For those of us who want just a touch of individuality without over-the-top bling, there are more subtle designs available out there that you never knew existed. From barely-there notches on the ring, to the intertwining of different coloured golds on a plain band, even those who had had their hearts set on a plain design might be unexpectedly spoilt for choice.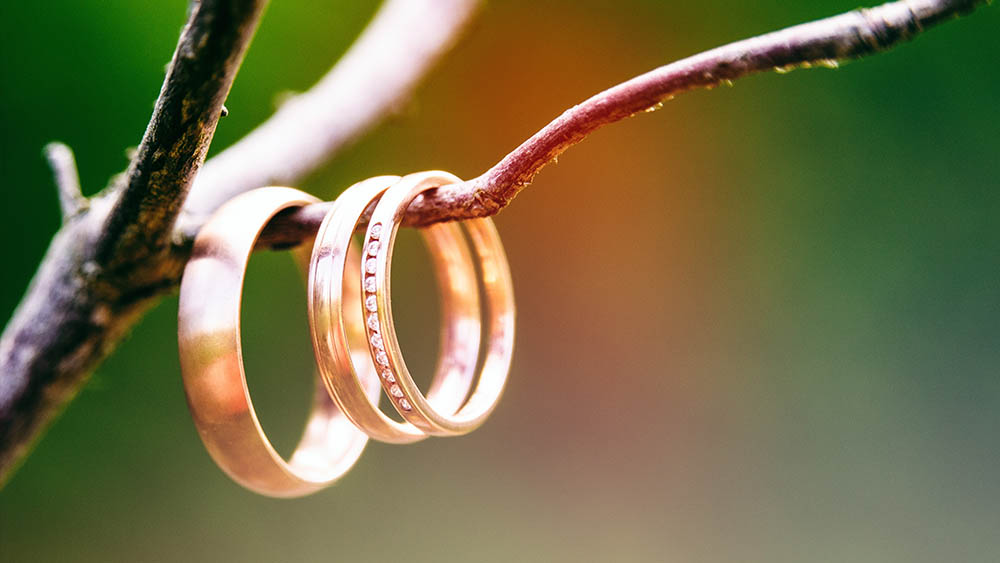 IMAGE: UNSPLASH
4. The hardiness of your ring
Deciding on which metal looks the best to you is probably one of the first things people think about when considering wedding bands. Before you spend too much time thinking about that, consider these two questions: what kind of work do you do on a day-to-day basis, and how often would you be wearing your ring?
If you're an office worker who spends most of your day with your hands on the keyboard and your ring barely touching anything, you're probably safe with any metal you fancy.
However, if you're working somewhere that require you to use your hands a lot more, such as in a factory, a restaurant, a warehouse, a coffee place and so on, you might want to give more thought to the metal of your ring.
The traditional choice of gold, whether yellow, white, or rose gold, is also typically the softest metal choice on the market and wouldn't hold up well if you're going to be banging it around on hard surfaces every day. You can consider other precious metals like platinum or palladium, which are harder but also more expensive.
If you're on a budget, consider less common metals like black zirconium, tungsten, or even stainless steel, which are way, way hardier than any of the traditional metals and also easier on the pocket. Keep in mind that because they're such hard metals, they may also be difficult to resize in the future.
These metals tend to only come in silver, so if you really want a yellow or rose gold band, then you might want to consider wearing it on a necklace rather than on your finger daily, to keep it out of harm's way.
5. Branded, bespoke, heirloom, indie brand...
Where you get your wedding bands is just as important as what they look like. And since a wedding band is something you'll both wear for life, and could possibly hand down to your children, it's important that you and your other half are on the same page about where to purchase yours, especially if you'd rather purchase them from the same jeweller.
First thing to ask: do either of you have a "dream" wedding band? A couple I know prioritised individual taste over matching, so the groom chose a pretty low-key and inexpensive wedding band, while his wife got the Bulgari Serpenti Viper (her dream ring). Or maybe you want a one-of-a-kind his-and-hers set - you might need to go the indie route depending on the uniqueness of your designs.
There's also the possibility of infusing your rings with some sentimental value. This can mean having them made by a friend in the business, perhaps incorporating any heirloom jewels, or even using an heirloom ring. Whatever it is, make sure you communicate first, and convey how flexible you are about changing your minds, before you go shopping.
6. How soon do you need it?
If you had initially thought your wedding bands would be a simple two-week fast game and only approached the jewellers when your wedding date is looming ahead, you might get quite a shock at the estimated delivery date.
Even if both you and your wife-to-be are picking out plain wedding bands, the jewellers' may not have ready stock of the exact size and dimensions of the rings that would fit both of you perfectly.
More often than not, they'd have to send out an order to an overseas factory, who would then have to create a mould according to those dimensions and make your wedding bands from scratch. Don't be surprised if they give you an estimated delivery date a whole three months after the date you place the order.
Plan ahead and go early. It not only saves your timeline from last minute disaster, but also gives you and your fiancee ample buffer time to think about what wedding bands you'd really want to sport on your fingers for the rest of your life.