This Ex-Military Guy Has New Missions - In Cybersecurity And Fatherhood
As the CEO of Red Alpha Cybersecurity, Benjamin Tan, 37, feels a pressing need for more Singaporeans to consider careers in cybersecurity - namely because network administrators in organisations nationwide are often caught off guard by attacks.


"You might be surprised to hear that the biggest cybersecurity threat I've encountered is the inadequate understanding of an organisation's internal networks by people within the organisation," he says.
In layman's terms: "This is akin to trying to secure a house, but not knowing where the doors and windows are, or whether they are locked." Basically, attackers can sneak in because they often understand the network better than those administrating it.
To counter this issue, Benjamin is mentoring a pool of up-and-coming cyber talents at his current firm. By imparting his knowledge, Benjamin hopes to also empower a new generation of professionals to defend Singapore from looming online threats.
You'd think his origin story began in a basement computer lab somewhere, but in fact, it began in the military, where he was a key member of the Singapore Armed Forces (SAF)'s Cyber Incident Response (IR) Unit.
"Before NS, I never considered a military career," he admits. "I felt I did not have the necessary discipline to be in a uniformed group, and that the culture was too rigid. I only started considering a military career when I was in Office Cadet School (OCS), when I met a 'garang' instructor who had performed UN peacekeeping operations in Timor-Leste. I was inspired by the thrill of doing real military operations in such a setting, and the stories of how he was able to help the people there as part of the peacekeeping force, and fly the Singapore flag high. The cool UN medals and beret he had might have contributed to my decision too!"
Despite his initial misgivings about entering the military, Benjamin credits it with leading him toward his new career.
"The military was my first step into cybersecurity," he says. "I had many opportunities to build my expertise through various training, participate in various cybersecurity operations and exercises, and learn from the best cybersecurity experts in the military. The cybersecurity ecosystem in Singapore is also a small and tight-knit community, and I made many friends in the industry during my time there."
We spoke to Benjamin to hear about his military career, his transition into being a CEO, and what all this has to do with being in the trenches as a new father:
Let's start with your beginnings. How long were you in the SAF and what was your role?
I was in MINDEF and the SAF for 15 years and one month. I didn't sign on as a combat vocationalist in the end, even though it was what drew me to consider a military career in the first place.
As I studied Computer Engineering in university, I joined the small but growing cybersecurity team first in MINDEF, and then in the SAF. I had the privilege to take on multiple roles, including cybersecurity consultancy, IT operations and subsequently heading the MINDEF Cyber Security Operations Centre (SOC) and commanding the SAF's Cyber Incident Response (IR) Unit.
What was your biggest takeaway during your time there?
My biggest takeaway from my military career was that an organisation is only as good as its people.
When I was the Commanding Officer (CO) of the SAF's Cyber Incident Response (IR) Unit, I had to manage more than a hundred personnel in the unit. For the unit to be effective, everybody had to give their best. In order for them to give their best, you had to take care of their personal and professional development, their well-being and morale, and align them towards a common goal. So, an organisation has to first take care of its people so that they in turn will take care of the organisation.

Sounds like you had a very fulfilling career - so why make the switch?
The military was my first and only job since graduation, and I had a very engaging and challenging career such that I didn't think too much about changing jobs for 15 years.
But when Red Alpha Cybersecurity Singapore approached me with an opportunity to join them, to provide opportunities for Singaporeans from any background to do a career switch into cybersecurity, and address the persistent cybersecurity workforce gap, I felt that it was a great opportunity for me to transit outside the military and see how I could contribute to cybersecurity in Singapore in a different capacity.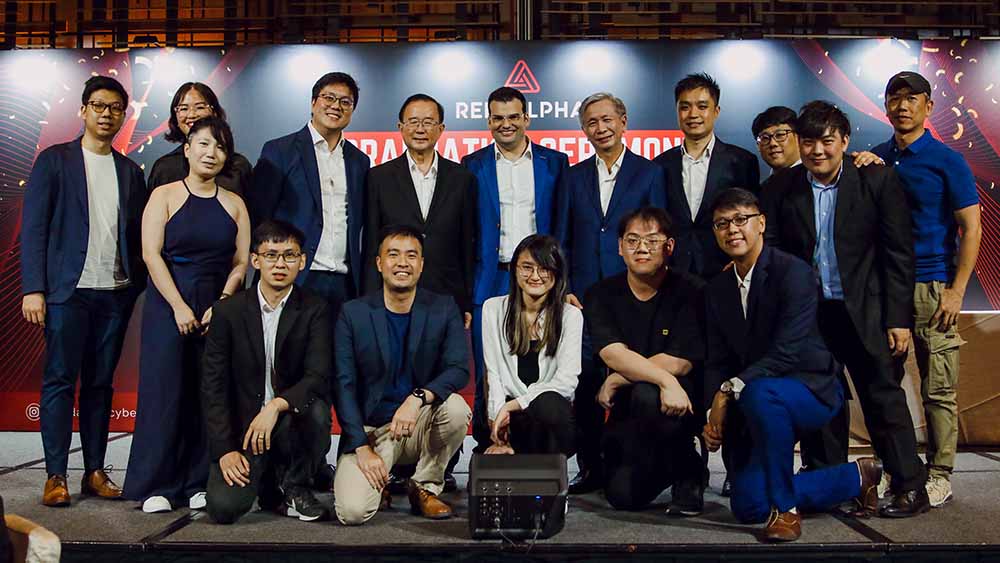 Benjamin (pictured fourth from the right) with graduates from Red Alpha's 4-month cybersecurity training bootcamp | IMAGE: RED ALPHA CYBERSECURITY

What are some challenges you face as CEO of Red Alpha Cybersecurity?
Every day has the potential to bring on new challenges. However, one of the challenges in my current role with Red Alpha Cybersecurity is probably in the recruitment of new trainees/cohorts and convincing them that this industry could potentially give them an iron rice bowl career.
Cybersecurity is still a rather new sector in the tech industry and while its importance and demand are rapidly increasing, there are still many vacancies in the workforce available. The Cyber Security Agency of Singapore estimated a global cybersecurity job shortage of 3.5mil openings, with an approximate 3,400 shortage in Singapore alone and we are striving to train people with the right aptitude and attitude to provide them with the knowledge and skills to fill that gap.
Would you say your previous career helped prepare you to tackle these issues today?

In the military, this quote from Churchill is often quoted: "Plans are of little importance, but planning is essential". At Red Alpha Cybersecurity, we are a young company and a small team, with a unique business model. There are constantly new opportunities, new challenges and new ways of doing things. To be on top of things, we need to plan, be prepared to adapt when things do not move according to plan, and be focused on the outcomes. I believe that this upbringing I had in the military will help me and the team at Red Alpha to navigate these opportunities and challenges better.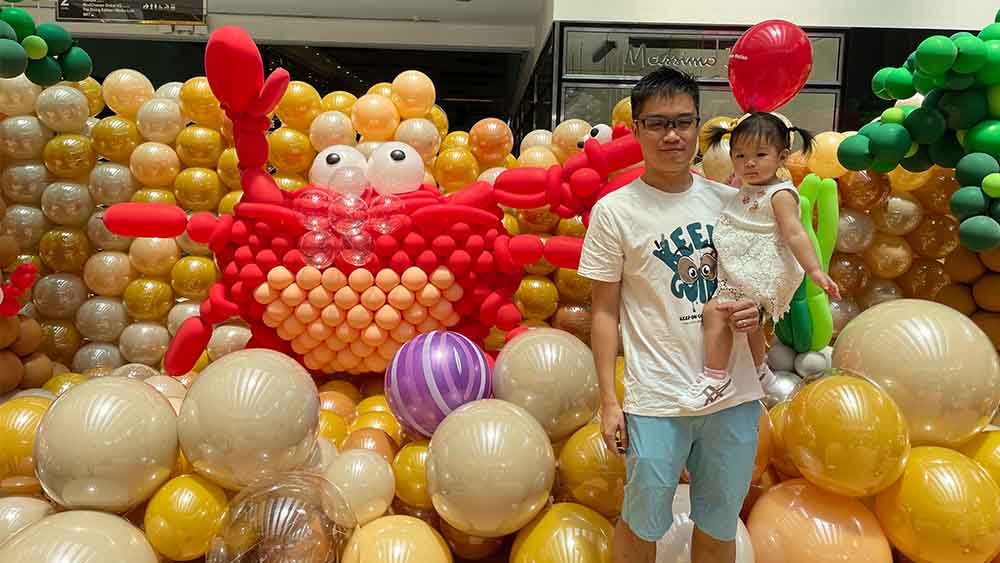 Benjamin with his two-year-old daughter, Clara | IMAGE COURTESY OF BENJAMIN TAN

Finally, happy (early) Father's Day! How has parenthood changed or made the concept of defence and cybersecurity even more significant for you?
To me, defence is about protecting your family and friends as much as it is about protecting the country. Now, as a father of a toddler who will turn two in September, I feel this even more strongly, because it is not just about securing the present, but also our children's future.
Being a father has also made me think harder about how to manage my daughter's online activities and education when she is older, given that it is inevitable that their generation will come online at a much younger age.
For the latest updates on Wonderwall.sg, be sure to follow us on TikTok, Telegram, Instagram, and Facebook. If you have a story idea for us, email us at [email protected].