In Singapore, Everyday Heroes Perform Acts Of Kindness During Novel Coronavirus Outbreak
Racism. Supply-hoarding. Scalping, fake news, and fear-mongering. While the coronavirus outbreak might have awakened some ugly attitudes, it has also inspired some Singaporeans to share resources and perform kindnesses for each other.
From giving away masks, to offering their homes as a collection point, here are the ways that ordinary citizens are looking out for their communities.
Married couple distributes 17,000 free masks outside Punggol MRT
On February 4, 2020, a post on Singapore Atrium Sales went viral after it showed Singaporean Adrian Tan and his Vietnamese wife Yen Vy Vu Tran giving away masks outside of the MRT. Singaporean Adrian Tan said that they gave out 4,000 masks in 10 minutes when they started on Friday, Jan 31. The couple showed up again outside of Punggol MRT over the next few days, where they gave away more surgical masks, which they had purchased in Vietnam after hearing about the mask shortage in Singapore.
Local businesses order thousands of surgical masks to give away
As if it weren't bad enough that there is a mask shortage at retailers like Guardian, Watsons, and NTUC, some businesses are profiteering off the demand by reselling masks at higher prices. But others, like home and décor firm U-Gate Design, have stepped up in service of the community. On February 2, 2020, the company announced on its Facebook page that it had ordered thousands of masks to give away. To date, they have distributed more than 4,500 masks (limited to 2 pieces per person), and the store's staff, including one of its bosses, has also delivered them to an elderly home in Toa Payoh.
Meanwhile, local company MEGACOOL set up a collection in Tampines to give away 1,000 pieces of surgical masks. They also delivered masks to the elderly with disabilities.
Discount store in Bangkit Road sets aside more than 500 free cloth masks for children
ANB Discount Super Store owner Jevon Yeo announced on Facebook that they would give away cloth masks to those below the age of 7. In an interview with The Pride, Yeo said that she was inspired to act after meeting a customer who said that adult masks were too big for young children.
Carousellers give away free masks
While some scalpers use Carousell to resell masks at exorbitant prices, others have used it to give them away. On Instagram, the platform featured people who are using the service to lend others a helping hand. One user, @kev.h bought masks from resellers and gave them away for free because "I pity those who need but can't get or afford it…Hopefully, it makes a difference in people's life." Another user, CNG, who uses the handle @ilovesingaporesg, wrote that "the elderly are unable to get any masks right now, and as a Singaporean I think we should share kindness around".
Residents in Punggol Field leave masks, alcohol swabs, and hand sanitiser in the lifts
In Punggol, anonymous residents are leaving supplies in multiple HDB block lifts. While the gesture started in just one block, others have paid it forward, even as hand sanitisers and alcohol swabs remain scarce among retailers. They have also left handwritten notes asking residents to clean their hands and use what they need, while neighbourhood Whatsapp groups are encouraging each other to contribute any extra supplies to the pool.
University students deliver food to students on Leave of Absence (LOA)
After the Ministry of Education announced that students who recently returned from China would be on a LOA for 14 days, students from the National University of Singapore (NUS) and Nanyang Technological University (NTU) started delivering meals and welfare packs to those who were affected. At NUS, there are currently 18 students behind the initiative delivering food in shifts.
Their good deeds did not go unnoticed: Minister of Education Mr Ong Ye Kung applauded their efforts on his Facebook page, citing them as an example of how we can "rally each other, support each other", while National Development Minister Lawrence Wong commended them in Parliament on Feb 3.
Husband-and-wife duo create safety videos in Hokkien, Teowchew, and Cantonese
Are Ah Gong and Ah Ma having trouble following news reports about the novel coronavirus? Then show them these videos by Ski Yeo and Eugene Lee, the married couple behind LearnDialect.sg. In an interview with Wonderwall.sg, they said they wanted to help the elderly understand how to protect themselves against the virus.
Read the full interview with Ski and Eugene here.
Limau Estate resident sets up home as mask collection point
Singaporean collecting face masks for 500 elderly receives 40 boxes of donations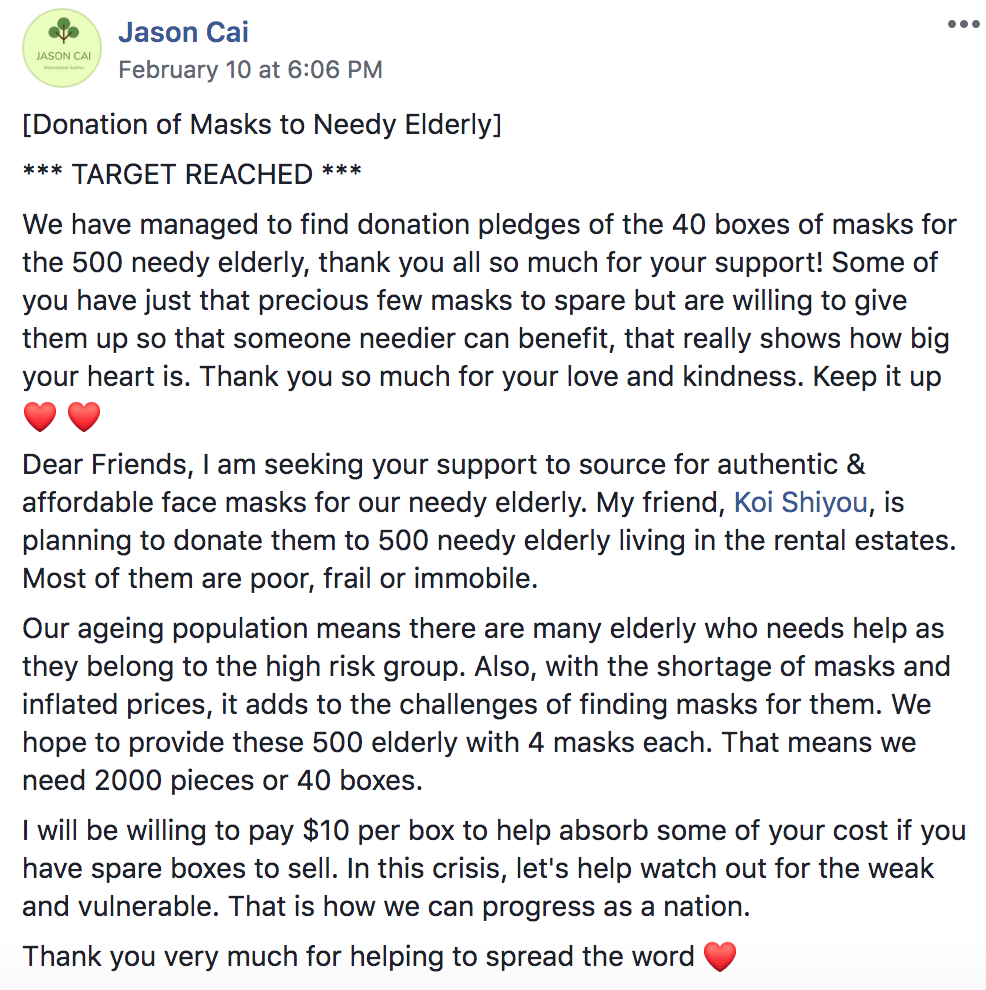 After the government announced that 1.3 million households in Singapore will be given four masks each, a Limau Estate resident offered his residence as a collection point to make it easier for his neighbours to pick up their masks. Residents were surprised and appreciative, with some extending kindnesses in turn, like offering drinks for volunteers and lamps when it got dark. Who says the 'kampung spirit' is dead?
While these gestures might look simple, the people who initiated them, alongside those on the frontlines - such as medical professionals and the 1500 Singapore Armed Forces (SAF) personnel who packed surgical masks for distribution - deserve recognition. So if you know of any other Good Samaritans who have flown under the radar, let us know, and together we can celebrate them as heroes.
For the latest updates on Wonderwall.sg, be sure to follow us on Facebook and Instagram. If you have a story idea for us, email us at [email protected].