Spotify Spotlight: Youths Tell It Like It Is In 'An Open Invitation' Podcast
Loneliness is one of the worst parts about not knowing what you want to do with your life. And social media doesn't help – seeing your peers posting about their first day of work at a global tech start-up, or holding the keys to their new BTO, can make you feel like you're lagging behind.
Knowing this, ex-coursemates and friends Liyana Ow Young and Shivaanishaa – who are both 25 and have gone through their fair share of "what now?" moments – created a podcast to interview Singapore's youths about how they form their personal identity amidst pressure to pursue the "Singaporean Dream".
In the debut episode of their podcast, 'An Open Invitation', Liyana and Shivaa said that they created this podcast to provide resources they would have wanted for themselves – namely, exposure to people outside their social and career bubbles. By talking to people in transition periods, or who are innovating the "traditional" career trajectories, Liyana and Shivaa hope to help people understand others and themselves.

Each episode is formatted like a casual Q&A. Since the launch of their podcast in end-April 2021, Liyana and Shiva have interviewed Gen Z and Millennials from all walks of life, including:
Cheri Indigo, a product manager-turned-singer-songwriter who had to reevaluate her life after an episode of insomnia that lasted 56 hours
Mafer Seow, a PhD student in the City University of New York, who was rejected three times before getting an offer
Farhanna Rahman, who found religion in her late 20s
Best friends Thanushaa and Desiree, former Normal (Academic) and Normal (Technical) stream students who discussed how early streaming influenced their opportunities
One of the main challenges of hosting a heart-to-heart podcast like this one is finding people who are willing to be vulnerable over the air, which is hard enough to do in a private setting with one's own friends. But Liyana and Shivaa managed to interview over 30 people (mostly outside of their social circles) for season 1, knowing that these conversations can show young people that whatever they're going through, they're not alone.
In between producing episodes of 'An Open Invitation', Liyana is enrolled as a first-year PhD student studying microbial genetics in NUS Yong Loo Lin School of Medicine, while Shivaa works in the Healthy Longevity Translational Research Program in NUS as a Research Assistant.
Their team also includes two other women: Michelle Ang (21), who helps with design, and Syaza Sophie Pinz (22), who helps with marketing. We reached out to Liyana and Shivaa over email to ask them just how they managed to unearth all these stories while managing their busy lives. Here's what they had to share:
In your first episode, you shared about the challenges of finding people who would agree to be on your podcast. Has that changed in the past 3 months?
The funny thing is that we found all 29 of our guests, and recorded all the episodes before our launch. At the initial stage of looking for guests, we found that people were often reluctant in sharing their stories because they think of themselves as uninteresting. Over time, we've learned to really convince our guests of the value of their experiences. I think we've upped our pitching skills over the months we've worked on this.
You go into some pretty heavy and personal topics – how do you get people to open up about these things?
We meet all of our guests before deciding if they are a good fit for our project. In this pre-recording session, we take the time to build the episode with the guest, deciding as a team what could, and should not be, a part of the conversation we will have. This helps us gauge if they would be comfortable broaching the heavy and personal topics, and this also is when the guest will get an understanding of the kind of conversation we like to get into.
As hosts, we are 100% responsible for providing a safe space for our guests to feel like their most authentic selves. We want to be a space for people to explore their thoughts, and also themselves, during the conversation, and then leave feeling connected and even more self-assured. Every story that is told, we think, is a piece of our identity that we get to create.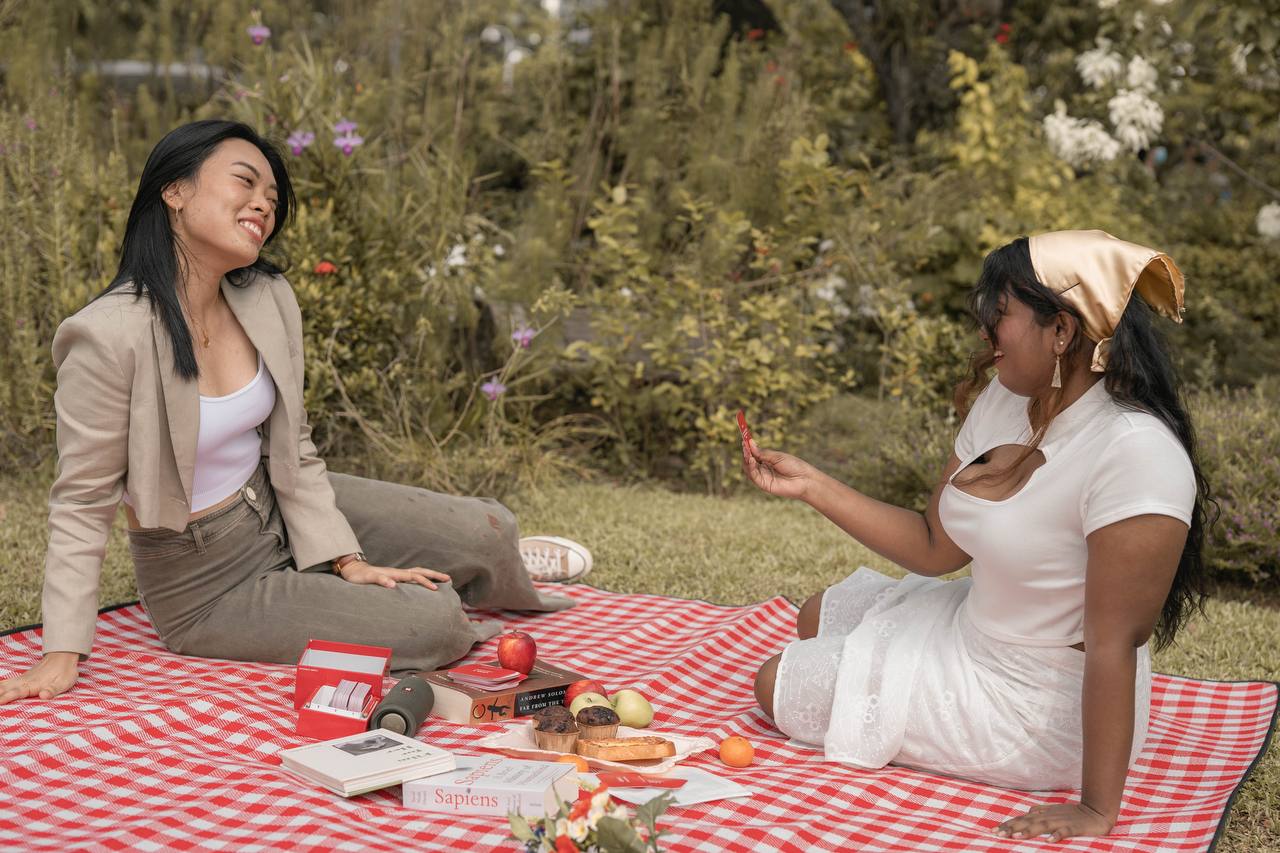 Do you have any advice to offer for how we can have more vulnerable and authentic conversations with the people around us?
To have more vulnerable conversations, we think that it helps to become comfortable telling our own stories.
Accepting that it is going to be difficult describing the low points in our lives, and being open to becoming vulnerable in this process is an invitation for the other person in the conversation to be open as well. While this is obviously ideal, we think that it would be unwise to assume that everyone is going to be a good audience. There needs to be some kind of intuition as to who best to tell your story. Everyone deserves to feel safe when having such conversations – find people who will honour your story and make you feel whole!
What are some things you've learned about the youths in SG through this journey?
There is a common "I'm not interesting" sentiment among Singaporeans. We think many people want to be heard, but as a nation, we haven't built a strong enough culture of self-expression, which makes it difficult for most of us to answer a "what's your story?"-like question.
There is a strong push for our occupations to mean something to us. We want to do work that matters, and we want to feel fulfilled. This is exciting because not only are we seeing many young people finding work in lesser explored spaces, we also see people holding multiple roles/picking up skill sets that can be vastly different. We think that there is so much value in this innovation of the kinds of occupations that exist.
People are important. People are enablers. In so many of our episodes, we hear about how people have helped our guests get to where they are. Being a part of, and contributing to, the communities that you are in will help push everyone forward.
How many episodes have you planned for the first season, and where do you see the show going for season 2?

Season 1 has a total of 30 episodes, which in hindsight, is ambitious for a pilot project, but has given us a bigger sample to collect data from to make season 2 better. The core of our work will remain to promote introspection, self-awareness and storytelling. For season 2, we will be optimising the process and improving the quality of our work, hopefully.
AOI is looking to expand into the YouTube space and/or other video productions. Since we're expecting a more elaborate production, we're planning for season 2 to be smaller, with fewer but higher quality episodes.
An Open Invitation is available on Spotify, Apple Podcasts, Google Podcasts, and Podbean
For the latest updates on Wonderwall.sg, be sure to follow us on Facebook, Instagram and Telegram. If you have a story idea for us, email us at [email protected].