This Teacher Goes The Extra Mile To Put On Shows For Kids With Special Needs
Four years ago, Samantha Bounaparte was volunteering at the Esplanade for a musical performance staged specially for members of an autism community group when she met a boy who was on the autism spectrum.
He was showing so much joy while playing the gamelan (a traditional percussive musical instrument from Indonesia) that she went up to him to ask if he enjoyed "live" performances.
"His mother was bemused by my question and candidly chuckled. She shared that it had never crossed their minds nor could they have stepped into a 'live' show as they felt that his stimming behaviour [self-stimulatory behaviour usually involving repetitive movements or sounds] would be too disruptive," Samantha, 39, recalls.
That little exchange was what pushed her to begin the work that she does till this day, to ensure that art – which enriches life – can be accessible to everyone and anyone.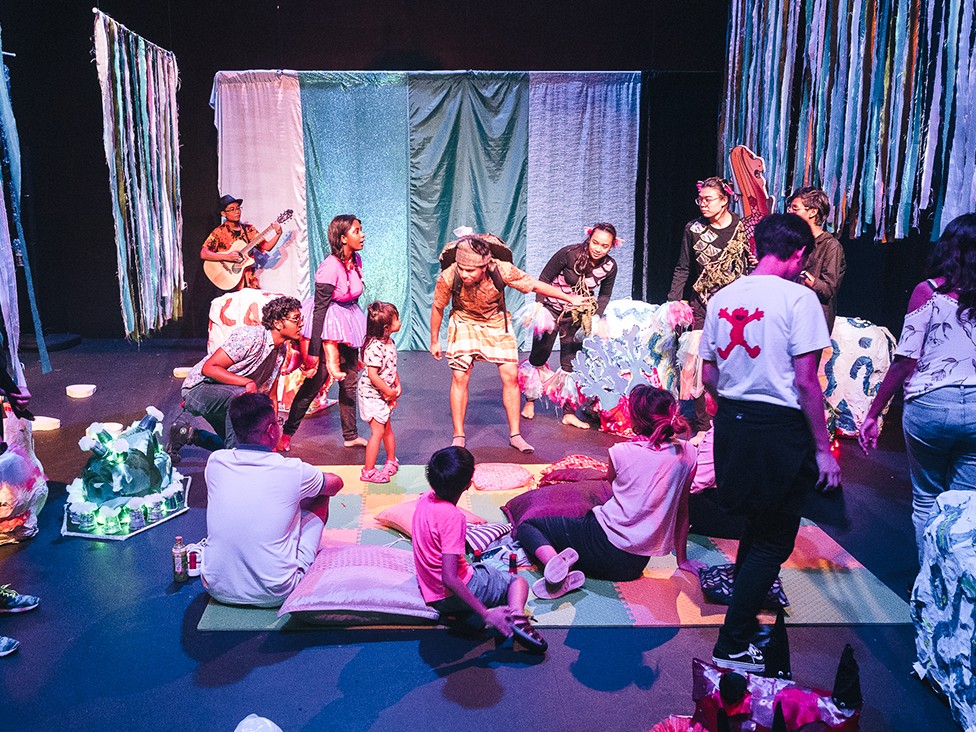 Samantha is the Assistant Programme Chair of the Diploma in Arts and Theatre Management at Republic Polytechnic, the first polytechnic in Singapore to produce and stage multi-sensory performances since 2016 to raise further awareness about arts inclusivity.
The shows that she and her team put up allow audience members to roam around, be part of the set and story, and even access the show from a distance (typically from a sensory chill-out area).
The special needs children get to make props and be part of the show. In 2016's "The Very Hungry Caterpillar", these children were the "friends" who fed the caterpillar; in 2017, they played animals that landed in Singapore in "How Singapore Got Its Name"; and in 2018, they were "fish" that helped clear the trash in "Toby's Journey". Because the shows are created to prioritise the audience's experience, the narrative is often fluid and can easily be adapted on the fly.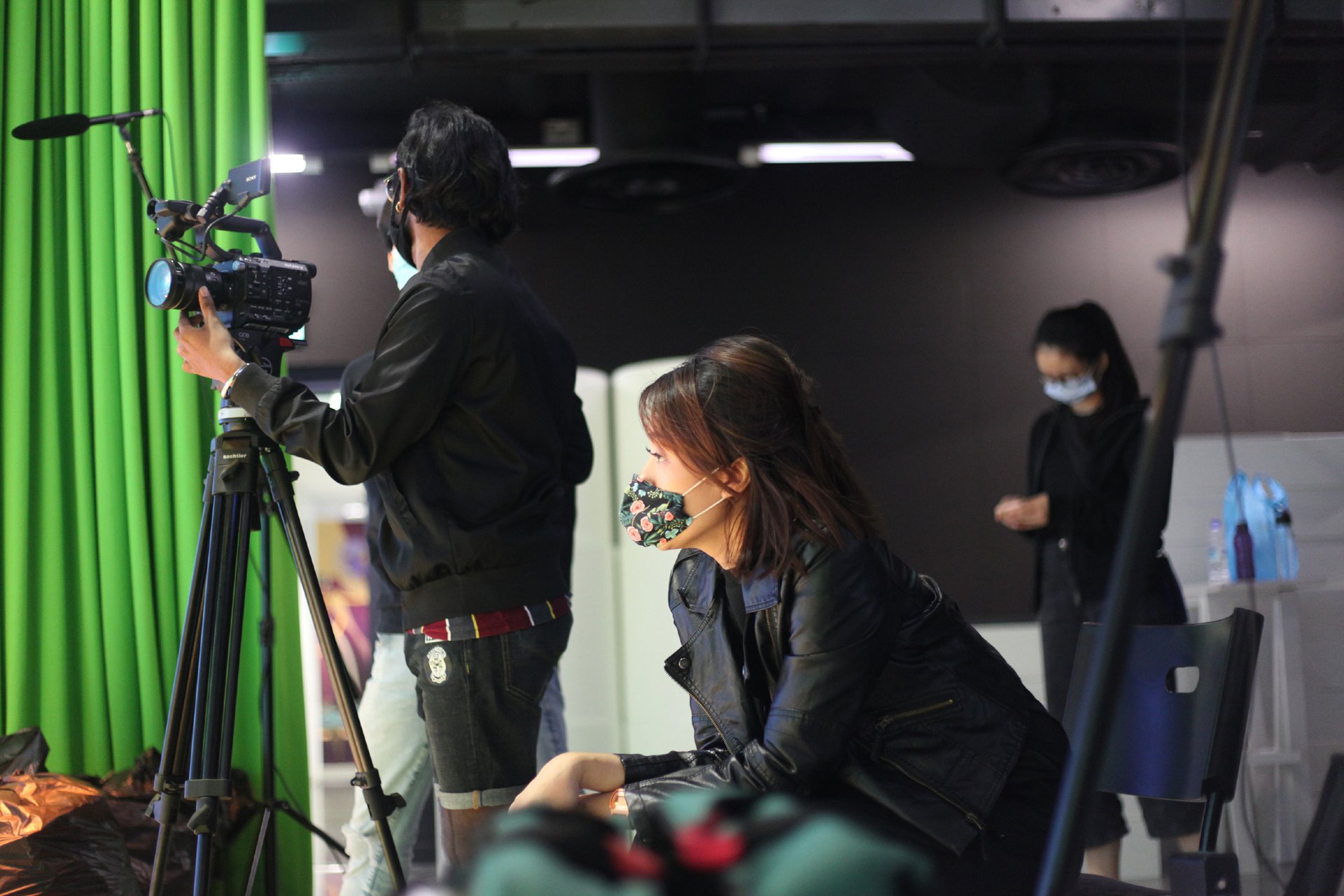 Getting creative amid the disruptive COVID-19 pandemic
This year, Samantha's team was supposed to stage "Riley's Rain" at the Annexe at Esplanade Theatres. However, the COVID-19 pandemic struck and disrupted their plans. Bravely, the team began thinking about transforming the entire production into an online adventure.
Of course, this was no mean feat. During the pandemic, theatre companies have been grappling with the problem of engaging and extending the short attention spans of online audiences. Imagine an audience of children with special needs who may be more fidgety and prone to distraction.
And that's where Samantha's performances stand out from others': the audience need not pay full attention throughout the show.
"We allow our audience to access the show in the manner they wish. We've had a non-verbal boy look down at our tactile carpets throughout the whole show, only to break into a dance of our song as he stepped out of the venue," she says.
"Riley's Rain" is a story of a wayward raindrop named Riley who is distracted by a tune from down below and begins to drift away from her raindrop friends. She falls through the sky, but with the help of newfound friends, she finds her way back up into the clouds just in time for the great downpouring.
In order to film the performance while respecting the strict social distancing measures in place, the actors in the scenes had to be recorded individually. The scenes were filmed on a single camera and pieced together in post-production.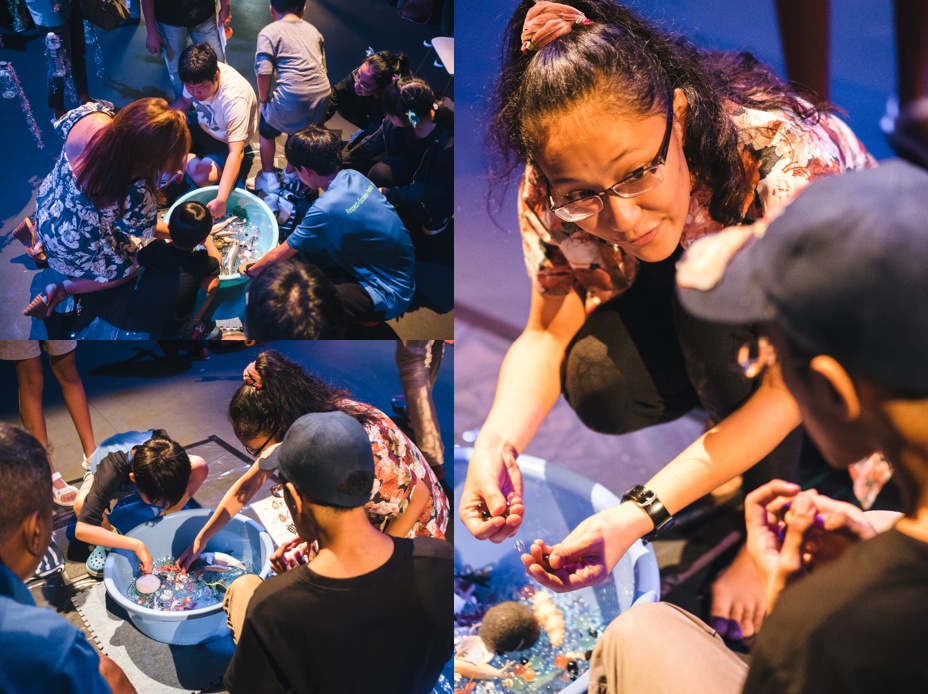 Extra engagement and entertainment in the form of a "Rain Box"
To further engage the children as they catch the performance online, a Rain Box is delivered to some of their homes.
The Rain Box contains an activity booklet, craft activities (to help "fan" Riley back up into the sky) and sensory items for the show's interactive portions including leaves for crushing, feathers for blowing and a bird whistle for communicating. There's also a home-made potpourri box comprising edible flowers and essential oils as well as Orbeez water balls usually used in the "live" show.
"Because (the children) could not come to us, we decided to go to them! All the elements that were put together aimed to engage the senses through the story experience. What was great was that they could also access the programme at their own pace," says Samantha.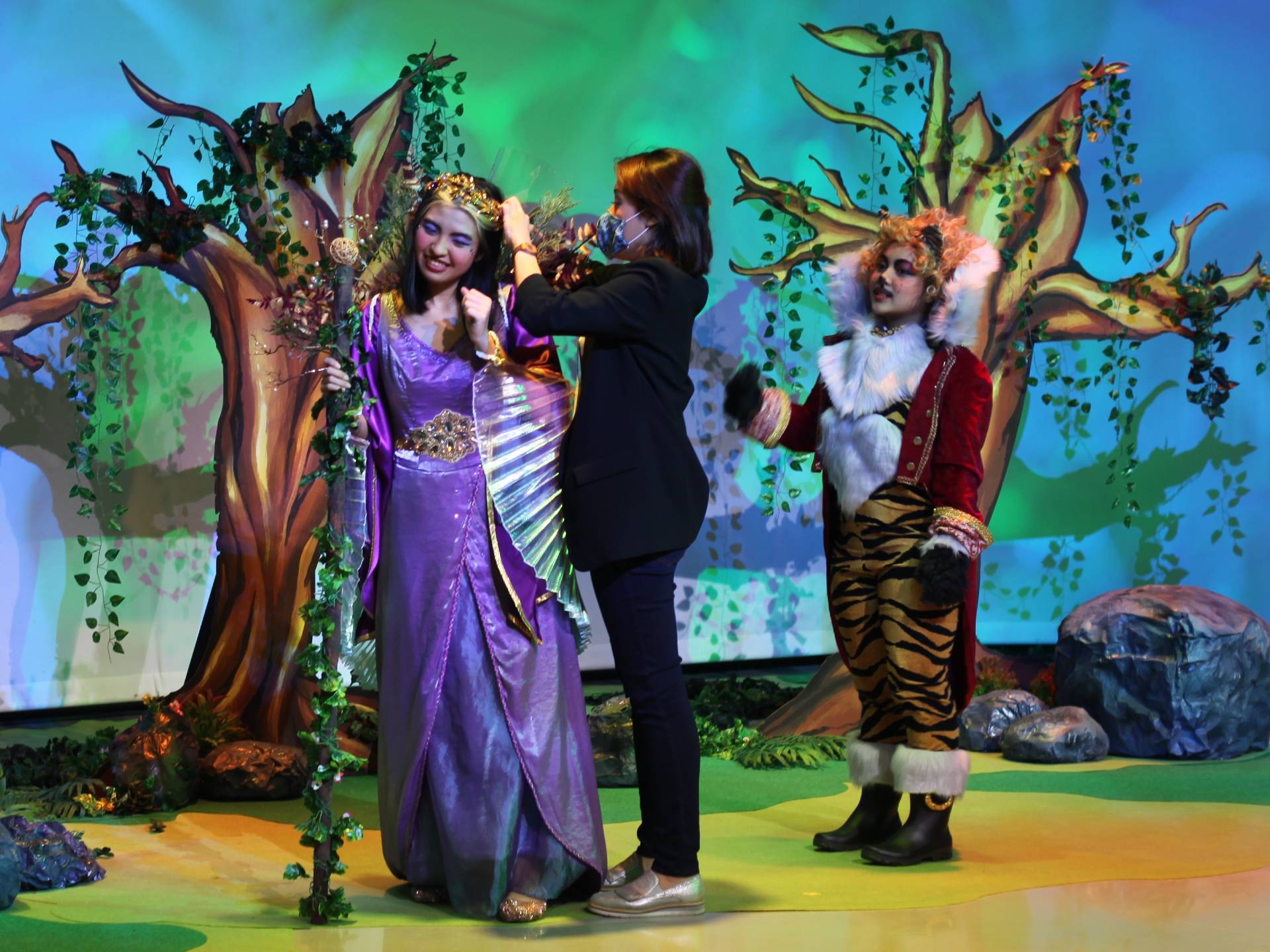 Receiving the best training for the good of the kids
In 2018, Samantha was selected to attend the Artist Professional Development programme of the inaugural Big Umbrella Festival at Lincoln Center, New York. At the time, it was the world's first month-long festival dedicated to arts programmes for children on the autism spectrum and their families. Alongside the festival was a symposium and professional development programme created for artists and presenters who were interested in exploring the topics of art and neurodiversity.
There, Samantha encountered the work of Oily Cart – one of the pioneering companies that devise small-batch, immersive and multisensory productions for children and young people with profound and multiple learning disabilities – which stages performances in special settings such as hydrotherapy pools.
It was a landmark trip: Samantha came back more confident in developing ideas, methods, and awareness for sensory performances. Now, she hopes to interest the next generation in applying their talents to create art that empowers the special needs community.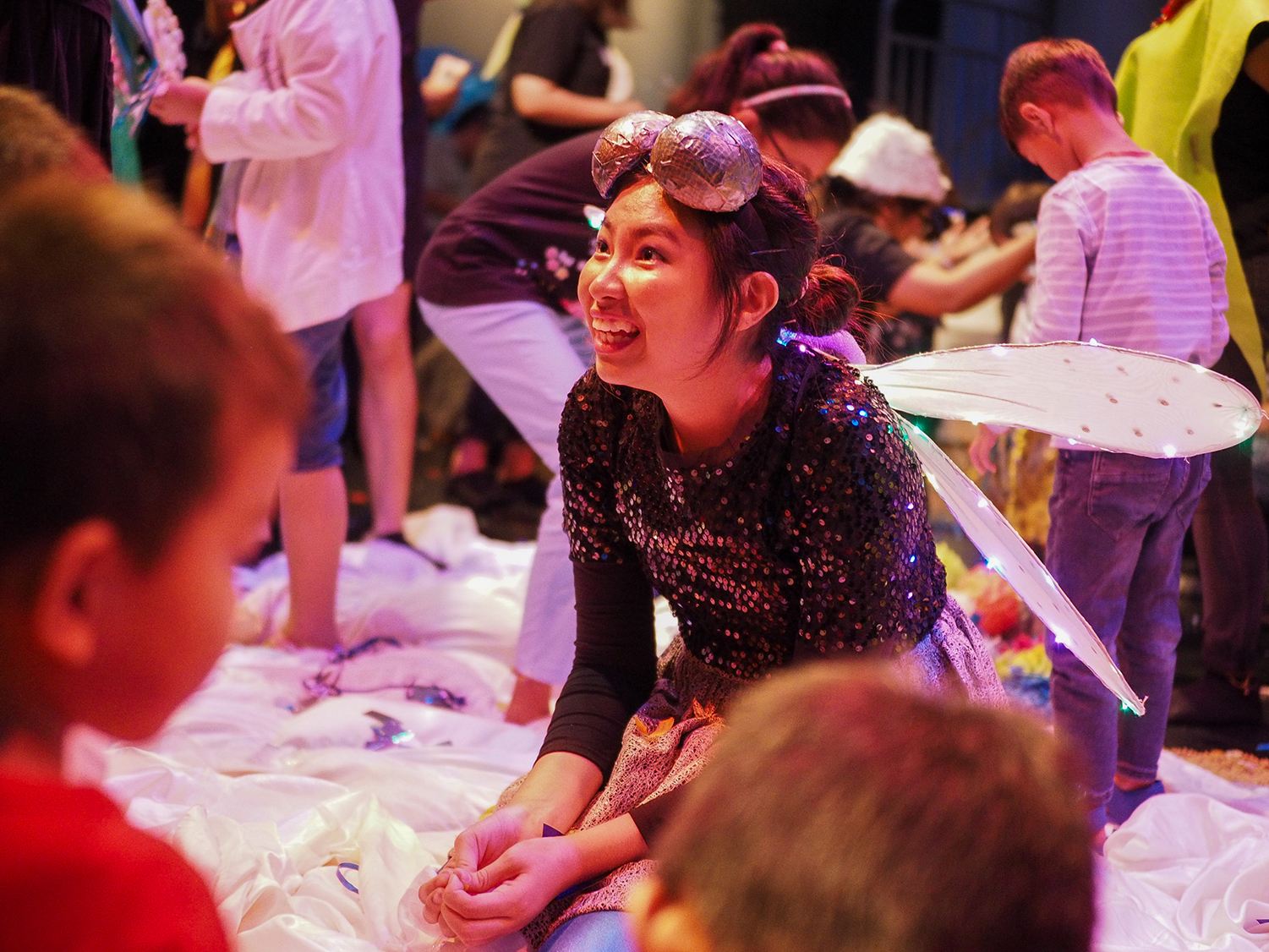 Inspiring the next generation of theatre-makers
"An extremely beneficial outcome for the next generation of art and theatre-makers as they begin to look into access and inclusion when they create art and events in the future is allowing the students to have a platform to demonstrate empathic concern when devising these shows. This promotes altruistic motivation and prosocial behaviour," Samantha explains.
This Teacher's Day, she recalls the reason why she started her teaching career in arts and theatre.
"I felt that they were topics that could allow me to learn from the students as much as they could learn from me. Seeing them being inspired and sharing their perspectives of the same show with me brought teaching art and theatre to life," says Samantha, who has been an educator in the tertiary sector for over a decade.
"I would like to acknowledge all the hard work, commitment and pure passion that teachers put in each and every day. Not a single teacher I know stopped to ponder how COVID-19 had ruined their holiday plans. Instead, they just continued to make learning happen amid a global pandemic."
Catch "Riley's Rain", a multisensory performance online on the M1 Peer Pleasure Youth Theatre Festival 2020 website here. The recorded performance will be available till 30 Sep 2020.
For the latest updates on Wonderwall.sg, be sure to follow us on Facebook and Instagram. If you have a story idea for us, email us at [email protected].