Roaring Into 50: Singapore Zoo Celebrates Its Golden "ZOObilee"
Turning 50 is a sign that one has accumulated half a century of wisdom, experiences, and lessons. And that couldn't be truer of the Singapore Zoo, which celebrates its golden jubilee – which the wildlife park has affectionately termed a Golden "ZOObilee" – today (27 Jun).
"Kinship and community are the hallmarks of this Golden ZOObilee. We pay tribute to the generations who have looked after the animals under our care, the cohorts of dedicated staff who have worked hard to sustain this world-class zoological institution, and the millions of guests as well as generous donors who have enabled Singapore Zoo to go from strength to strength over the last 50 years," says Mike Barclay, Group CEO of Mandai Wildlife Group.
"Above all, Singapore Zoo brings us all closer to wildlife, serving as the best possible platform to celebrate the wonders of the natural world, to explain the threats faced by so many animals in the wild, and to share what we can all do to allow people and wildlife to thrive together."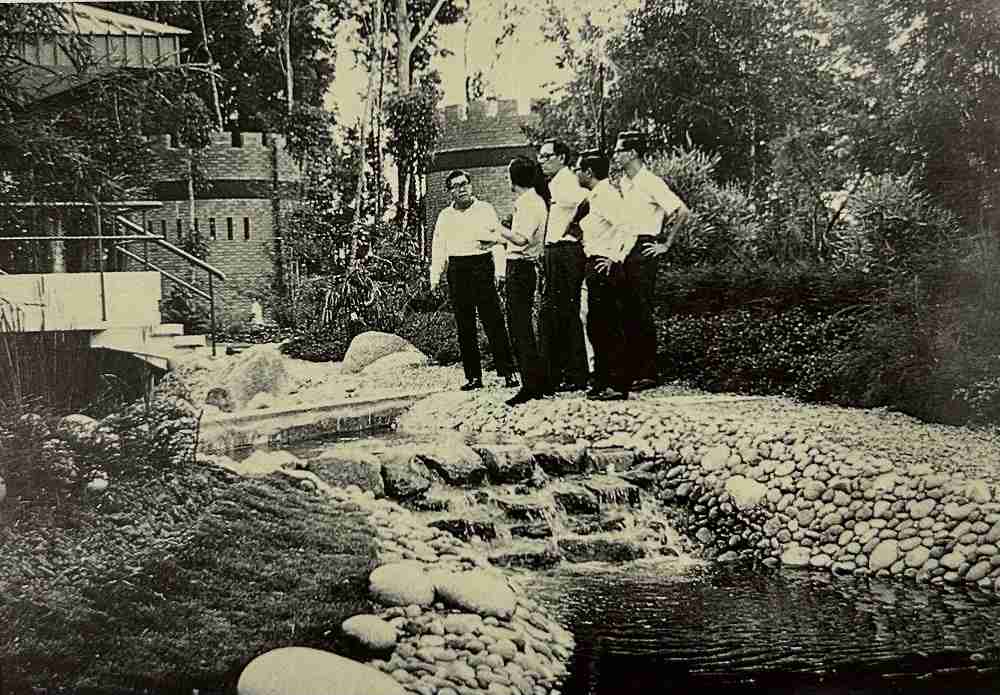 Dr Ong Swee Law (far left), then-Chairman of Singapore's Public Utilities Board, and his committee survey an early exhibit, transformed from scribblings on the back of napkins to reality. | IMAGE: MANDAI WILDLIFE GROUP

To appreciate how far Singapore Zoo has come, we need to go back to Day 1. In 1968, Dr Ong Swee Law, who was then the Chairman of Singapore's Public Utilities Board, originated the concept of a zoo situated in the catchment forests surrounding the Upper Seletar Reservoir.
In the same year, a steering committee, headed by Dr Ong, was assembled to examine the feasibility of establishing a zoo that would eventually fulfill Singaporeans' recreational, social, and educational requirements. Over time, this zoo garnered international acclaim as a prominent tourism attraction.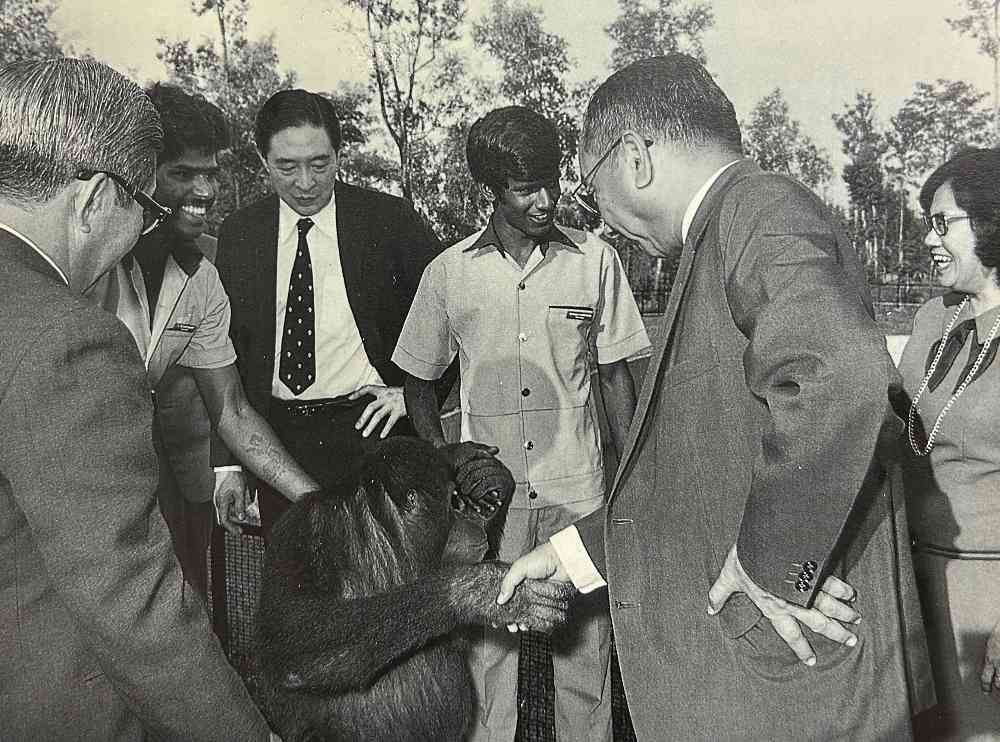 On opening day on 27 Jun 1973, Susie the Orangutan offers her hand to Dr Goh Keng Swee, then-Deputy Prime Minister and Minister for Defence. | IMAGE: MANDAI WILDLIFE GROUP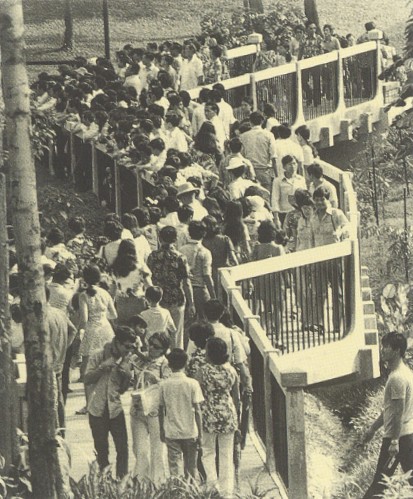 The zoo welcomed its first millionth visitor on Deepavali, just 17 months after opening. | IMAGE: MANDAI WILDLIFE GROUP
On 27 Jun 1973, the Singapore Zoological Gardens, later known as the Singapore Zoo, was inaugurated by the late Dr Goh Keng Swee, then-Deputy Prime Minister and Minister of Defence. Spanning approximately 28 hectares, the zoo showcased a diverse collection of 272 animals from 72 different species.
Surpassing expectations, the Singapore Zoo welcomed its first millionth visitor on Deepavali, just 17 months after its grand opening, defying the initial projection of at least two and a half years to reach that milestone.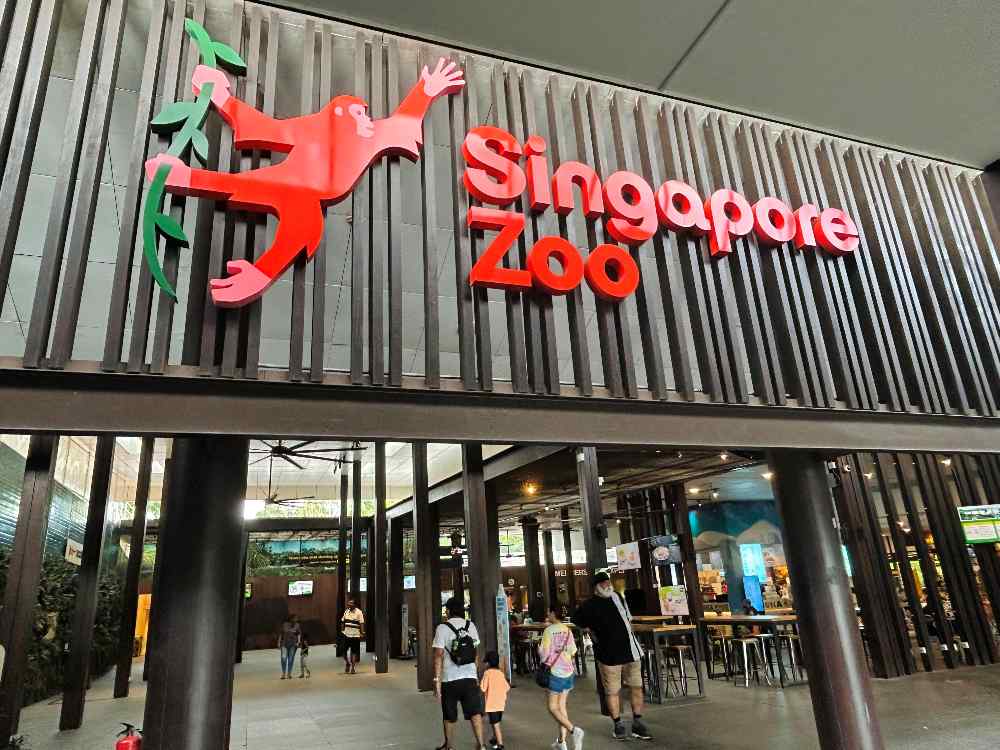 The Singapore Zoo entrance today. | IMAGE: MANDAI WILDLIFE GROUP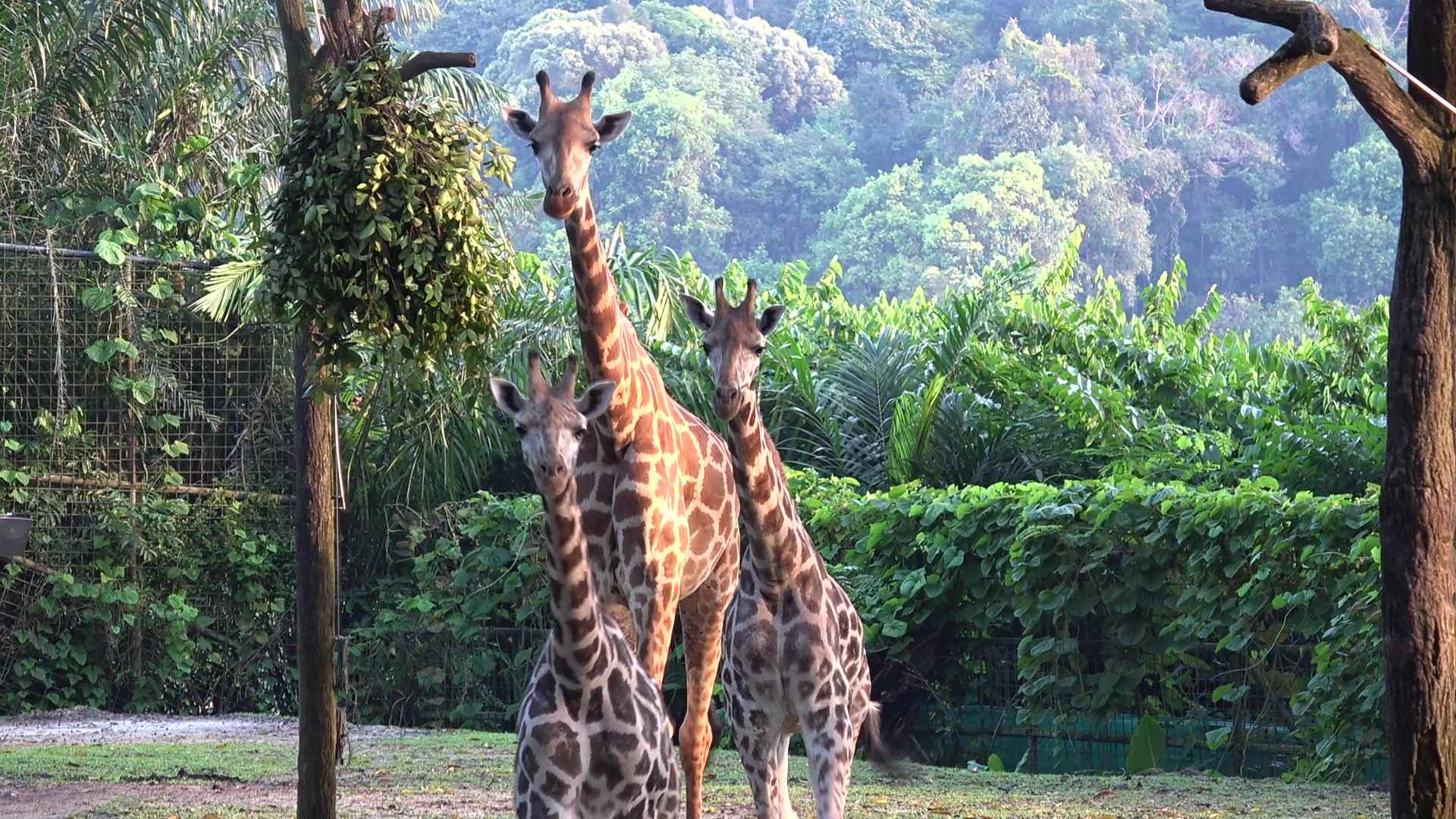 (From left) Rothschild's Giraffes Balaji, Jubilee and Adhil. | IMAGE: MANDAI WILDLIFE GROUP
Fast forward to today, and Singapore Zoo is a renowned wildlife sanctuary that houses a diverse collection of over 4,200 animals spanning across 300 species. Additionally, our zoo maintains partnerships with zoological establishments worldwide, actively engaging in species preservation through breeding, research, and educational initiatives.
To commemorate this momentous occasion, we speak to head honcho Mike Barclay about how Singapore Zoo stands out on the international stage, and his own memories of visiting this modern zoological wonder.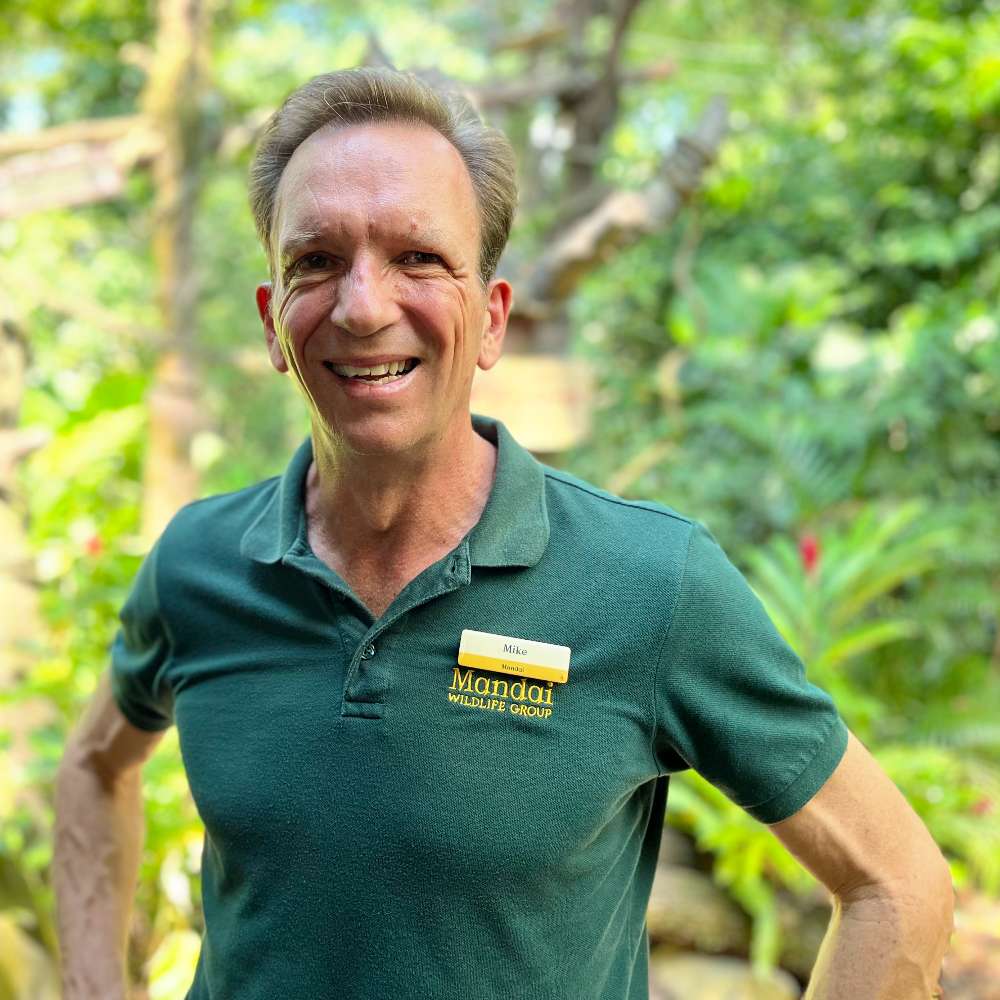 Mike Barclay, Group CEO of Mandai Wildlife Group. | IMAGE: SIM DING EN

Do you remember your very first experience with the Singapore Zoo as a visitor?
I do! That was in 1996, 27 years ago!
And what was the biggest impression that it left on you?
It was the immersion. It was going into a space where I couldn't figure out why I was shoulder to shoulder with the animals – I couldn't see any barriers, couldn't understand why they were all around me! Well, they kind of were, because you have the native wildlife which uses the park as a nature reserve in addition to the animals that we care for. I remember seeing my first water monitor lizard in the park, and just being awed by the plants and the views, and the immersiveness with the incredible animals around me. I thought, "Oh, wow. This is different. This is really different."
What's your relationship with wildlife been like?
I grew up in the tropics, in the West Indies, and I had a very outdoor upbringing. My parents are nature lovers, so we were always out and about. At home we had dogs and cats, and I kept fish – I used to catch the little guppies in local ponds – and stick insects, and even some hamsters. So it was a bit of a chaotic mini zoo at home!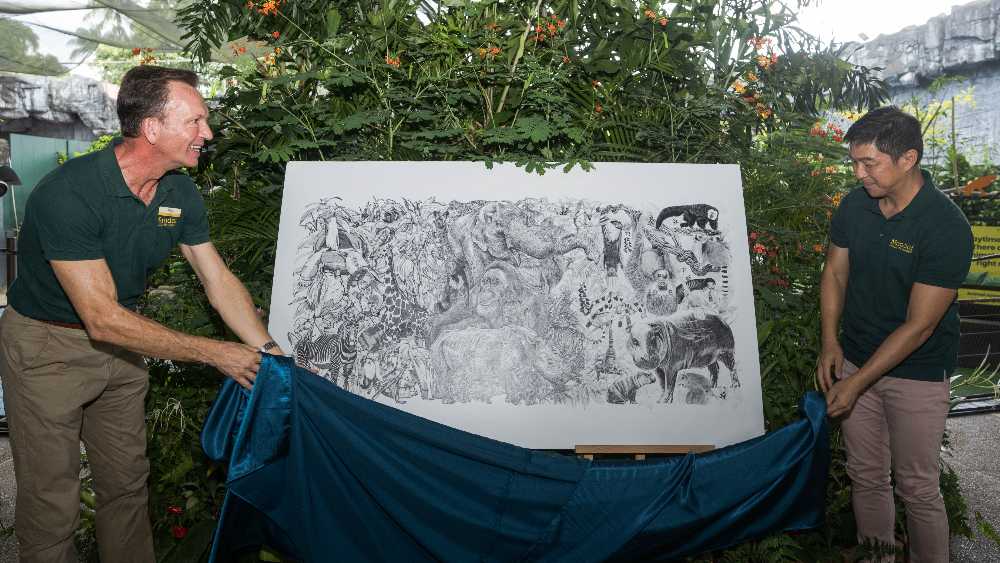 Mike and Deputy Chairman of Mandai Park Holdings Tan Chuan-Jin unveiling "A World With Wildlife Is A Better World", an artwork created by three zookeepers in commemoration of Singapore Zoo's 50th anniversary. | IMAGE: MANDAI WILDLIFE GROUP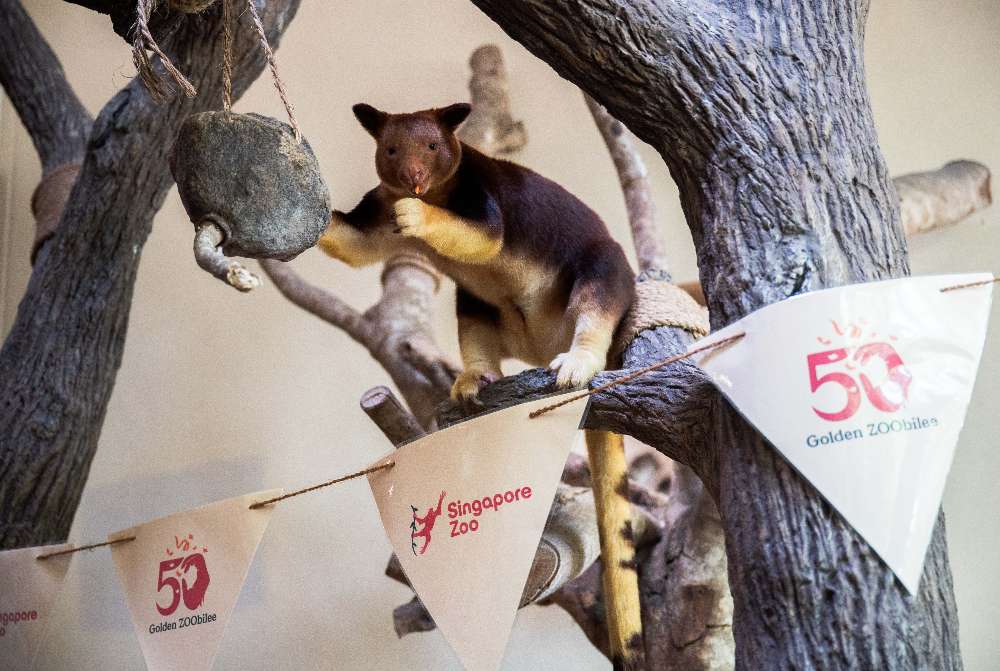 Nupela the Goodfellow's Tree Kangaroo enjoys her treats. | IMAGE: MANDAI WILDLIFE GROUP
How did this relationship with wildlife change after you joined the zoo in 2015?
I read a lot, so at least I could engage well with our Life Sciences team, and I began to understand a lot more about, first of all, how bright most animals are. A lot of us know about, maybe, dogs and cats; we don't think beyond that. But all the animals we work with are very intelligent.
And, second of all, understanding how many species are threatened in the wild, and how that that's only getting worse, and that feeling of responsibility that we have a platform here where we can make a difference.
So we've systematically thought about how we can ladder up, do more work not only on living sustainably, and advocacy work, but also conservation work in the field. And we now support about 50 projects across Singapore and South-east Asia to protect threatened species in their own native habitats.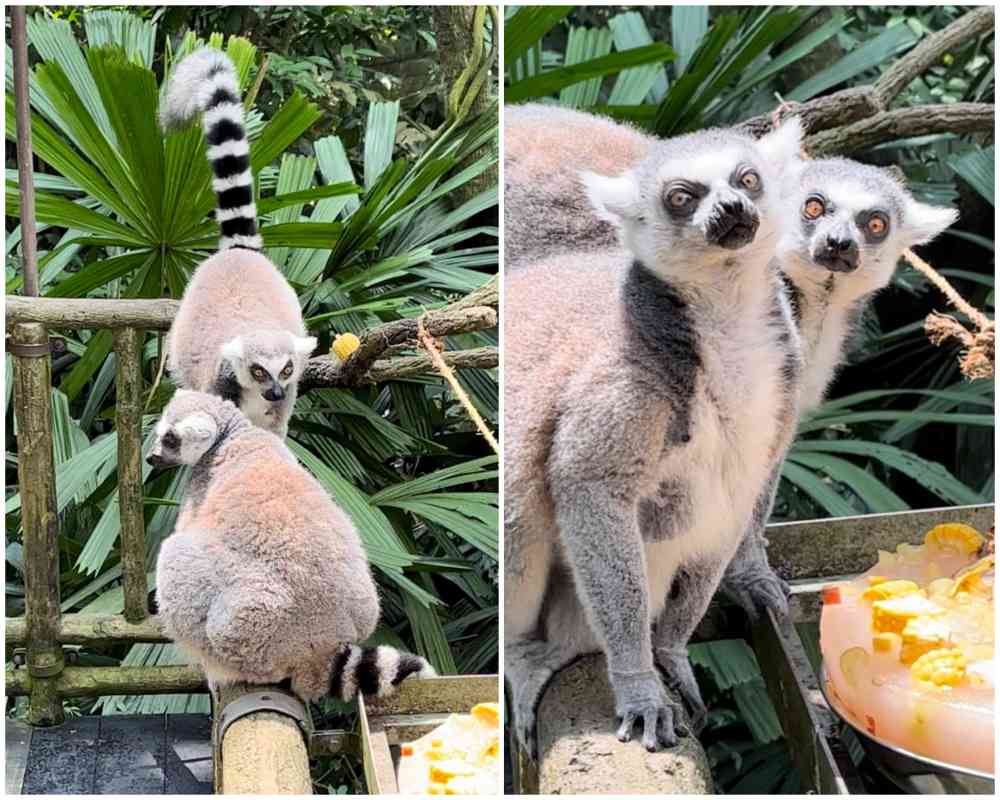 Ring-Tailed Lemurs in the Fragile Forest. | IMAGES: SIM DING EN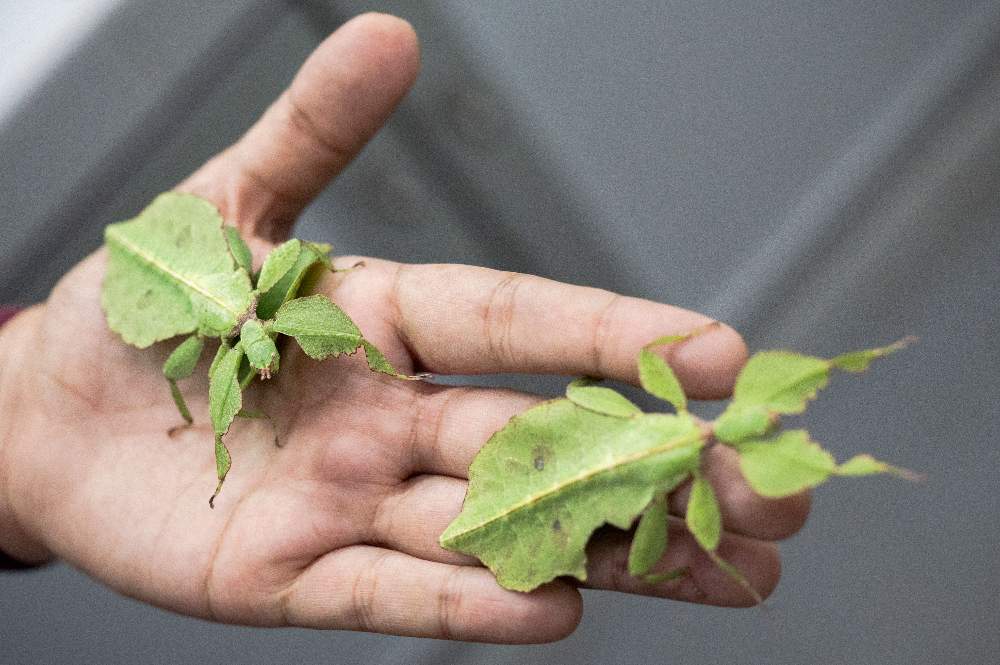 Leaf Insects - a true marvel of the natural world. | IMAGE: MANDAI WILDLIFE GROUP
Do you have a favourite species?
It's often the last species that I was with or around. There are some animals I find incredibly expressive. Ring-tailed Lemurs – love them. And I love toucans. They've got this quizzical look; they're incredible to look at. But yeah, often it's the last animal I've met, and I go, "oh, that's now my favorite animal!" Like, over there <points to a display>, we've got some leaf insects. Coolest animals, right?! Look at them – so adapted.
What's your favourite spot or zone in Singapore Zoo?
My favourite spot here is the exhibit called Fragile Forest. It's just this sheer immersion. You go through the amphibian section and then the butterflies – I absolutely love butterflies. And then the main body of Fragile Forest – so many different animals! The longer you spend there, the more you see. You always get a reward for spending time there. It really feels like how the natural world should be.
Singapore Zoo has come such a long way to become a world-class zoological institution. What are some of the things that make it stand out on the international stage?
One is design. Right from the word "go", we were designed correctly as an open facility and integrated with nature, integrated with our environment.
Then, we also try to contribute a lot to the zoological community globally. We are prominent members of the World Association of Zoos and Aquariums as well as the Southeast Asian Association, the Australian Association, the European Association. We are constantly trading ideas and trying to all influence each other to do better in the fields of sustainability, conservation, design etc.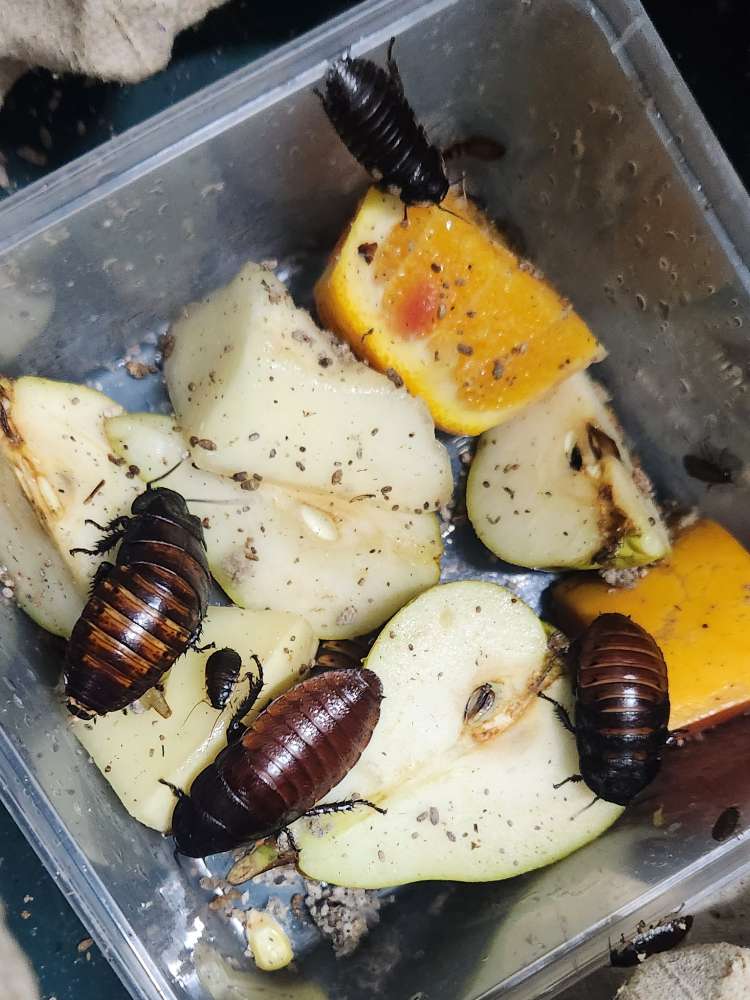 Madagascar Hissing Cockroaches are used to compost animal food waste as well as raw food waste from Singapore Zoo's F&B kitchens. | IMAGE: MANDAI WILDLIFE GROUP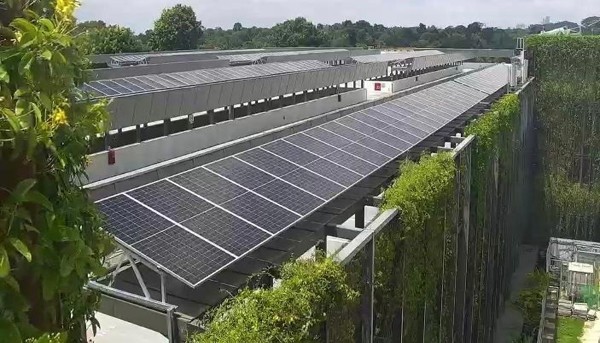 Solar panels on the rooftop of the multi-storey carpark. Mandai Wildlife Group plans to implement on-site solar panels in phases on all available and permissible rooftops across its new and existing parks. | IMAGE: MANDAI WILDLIFE GROUP
What are some of the steps that Singapore Zoo has taken or is taking for a more sustainable future?
Lots! One obvious area is to reduce our own direct negative impact on the planet. We do a lot of work right now to reduce the carbon we produce. We think about all aspects from the supply chains that we have: Can we bring in supply items of a low carbon footprint? How can we operate with less electricity, less water, etc.
We made a commitment to be carbon neutral next year, and forever after. And we are now on a track to net zero. We've joined the Science Based Target Initiative (SBTI), which is a very scientific way of working out what you need to do to get to net zero. To our knowledge, we're the first zoo to do that.
We make sure that the food stuff we bring in is sustainably procured. So, all the fish stock that we serve comes from sustainable sources, all the palm oil we use are from sustainable sources, and try to influence supply chain.
And then we do a lot of work on pollution – reducing plastics from our supply chain, cutting out single-use plastics for our guests, and looking at upcycling waste.
What are some of the biggest challenges that a modern wildlife park like Singapore Zoo faces these days?
I think it's about understanding the responsibility we carry. We put animal welfare absolutely central to everything that we do because we feel that sense of responsibility across the four zoos – we deal with 20-odd thousand vertebrate animals; and we've got a lot more invertebrates – and then actually making a change socially.
We talk a lot about climate change issues, and how nature-based solutions can help with that, and also about threatened species, and how we can help to protect species in the wild. So it's that growing sense of responsibility that we all have here.
For all the fun "Golden ZOObilee"-related stuff happening at Singapore Zoo, including the popular Mandai Wildlife Run, click here.
For the latest updates on Wonderwall.sg, be sure to follow us on TikTok, Telegram, Instagram, and Facebook. If you have a story idea for us, email us at [email protected].