Artists Behind The Art: 6 Creatives, 6 Benches, 6 Stories
Singapore is like a canvas with captivating artworks all around the city centre. It's a mix of old-school bronze statues that tell stories from our past, and contemporary shapes designed to ignite the imagination.
The art scene in Singapore is always evolving, and there's something new and exciting on the horizon. Just like how a canvas is never truly finished, there's a brand-new public art trail that's about to bring even more colour and creativity to our city.
Dubbed "Benchmarks" and commissioned by the Civic District Alliance (CDA, comprising the Victoria Theatre & Victoria Concert Hall, The Arts House, National Gallery Singapore, Asian Civilisations Museum and Esplanade - Theatres on the Bay), this public art initiative invites us to rediscover the Civic District. It features a series of six "art benches" by six Singapore-based artists, dotted all around the arts and culture precinct.
And yes, you can totally sit on these benches! They act as markers on the trail, and serve as reminders to take a break and enjoy the view.
The new trail is curated by local multi-disciplinary artist Justin Loke, a recipient of the Japanese Chamber of Commerce and Industry (JCCI) Singapore Foundation Arts Award in 2009. He's worked on "History Without Words" at the National Museum of Singapore, and a theatre show called "Cathay Hotel: The Curse of The Missing Red Shoe".
Ready to explore? We get to know the artists behind the art benches, and show you where to find these cool seats: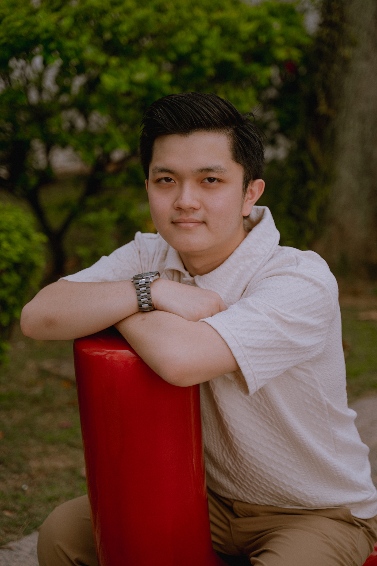 IMAGE: ARTS HOUSE LIMITED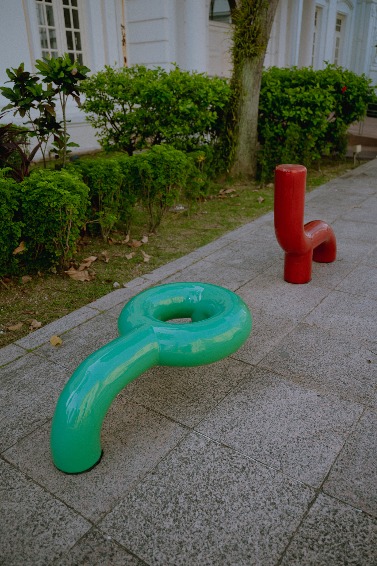 IMAGE: ARTS HOUSE LIMITED
"This is Not a Bench" by Lua Boon Kai
Location: The Arts House
About the artist: Boon Kai is a furniture and spatial designer. He worked with six students selected by Nanyang Academy of Fine Arts (NAFA)'s Special Project Unit to make this art bench. Boon Kai himself is a NAFA alumni.
About the bench: It doesn't resemble a typical bench. Instead, this installation encourages you to explore unconventional ways to rest and relax on it. Just like how an impromptu street performance brings people together, Boon Kai wants this piece to be a space that cultivates a sense of community and shared experience.
"Inspired by 'This is Not a Pipe' (aka 'The Treachery of Images', a 1929 painting by Belgian painter René Magritte), I designed this [bench] to allow for different seating positions. Unlike your traditional benches, these invite users to sit, hug, or lean on them," says Boon Kai.
---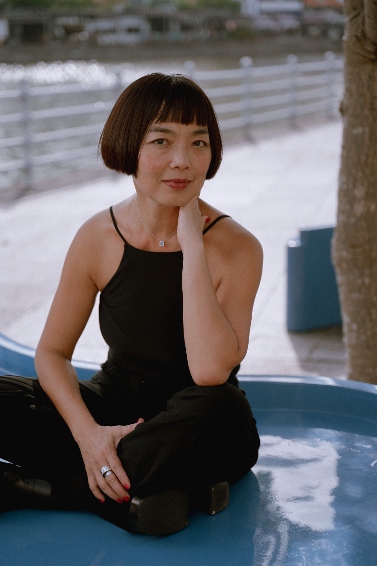 IMAGE: ARTS HOUSE LIMITED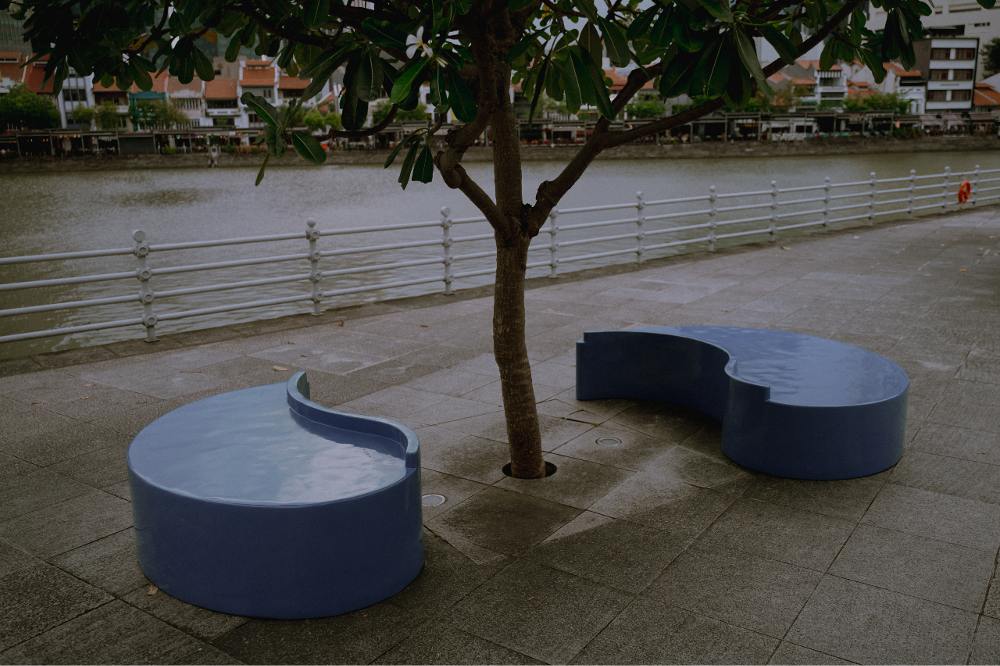 IMAGE: ARTS HOUSE LIMITED

"A Micropolyphonic Stage" by Joyce Beetuan Koh
Location: Behind the statue of Stamford Raffles
About the artist: Joyce is an award-winning composer, renowned for her concert compositions, dance collaborations, and her ability to craft captivating sound installations, multimedia productions, and films.
About the bench: Inspired by her performances in the iconic Civic District, this bench is designed to look like a stage. In fact, Joyce hopes that the bench will be integrated into the district's programming plans, becoming an active part of the cultural scene.
"At first glance, you might think this is a yin and yang symbol, but it is slightly different in shape. You might notice that one is a comma, while the other is an inverted comma, like an apostrophe," Joyce points out.
---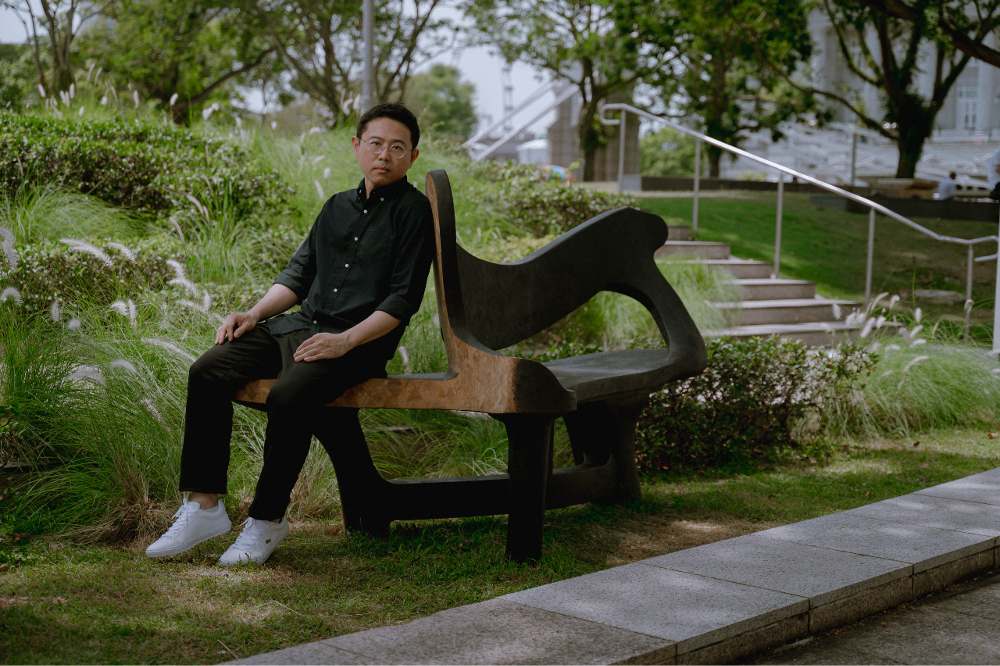 IMAGE: ARTS HOUSE LIMITED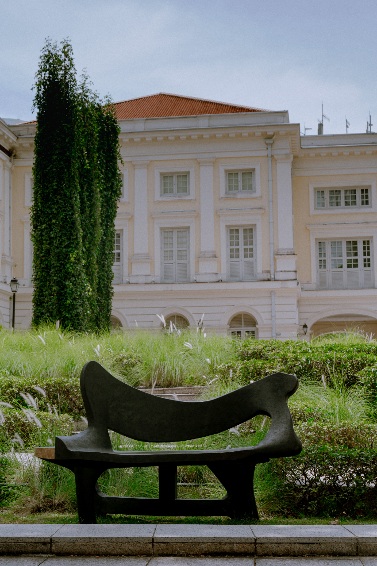 IMAGE: ARTS HOUSE LIMITED
"Re-Store / Neural Artefact Black" by Immanuel Koh
Location: Asian Civilisations Museum
About the artist: Immanuel holds a PhD in Architecture & AI from Switzerland and is a Professor at the Singapore University of Technology and Design.
About the bench: This two-sided bench was designed using AI trained with imagery of furniture and sampans from Singapore's National Collection, then hand-made and assembled by artisans working with upcycled wood – including from an actual old sampan!
"In front [of this bench] lies the Singapore River, with the Asian Civilisations Museum at the back. We get a blending of artefacts from both sides of the site. This is one of the theoretically infinite possible outputs [from AI] that have been chosen," Immanuel explains.
---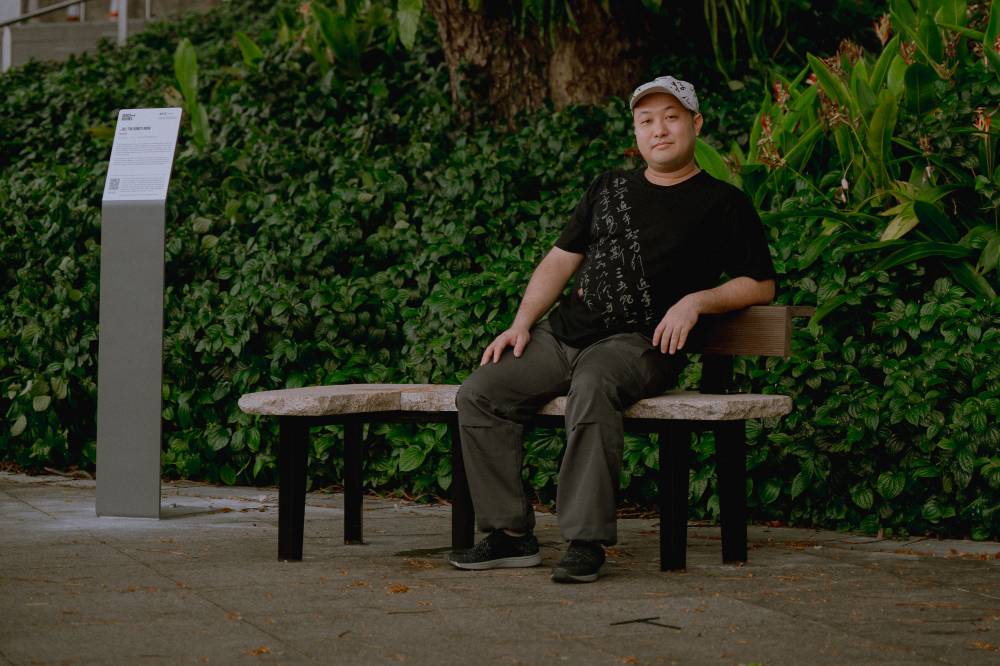 IMAGE: ARTS HOUSE LIMITED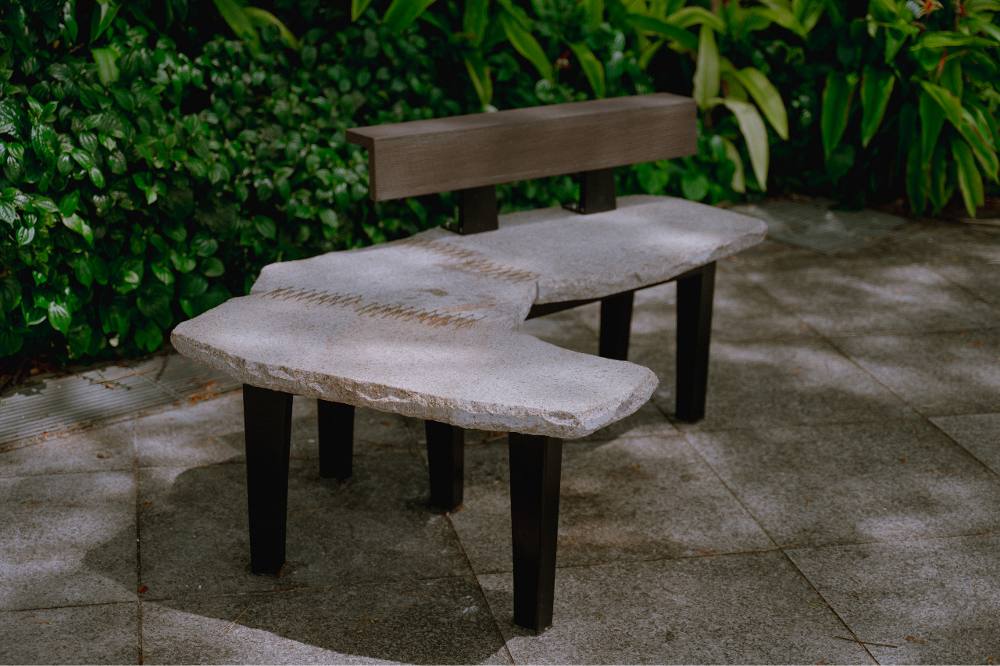 IMAGE: ARTS HOUSE LIMITED
"...all the King's men" by Yang Jie
Location: Near Anderson Bridge
About the artist: Drawing on his engineering background, sculptor Yang Jie's creative process involves transforming repaired and discovered items into kinetic sculptures.
About the bench: Inspired by the history of the Singapore Stone, one of our National Treasures, Yang Jie sought to pay tribute to the historical piece and mimic its shape as closely as possible. The bench is installed near the site of the original Singapore Stone.
"This particular granite has been sitting at the warehouse of this garden supply shop for 10+ years. I was very inspired by kintsugi, which is a form of ceramic repair. I decided to use some form of stitching. They have to be done one piece at a time to ensure the stone's integrity is preserved," Yang Jie says.
---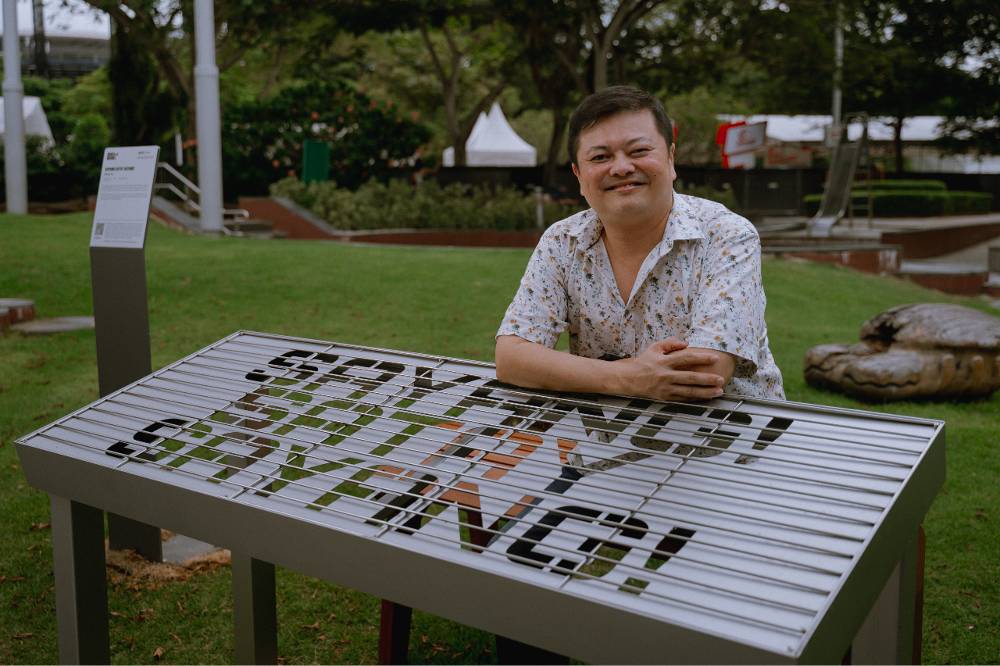 IMAGE: ARTS HOUSE LIMITED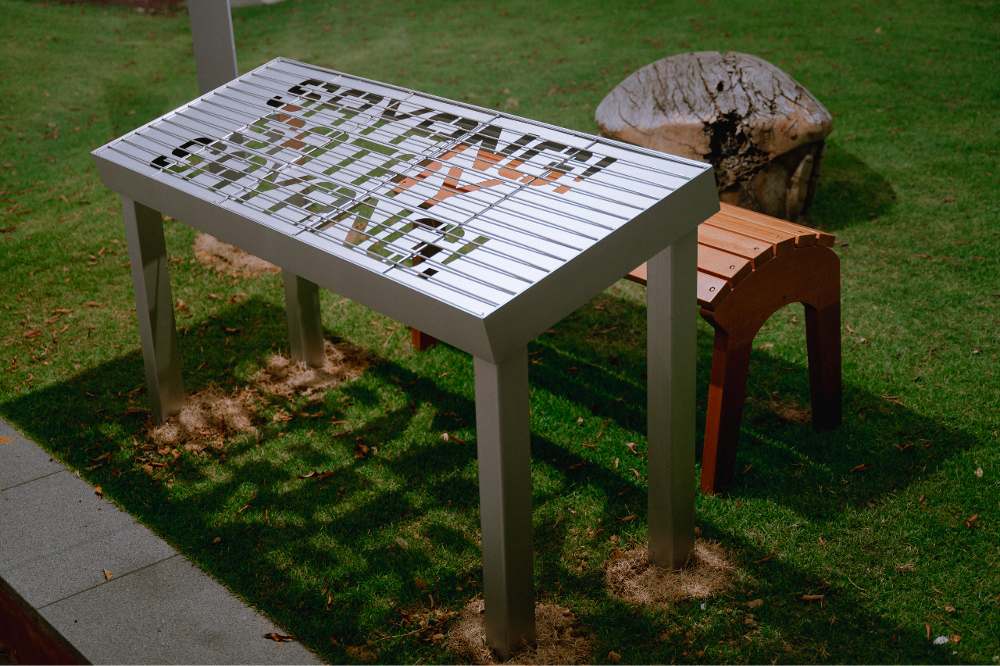 IMAGE: ARTS HOUSE LIMITED
"Sayang! Satay Sayang!" by Jeffrey Tan
Location: Esplanade Park
About the artist: Jeffrey is a theatre director, drama educator and creative producer, who conceptualised and produced ArtsXplore 2.0, a five-month mentorship programme for youths to explore how to make a difference with the arts.
About the bench: A tribute to the old Esplanade Satay Club, Jeffrey's idea was for this bench to be a conversational piece for different generations to share stories about the food centre.
"I chose the words 'sayang, satay sayang' because the word 'sayang' has many different meanings. It could be a term of endearment for a loved one or even for a baby, depending on how you say it," says Jeffrey.
---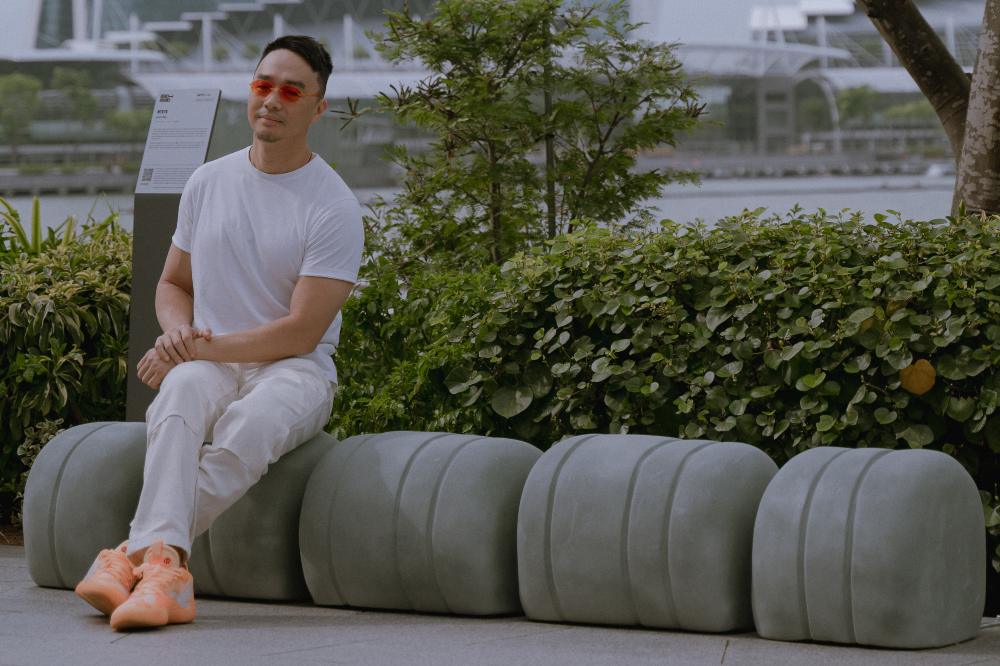 IMAGE: ARTS HOUSE LIMITED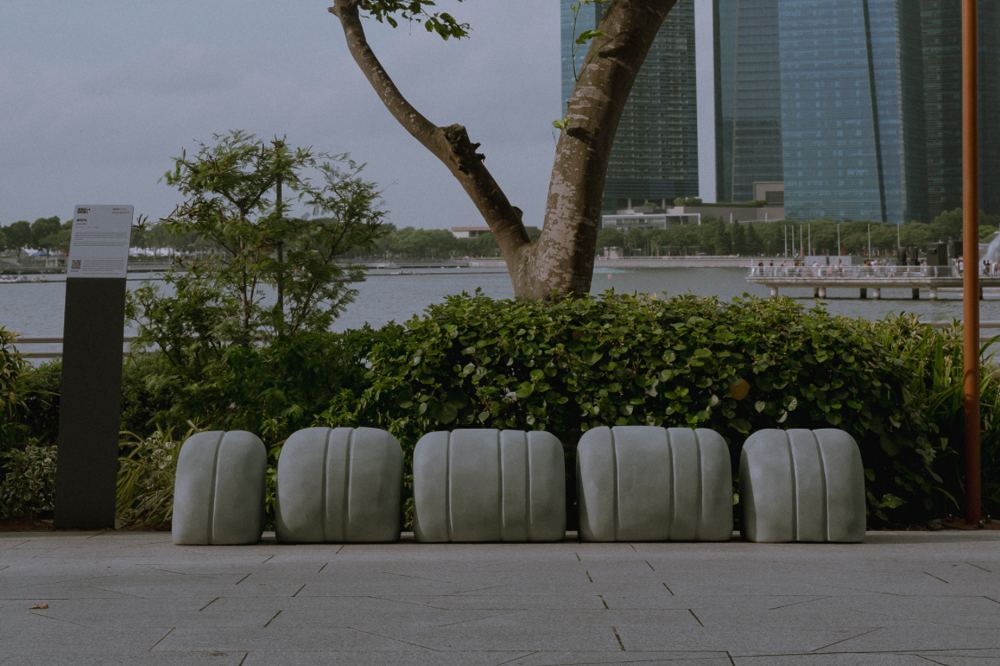 IMAGE: ARTS HOUSE LIMITED
"#IYKYK" by Jason Wee
Location: Jubilee Walk
About the artist: Jason is an artist and a writer working in contemporary art, architecture, poetry and photography. He's the author of three poetry collections, including In "Short Future Now".
About the bench: It is a visual representation of the hashtag, #iykyk, translated into Morse code. The bench is supposed to have a double meaning – the older generation would be more familiar with Morse code, but may not understand what #iykyk means. The reverse is true for youths.
"My preference was to carve [the bench] out of granite, the same kind of granite you are standing on here. But for a number of practical reasons, we couldn't. [The acronym] #IYKYK, you can read it quite literally. In Morse code, it's two dots, so, short-short. Then "y" is long-short-long, and so on," Jason says.
---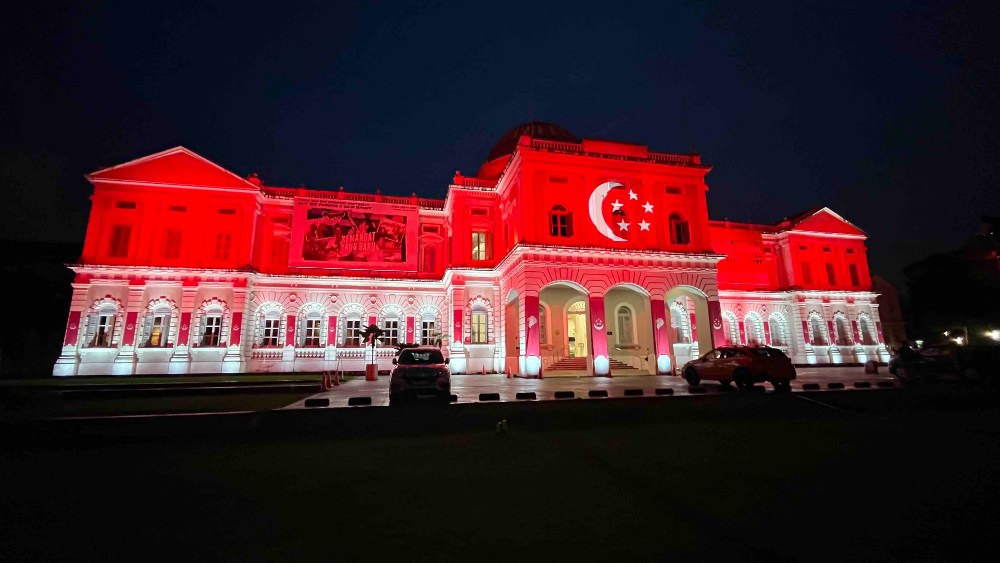 National Gallery Singapore. | MAGE: NICHOLAS YONG
See red... and white 🇸🇬
If you're planning to check out this new public art trail in August, several buildings in the area - the Asian Civilisations Museum, Esplanade – Theatres on the Bay, The Arts House, Victoria Theatre & Victoria Concert Hall, and National Gallery Singapore - will be lit up in red and white as part of National Day until 25 August.
And in October, there will be a storytelling project with the art benches as part of the annual StoryFest event. Visit three different art benches and hear storytellers performing original stories inspired by the installations and their locations. More info will be released closer to the date.
For the latest updates on Wonderwall.sg, be sure to follow us on TikTok, Telegram, Instagram, and Facebook. If you have a story idea for us, email us at [email protected].