National Monuments Of Singapore: Jamae (Chulia) Mosque
What is a National Monument? Who gazettes them? How many national monuments are there in Singapore? To date, the Preservation of Sites and Monuments, a division of National Heritage Board, has identified and gazetted 75 buildings, structures and sites of national significance as an integral part of Singapore's built heritage.
And we're here to tell you all about them - one National Monument at a time!
Here they all are on a Google Map we specially created. Every Wonderwall.sg logo, or "W", indicates a spot where a National Monument of Singapore is located:
You've probably passed by or stepped into more than a few of them without realising they were National Monuments: Al-Abrar Mosque, Asian Civilisations Museum (ACM), the Civilian War Memorial, Saint Andrew's Cathedral, the Esplanade Park Memorials, Fort Siloso on Sentosa - no need to plan an itinerary for friends visiting from overseas; just show them this article ✌️
In this edition, we take a look at one of the oldest mosques in Singapore, Jamae (Chulia) Mosque.
📍 Location
Jamae (Chulia) Mosque was the 13th building to be gazetted as a National Monument, and is located right in Chinatown. The MRT stations nearest to it are Chinatown or Telok Ayer.
📅 Significant dates
Dates built:
1826: A mosque was first erected on the present site of Jamae Mosque
1830-1835: The current Jamae Mosque was built
Date unveiled:
1835: Jamae Mosque
1996: First repair works done
Date gazetted: 19 Nov 1974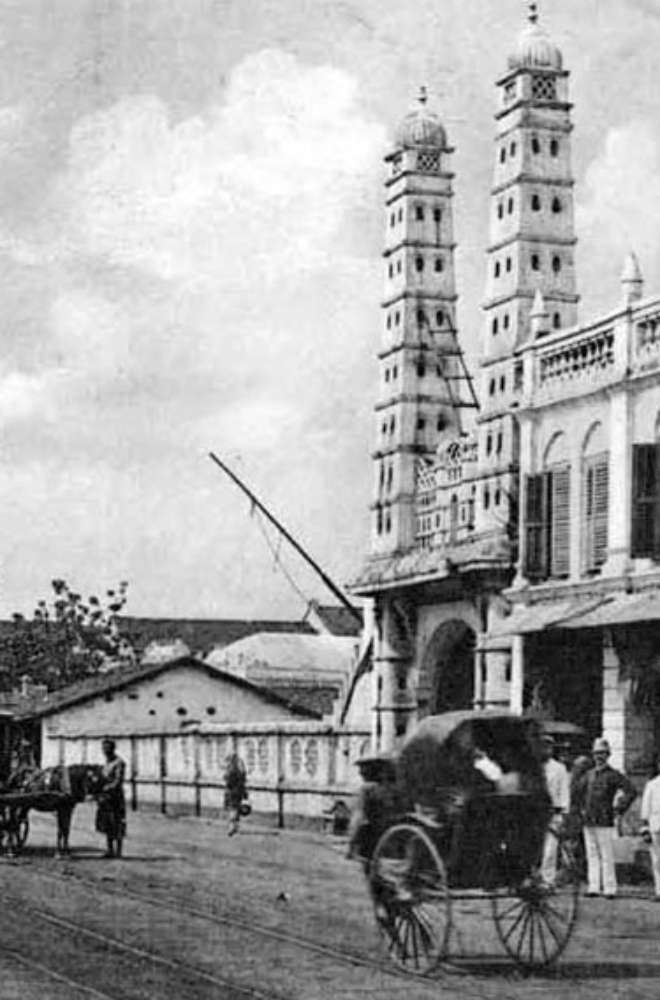 View of the mosque circa 1900. | IMAGE: WIKIMEDIA COMMONS/@PHOTOGRAPHER OF G.R.LAMBERT & COMPANY
📜 History
Dating back to as early as 1826, Jamae Mosque stands as one of Singapore's oldest mosques. It was constructed at 218 South Bridge Road, close to where immigrants once landed. Over nearly two centuries, its tall minarets (the towers from which a muezzin calls the faithful to prayer five times daily), have remained one of the most prominent landmarks along South Bridge Road.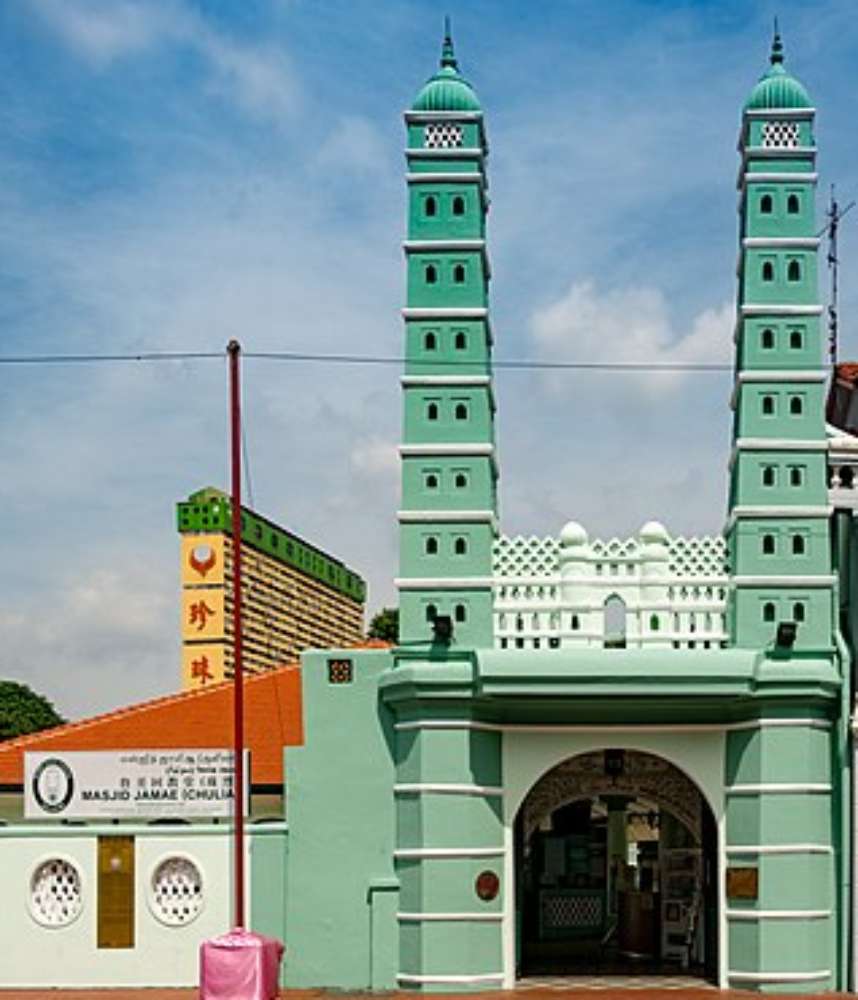 IMAGE: WIKIMEDIA COMMONS/@XIQUINHOSILVA
This iconic pale green mosque stands as the first of three mosques in Chinatown, all built by Tamil Muslims, also known as Chulias. During the early 19th century, a significant influx of Chulia immigrants hailing from the Coromandel Coast in southeast India - many of whom were engaged in trading and money exchange - settled in Chinatown.
Merely seven years after Sir Stamford Raffles established a trading post in Singapore, these Chulia immigrants, led by Anser Sahib, erected the mosque. Over the following years, from 1830 to 1835, the mosque underwent expansions, eventually taking the form it maintains today.

Jamae Mosque bears numerous names that mirror its significance within the community. Commonly, it's known as Masjid Chulia (Chulia Mosque), a nod to its Chulia worshipers. These devotees also refer to it as Periya Palli or Chulia Palli, Tamil for "Big Mosque" and "Chulia Mosque," respectively. Another interesting nickname is Paalkaara Kadai Palli, which translates to "Milkman's Shop Mosque." The reason: until the 1950s, many Tamils would milk their cows in the street adjacent to the mosque. Now you know!

Such was the prominence of this mosque that Chulia immigrants without a proper residential address would simply provide the mosque's location for their mail. Consequently, it also served as a postal collection point for many of Singapore's early settlers.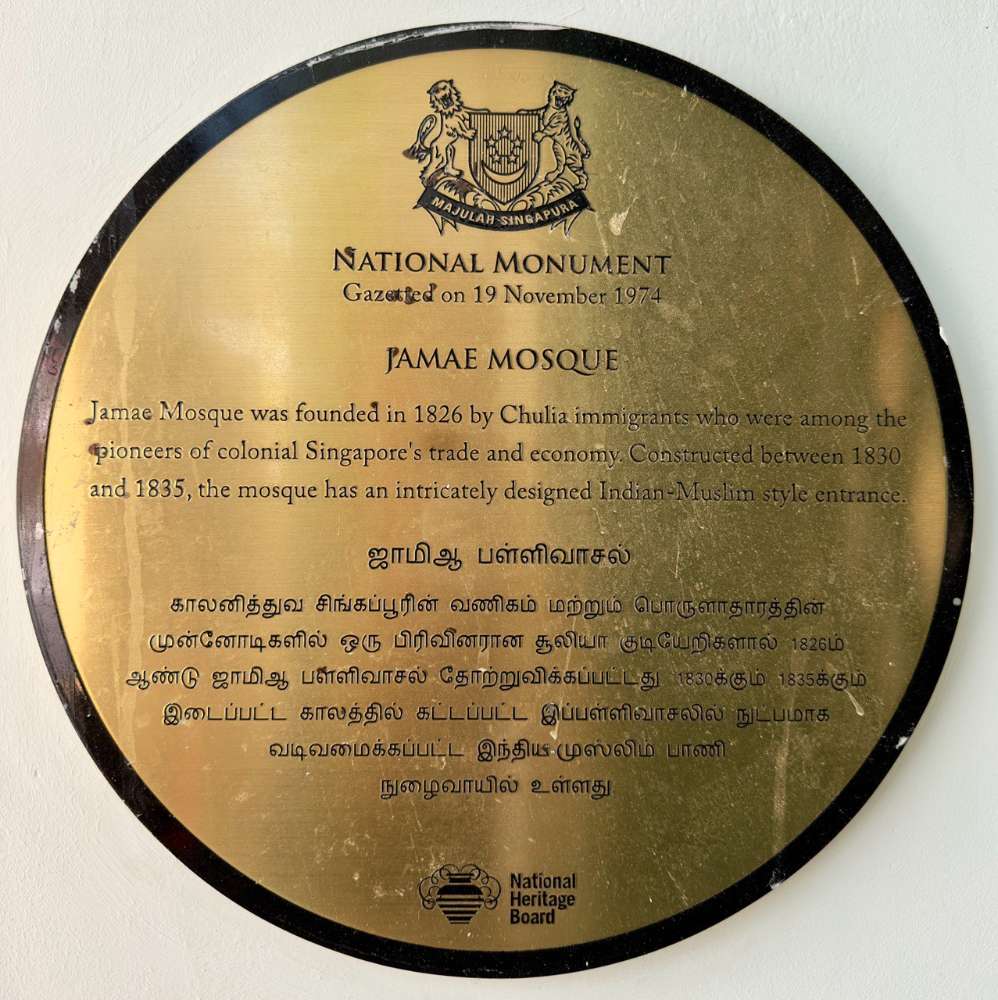 IMAGE: NG KAI
In 1910, Jamae Mosque and two other mosques were managed by five trustees, and subsequently came under the care of the Mohammedan and Hindu Endowments Board in 1917, and since 1968, the Islamic Religious Council of Singapore or Majlis Ugama Islam Singapura (MUIS).
📐 Design and architecture
Designed by the Irish architect George Coleman, renowned for his work on the Old Parliament House and Saint Andrew's Church, Jamae Mosque occupies a 4,809sqm plot of land. It's a fascinating amalgamation of Indian and European architectural influences. While it adheres to the urban planning grid established by colonial authorities, the mosque's primary prayer hall is carefully oriented towards the qibla, the direction of Mecca, the birthplace of the Prophet Muhammad in western Saudi Arabia.
The mosque is distinguished by twin octagonal minarets, each crowned with onion-shaped domes, reflecting South Indian Indo-Islamic design elements. These minarets are connected by a diminutive four-level palace-like façade, adorned with small doors and windows, positioned above the mosque's entrance.
Upon entering the mosque's foyer, one encounters double-leaf timber doors, which open into the main prayer room. This room is defined by rows of European neoclassical Tuscan columns and features large windows for natural ventilation. At the base of these windows, Chinese green-glazed tiles add a distinctive touch. The mihrab, an ogee-shaped (onion-shaped) niche, indicates the direction of the Islamic holy city, and next to it stands a minbar, or pulpit.
Jamae Mosque remains a true heritage treasure, and has preserved its original form for nearly two centuries. Unlike many religious buildings from the 19th century, the mosque has not undergone significant reconstruction. Although plans for reconstruction were proposed in 1897, 1911, and 1986, they were never implemented. However, over time, the mosque has undergone repairs and repainting. In the early 1990s, it was painted a pale green shade, significant in the Islamic faith, while its original colour was a soft whitish beige.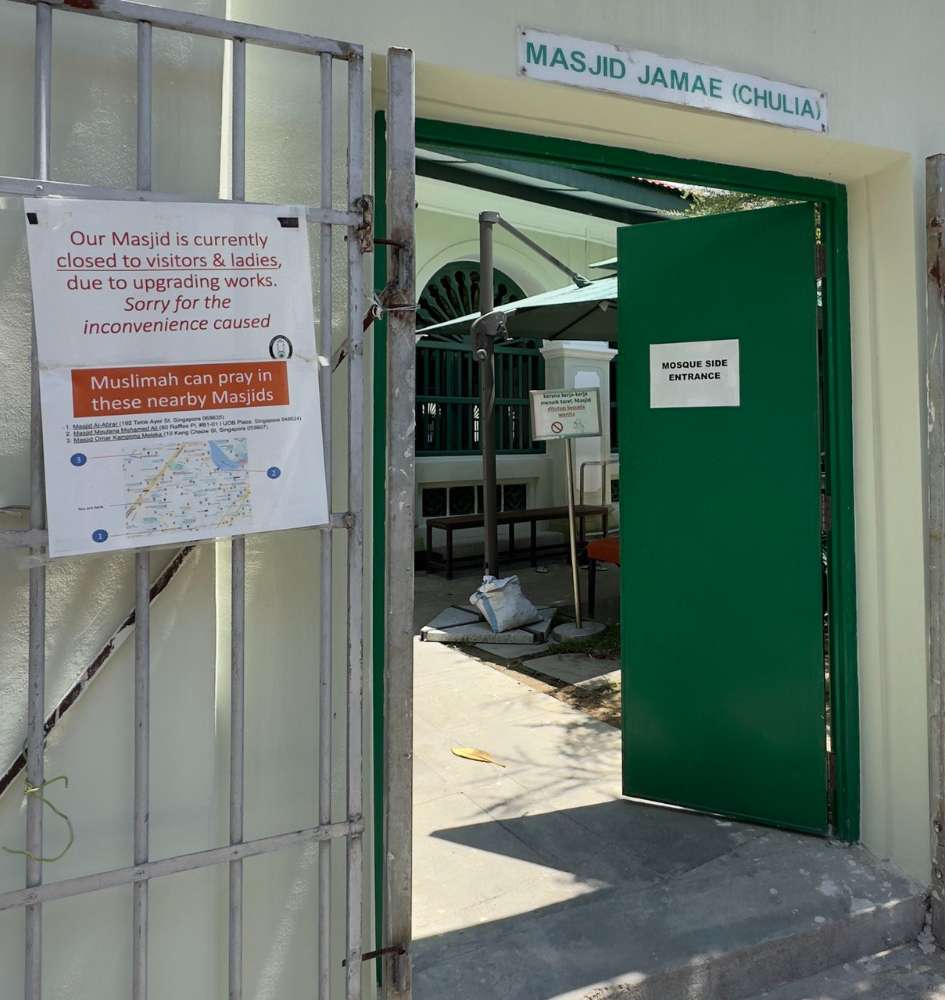 IMAGE: NG KAI
🕖 Opening hours

Regular visiting hours are 10am-6pm daily. However, at the time of this article's publication, the mosque is temporarily closed for restoration and upgrading works.
🎟️ Admission
Entry is free, but the mosque is temporarily closed for restoration and upgrading works.
For the latest updates on Wonderwall.sg, be sure to follow us on TikTok, Telegram, Instagram, and Facebook. If you have a story idea for us, email us at