National Monuments Of Singapore: The Arts House
What is a National Monument? Who gazettes them? How many national monuments are there in Singapore? To date, the Preservation of Sites and Monuments, a division of National Heritage Board, has identified and gazetted 75 buildings, structures and sites of national significance as an integral part of Singapore's built heritage.
And we're here to tell you all about them - one National Monument at a time!
Here they all are on a Google Map we specially created. Every Wonderwall.sg logo, or "W", indicates a spot where a National Monument of Singapore is located:
You've probably passed by or stepped into more than a few of them without realising they were National Monuments: Al-Abrar Mosque, Asian Civilisations Museum (ACM), the Civilian War Memorial, Saint Andrew's Cathedral, the Esplanade Park Memorials, Fort Siloso on Sentosa - no need to plan an itinerary for friends visiting from overseas; just show them this article ✌️
In this edition, we throw the spotlight on what is highly likely the oldest building in Singapore: The Arts House (formerly Old Parliament House and Annex Building). Originally built as a private residence (that no one ever lived in), it's been used as a courthouse, for Parliament sessions, and, in the present day, as a venue for arts and cultural events, such as exhibitions and performances.
📍 Location
National Monument #27 is nestled within Singapore's Civic District, where you can find other National Monuments like Victoria Theatre and Victoria Concert Hall, and Asian Civilisations Museum just a stone's throw away. The nearest MRT stations to get to The Arts House are either City Hall MRT or Raffles Place MRT.
📅 Significant dates
Dates built:
1826-1827: Old Parliament House
1839: Annex Building
Dates unveiled:
1827: Old Parliament House
1839: Annex Building
Dates gazetted:
14 Feb 1992: Old Parliament House
26 Jun 1992: Annex Building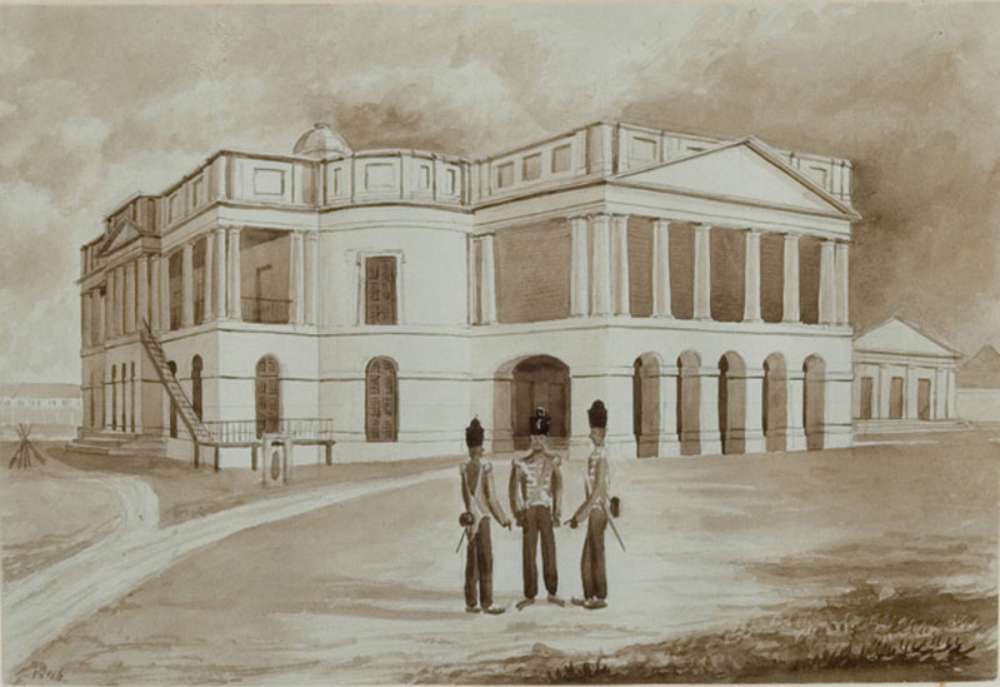 A sketch by John Turnbull Thomson of the original building in 1846, then known as the Public Offices of the Settlement. | IMAGE: WIKIMEDIA COMMONS/@OTAGO UNIVERSITY RESEARCH HERITAGE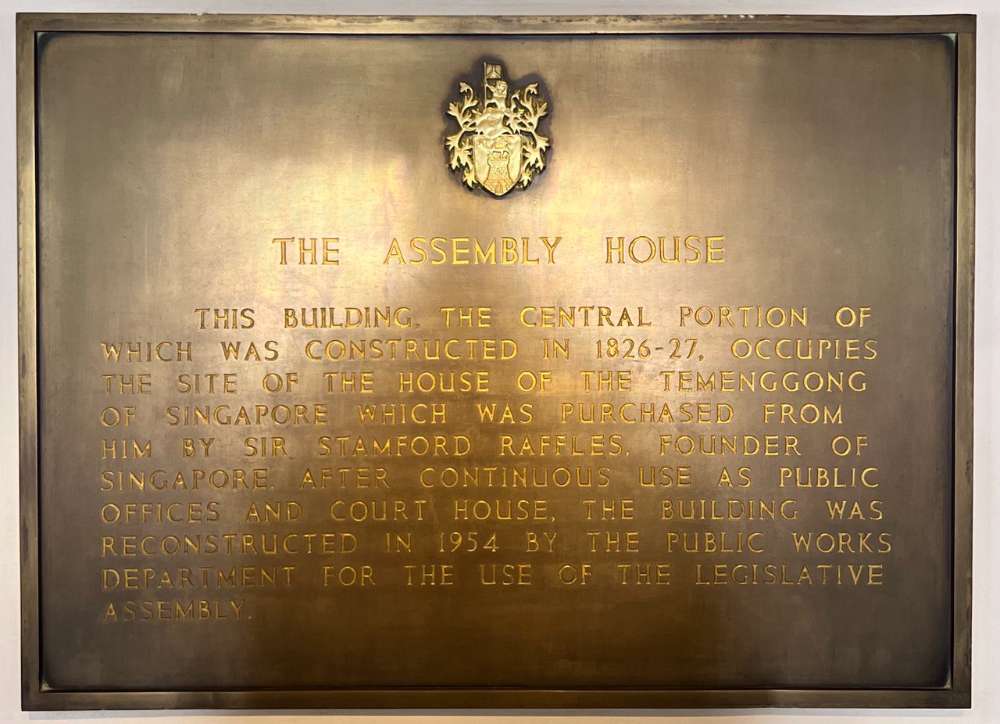 IMAGE: NG KAI
📜 History
Constructed between 1826 and 1827, the Old Parliament House was originally designed by colonial architect George D. Coleman (he also designed the first Saint Andrew's Church) to be the home of Scottish merchant, John Argyle Maxwell. But it was never used as a residential space, because it turned out that the residence was constructed on land which Sir Stamford Raffles had set aside for public and administrative use in his 1822 Town Plan.
However, since Maxwell was already building another house, he agreed to lease the building to the British Administration for use as a Recorder's Chamber and courthouse at 500 rupees per month (around US$15,200 today 😨).
On 1 Sep 1829, the building was sold to George Gerald Larpent and John Cockrell. Additions were made to the building in 1839, including a single-storey extension that served as the new courthouse, while the front portion was occupied by public offices. In 1841, the British East India Company purchased the building.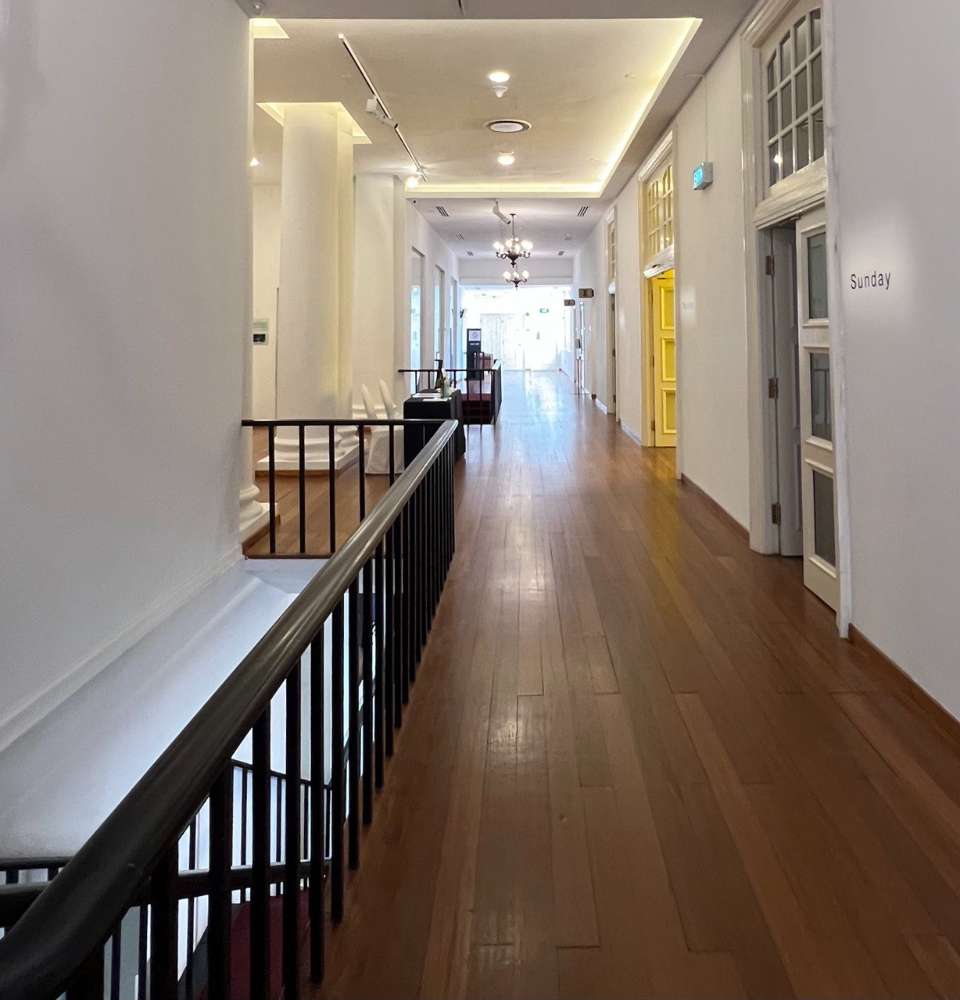 IMAGE: NG KAI
Additions made in 1875 included a long extension built along the Singapore River by colonial architect J. F. A. McNair (also responsible for the ACM and Saint Andrew's Cathedral). The main building then served as the Supreme Court until 1939, when the Supreme Court building was completed.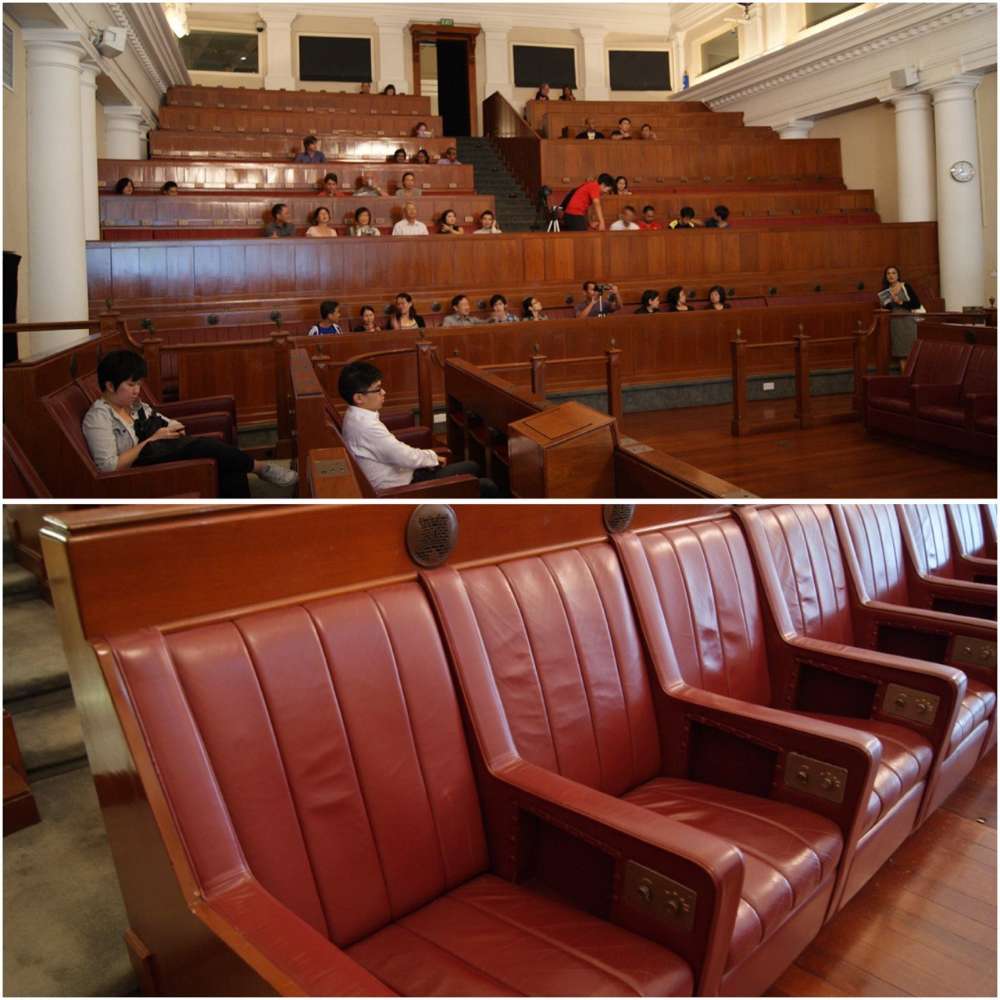 IMAGES: WIKIMEDIA COMMONS/@SMUCONLAW

The building was renamed Parliament House in 1965 after Singapore gained independence, and served as the Parliament House until 1999. With the opening of the new Parliament House at 1 Parliament Place on 4 Oct 1999, Coleman's building became known as the Old Parliament House.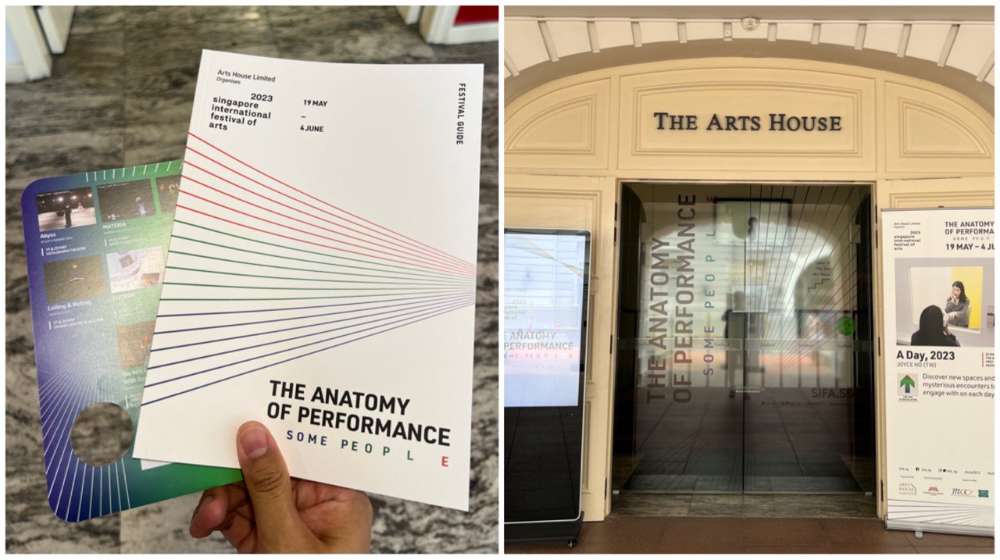 IMAGES: NG KAI
On 26 Mar 2004, the Old Parliament House was reopened as The Arts House, a venue for the performing and visual arts. Renovations amounting to $15 million saw the conversion of the building into an establishment that included an entertainment space and a 75-seat film theatrette (a small theatre), among other features.
Along with the refurbishment of the main building, the annex (previously the courthouse) was also spruced up and now houses a restaurant. The renovations garnered the Old Parliament House a prize in the Urban Redevelopment Authority's Architectural Heritage Awards 2004 for its unique transformation whilst retaining its original charm.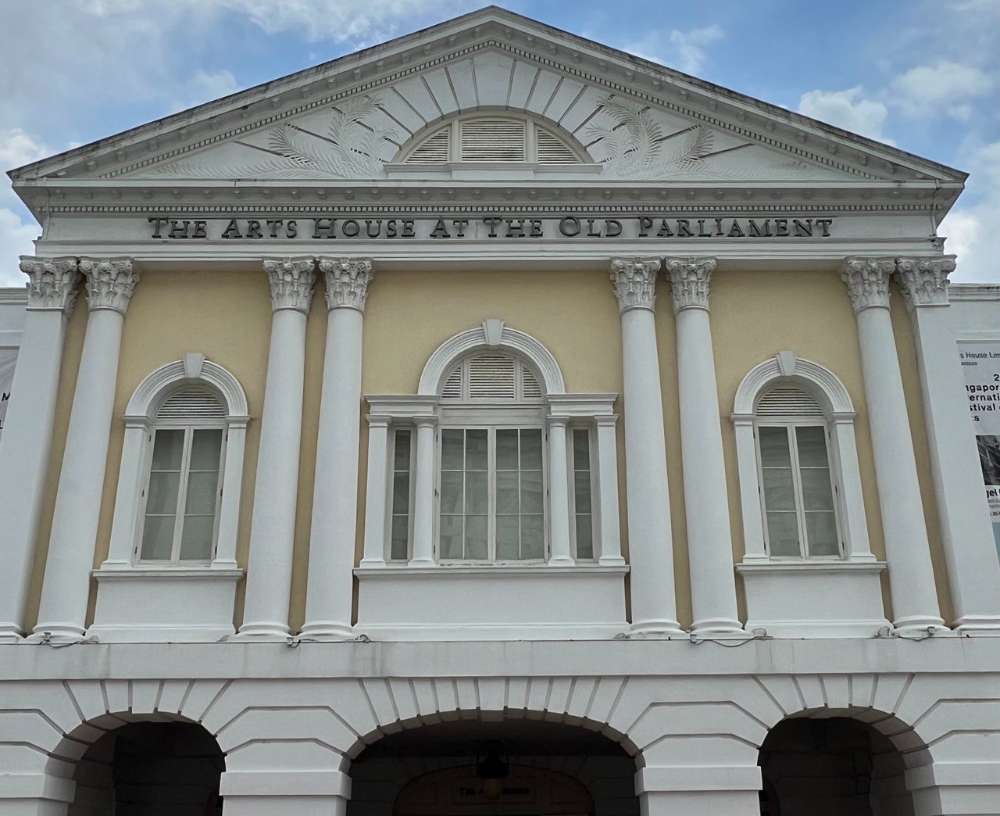 IMAGE: NG KAI
📐 Design and architecture
The multiple renovations over the years have gradually eroded Coleman's design of Maxwell's House, which was specifically Neo-Palladian; the present-day Old Parliament House is more Neoclassical in style with triangular pediments (the upper part of the front of a building) and Corinthian pilasters (rectangular columns) incorporated into the monument's façade.
Nonetheless, there remains on the front façade of the building a Palladian window – a three-part window with two rectangular sections flanking a larger, central arched opening. Before the advent of air-conditioning, loggias (galleries or rooms with one or more open sides) acted as a buffer between the building and the scorching rays of the sun. In addition, numerous windows ensured that the interior was kept cool.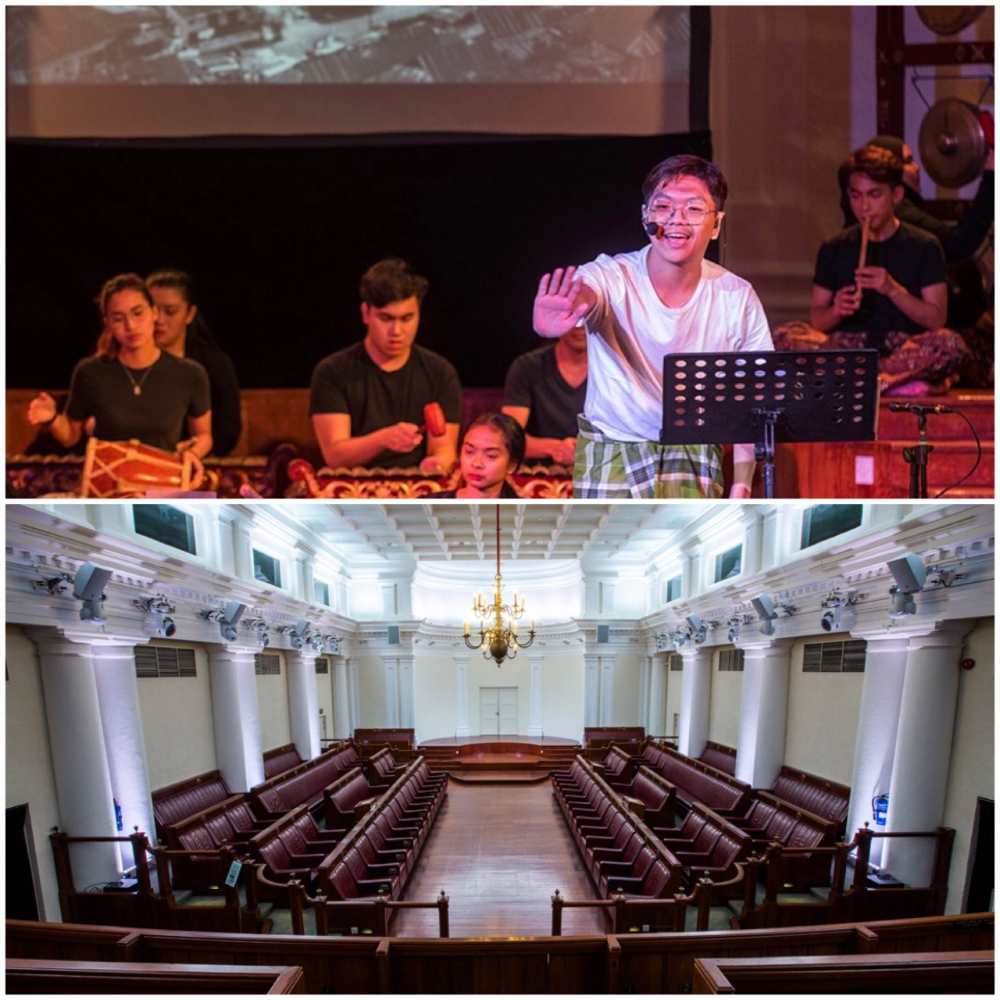 IMAGES: THE ARTS HOUSE
Inside the Old Parliamentary Chamber, where parliamentary sessions were previously held, the high coffered ceiling adds an air of dignity to the space. Tuscan pilasters line the chamber's walls, while dentils (one of a number of small, rectangular blocks resembling teeth) adorn the cornices (an ornamental moulding around the wall of a room just below the ceiling). The old seats of the parliamentary chamber have also been retained; a castle motif from the coat of arms used during the time Singapore was a Crown Colony can still be seen on some seats.
Today, the Chamber accommodates up to 200 people and is used for recitals, performances, conferences, fashion shows, and even weddings.
🕖 Opening hours

10am to 9pm daily.
🎟️ Admission
Entry to the building itself is free. For ticketed events and more info, click here.
For the latest updates on Wonderwall.sg, be sure to follow us on TikTok, Telegram, Instagram, and Facebook. If you have a story idea for us, email us at [email protected].