Survey: 1 in 3 Singaporeans Are Meh About PMDs Being Banned
(Update, Nov 4, 2019: E-scooters will be banned from public footpaths starting Nov 5. LTA has announced that the devices will be allowed only on cycling and park connector paths, with offenders facing a fine of up to $2,000 or 3 months in jail.)
In light of the recent fatalities caused by PMDs (Personal Mobility Devices), there has been an uproar on the internet regarding the possibility of a ban against PMDs. Singaporeans have been pretty split on this.
A survey conducted by YouGov shows that four in ten (42%) of Singaporeans want PMDs banned altogether.
This consensus mostly stems from an online petition that was started when an elderly woman passed away after being hospitalised by a reckless PMD user.
There have also been complaints such as "I want to be able to walk freely and assuredly with my kid".
Also according to the survey, three in ten (29%) disagree with the ban. There is a large variety of reasons, ranging from "We've already invested in PMDs!" to "What about the livelihoods of food deliverymen?"
The remaining three in ten (30%) are up in the air. Gosh, make up your mind, people! This sort of thing cannot don't care one y'know?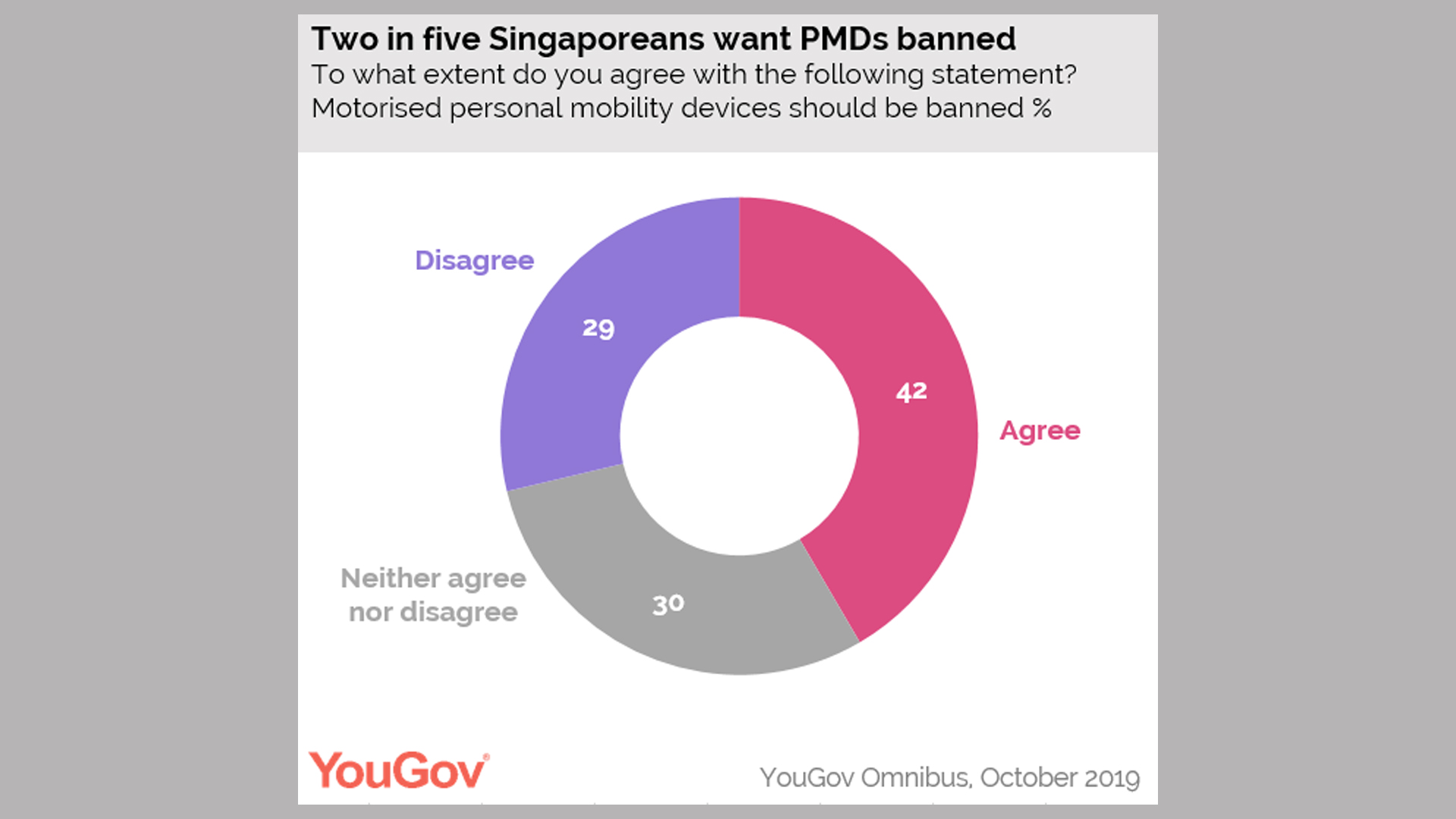 With such polarising viewpoints, things are already getting super-heated. So let's cut to the chase right now.

There has been talk about a complete ban on PMDs if the situation does not improve.
So, this begs the question, is the ban warranted?
The YouGov survey shows that 60% of Singaporeans think PMDs are dangerous.
While the ban would basically eliminate the issue of reckless usage of PMDs, think about it though: no PMDs = longer delivery times, longer travel times, etc.
We'd be inconveniencing ourselves, no?
BUT!
That definitely doesn't mean nothing should be done. This is a big problem. Even with the different measures imposed to help curb the rate of PMD related accidents – think: proposed changes to redesigning pavements, the banning of non UL2272 certified PMDs – it still seems like there won't be much of an improvement. There will still be illegal PMDs out there, people will most likely still get hurt.
Even so, we don't think PMDs should be banned completely. That would just be huge a step backwards.
So how? Compromise lor.
We think it should be mandatory for PMD users to acquire a license to use their PMDs. Also, they should suffer heavier penalties for misconduct. This would incentivise safe usage of PMDs while ensuring that the people who really need PMDs aren't affected. This proposed change would act as a "test". Those who really want or need PMDs will overcome these inconveniences to use the PMDs. Work so hard for it, they confirm won't anyhow play play one lah.
Hopefully, these changes can help reduce the number of PMD-related accidents that happen in the future.
Problematic Mechanical Demon or Pragmatic Mechanical Delight? You decide.
Right now, just please don't be that guy. The guy who gets PMDs banned for everyone else.
No one likes that guy.
For the latest updates on Wonderwall.sg, be sure to follow us on TikTok, Telegram, Instagram, and Facebook. If you have a story idea for us, email us at [email protected].