5 Guilt-Free Out-Of-Office Messages To Help You Stay On Vacay Mode
Have you ever felt guilty taking time off from work? Are you so courteous in your out-of-office reply to the point of leaving your personal contact number so that you can remain contactable just in case?
Expedia's 2021 Vacation Deprivation Study – which polled 14,500 adults (including 500 Singaporeans) aged 18 and above across 16 countries – has uncovered some interesting findings about the guilt factor felt by those in the Singaporean work force when it comes to taking deserving time-off.
According to the study, more than two-thirds (69%) of Singaporeans surveyed felt vacation-deprived in 2021. Even though this is down from 71% in 2020 (dropping Singapore from the most vacation-deprived country in the world in 2020 to third place in 2021), there is some guilt factor in taking leave.
Even though 73% of Singaporeans said that their employers were supportive of them taking vacation time, eight in 10 (80%) say they leave their mobile numbers in their out-of-office emails or give them to their clients when they go on vacation.
To some, taking time off from work may seem like a crime, but what that really means in a world of rapid change and overlapping work-from-home arrangements is that time off could bring a lot of positive goodness to our mental and physical well-being.
Whether it's going for a staycation or quality time at home, the Expedia study showed that more people are valuing vacation time as a means to recharge and a way to spend quality time with families and loved ones.

In fact, 94% of Singaporeans surveyed said they value vacation time more than ever, with a majority concurring that taking regular vacations is important for general health and well-being (97%), helps them to have a more positive attitude (92%) and feel more motivated at work (90%).
Are you truly feeling refreshed and renewed after each break? If you're struggling to unplug from work and feel stressed about being judged for not being contactable, here are five out-of-office drafts that can help you unplug and recharge for a few days: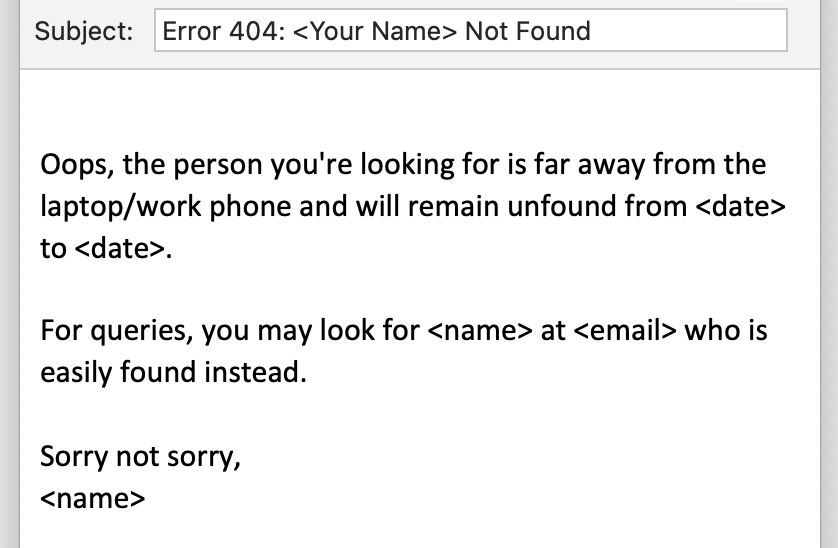 1. The error message
To make the "Do-not-disturb" message blatant, this email can help redirect senders to an "error" - sit back and watch the emails not come in.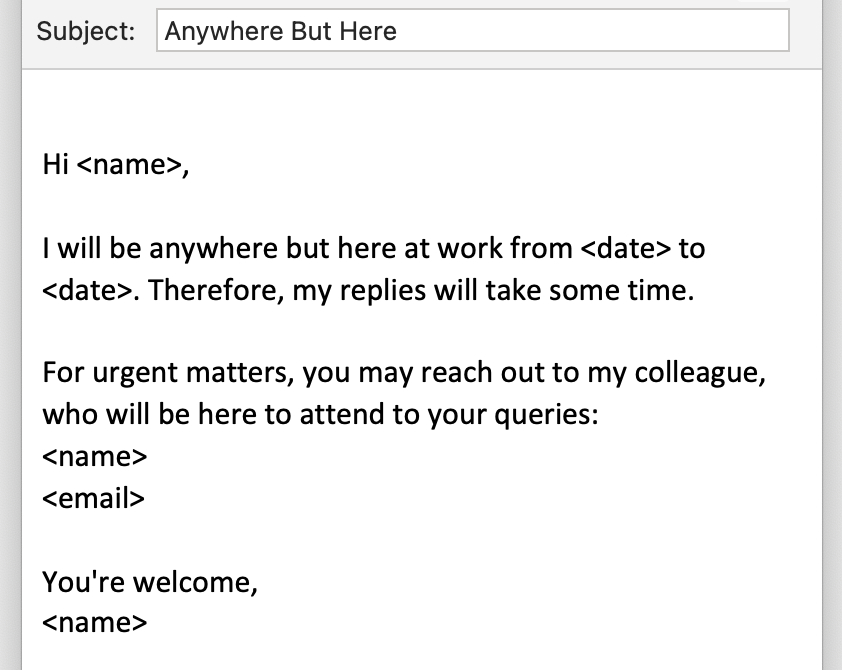 2. Anywhere but here
Looking to stay offline without looking bad? This message will let everyone know your whole body, mind and soul is not here at all, but in a professional way.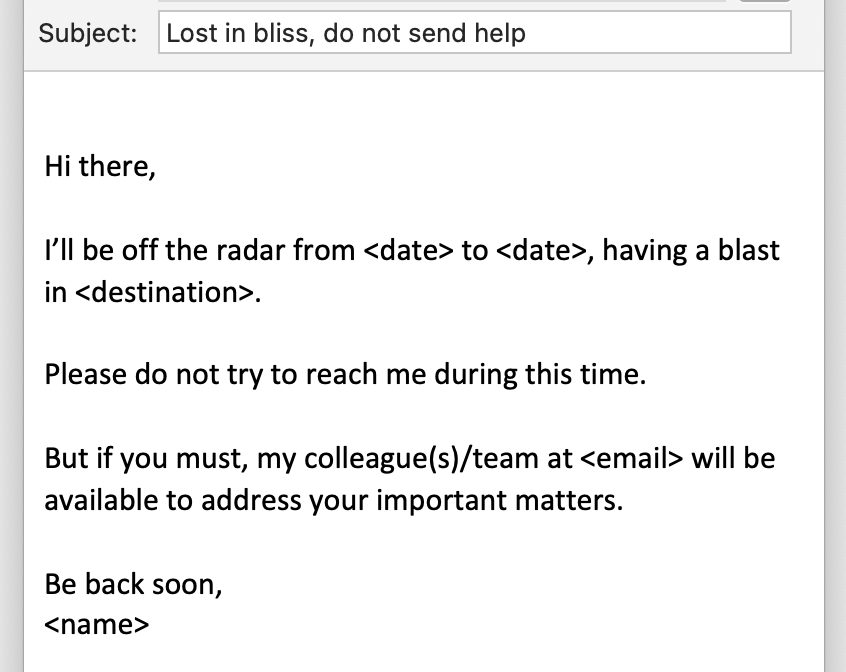 3. Do not disturb - just... don't
To subtly show you are not going to care, here's a way to look responsible (while actually not).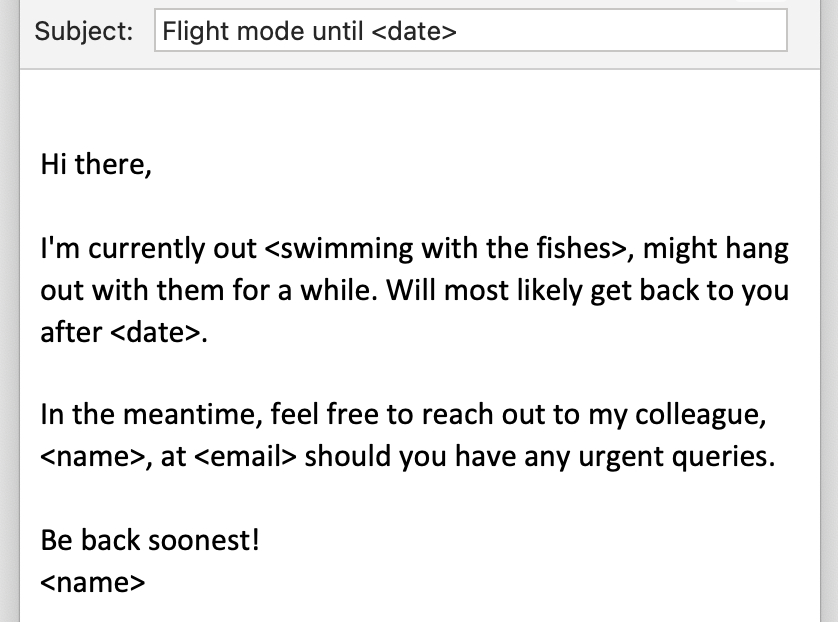 4. (Not so humble) brag
If you have grand plans for a vacation, this email is your bragging right. Flaunt your itinerary with style but don't forget to direct queries to your coworkers.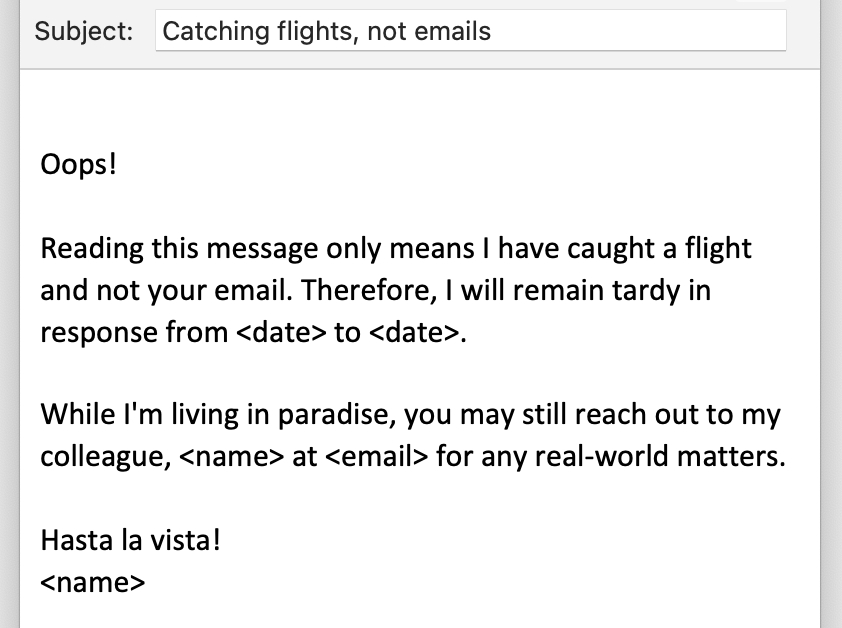 5. Up in the air
Lastly, the flight mode option always works. Oops, you really didn't see that email, did you?
For the latest updates on Wonderwall.sg, be sure to follow us on TikTok, Telegram, Instagram, and Facebook. If you have a story idea for us, email us at [email protected].