Setting Sail In Style: Your Ultimate Guide To Yacht Rentals In Singapore
Need to get away from it all without too much hassle or pre-planning? We hear you! Forget the same old island-hopping in Singapore or taking a ferry across to Bintan and Batam. How does cruising on your own yacht sound?
Whether you want to host a party or celebrate a special event with a small group of friends, just be on the water to catch a beautiful dawn or a spectacular sunset, or even have a romantic dinner date on a yacht, we got you covered.
Goodbye staycation! Check out these affordable options for a fun yacht-cation:
1. Advant Yacht
With half-day packages starting from $1,500 for up to 27 persons for charters within the same day, cruise in style on the 43ft, 3-level Advant yacht, which boasts a large open living area, a kitchen, and a large sheltered outdoor seating on the main deck. The upper deck comfortably seats up to 12 pax.
Each cruise is 4-5 hours, with the Dawn cruise starting at 6am with breakfast on board; enjoy lunch on board with the Noon cruise (from 11am-4pm); while the Sunset and dinner cruise starts at 5pm.
2. White Sails
Reputed to have the best price in town (all inclusive and nett), White Sails offers affordable luxury with its choice of two yachts for 4-hour charters, be it for a birthday party or just spending quality time with the family. Both yachts offer a variety of complimentary water toys such as the floating mat, kayaks, fishing rods (excluding bait) and snorkel kits.
Their flagship vessel, the 40-foot cruising catamaran SunRise is the quintessential motor yacht, featuring a spacious open deck space with uninterrupted 360-degree views (18 pax capacity); while their custom-built 40-foot power catamaran, SunRider, offers a newly-refurbished interior decked with custom-made leather seats for maximum cruising comfort (16 pax capacity).
Prices for SunRise start from just $899/10pax on weekdays and $1099/10 pax on weekends; while SunRider prices start from $799/10 pax on weekdays and $999/10 pax on weekends.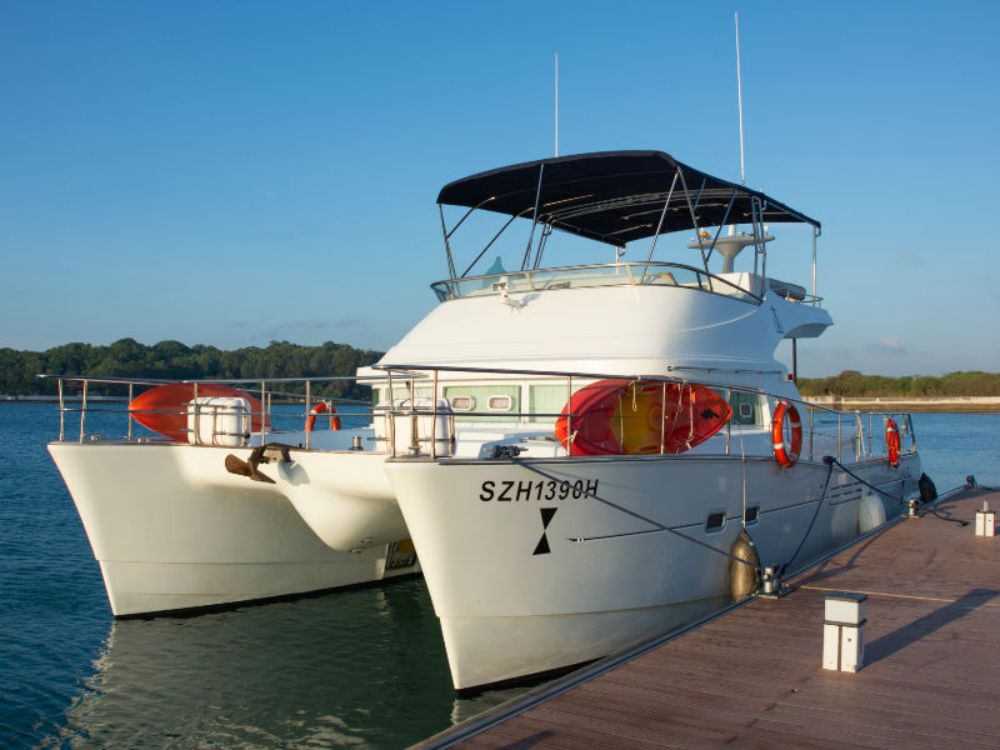 IMAGE: SINGAPORE YACHT CHARTER
Whatever you're looking for, be it a fishing trip, birthday party, a memorable wedding solemnisation, wedding shoot, or just a family weekend island hopping getaway, Singapore Yacht Charter offers one of the widest range of luxury catamaran yachts and spacious boats available for charters.
Depending on the yacht that takes your fancy, 4-hr weekday cruise charters for up to 5 pax start from just $699 or $899 for weekend options.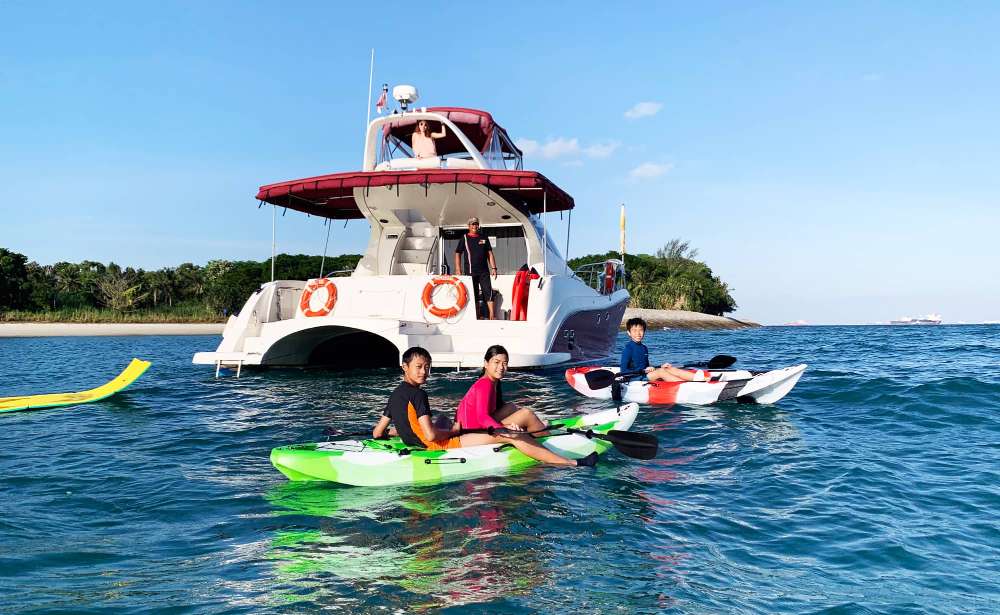 IMAGE: SHIMMERING SEA CRUISES
With prices starting from just $1,188 nett/10 pax on weekdays and $1,388 nett/10 pax for weekends and public holidays, enjoy a 4-hr charter on its flagship yacht, the 45ft custom built Flash Powered Catamaran "La Fortuna".
Enjoy the complimentary use of floating mat, kayaks, stand up paddle board, snorkel set, and fishing rod if you would like to do water sports, or just simply lie back and around the cruise around the Singapore Southern Straits, with plenty of outdoor space for alfresco dining, relaxing or entertaining.
For a fun day out at sea however, rent the 4-hour yacht charter to Lazarus Island, starting from just $699 for 8 pax on weekdays and $899 for 8pax on weekends.
Don't want to spend half a day on the water? That's totally fine too! YachtCruiseSG offers everything from exclusive 1hr cruises to 4hr voyages. For instance, the 1hr City Skyline Cruise ($60 per person) sets sail from Sentosa 6pm Thursday-Sunday evenings, and leisurely glides past Marina Bay, Lazarus, St John's and Sisters Islands, from dusk till evening, inclusive of a mocktail.
You won't be chartering the entire yacht, but it doesn't get more affordable than this if you want to start your date off on a romantic note, or visit the city highlights with friends and family in a different way.
Technically not renting out the whole yacht here, but we had to include this in our round up for an affordable and fun yacht party experience. Hop aboard Singapore's largest yacht and Asia's only tall ship, the Royal Albatross, easily one of Singapore's top sailing attractions.
Choose from a variety of dining packages, such as the 2.5hr Weekend Sunset (from $225++/adult and $125++/child, including a 4-course dinner for adults and kids dinner for children) or Weekday City Lights Cruise with fireworks (from $225++/adult and $125++/child, including buffet and freeflow drinks).
For the former, guests can choose to upgrade their voyage with wine and whisky pairings with their 4-course dinner, or even up to a 7-course dinner (starting from $60++).
Did you know that the Royal Albatross is also one of the very few yachts that offers a cruise for your fur-kid? The 2-hr weekend Dog-Friendly Breakfast Cruise sets sail at 9am on selected Saturdays, inclusive of a buffet breakfast for you ($150++/adult & $95++/child) and a 2-course breakfast for your pet (doggy ticket prices from $30).
For the latest updates on Wonderwall.sg, be sure to follow us on TikTok, Telegram, Instagram, and Facebook. If you have a story idea for us, email us at [email protected].