Singapore Sportstar Spotlight: Delvin Goh Is Killing It On And Off Court
When basketball player Delvin Goh first made his professional debut a decade ago at the age of 16, he was dubbed "Wonderkid". He remains the youngest player to have ever signed with the Singapore Slingers, our country's only professional basketball team.
So it may come as a surprise that Delvin wasn't keen on the sport initially (surprise!), and got dragged into basketball because of his height (he stands at 2.01m today).
We spoke to the Power Forward who opens up about starting a sporting career at 16, shining on court even during national service, and his evolution into a bonafide sportstar.
We hear that you got into basketball almost unwillingly just because your teacher-in-charge saw that you could run and that you had the height. Really ah?
Well, the story is funny. I was pretty much forced to play basketball because of my height! This might the perception of many but trust me, there are way too many taller Singaporeans that I have seen on the road that have no basketball history.
I was basically put into training with my seniors when I was just 9 years old. After 2 weeks of not putting my heart and soul into it, I kind of gave in thinking that if I have to be here, why not just try it?
The first thing I did was to look up some basketball-related stuff on the internet - that is when Kobe Bryant popped up and I watched quite a few of his videos with 240p quality.
The next training session I attended, I tried shooting like him and doing moves. When the ball went into the basket, I was like, "pretty interesting... I should just try and see how good I will be" - and that pretty much changed my life from there.
You're only 27 but you started your basketball career a decade ago at the age of 16! That's when most of us were struggling with O-Levels. How did you get scouted and what was it like starting a professional sporting career in your mid-teens?
It was a crazy few years coping with studies and having games overseas. I would often have to miss school because of basketball; I remember missing about eight days during my N-Level period for SEA Games in 2011.
O-Levels was definitely tough, but that also made me realise how important it is to manage your time well. From that experience, I gained a few values: being disciplined, having good time management, and focusing on one thing at a time.
I was scouted through school competitions and local 3-on-3 competitions. I remember being called up and invited for a lunch with the boss, the GM, head coach and my parents. I was called to one of their training sessions one day to discuss my contract.
Everything from that time on still feels surreal - even after 10 years, I am still grateful for the opportunity to have started at a very young age. It gave me a lot of exposure as compared to my peers.
There was definitely pressure being the youngest there, and also the youngest to ever join the Singapore Slingers. At such a young age, many will doubt you, many will look down on you, but all you have to do is keep moving forward.
I may not have had a good early start, but I'm still here and still trying to improve, even though I've been part of the "starting 5" since I was 22.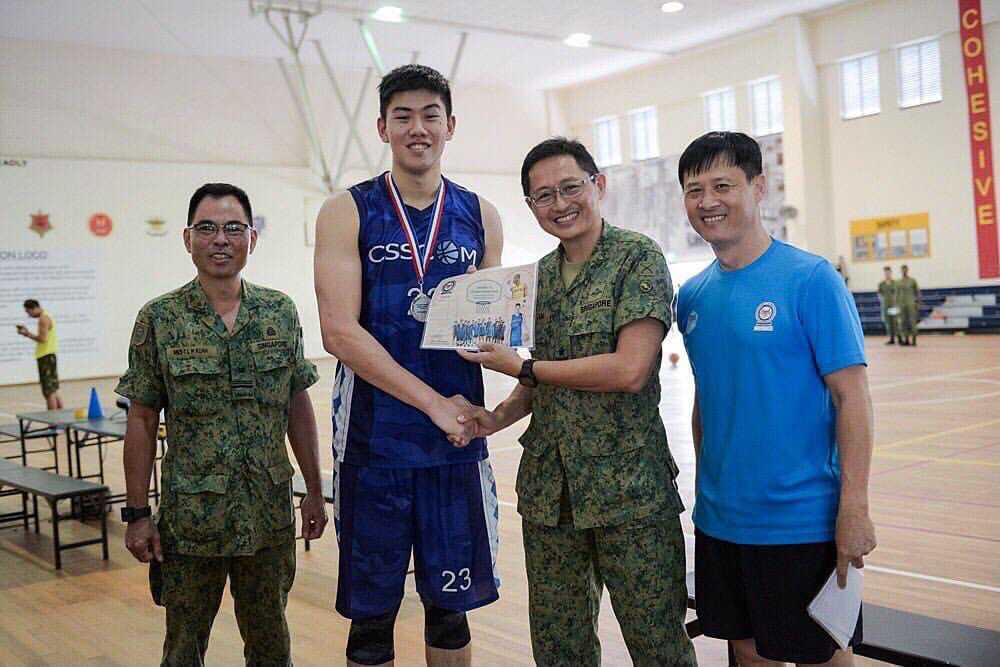 What was national service like for you ah? Did you get arrowed a lot cuz you literally stuck out?
It was a good experience, let me tell you! I got a bit of everything from the NS of the oldies, and also the type of NS experience you see in "Ah Boys To Men", but things have changed so much. They were definitely still very strict about things though, but I would say it's good for the discipline of a man - something that will be helpful in the future!

I was in Ordnance Engineering Training Institute for three months where we are trained to be technicians for military vehicles - I was in wheels tech. Afterwards, I focused on the maintenance of Terrex vehicles.

It was definitely not easy when I had to stay in, and was only able to train on Saturdays and play a game on Sunday before booking in on the same night. But once I was posted to my unit (a stay-out one), I could go for training, national games or SEA games overseas using a scheme called Full Paid Unrecorded Leave (FPUL) which wouldn't affect my actual 14 days of leave.
As for the Slingers, because it is a private limited company, I had to apply for leave.
The unit I was in was under Combat Service Support Command (CSSCOM). We had an annual division basketball competition where different formations would come and compete. My team and I were able to secure first runner-up in our first year and became champions in our second year.
It helped that our formation training was in the morning, and just a 5-min stroll from my house. We started at 8.30am and finished around 11am, after which I'd head home to rest, shower and book in only at about 1 or 2pm.
This meant that I could still train regularly... which I am very grateful for. So instead of being arrowed, I was blessed!
Who are some of your basketball idols that you model your playing style after?
In the early stages, Kobe Bryant was who I wanted to play like. Slowly, as the game evolved, I would go into Youtube and start looking at different things that players do, and try to combine it all - players like Lebron James, Gianni Antetokounmpo and Dennis Rodman. Different players have different strengths.
I would suggest all basketball players to search for "attention to details basketball" on Youtube, to watch how they explain all the things that the players do.
What are some of your biggest challenges as a professional basketball player?
The biggest challenge would be the lifestyle. You have to sacrifice a lot of your time. When your friends are out playing, at home resting, you will be at training. When your friends have a day off on Sunday, you have a game. When your friends are out at night, enjoying themselves, staying over, you are too tired to go anywhere because you might have training the next morning.
It will never be easy but I have been there, done that, so yeah... SACRIFICE.
In your opinion, what has been your biggest achievements so far in the sport, whether it's with the Singapore Slingers or National Team?
For the Singapore Slingers, I think there are a few achievements:
Being in the finals three out of four years in the ASEAN Basketball League.
From being able to count the number of fans at the arena to eventually having it sold out in a couple of minutes. Our fans are like family. You can see the support they give us, the cheers that they shout, it is just incredible.
For the National Team, it would be getting the Bronze medal for two consecutive SEA Games in 2013 and 2015.

How do you think the profile of basketball as a sport can be raised so that Singaporeans can get more involved in it on a grassroots level and see the potential of it as a career path?
Look at our neighbourhoods - every single one has a basketball court. There are so many things that can be done with them. I myself came from the streets, and I would love to travel around all the courts in Singapore, to talk and play with whoever is there.
Every successful career comes from hard work and determination. If I can fight my way up from the streets to the school team, National Youth team to National men's team, and to the one and only professional team in the country, I am sure that many others can too - but it is definitely not going to be easy!
Wah seh, we saw that you and some of the Singapore Slingers did a fun collaboration and photo shoot with Boss - so fashion! Would you consider yourself a fashionable person and how would you describe your style off the court?
(Laughs) Good question, good question. I think it is something for the public to judge. I will definitely say that we are not just jersey-and-shorts type of people. We do dress up when we head out.
My style would be jeans and t-shirt, often a black t-shirt. Different occasions have different dress codes but we can definitely change it up from jersey/shorts and t-shirt/jeans to t-shirt/jackets/suits.
Watch Delvin make a cameo in the basketball-themed music video for 'Dust It Off' by local rappers FRGN and JJDROY.
For the latest updates on Wonderwall.sg, be sure to follow us on TikTok, Telegram, Instagram, and Facebook. If you have a story idea for us, email us at [email protected].