The Art Of Fast Food: Canvassing Support For Local Talent At Shake Shack Joints
It is a happy thing when the worlds of food and art come together - talk about a feast for the senses! And one popular fast food joint on our Little Red Dot throws the spotlight on local art and artists every time it opens a new outlet.
We're referring to famous New York burger chain Shake Shack, and the launch of their seventh (yes, seventh) joint. And to think it's only been just over two years since we were first introduced to them at Jewel Changi Airport.
Their latest outlet opens at Gardens By The Bay tomorrow (28 Aug). The perfect excuse to go paktor with bae this weekend? (stay safe ya).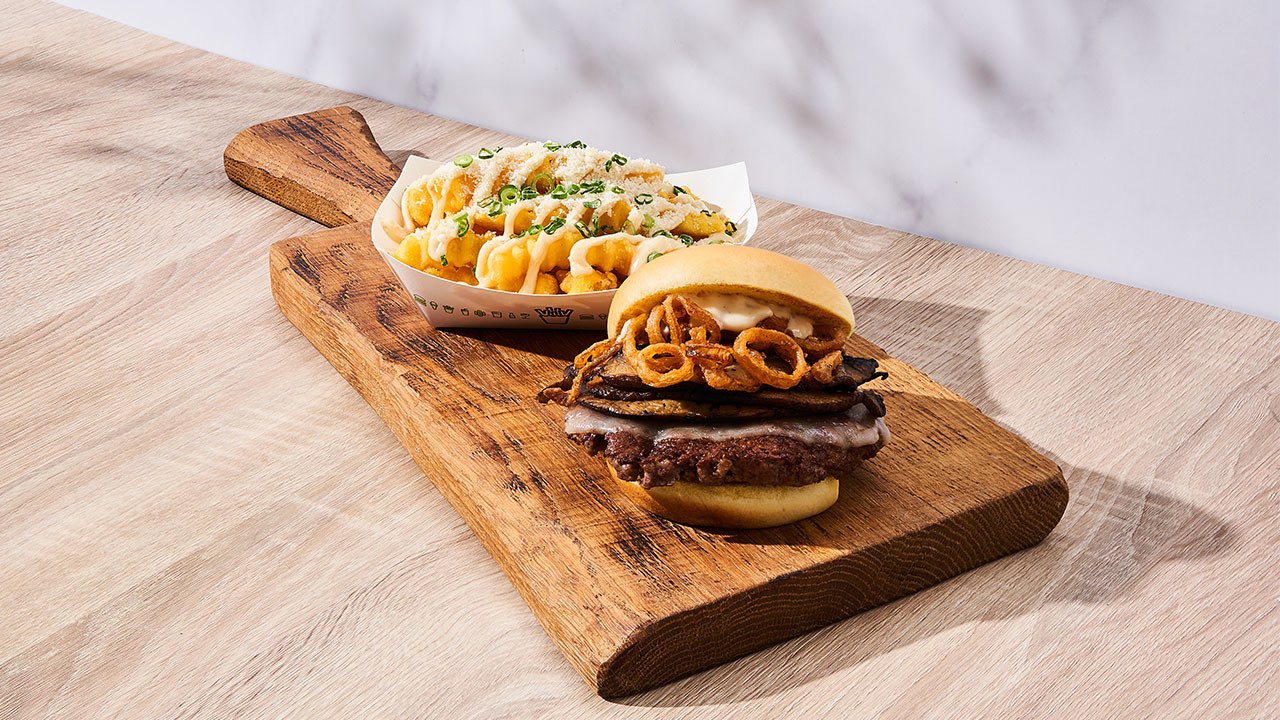 Before we launch into art appreciation, we've got to show some love for a couple of menu items that will make their debut at the Gardens By The Bay outlet: we're drooling over the Roasted Garlic Mushroom Burger and Crinkle Cut Fries topped with roasted garlic mayo (these will be available at other Shacks from 3 Sep 2021).
Plus, expect two deliciously refreshing menu concretes: Berries by the Bay and Tropic Like It's Hot.
Now that your appetite has been satiated, feast your eyes on the visually stunning canvases of local artist Soph O, and others whose works grace the walls of the various Shake Shack outlets around Singapore:
Gardens By The Bay
Featured artist: Soph O
At Gardens By The Bay, you'll be surrounded by a multi-hued mural featuring a floral-inspired palette and dynamic, abstract shapes. Entitled "Passion Flora", it is an apt piece that has been executed by Soph O, who draws inspiration from transient moments and everyday stories.
---
Great World City
Featured artist: Toby Tan
Better known as @tobyato, Toby has applied his stencil-like style to everything from shoes to skateboards. He has even used a basketball court as a giant canvas. This colourful piece for Shake Shack's 6th outlet is inspired by the iconic Great World City amusement park of the past.
---
VivoCity
Featured artist: Soh Ee Shaun
Even without a formal art background, Ee Shaun has created artworks and illustrations for global agencies and brands, and has held exhibitions around the world. His distinctive art style, which is spontaneous and non-linear, is seen in this fun, vibrant piece at Shake Shack VivoCity, representing the relaxed yet energetic vibes of the Harbourfront neighbourhood.
---
Suntec City
Featured artists: Ripple Root
Estella Ng and Liquan Liew - the local artist duo behind the moniker Ripple Root and this vibrant mural representing the hustle and bustle of Suntec City - are known for their nature- and wildlife-inspired works rendered in lively brushstrokes, exuberant palettes, and a whimsical spirit. Fun fact: the geometric triangle-shapes inside this Shack outlet are a nod to Suntec's iconic triangular roof patterning.
---
Orchard Road
Featured artist: Danielle Tay
An artist who always aims to make visible that which is unseen, Danielle is responsible for the art displayed at the Orchard Rd outlet, whether it was on the hoarding before the outlet opened or the walls inside. The former showcased all of Singapore's major landmarks enveloped by flora and fauna, while the latter serve as canvases inspired by the history and significance of the Singapore Botanic Gardens.
---
Neil Road
Featured artists: Mural Lingo
There's a reason for tigers to be featured prominently in this mural by the team of artists from Mural Lingo, a social enterprise founded in 2014: the building that Shake Shack occupies here was once the Eng Fun Tong factory, where Tiger Balm was manufactured. Altogether now: ooorrrhhh!
The Neil Rd outlet is the only one in Singapore with two commissioned artworks. Just outside the building is this striking 13.5m x 8.5m mural done by Sam Lo – a love letter to the neighbourhood with auspicious Chinese symbols like the Qilin (a Chinese mythological creature) and multicoloured Peranakan tiles.
---
Jewel Changi Airport
Featured artists: 8EyedSpud
And we're back to where it all began. Bespectacled BFFs Natalie Kwee (Nat) and Jacqueline Goh (Jackie) aka 8EyedSpud created this 10m mural for the first Shake Shack in Singapore, complete with over 150 unique characters in a "Where's Waldo"-esque scene filled with familiar local sights. See if you can spot the two of them in the artwork!
For the latest updates on Wonderwall.sg, be sure to follow us on TikTok, Telegram, Instagram, and Facebook. If you have a story idea for us, email us at [email protected].