Throttle Up: Everything You Always Wanted To Know About Flying Drones
Tong Cheuk Fung is not one to stand still. His passion lies in the skies. So when the whole world came to a standstill during the pandemic, making overseas travel impossible, he decided, in his own words, to take 'domestic flights' by obtaining his UAPL (Unmanned Aircraft Pilot License) and founding his very own drone production agency, ThrottleUp Creation.
"Flying a drone is similar to riding a bicycle and skiing, it is best to develop these motor skills and muscle memories from young. Many of the fastest drone racers around the world are actually teenagers, some are as young as 10-11 years old."
But Tong, who is in his 30s, also believes that drones can be fun for all ages, regardless of whether you are a novice hobbyist or an aspiring pilot. His team of pilots conduct regular workshops and events to provide students with an introduction to piloting skills and drone technology. We spoke with the man about the biggest misconceptions about flying drones and where exactly can you operate them in Singapore.
What attracted you to flying drones?
I like being in motion, which led me to doing things like mountain biking, motorcycle touring, skating, driving cross-country vehicles, and parachuting in the army.
When I found out about drones, especially FPV (first person view) drones, it is a different level of being in motion. Although my body doesn't physically fly with the drone, my mind and soul do as it is an out-of-body-experience when I am flying with my goggles over my eyes, controller in my hands, and the drone zipping around in the air.
What are drones mostly used for in Singapore?

I guess it would be for video, photography for filmmaking, weddings, and corporate videos. They are also used for doing inspections of buildings and landscape, monitoring of places and people.
Some companies also use them for delivery, such as delivering medical supplies to ships offshore, and application in agriculture.
What inspired you to start ThrottleUp Creation and what do you aim to achieve with it?

It all started in the middle of Covid-19, while we cannot travel overseas, I had the idea of making domestic flights with drones within Singapore during this pandemic. As physical activities are restricted, businesses who shifted to digital and content creation boomed even further at a commercial and also individual level. 
One of our focus is content creation with FPV drones where we can fly acrobatically, making cinematic and inspiring FPV videos that are not achievable with on-ground camera, nor with the usual camera drones. Not only FPV pilots can fly high in the sky but also capable of flying indoor in tight spaces, close to objects and people, and fly through gaps, creating one-shoot videos giving new perspective to the audiences. 
Besides content creation, we would also like to put our effort in educating people about drone safety, regulations, basic controls, and support them in the kind of drone applications they wish to go into, or simply have fun flying.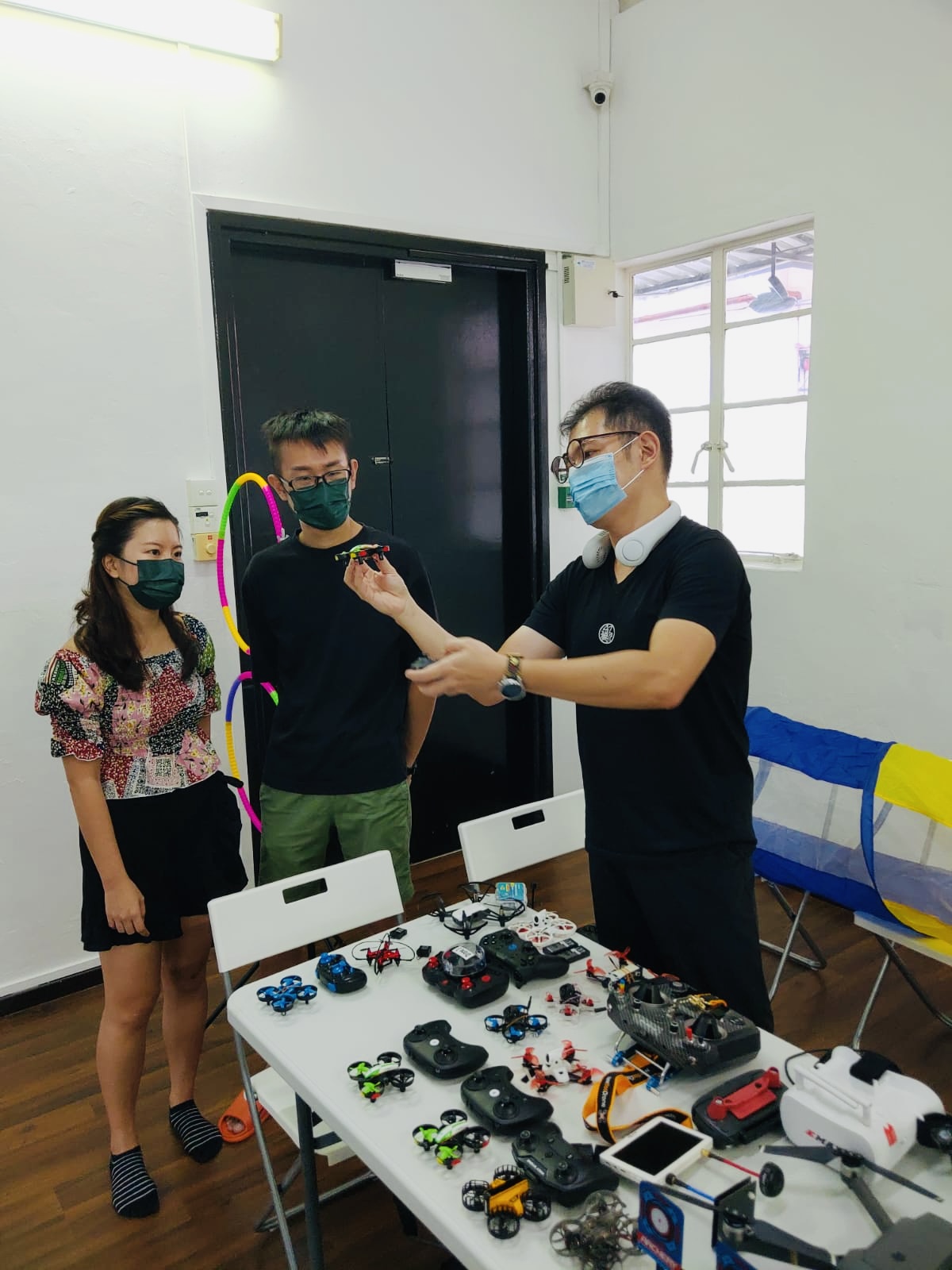 There seems to be a growing interest in drones generally. What kind of participants do you usually get?

Most of our participants are beginners who are learning about and flying drones for the first time. We start with drone safety, regulations, basic knowledge, and basic flight controls, which are important fundamentals for all drone pilots.
There are also some who have owned and flown drones in the past, but stopped due to the newly implemented regulations, and they are unsure where they can fly without breaking the law. So we help them learn about the drone regulations and how they can have fun flying again.
Some consumer drones, with all the software applications, sensors and GPS make it easy to fly out-of-the-box for consumers, hence many people rush into it without investing time to learn about the fundamentals, resulting in accidents, losing the drones, burning a hole in the wallet, and selling the remaining controller and accessories on Carousell. Hence, we emphasise on learning the fundamentals of flying, safety and regulation before thinking about the camera, sensors, etc.
We also welcome advanced pilots to fly at our indoor drone tracks, which offer a comfortable and fun place to fly, without worrying about the rain or the hot sun, or breaking things in their house.
What are some of the biggest misconceptions about operating drones in Singapore? Do you need a permit to operate it recreationally?

The drone regulations can be very confusing to the general public. There is little opportunity for people to learn about it unless they are licensed drone pilots, or avid recreational pilots. Many people have only heard about bits and pieces of the regulations and make up the rest with their own assumptions, resulting in ill-informed pilots making violations, or members of the public telling legit pilots that we cannot fly or calling in the authorities.
"Do you need a permit to operate it recreationally?" The short answer is no, the not-so-short answer is yes. Whether it requires a permit or not depends on a combination of different factors, such as - where you fly? How high you fly? Which drones you fly? For what purpose?
It is best not to make your own assumption, you will be surprised you will need a permit to fly drones indoor, unless it's your home. You are welcome to join our basic drone workshop to learn more.
Another common misconception is that drones must be flown outdoors. While most consumer drones can only operate in open spaces outdoors, as mentioned, our micro FPV drones and skilful pilots are capable of flying indoors (with permits) in tight spaces, close to objects and people, and flying through gaps.
There are so many places I'd love to film from a bird's eye view, but cannot, right? Where are we allowed to fly drones in Singapore?

As mentioned, where we can fly drones, with or without permit, depends on a combination of different factors, such as Where you fly? How high you fly? Which drones you fly? For what purpose?
It is not just where. You are welcome to join our basic drone workshop to learn more.
If there are such limited spaces to fly drones in Singapore, what can I do with the knowledge I've picked up from your course?

It is only with the right knowledge about drones and the regulations that you can unlock their full potential within the boundary of Singapore's limited spaces.
For recreational pilots, you will know where, how, and what you can fly for the fun of flying, or to capture nice photos and footages within the "fly-zones", and how you can apply for permit when you wish to fly at "non-fly-zones". If you are into speed, acrobatic and technical challenges, there are also places in Singapore where you can do drone racing and freestyle flying, same regulations apply.
Besides flying, the knowledge you will acquire along the way can be useful and enriching, such as electronics, radio signals, aerodynamic, video transmition, GPS, batteries, etc.
For those who wish to explore drones as a career, it is like being a commercial pilot in the sense that piloting skills, technical knowledge, laws and regulations, judgement, and experience come together when delivering your service in whichever drone applications you will be doing.
Talking about limited spaces to fly in Singapore, besides workshops at our studio, we are starting our online drone workshop where you can learn to fly a drone at the comfort of your home. With a small beginner drone, a HDB flat is big enough to learn how to fly. I often test and fly drones at home just for fun, and also setup drone tracks and invite friends too. We will teach you how to have fun flying at home.
Should I sign up for drone courses meant for drone license?

Drone courses for getting a drone licence usually take up a week with full-time commitment and cost over 4 figures. This is not counting the extra time & cost for more flight practices, and accounting for bad weather when flight practices are being disrupted. After the course, you will need to study and prepare for the written exam by CAAS (Civil Aviation Authority of Singpaore) and practical assessment before you pass and apply for your drone license.
Very often, many people are not able to commit the time, are overwhelmed by the course content, struggle to pass the exam, and end up losing interest and wasting money.
That is why ThrottleUp offers a 2-hour basic drone workshop at a fraction of the cost to give people a taste of drone flying before they decide to pursue this new passion further.
For more information on the Let's Fly Drone Workshop, click here
Follow ThrottleUp Creation on IG at @throttleup_creation and @pilot.tong
For the latest updates on Wonderwall.sg, be sure to follow us on TikTok, Telegram, Instagram, and Facebook. If you have a story idea for us, email us at [email protected].