Fun Places To Explore In Singapore With Grandparents
Spend quality time with grandparents exploring Singapore, one adventure at a time, at these vibrant, relaxing attractions. (Bonus: They're great for kids too!)
Check out these fun venues:
Whether it's blazing hot outside or pouring down with rain, spending some time at the S.E.A. Aquarium at Resorts World Sentosa is always fun for everyone. Home to more than 100,000 aquatic creatures from over 4,000 different species, the S.E.A Aquarium is easily one of Singapore's most fun indoor attractions for all age groups. It will be fun to see if the grandparents know more than the kids or if the kids can teach the grandparents a thing or two about the giant manta rays, different types of jellyfish and sharks, schools of tropical fish and many other types of marine life. If you need them, wheelchairs are available for rental at Level 1 Guest Services Counter (only for use within the Aquarium of course).
2. Go museum-hopping
Singapore is home to so many different types of museums (most of which are wheelchair-friendly), so you really can't go wrong with picking one to check out with grandparents. For instance, there's the iconic ArtScience Museum at Marina Bay Sands, where art, science, culture and technology come together; the National Gallery Singapore in the Civic District is home to the world's largest public collection of Singapore and Southeast Asian modern art; learn about Singapore's (and indeed Asia's) rich cultural heritage and history at the Asian Civilisations Museum, Singapore's national museum of Asian antiquities and decorative art; while the National Museum of Singapore is Singapore's oldest museum that seeks to inspire with stories of Singapore and the world, with its history dating back to 1849.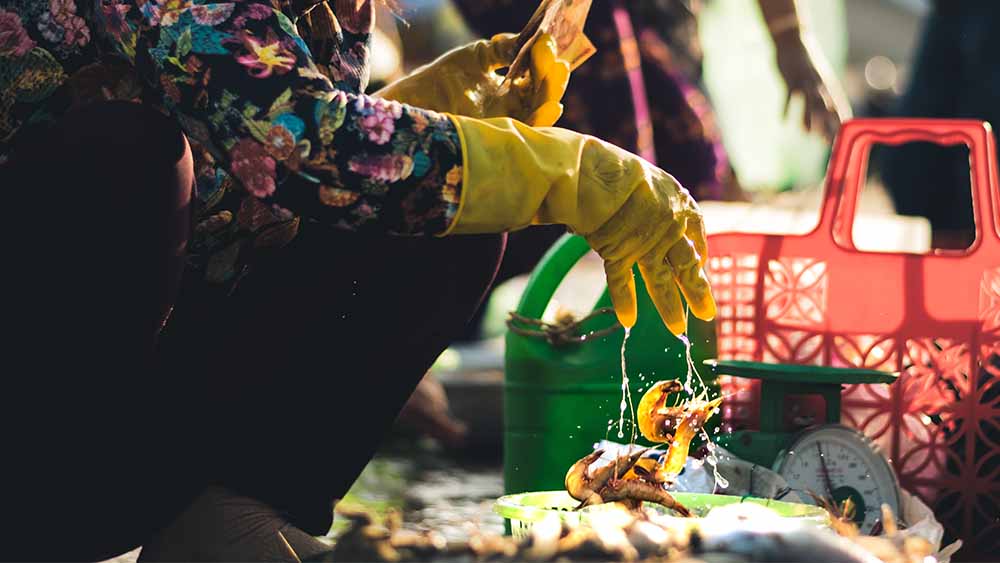 IMAGE: UNSPLASH/AMEYA SAWANT

3. Visit a wet market
Many of Singapore's neighbourhoods have a wet market, so it's easy (and free) to explore them with grandparents. They're sure to tell you fun stories 'from their time' about some fruits and vegetables that you wouldn't even have heard of. Plus you can stop off for lunch at the next door food centres afterwards after seeing all that lovely produce.
Spend a leisurely afternoon or evening on Singapore River Cruise electric-powered bumboats, as they cruise up and down Singapore River, gently gliding past popular areas such as Clarke Quay, Boat Quay, the Merlion and Marina Bay Sands. Enjoy a fun history lesson and a walk down memory lane with the grandparents telling you about Singapore's transformation from fishing village and trading port to the global city it is today, and how much the island has changed since they were kids.
Earn huge brownie points with grandparents by letting them soak their tired feet at Sembawang Hot Spring Park, Singapore's only natural hot spring park. Not only is access to the hot springs totally free, but the Park also boasts Japanese-style hot spring eggs at the dedicated egg cooking station, as well as rustic nature trails reminiscent of Singapore's old kampungs, and naturalised streams flowing from the hot spring, which mimics the freshwater swamp forest landscape. The hot spring and nature trails are also wheelchair-accessible.
With admission being as high as $43.20 for entry (for Singapore residents), grandparents only pay $20 for entry to the Singapore Zoo, so it's well worth splurging a little here. Not only are the walkways really wide to accommodate wheelchairs (which are also available to rent for free by the way), but each entrance ticket also includes unlimited complimentary tram rides to explore the park at a more relaxed pace. The trams also have special slots for wheelchairs, so you and grandparents can comfortably get around the zoo while listening to the animal stories and seeing the different animals in their enclosures.
7. Flower Dome at Gardens by the Bay
A stereotype about grandparents is that they LOVE plants. So if you're looking for a fun and memorable experience to share with your grandparents in Singapore, visiting Flower Dome at Gardens by the Bay should be at the top of your list! This conservatory is a true gem, showcasing an incredible variety of plants and flowers from around the world in a breathtaking indoor environment. Imagine walking amongst a sea of vibrant blooms, surrounded by stunning landscapes that are sure to delight your senses. Not only is Flower Dome visually stunning, but it's also highly educational, offering visitors a chance to learn about the ecology and history of the plants on display. Your grandparents will love this immersive experience, and you'll get to create wonderful memories together as you explore the botanical wonderland. With so much beauty and learning in one place, Flower Dome is a must-visit attraction that promises to be enjoyable for people of all ages.
PS – Entry rates are only $8 for seniors, as compared to $12 for adults
Finally, amidst all the walking, don't forget to feed your seniors! Grandparents are always feeding their grandchildren, so why not give them a break and treat them to a special meal together? Spending quality time during a traditional breakfast or a hearty afternoon tea at one of their favourite eateries sounds good to us!
For the latest updates on Wonderwall.sg, be sure to follow us on TikTok, Telegram, Instagram, and Facebook. If you have a story idea for us, email us at [email protected].
Additional reporting by Sam Wong