Christmas Crafting: Turn Clothes Pegs Into Awesome Holiday Ornaments
With the holiday season in full swing, how about a unique Christmas craft to decorate your tree?
Make adorable clothespin people ornaments dressed in bright colours and cozy scarves. With some imagination and simple steps, you can even make a whole clothespin family.
Sometimes called "dolly pegs," these clothespins can double as figurines for dollhouses or other imaginative play. If you're drawn to natural, wooden toys, then these rustic clothespin people are right up your alley.
We'll show you how to make a boy and girl, but the best part about this craft is its limitless OOTD options so we can't wait to see what you come up with on your own!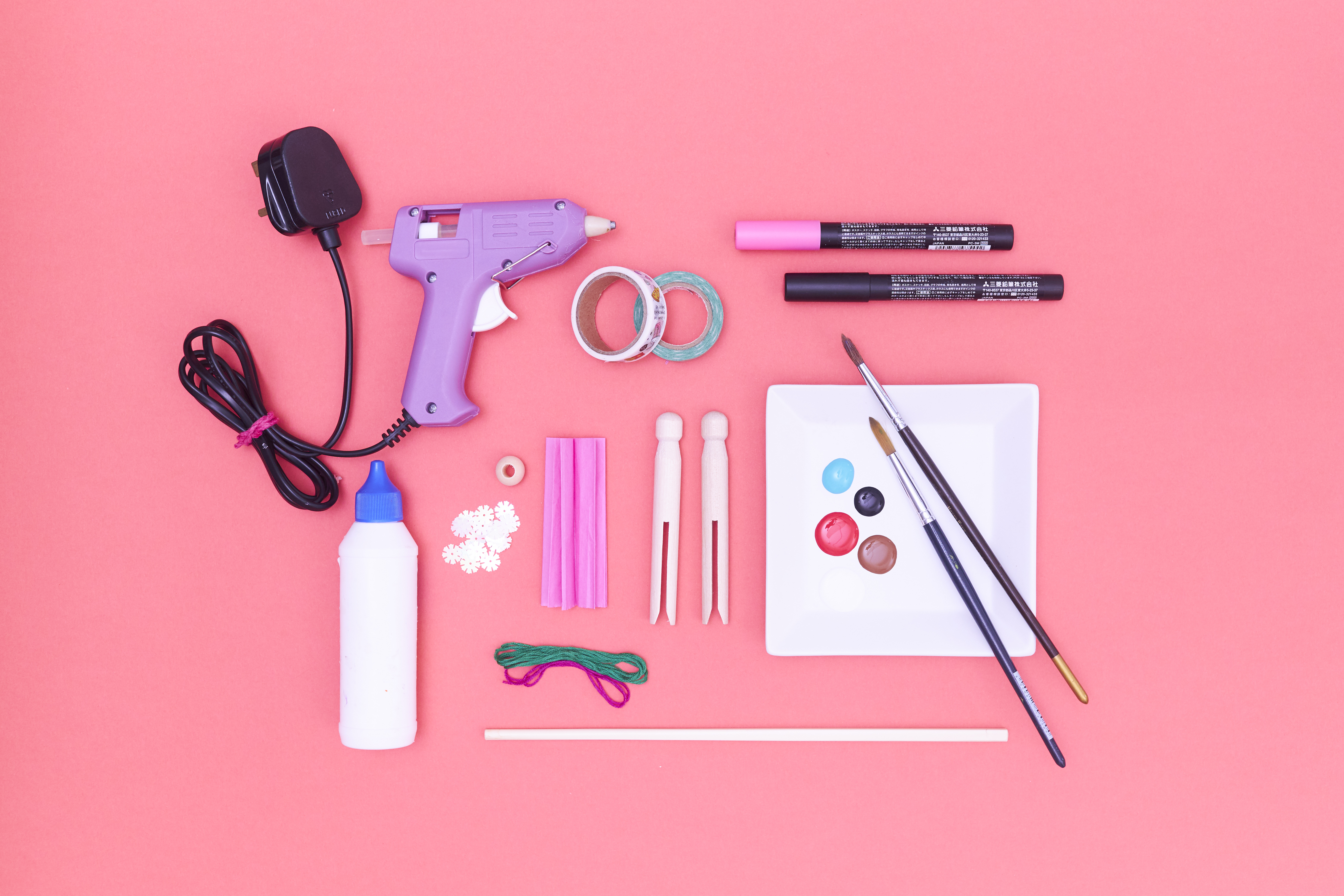 You'll need:
· Round wooden clothespins
· Acrylic paint in black, red, blue, brown, white and pink
· Paintbrushes
· String
· Washi tape
· Wooden bead
· Skewer
· Pink crepe paper
· Optional: Snowflake sequins or any sequins you'd like
· White glue
· Hot glue gun
· Scissors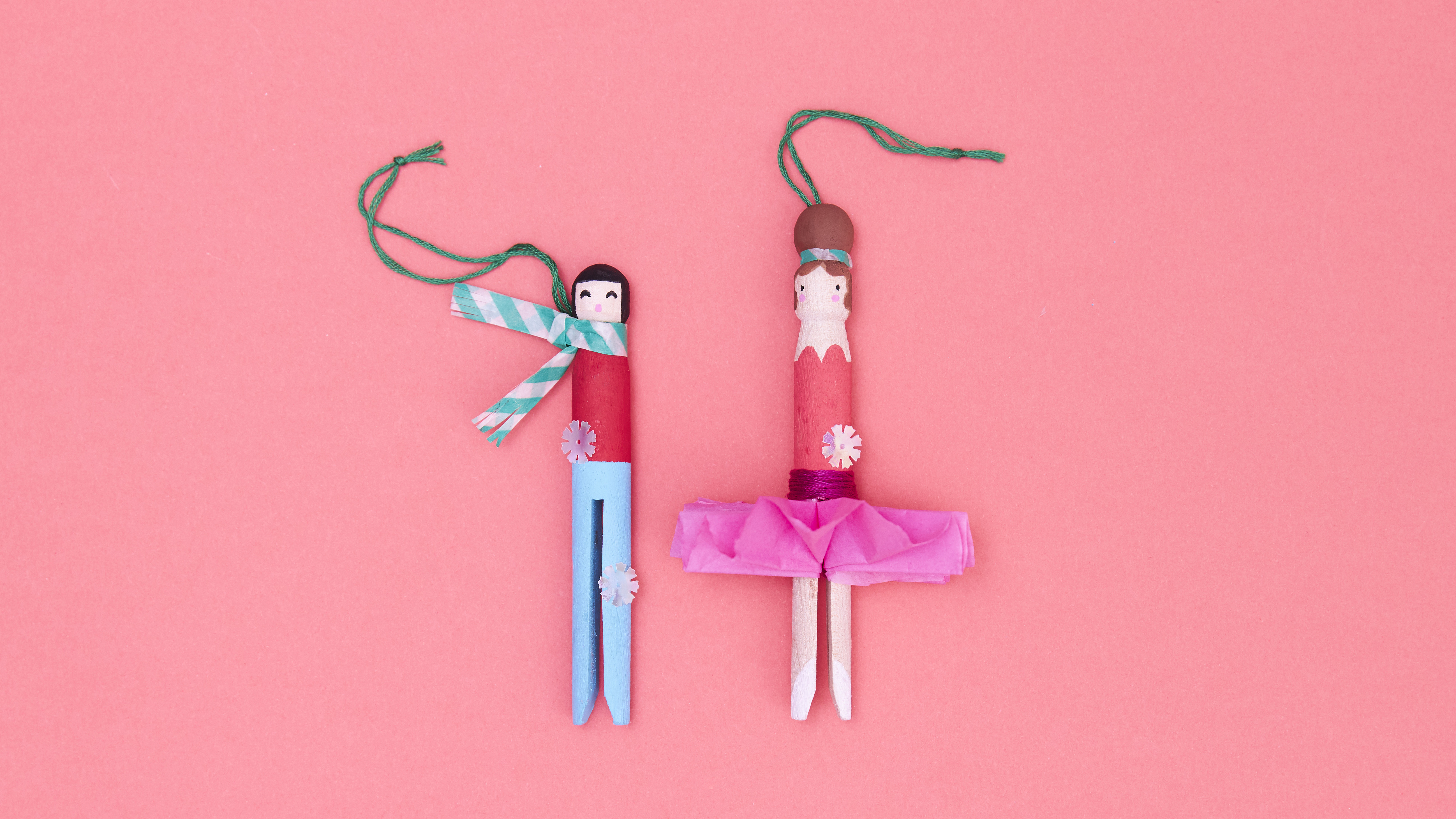 How to make the boy:
1. Paint his hair and clothes.
Use black acrylic paint for his hair. Use red acrylic paint for the top and blue for the pants. (Tip: To paint a straight line between his top and pants, use washi tape to mask one side while you paint the other side).
2. Tie a loop for hanging.
Loop a piece of string around his neck to hang on the tree later.
3. Add a scarf.
Here, we used washi tape to create his scarf, but feel free to experiment with other materials such as ribbons, scrap fabric or felt. We also styled our guy's scarf to the side to make him look adorably windswept.

4. Draw in his face.
Perhaps a merry expression befitting a merry Christmas? We like using paint pens to draw faces for the sake of ease and precision, but it's fine to use acrylic paint and draw his features with a thin paintbrush.
5. Decorate with snowflakes.
This step applies to both the boy AND the girl: Just for fun, glue on a couple of snowflakes or any shiny sequins to boost the Christmas holiday feels.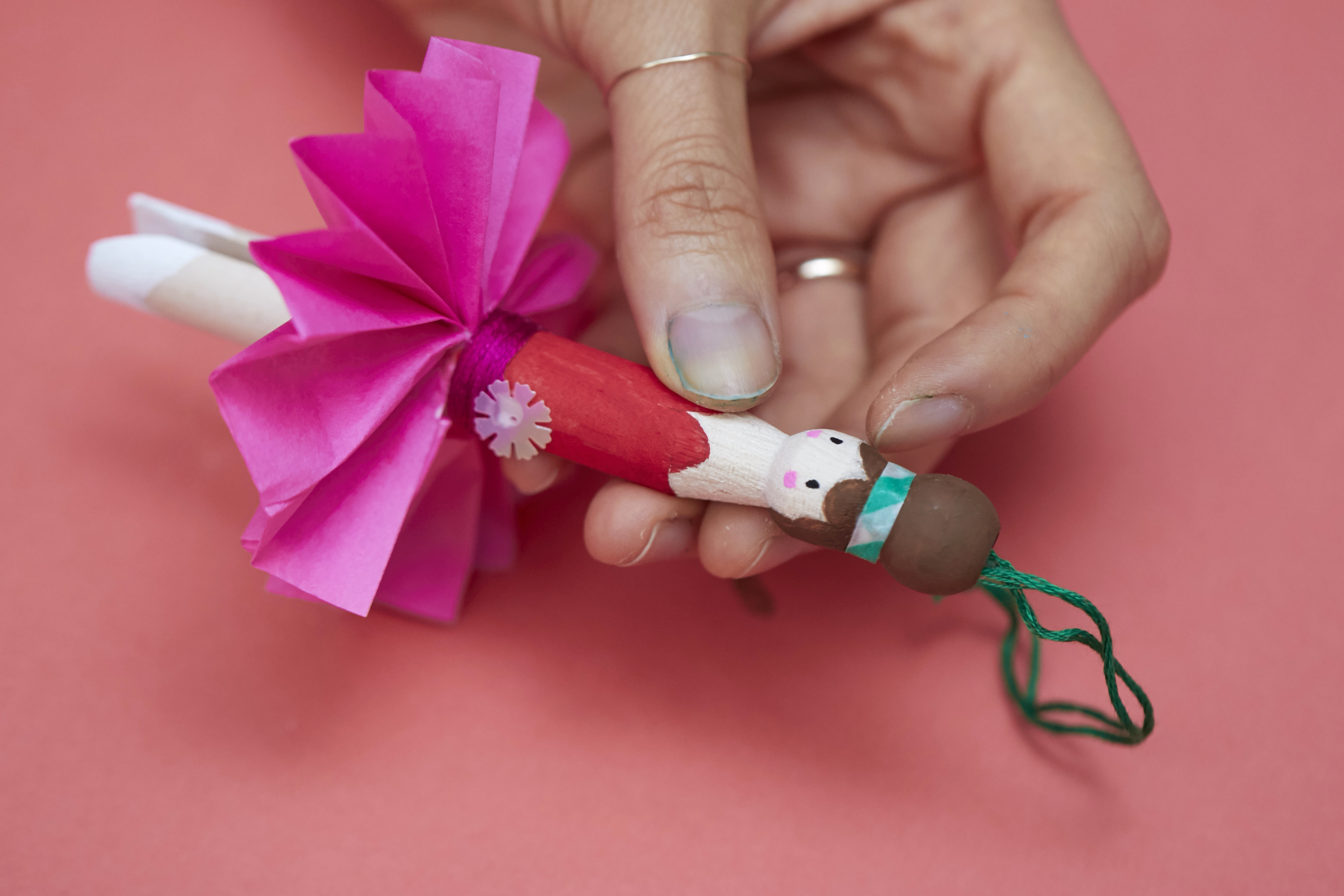 How to make the girl:
1. Paint and glue on her ballet bun.
First, create the ballet bun by painting a wooden bead with brown acrylic paint on a skewer. Then paint her hair on the clothespin. Once the painted bead is dry, hot glue it on top of the clothespin.
2. Create her ballerina outfit.
Using red acrylic paint, draw her top with a sweetheart neckline. Use white acrylic paint for her shoes.
For her tutu, you'll need 2 squares of pink folded crepe paper. Daiso sells them pre-folded (look for "Flower Paper") but you can also accordion-fold the crepe paper yourself. Dab some glue between the clothespin prongs and slide the folded paper all the way up. Open the folds and glue the ends together on both sides. Wrap and glue on a piece of string for her belt.
Add a hair tie to complete her look. We used the same washi tape as the boy clothespin's scarf since they're a couple, but feel free to use any material you wish.
3. Draw in her face.
Eyes, mouth, and make those cheeks rosy.
4. Attach hanging string through hair bun.
Tie a loop and hot glue the end inside her hair bun. Done! Now go hang your handmade clothespin people on a tree where they're bound to stand out from other ornaments.
For the latest updates on Wonderwall.sg, be sure to follow us on TikTok, Telegram, Instagram, and Facebook. If you have a story idea for us, email us at [email protected].