What I Eat in My Hood: Jazz Icon Jeremy Monteiro's Fave Spots In Bishan
From 22 Jul 2021 to 18 Aug 2021 (both dates inclusive), social gathering group sizes will be reduced to a maximum of 2 persons and dining-in at all F&B establishments will cease. For a full list of safety measures, click here.
The information in this article is correct at the time of publishing.
It's understandable when people overlook Bishan as a makan destination. After all, it's sandwiched between foodie havens Toa Payoh and Ang Mo Kio.
But for renowned jazz musician and long-time Bishan resident Jeremy Monteiro, some of his favourite eats are here, or more specifically, in the Marymount SMC section of Bishan North, where he lives.
"I don't really go to the Bishan Junction 8 side to eat. Apart from maybe the hae piah at the ngoh hiang stall at Kim San Leng. When I have the jones for hae piah I'll go there," Jeremy said, before adding: "Oh, and the Odeon Beef Noodles at the Junction 8 food court. I think this is the only thing I like there – the "dry" beef noodles, not the soup version. But other than that, I hardly ever go there."
Where you'll find Jeremy would be at the eateries along Bishan Street 22 or 24. "It's convenient. I stay around here and these are all just 400m from me." Here are some of his favourites.
284 Economic Bee Hoon
Location: KPT, Blk 284, Bishan St 22
At lunchtime, you can probably find Jeremy queueing up at the 284 Economic Bee Hoon. "I'm quite fond of the nasi lemak and economic bee hoon here – although economic bee hoon isn't that cheap, as I've come to realise!"
One of his favourite choices here is the dry mee siam. "I remember we used to have to go to Malaysia just to get dry mee siam last time – and they would come over here to get wet mee siam! But now, I can get my dry mee siam fix here! It's really quite good."
Ding Ji Mushroom Minced Meat Noodles
Location: KPT, Blk 284, Bishan St 22
Another favourite is Ding Ji for its bak chor mee. And he has a tip: You know it's a good time to order if the old auntie is working that day. "I used to see her working at night but nowadays I don't often see her. I don't know what it is that she does: I mean it's only bak chor mee, but she really has a way of putting just the right amount of noodles, the right cooking, the right amount of sauces… the whole combination."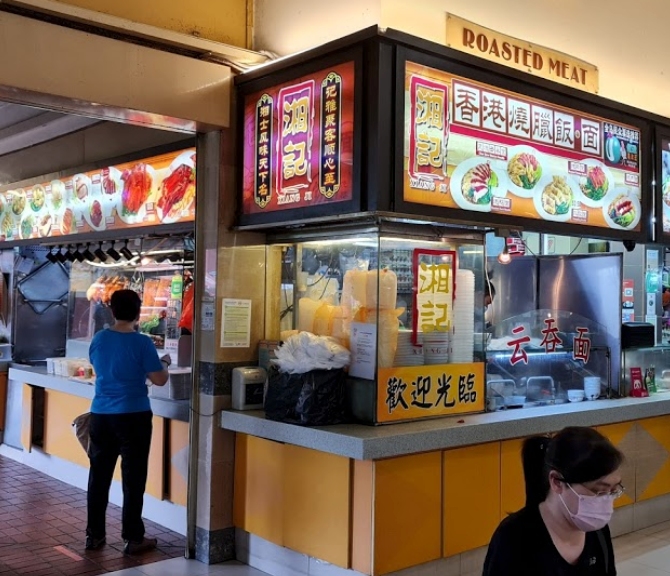 Xiang Ji Roasted Meat
Location: Bishan North Shopping Mall, Blk 282, Bishan St 22
If you're hankering after noodles, then the wantan mee at this stall is a must-try, says Jeremy. "I really like the wantan mee here. I think it's as good as anything I've eaten in Singapore," he said, adding that other delectable choices would be the char siew rice. "The char siew is fantastic – I will also order a trio mix of char siew, roast chicken and sio bak (roast pork). The dumpling soup is really good, too! That's one of my favourite stalls here."
Char-Grill Bar
Location: Bishan North Shopping Mall, Blk 282, Bishan St 22
When he feels like chowing down on some meat, Jeremy will order items such as the ribeye steak. "I quite like this one – the steaks are very decent. They have good pieces of meat which are air-flown. Usually, if I don't trust the meat, I'll not order anything less than a medium doneness, but from this stall, I'll order it medium-rare, because it's really a good piece of meat."
Grub
Location: 510, Ang Mo Kio Ave 1, Bishan-Ang Mo Kio Park Pond Gardens
Speaking of western food, Jeremy will go west (sort of) to Grub in the middle of Bishan-Ang Mo Kio Park. "I really like it. That's a good place, with a nice location. The park ambience there is very nice. They started off being very Australian or western cuisine, but now they have things like har cheong kai waffles, so there's some localisation. It's more like Western fusion. Some of it is quite rich, but I will either make a delivery order or go there four or five times a year."
Chindamani Indian Food
Location: KPT, Blk 284, Bishan St 22
If there's one gripe that Jeremy has about the food in Bishan, it's that there aren't enough Indian or Malay choices. But when he wants a meal that's all spice and nice, he'll opt for the biryani here. "I have to say that at Chindamani, although it's not Indian-Muslim, it has one of the best nasi biryani I've eaten. It's easily as good as anything I've had in Singapore. The prata is also very good. If you come on a Sunday morning, the queue can be very long."
Kool Dessert
Location: KPT, Blk 284, Bishan St 22
To end the meal, choose a dessert here, recommends Jeremy. "I really love this dessert stall with the ice kachang, bubur terigu and all that. I've tried the ice kachang at the Junction 8 food court, but it's nowhere as good as this one," he said.
"I think it's because, this kind of thing, you have to make with love, you know, and the intention when you're making it … it comes through in the food. Some people say ice kachang is just ice kachang. No, it's not. There's a way of making it just right, with just enough syrup. And they do that here."
For the latest updates on Wonderwall.sg, be sure to follow us on Facebook, Instagram and Telegram. If you have a story idea for us, email us at [email protected].