World Pasta Day: What Pasta, Which Sauce - Singaporean Explanations Included!
Pasta-est fingers first: do you know how many types of pasta exist out there in the world? The answer: 350 and maybe even more.
Among these, you probably know the common ones like angel hair, penne, and, of course, spaghetti.
But there are also the more unusual varieties – at least to our Singapore palates – like passatelli (they look a lot like Twisties and are made with breadcrumbs, nutmeg and lemon rind), trofie (these are short twisted ribbons) and schupfnudeln (they are also known as "fingernudel" and, yes, resemble fingers).
Different pastas don't come in different shapes just for fun though. Their form actually makes each of them suitable for various meat and sauce pairings.
To celebrate World Pasta Day (25 October), here are some examples of famous couplings.
Angel hair (shown here), capellini and spaghetti
Goes best with: Lighter cream or oil-based and generally seafood sauces that won't overwhelm their delicate thinness. Also makes it easier for you to pick up a spiral of these noodles with a fork. You'll notice that such pastas are usually served with nothing more than chopped herbs or diced tomatoes to keep things light literally.
It's just like: Mee siam– thin bee hoon in a tangy broth works well and with so few ingredients in it too.
Lasagne (shown here), fettuccine, tagliatelle and pappardelle
Goes best with: Richer, creamier meat-based sauces because wider ribbon pastas soak up all that lemak gravy – sedap! On the contrary, if you pair these types of pastas with a lighter white wine-and-clam broth instead, the noodles will not be infused with a lot of flavour.
It's just like: Your fave fried beef kway teow from your neighbourhood zi char stall. Nothing else does that moreish, gooey egg-and-beef gravy more justice than thick, flat rice noodles!
Rigatoni (shown here) and penne
Goes best with: Chopped but chunkier ingredients. Why? These pastas have external grooves and tubular forms that help to pick up and then trap meat or vegetable morsels so you get a multi-dimensional burst of flavours in every bite.
It's just like: Macaroni with bak chor gravy.
Orzo and ditalini (shown here)
Goes best with: A comforting soup. After all, orzo look like large grains of rice and while some restaurants and home cooks use it in salads, most cook orzo in chicken or vegetable soups for a quick, easy, filling meal.
It's just like: Mui fan, for those of us who can't decide between having rice or porridge on some days.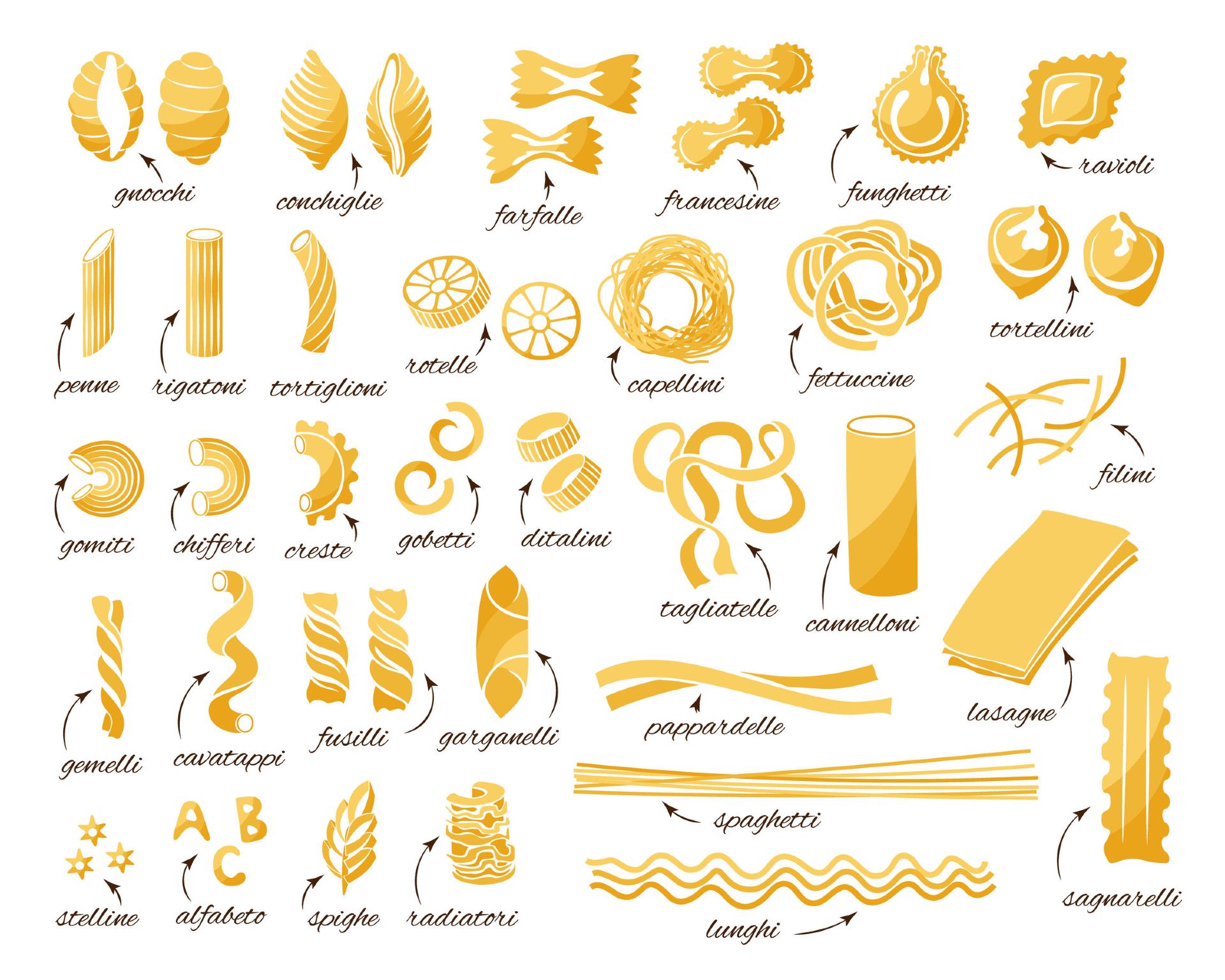 For the latest updates on Wonderwall.sg, be sure to follow us on Facebook and Instagram. If you have a story idea for us, email us at [email protected].