Modern Mid-Autumn Munchies: New Mooncake Flavours To Check Out, Stat!
We asked ChatGPT to help us write a short intro to this article about the new and novel mooncake flavours in Singapore this year. This is what we got: "Delve into a gastronomic odyssey where tradition meets innovation, as renowned kitchens push boundaries with unprecedented flavours. From ethereal osmanthus infusions to enigmatic truffle ensembles, these mooncakes redefine palatal frontiers. Welcome to a symphony of taste, where each bite narrates a story of the cosmos on your plate."
Basically, don't let anyone tell you that ChatGPT can help you write better, kids.
Anyways, here's a handful of new and novel mooncake flavours to check out this year. Happy Mid-Autumn Festival!
Feel it in your bonbons
When you have FOMO but don't actually like mooncakes, the sensible thing to do is opt for edibles that resemble mooncakes. Case in point: Mr Bucket Chocolaterie's box of four chocolate bonbons ($68) disguised as mooncakes. Each scalloped disc features a crisp chocolate shell harbouring various ganache flavours.
There's a Salted Egg Yolk version coated in 72 per cent dark chocolate with a mildly sweet salted egg yolk white chocolate ganache, and a Honey Oolong bonbon with a milk chocolate ganache and 64 per cent dark chocolate shell.
We loved the Pandan Macadamia with a toasted macadamia nut enrobed in a layer of pandan white chocolate ganache atop dark chocolate lotus ganache. The Yuzu Pumpkin bonbon features yuzu ganache, toasted pumpkin seeds and pumpkin seed butter white chocolate ganache.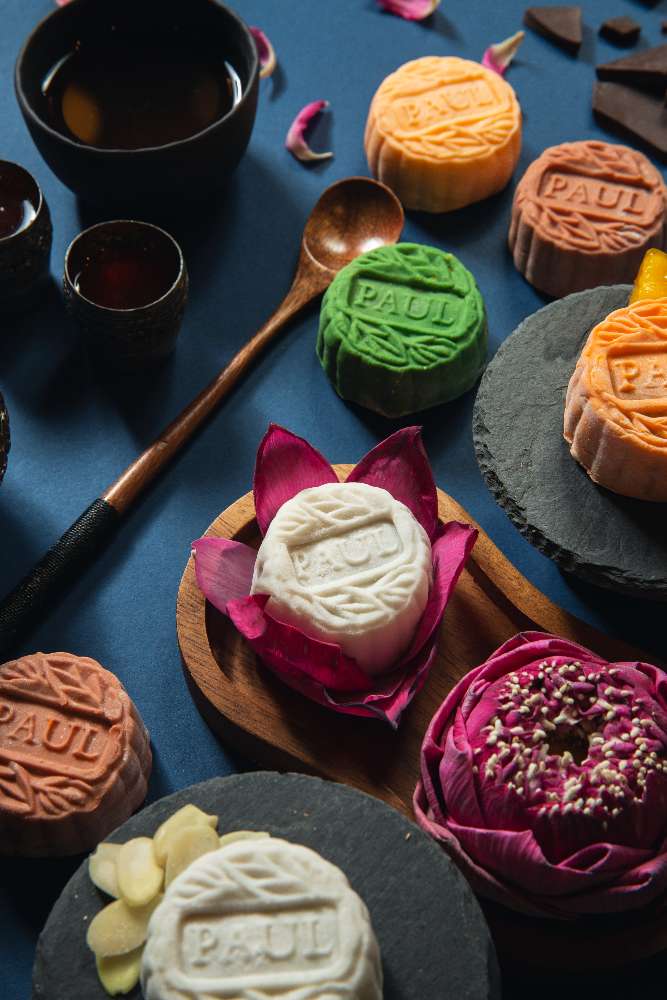 IMAGE: PAUL
Same same, but different
Paul's mooncakes look like regular snow skin mooncakes but beneath their chewy, supple skins are easy-to-appreciate fillings like a creamy pistachio lotus seed paste (the flavour's called Pistachio Paradise, of course), unsweetened peanut butter folded into smooth lotus seed paste (Peanut Butter Snow), mango mousse (Mango Magic!), and a rich chocolate ganache (Chocolate Checkmate — 'cos, as the brochure goes, "bite into this decadent treat and claim, 'checkmate!'").
Each box of eight assorted mini mooncakes sells for $72.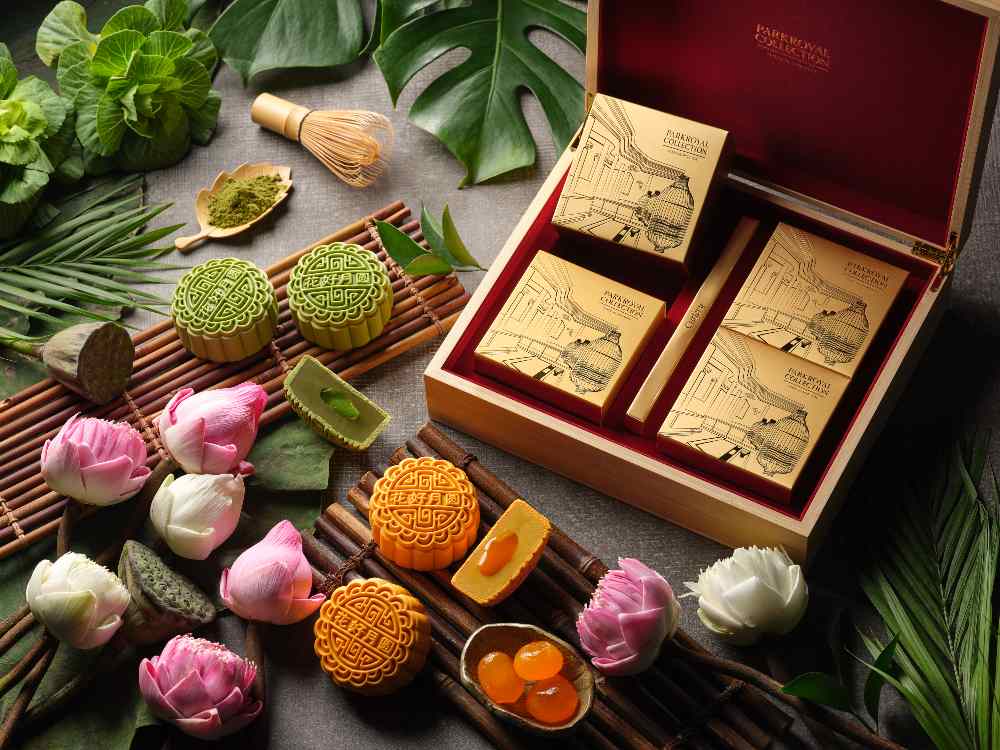 IMAGE: PARKROYAL COLLECTION PICKERING
You gotta lava this
Instagram loves a good oozy-centred edible, so in that spirit, you might consider ParkRoyal Collection Pickering, Singapore's Salted Egg Lava Mooncakes or Matcha Lava Mooncakes ($98 for a box of four). Both promise molten middles beneath traditional baked pastry skins.
If you are ordering to share with more tradition-minded family members, there's a the Fantastic Four ($92) featuring those two flavours along with a White Lotus Paste with Single Yolk mooncake and White Lotus Paste with Lychee mooncake.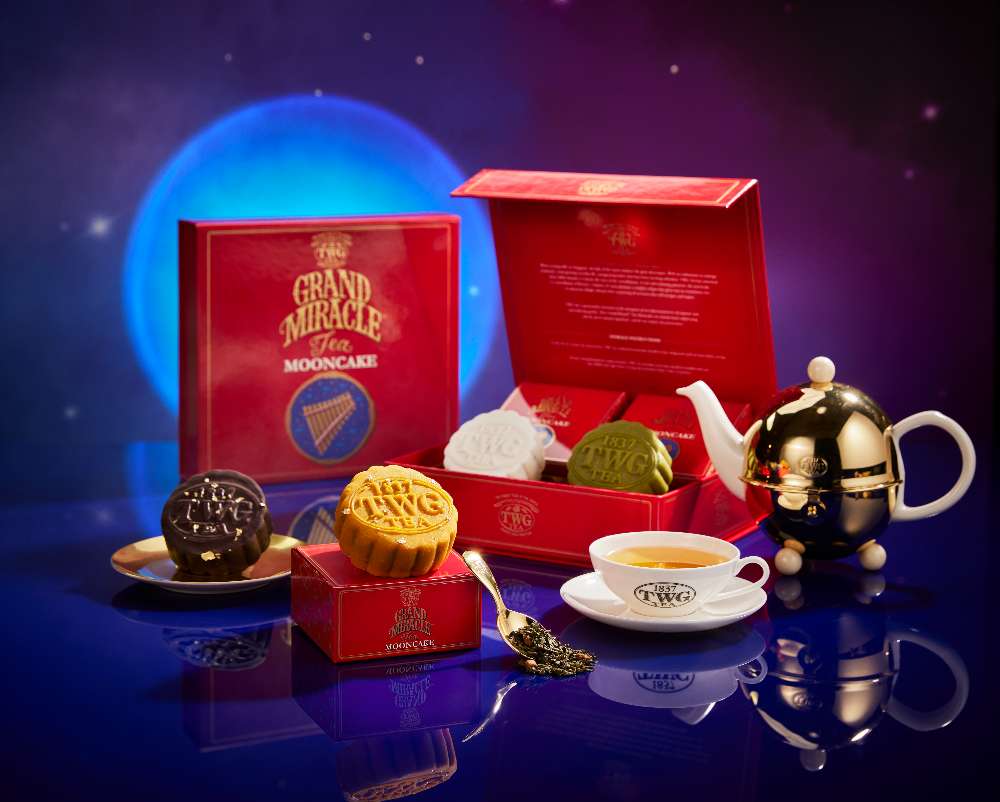 IMAGE: TWG TEA
Everything they brew, they brew it for you
There's a tea for every season at TWG Tea, and this mid-Autumn, there's the Grand Miracle Tea Mooncake Collection. In its gleaming vermillion Grand Miracle Tea Gift Box ($88) is a canister of its fruity namesake tea leaves and your choice of four tea-infused mooncakes.
Choose from the likes of Jewel, a snow skin mooncake embellished with gold leaf and filled with Grand Miracle tea-infused lotus seed and lemon paste, and Jade, filled with almond tea-infused mung bean paste studded with white chocolate pearls and a matcha ganache chocolate heart.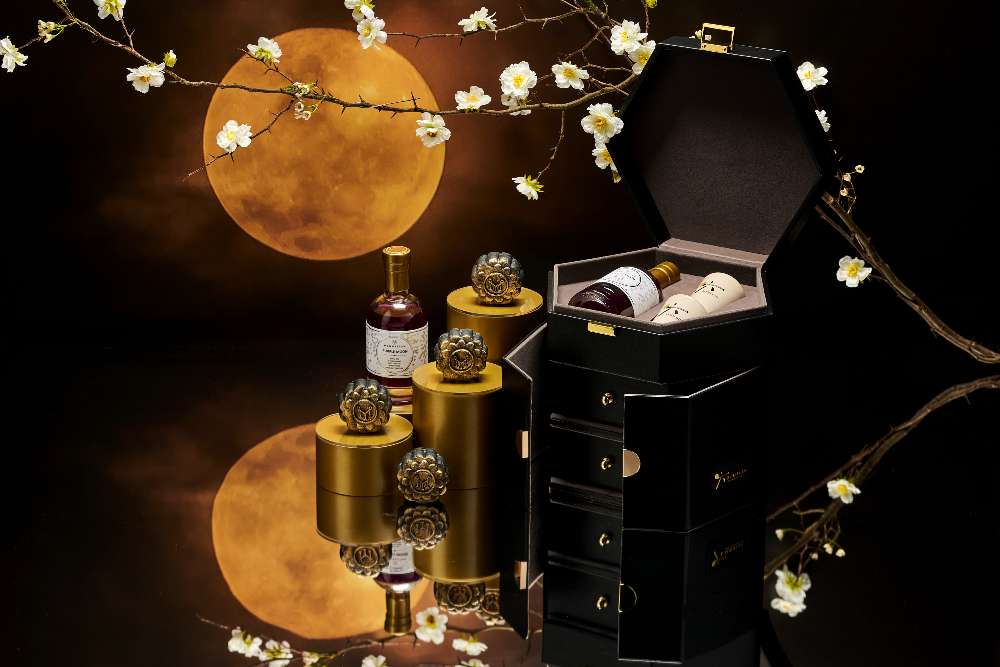 IMAGE: CONRAD SINGAPORE ORCHARD
Gin ho jiak
When you're an award-winning bar, but you also want to sell mooncakes, what do you do? If you're the award-winning Manhattan, you collab with craft gin makers Roku Gin.
Limited to only 200 sets, each Luxury Box ($398) comes with a bottled Purple Moon cocktail (banana wine, sweet potato, whey syrup and hazelnut tincture), two sake glasses, and eight Chocolate and Cherry snow skin mooncakes. Each is enrobed in gold-dusted charcoal skin with a Roku Gin chocolate ball nestled at its heart.
More wallet-friendly options from Conrad Singapore Orchard include Custard with Cranberry, Lemon Mascarpone Chocolate with Blue Pea Tea, and Coconut Chocolate with Black Glutinous Rice (from $54 for a pair).
For the latest updates on Wonderwall.sg, be sure to follow us on TikTok, Telegram, Instagram, and Facebook. If you have a story idea for us, email us at [email protected].