Simply Brew-tiful Ways To Celebrate International Tea Day In Singapore
Mark your calendars, for it is International Tea Day on 21 May! Given that it falls on a Sunday this year, there's no excuse not to embrace your inner tea lover. From attending tea appreciation workshops, to relishing tea-infused cuisine, and treating yourself to a taitai-worthy high-tea session, get ready to embark on a quali-tea adventure on our Little Red Dot.
Here's how you can make the most of this special day:
1. Attend a tea appreciation workshop
Chinese
📍 Ying Xuan Teahouse, 78 Tanjong Pagar Rd, Singapore 088499
Yixing Xuan Teahouse is one of those tea establishments in Singapore that's out to debunk the myth that Chinese tea consists of only "the common, slightly bitter beverage that is served at Chinese wedding dinners and restaurants", offering instead a wide spectrum of Chinese tea flavours you may not have even heard of.
Their workshops cater for as few as 2 pax up to groups of 25, and range from $55 to $98 nett per pax. You'll get to identify the various tea leaves, learn about tea making equipment, delve into the traditional art of tea-making, and discover the distinctive health benefits of each variant of tea. Psst, they also host classes focused on the art of making tea, Kungfu-style!
Bubble tea
📍 Teahee, Foo Wah Industrial Building, 45 Jln Pemimpin, #08-03, Singapore 577197
Bubble tea may be a curveball for traditional tea purists, but let's be real - the main ingredient is tea! This could potentially be a fun activity for the fam as well.
Being the first studio in Singapore to solely offer bubble tea workshops, Teahee is the place to be if you spend wayyyy too much money on boba and would like to DIY at home. Each class focuses on a specific branch of bubble tea, so take your pick from fruit tea sessions to vegan boba tea to even alcoholic bubble tea workshops. Whatever floats your cup of tea indeed.
---
2. Try tea-inspired cuisine (and drinks!)
Give the aromatic Thunder Tea Rice a chance
📍 Sunny Choice Café, 434 Upper Bukit Timah Road, The Rail Mall, Spore 678060
📍 Pine Tree Café, 190 Middle Rd, #02-09/13, Fortune Centre, Singapore 188979
📍 Hakka Thunder Tea Rice, 1A Commonwealth Dr, #01-31, Singapore 141001
A beloved staple of the Chinese Hakka community, the curiously named Thunder Tea Rice, which is a direct translation of the Chinese version (lei cha fan), could be a turn-off for most people at first glance. What most people don't know is that the dish is very tea-centric in flavour even though the appearance might indicate a high percentage of greens. The soup is made using green tea leaves, basil, mugwort, mint, coriander and peanuts. The result is a very aromatic concoction which would definitely be any bona fide tea lover's… bowl of tea.
There are quite a few eateries in Singapore serving lei cha fan, but the ones stated above come highly rated.
Sip on tea-infused cocktails at Antea Social
📍9 Tyrwhitt Rd, Singapore 207528
Nothing says quality me time like chilling in a tranquil setting and letting go of the worries of the week. The earthy tones of the teahouse interior also make it the perfect place to have an intimate catch-up.
Here, you can fully unwind with harmonious fusion cocktails such as Chamomile Gin & Tonic or be on cloud nine with the aptly named Hojicha Cloud 9, which features luscious salted cream foam. Coffee usually dominates the scene when it comes to cocktails, so you'll rarely find tea-centric cocktails like these served at Antea Social.
---
3. Be a taitai for a day
Ngl, we've all wanted our Crazy Rich Asian moment where our day jobs don't exist, we don't have a single care in the world, and we only have to look good for other members of the same high SES echelon.
Grab your friends for some of the finest high tea sessions in Singapore. We've even listed them down by damage level (to your wallet, of course).
💸 Affordable: If you've always wanted to enjoy the British tradition of afternoon tea but with Singaporean delicacies, look no further than a champion of Peranakan cuisine, Violet Oon. Their National Gallery outlet, National Kitchen by Violet Oon, serves Peranakan-centric afternoon tea at a modest price of $58++ for two. Chomp down on tantalising treats such as Chilli Crab Tartlet with Quail Egg and the quintessential Kuey Pie Tee. For those with a sweet tooth, you'll be glad to know the menu includes classic Singaporean favourites such as Chendol Pudding and Sweet Potato Kueh.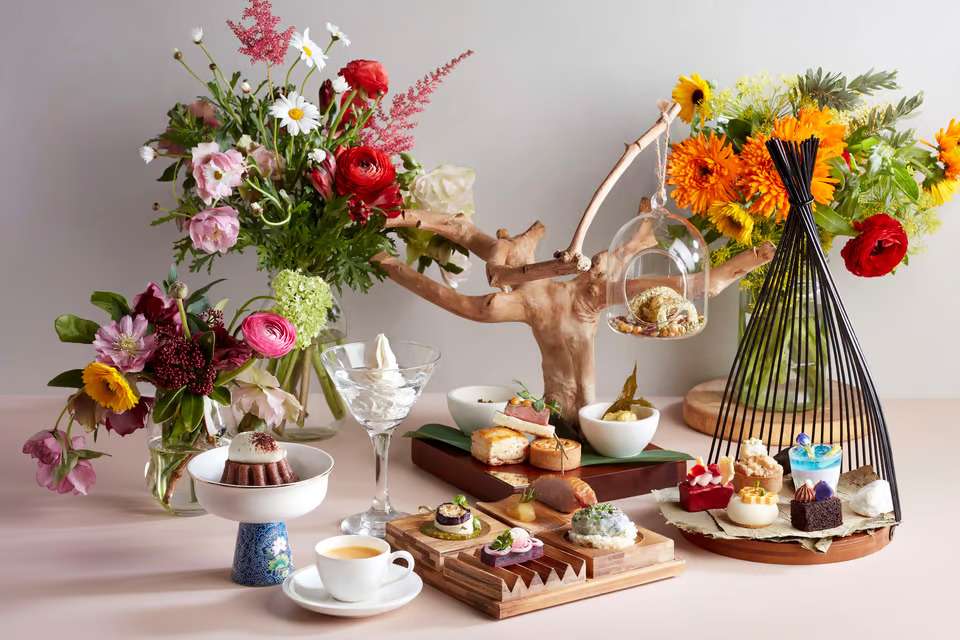 IMAGE: KEMPINSKI.COM
💸💸 Still can lah: There may be a dime and dozen restaurants offering wine pairing menus in Singapore, but a tea pairing menu is pretty uncommon. After all, tea drinking is an art, and other than consulting a tea sommelier, it can be quite confusing to non-discerning tea drinkers.
The Lobby Lounge at Capitol Kempinski Hotel offers an elegant solution to this with their Herbs & Flowers 5-course Afternoon Tea which will set you back $52++ per pax on weekdays and $58++ on weekends. The menu is a wonderful play on a diverse mix of herbs present in both sweet and savoury creations, accompanied by the tea blend that is specially curated for each course. You can expect to munch on delights such as herb smoked duck breast, saffron mud crab quiche and butterfly pea flower panna cotta.
💸💸💸 Ok, kinda ex: Of course, if money is no object, go for the crème-de-la-crème of high teas at The Grand Lobby, Raffles Hotel Singapore. The hotel is an institution by itself and indulging in an afternoon tea in the grandeur of the floor-to-ceiling Victorian pillars would be quite an unforgettable experience.
Raffles Hotel regularly refreshes their Afternoon Tea menu, and they're currently running the Sakura-themed menu until 4 June. While their classic scones will still make an appearance, the menu is largely inspired by seasonal Japanese ingredients that are reminiscent of the romantic Sakura season. Polish these off with the impeccable Mariage Frères tea selection awaiting you. Oh, and the price? An eye-watering $108++ per pax of course.
For the latest updates on Wonderwall.sg, be sure to follow us on TikTok, Telegram, Instagram, and Facebook. If you have a story idea for us, email us at [email protected].