This Halal Joint Has Fries With Toppings Galore, From Nasi Lemak To, Um, Unicorn
Yes, you heard that right. Unicorn. Spuds is a Muslim-owned cafe that specialises in selling French fries. While it has only opened in early September, this unassuming eatery has already gained quite the social media following thanks to their, shall we say, unique assortment of toppings.
With 13 signature flavours to choose from, including the aforementioned Unicorn Rainbow Coloured Nachos Cheese, it is definitely worth checking out if you're feeling a little bit adventurous.
Nestled in the corner of the basement level at Midpoint Orchard, Spuds may come across as nondescript at first glance. But step inside and you'll find a cozy, inviting ambience.
Our group of 5 decided on 4 flavours to try, specifically Unicorn, Bolobolo, Dolmat and White Chick. Here's our review.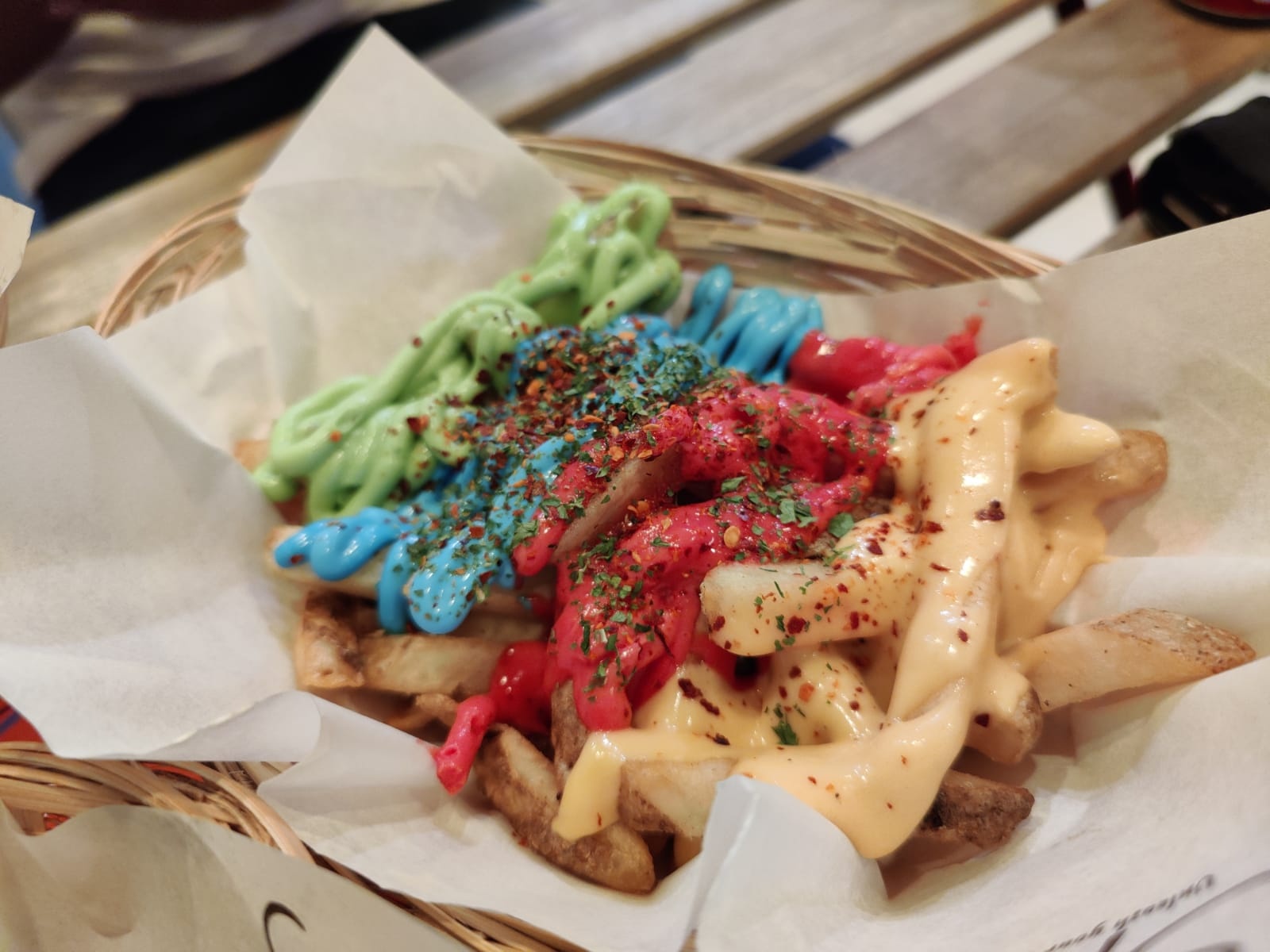 Unicorn
Topping: Rainbow-coloured nacho cheese of red, green, blue and yellow on top of thick cut French fries.
Price: $7.90
The low-down: The most Instagram-worthy item on the menu. The look of it might be jarring, but it's essentially the usual nacho cheese. More gimmick than anything, but hey, anything for the gram, right?
Potato rating: ❤︎❤︎❤︎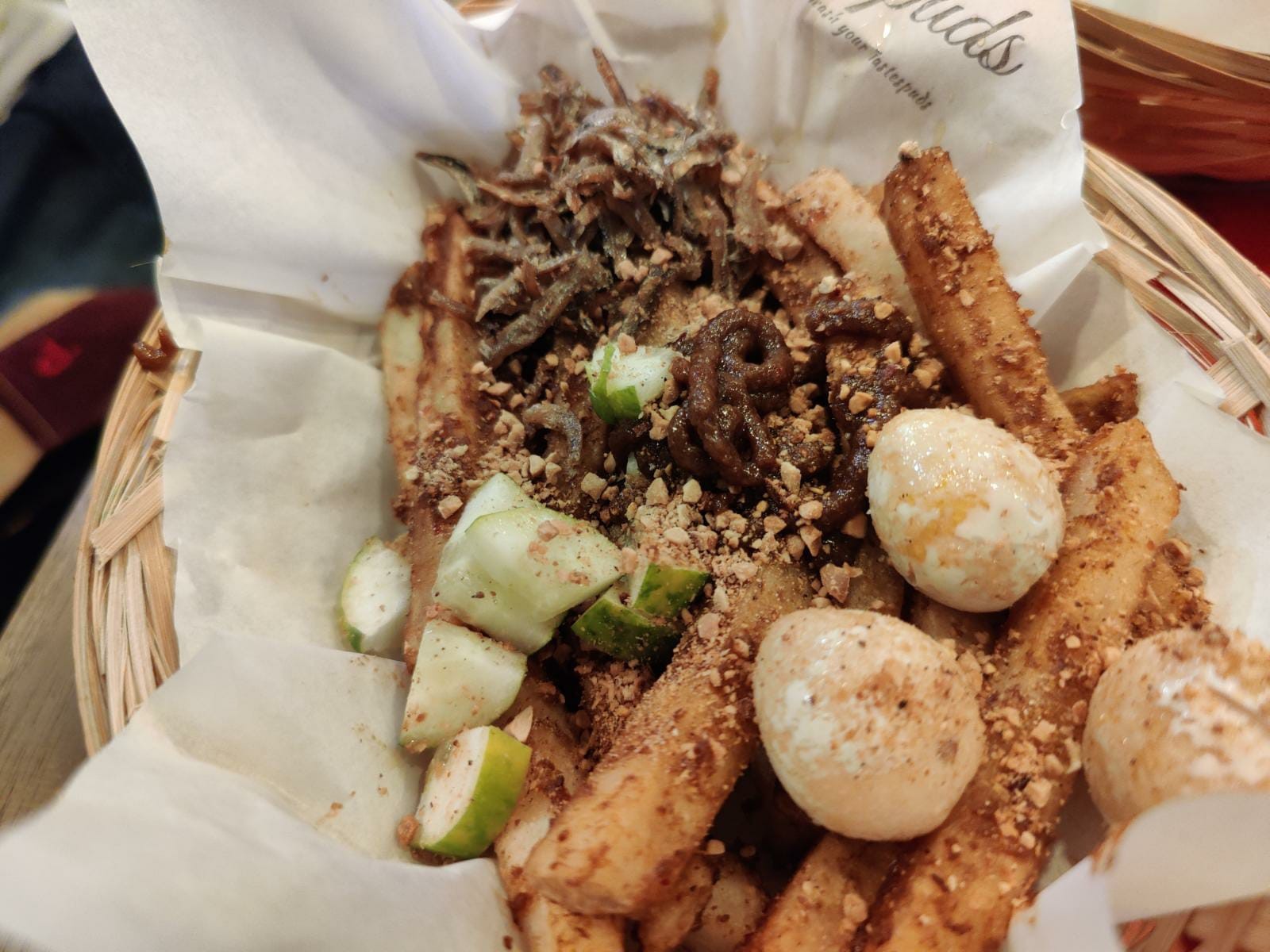 Bolobolo
Topping: Comes with ikan bilis, peanuts, cucumber, quail eggs and sambal, basically the ingredients of a typical plate of Nasi Lemak.
Price: $7.90
The low-down: One of the Asian-inspired flavours that suprisingly combined well with the fries. Who knew?
Potato rating: ❤︎❤︎❤︎❤︎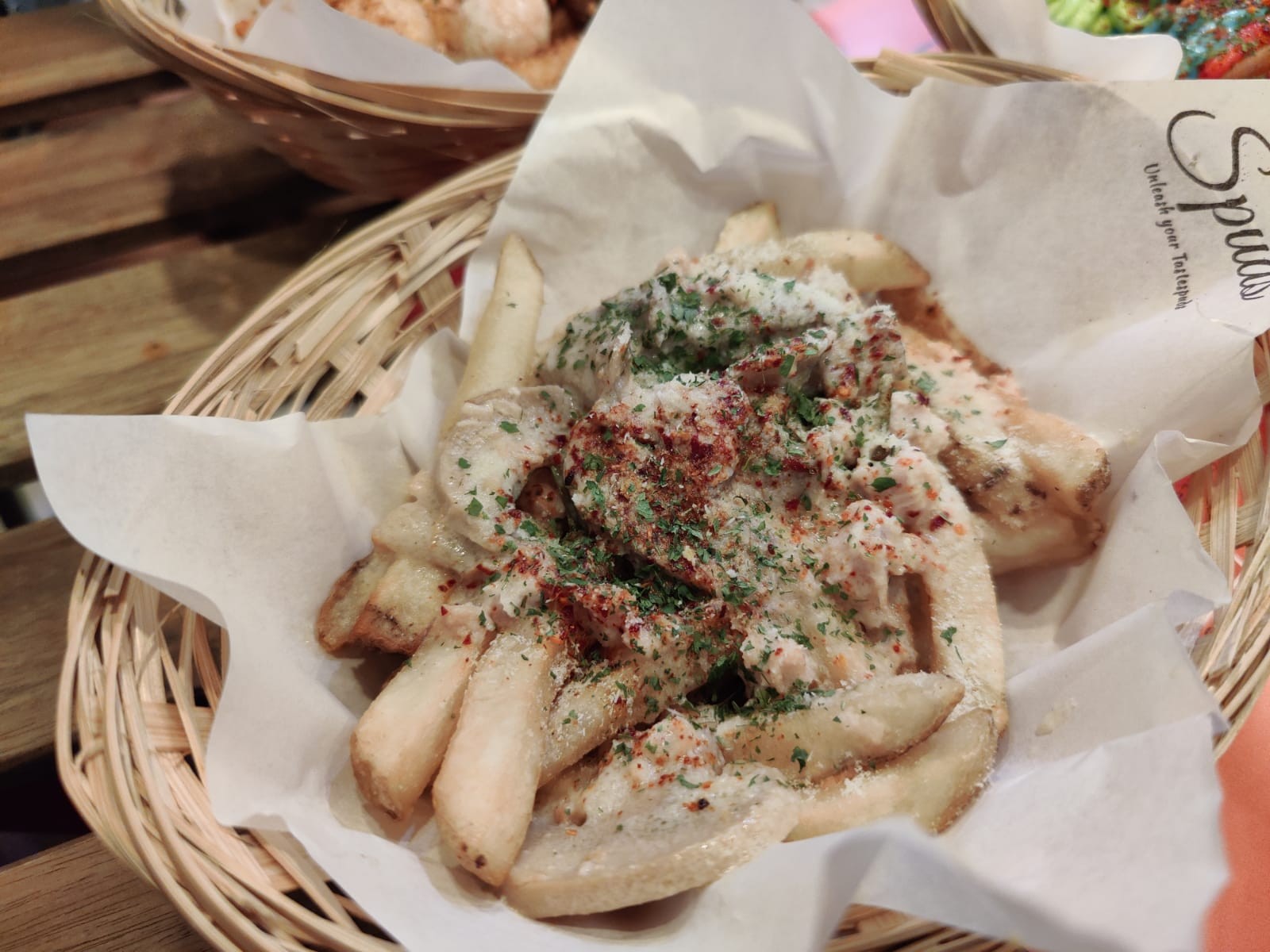 White Chick
Topping: Delicious, creamy chicken mushroom sauce

Price: $6.90
The low-down: Our personal fav on the toppings that we tasted. In this case, familiarity breeds comfort for the taste buds. Mushroom cream sause and fries will always be an all-time perfect marriage and Spuds' version didn't dissapoint.
Potato rating: ❤︎❤︎❤︎❤︎❤︎
Dolmat
Topping: Satay sauce with bits of chicken satay sprinkled over the fries base.

Price: $7.90
The low-down: Another interesting mixture. It takes some getting used to but the satay sauce grows on you with each bite.
Potato rating: ❤︎❤︎❤︎
Address: 220 Orchard Road, Midpoint Orchard, #B1-07, Singapore 238852
Opening hours: Daily 11:30am to 9pm
For more information, check out Spuds on Facebook here.

For the latest updates on Wonderwall.sg, be sure to follow us on Facebook and Instagram. If you have a story idea for us, email us at [email protected].