Fry-Day Feels: Uncovering Singapore's Yummiest Fried Chicken
ICYMI, popular Korean fried chicken chain Better & Healthy Chicken (BHC) Chicken has opened a second outlet in Paya Lebar's KINEX. Thank the fried chicken gods for that, because I remember when they first launched back in April 2023 at Marina Square, the queue was insane (think: 2 to 3 hours long). And yes, being a true-blue Singaporean, I waited in line for close to an hour to get my hands on their signature Bburinkle chicken (crunchy chicken coated with cheese and seasoning).
My verdict? It hit the trifecta of what makes an exceptional fried chicken for me: it was crispy, juicy, and well-seasoned. The ASMR crackle of the skin accompanied the explosion of flavour with each bite of the Bburinkle blend, and the meat was equal parts juicy and tender. Tl;dr, definitely worth a try if you're willing to wait.
But don't always need to queue for yummy fare lah - there are so many other finger-licking fried chicken options available on our Little Red Dot! Whether you're a fried chicken connoisseur, or you just want to chop-chop sink your teeth into some crunchy goodness, just refer to our list - clucking good time guaranteed:
1. Oven & Fried Chicken
Let's dive right into the meat of it, because Oven & Fried Chicken (OFC) is one of the top OG fried chicken spots, having been in Singapore for nearly a decade. They specialise in Korean fried chicken, and the standard has stayed consistent all these years. You can choose from fried chicken, oven-baked chicken (no oil is involved in the cooking process) and roasted chicken. Their poultry goodness is a bit more pricey but worth every cent.
2. Waker Chicken
If you're looking for more affordable Korean fried chicken without compromising on taste, then Waker Chicken is my go-to. It's not only conveniently located in coffeeshops around Singapore (there are eight outlets at the moment), but sibei yums as well. My personal favourites are the Honey Butter Chicken (a generous dusting of sweet, honeyed butter powder atop succulent fried chicken) and the Original Crispy Chicken.
3. TenderBest
We hit pause on the Korean fried chicken streak and #supportlocal instead. TenderBest is a Halal local food joint that is actually one of many F&B concepts under the Tenderfresh Group and dishes out delectable Western fare. Fun fact: Tenderfresh is Singapore's very own fried chicken chain, opened in 1979. I highly recommend the Happiness Set (you'll be very contented after, trust me), which includes three pieces of fried chicken, fries and coleslaw. No fancy powder or seasoning. Sometimes, simple is best.
4. I Love Taimei
Next, Taiwanese fried chicken, famous for being bigger than the size of your hand. Taimei's fried chicken absolutely lives up to that description. And no, it's not quantity over quality here, because their fried chicken is still damn bomb despite being huge. While some find it more shiok to bite into the entire piece, you can request for them to cut it into smaller pieces. Plus, who doesn't like options? Go crazy with seven different seasonings to pick from - sour plum or mala anyone?
5. Pizzamaru
We're back on the Korean fried chicken bandwagon, and yes, this is a pizza place. Don't miss out on their fried chicken though, as it is decidedly mouth-watering. Dig into their Onion Tartar chicken, which comes with copious amounts of sliced onion on top of the crackling batter, and a tub of velvety tartar sauce. If you're looking for something even more indulgent, go for their Truffle Parmesan chicken. You'll be clearing piece after piece.
6. Devil Chicken
No idea why it's called Devil Chicken, but maybe it's something to do with how hellish their spice levels can reach. If a McSpicy is your max spice limit, then I suggest going for "Original" or "Mild" when choosing your spice level here; avoid the "Fiery" or "SPICY". The chicken itself is one of the juiciest I've ever had. Also, insider info - a hidden gem on the menu is their Crispy Chicken Skin. Be warned: it's super addictive; wouldn't recommend it if you're on a diet...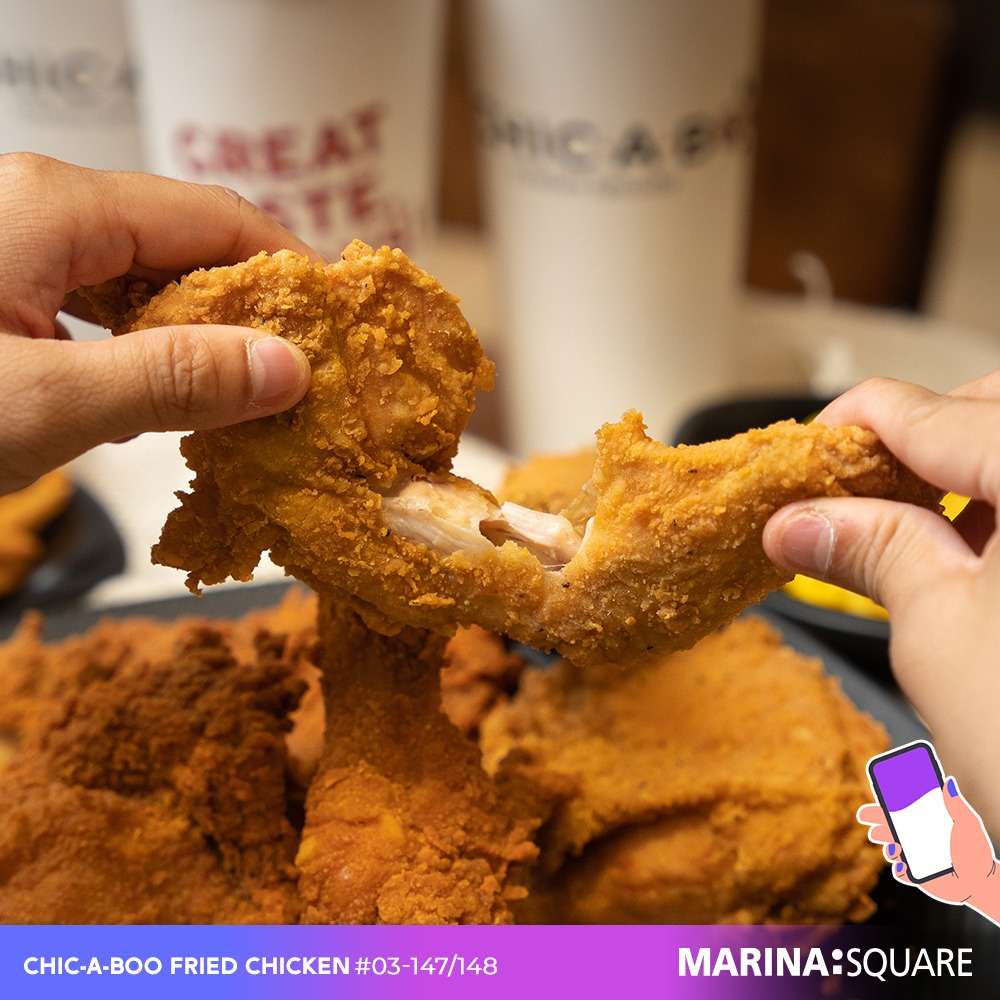 IMAGE: FACEBOOK/@MARINA SQUARE SINGAPORE
7. Chic-A-Boo Chicken
This is a Southern-style fried chicken fast food chain is Halal-certified, and you can easily satisfy those sudden cravings here - tender meat oozes with flavour once you bite into the well-seasoned crunchy skin.
For the latest updates on Wonderwall.sg, be sure to follow us on TikTok, Telegram, Instagram, and Facebook. If you have a story idea for us, email us at [email protected].