Where To Get White Rabbit-Flavoured Goodies In Singapore
Did you know that White Rabbit Candy is celebrating its 60th anniversary this year? Seems unbelievable, especially since there was a time nobody dared to eat it thanks to the 2008 melamine scandal. But now, this nostalgic candy is more popular than ever. Craving a bite? Here's where you can get a taste of White Rabbit-flavoured treats.
1. UNICE: White Rabbit Bubble Tea
This hidden gem in Yishun now has White Rabbit drinks on its bubble tea menu. For a full-blown taste of the original candy in drink form, go for the Pearly White Rabbit Candy Smoothie, topped with a generous serving of mango popping pearls. The drink might be a bit too sweet to gulp down in one go, but that's to be expected given the sweetness of the actual White Rabbit Candy. Alternatively, if you want a smaller dose of nostalgia, you can opt for a sprinkle of Smoking White Rabbit Candy Bingsu to top off your drink.
Available at UNICE, 930 Yishun Avenue 2, Northpoint City South Wing, #B2-135, Singapore 769098
Find out more here
2. Pine Garden: White Rabbit Cake
Sink your teeth into this gorgeous creation by Pine Garden, which offers a modern take on the classic sweet. Made from vanilla milk, the White Rabbit Cake is filled with milk cream and studded with delicious chunks of milk candy on top. Amazingly flavourful but not too sweet, it's perfect for a trip down memory lane.
Available at Pine Garden, various outlets
Find out more here or here
3. Blackball: White Rabbit Soft Serve
Combining our beloved childhood sweet with the silky texture of soft serve, Blackball has created Milky Lollies Soft Serve, an innovative treat made from real White Rabbit Candy and topped off with pearls imported from Taiwan. Be warned: this tasty dessert is only available till 30 October, so hurry on down before it's too late.
Available at Blackball (selected outlets)
Find out more here
4. White Rabbit Pop-up Store: White Rabbit Milk Tea and assorted merchandise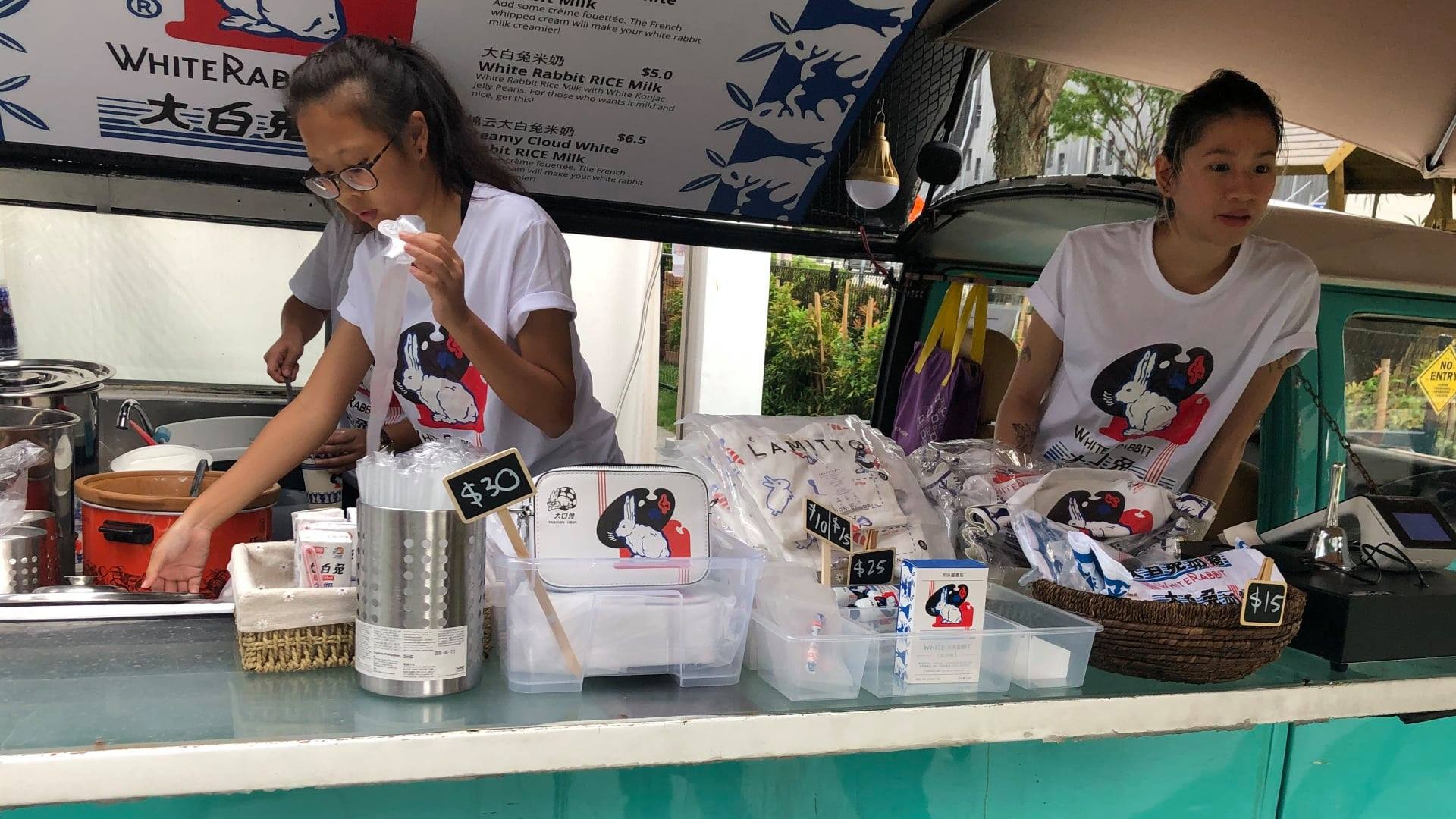 Why stop at just edible products? Aside from refreshing White Rabbit milk tea, this quirky pop-up store sells a wide variety of White Rabbit-themed products like T-shirts, bags, and even White Rabbit-scented shampoos and perfumes. How long will the store be here? Nobody knows – according to White Rabbit Singapore, they could be here for merely a few days or until the rest of the year. Be sure to catch this elusive store before it vanishes for good!
Available at White Rabbit Milk Drink Specialty Shop, 7 Shenton Way, Singapore 068810
Find out more here
5. Take A Bite: White Rabbit Drink (again)
You can never have too much bubble tea, right? Take A Bite also has its own take on White Rabbit bubble tea: Bubble milk infused with melted chunks of White Rabbit Candy and brown sugar pearls. However, unlike UNICE, Take A Bite is a pop-up stall, so be sure to watch its Facebook page for updates if you want to try a sip.
Available at Take A Bite
Find out more here
Got a story idea for us? Email us at [email protected]