Time To Toss: Yummy Yu Sheng To Usher In The Lunar New Year Of The Rabbit
With Lunar New Year comin' in hot on the heels of Christmas, it's safe to say that we could all do with a salad. Now, what is yu sheng? A salad, of course. And it's everywhere. So to help you narrow down the options, here are several that sound interesting to us.
Duo Fish Salmon and Tuna Prosperity Yu Sheng
If there ever was a season of excess, it's Chinese New Year. So when you can't decide what sashimi you want on your yu sheng, why not have two? This Duo Fish Salmon and Prosperity Yu Sheng (from $68) from Park Royal Collection Pickering's Lime Restaurant gives you just that: slivers of both types of fish with all the usual accompaniments. That the veggies are arranged to form a cute bunny in the centre is a pretty bonus.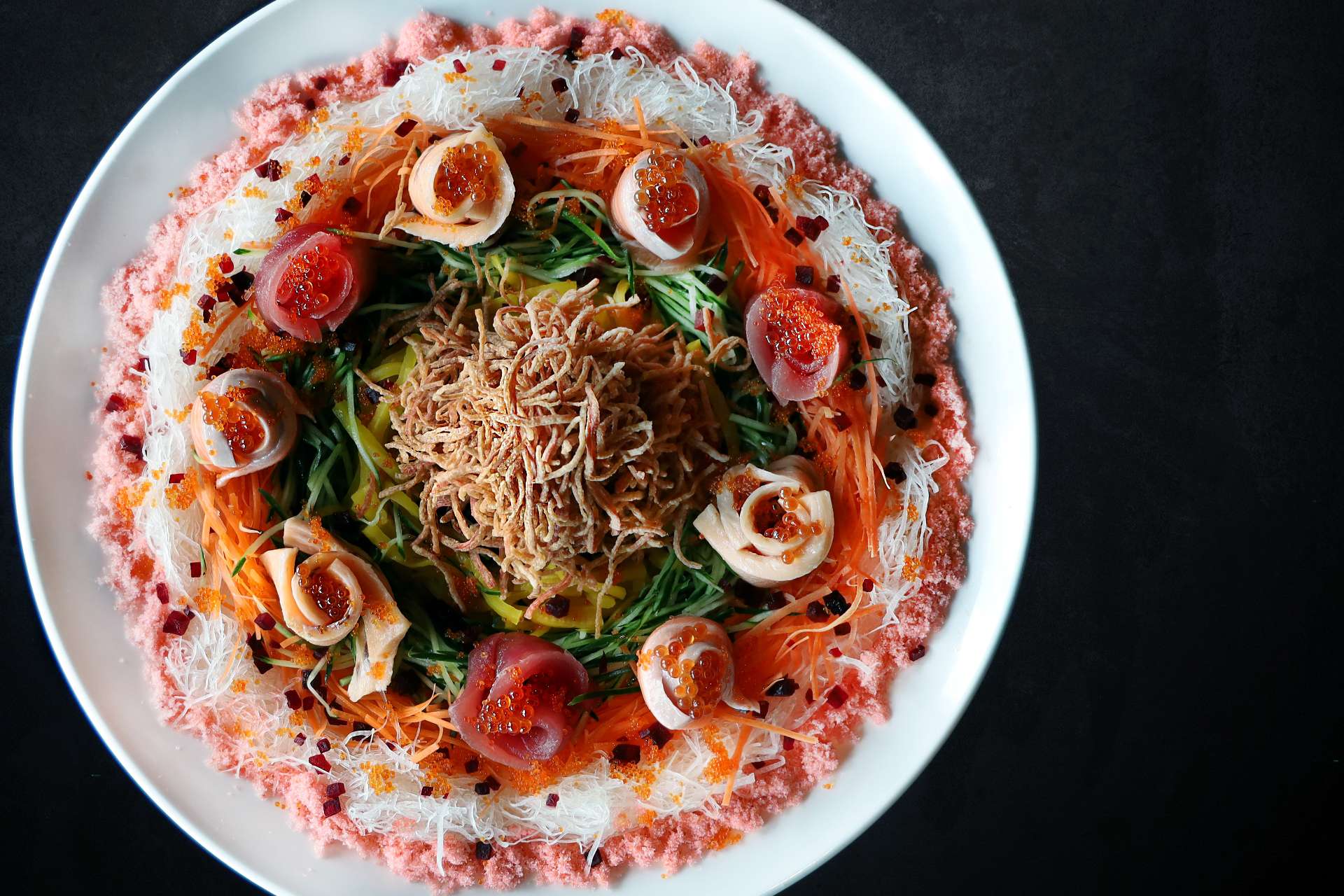 Kinki's Ultimate Yu Sheng
Now if you want three types of sashimi in your yu sheng, mod-Japanese restaurant Kinki has the ticket. In its Ultimate Yu Sheng ($88), you get raw salmon, tuna and swordfish, along with happy pops of ikura and tobiko. Dried wakame, deep-fried crabsticks, Japanese fish floss and truffle oil make it an extra fun eat. Of course there are there also veggies like carrots, cucumber and daikon that get tossed in a classic goma or sesame dressing.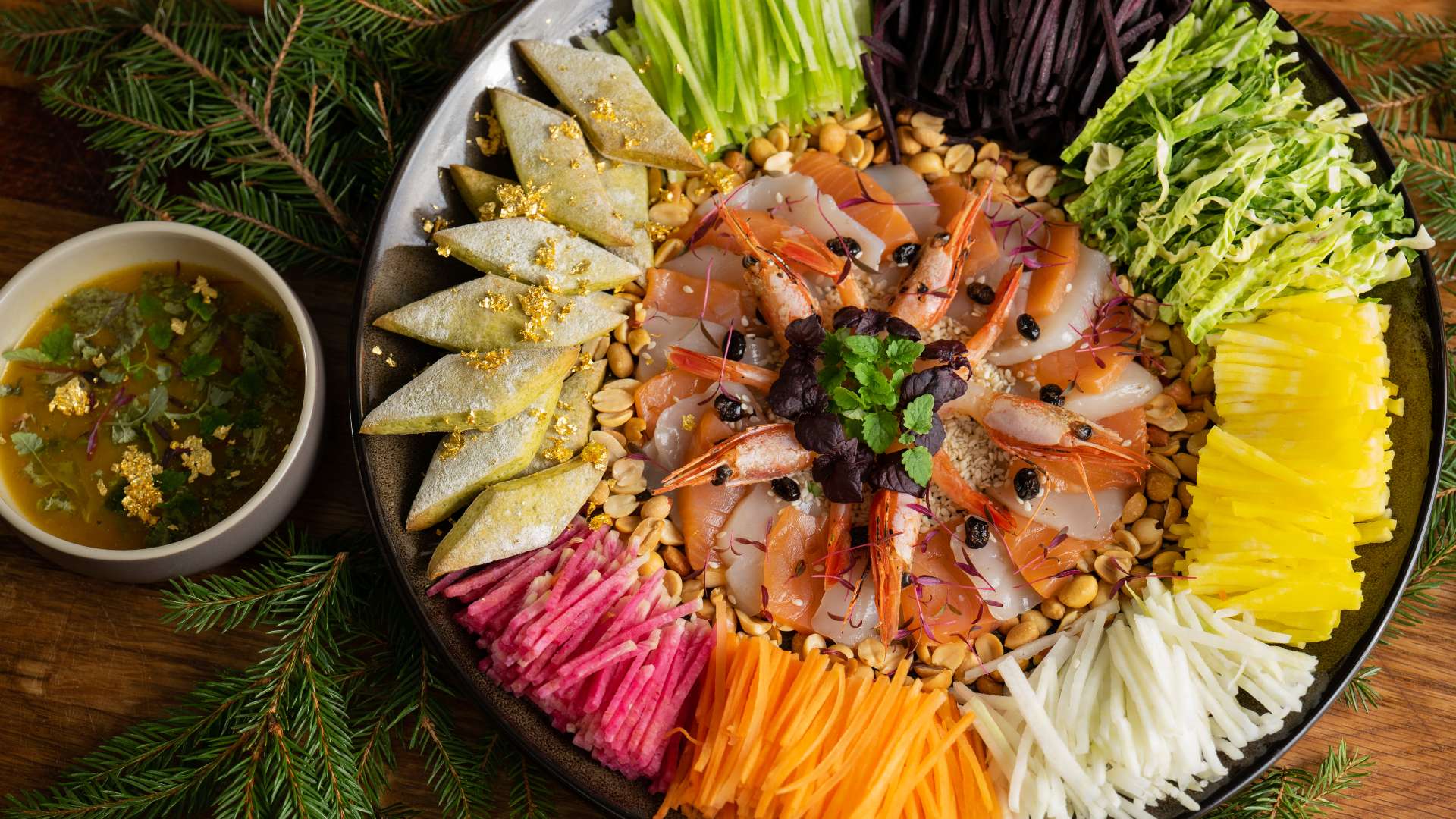 Yu Sheng with French Flair
What does a Michelin-star French restaurant bring to the yu sheng table? In Restaurant JAG's case, vegetables from France and Japan, and some creative touches. The JAG Yu Sheng ($128) features orange and black carrots, red and yellow beetroots, and green and red radishes. Some are served raw, others cured and yet others pickled. Now add to that cured Scottish salmon, smoked Hokkaido scallops, and marinated Japanese shrimps to make for abundant seafood. Then top with watercress crackers, sesame, peanuts, and gold leaf for good measure. Add $60 for a dollop of caviar.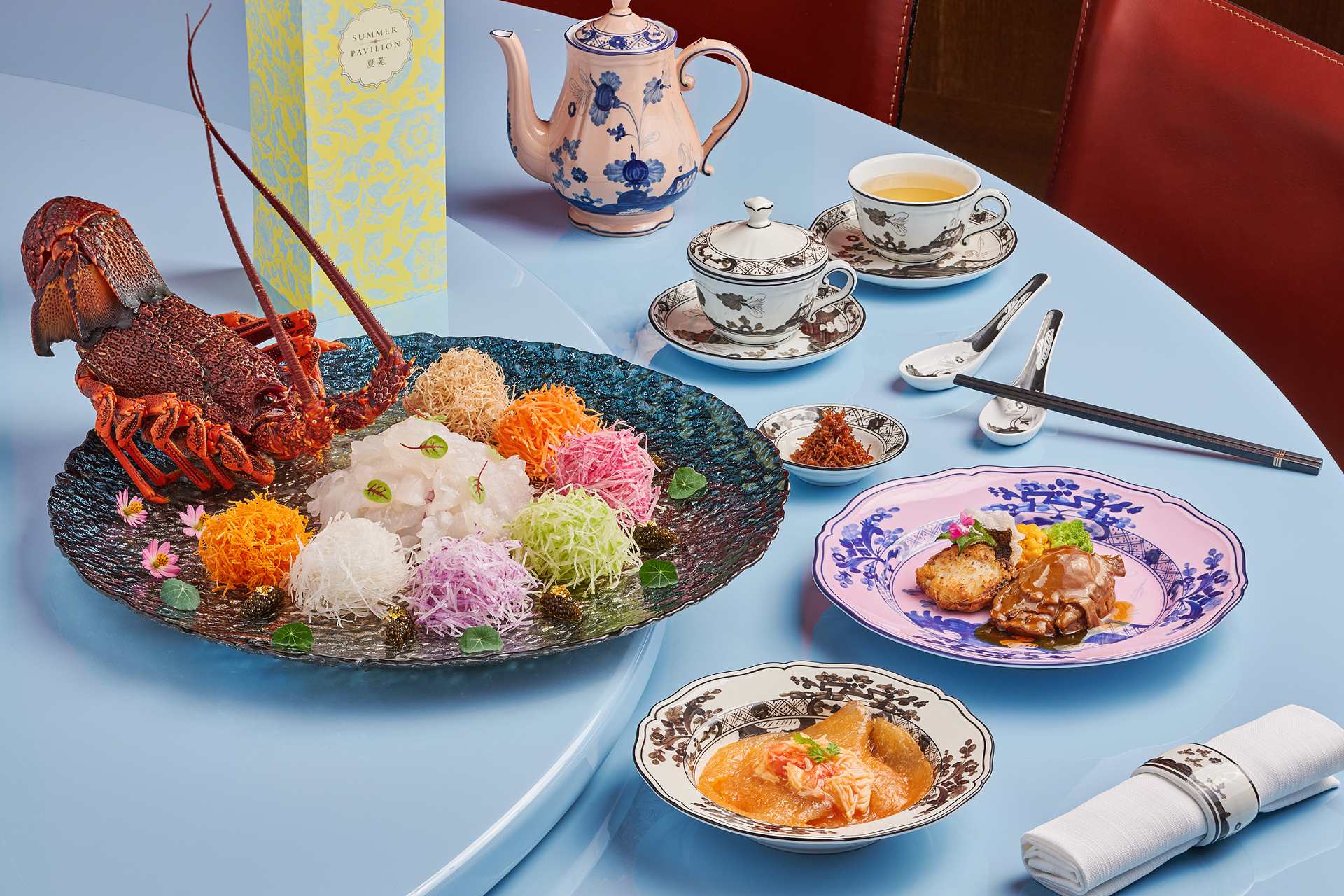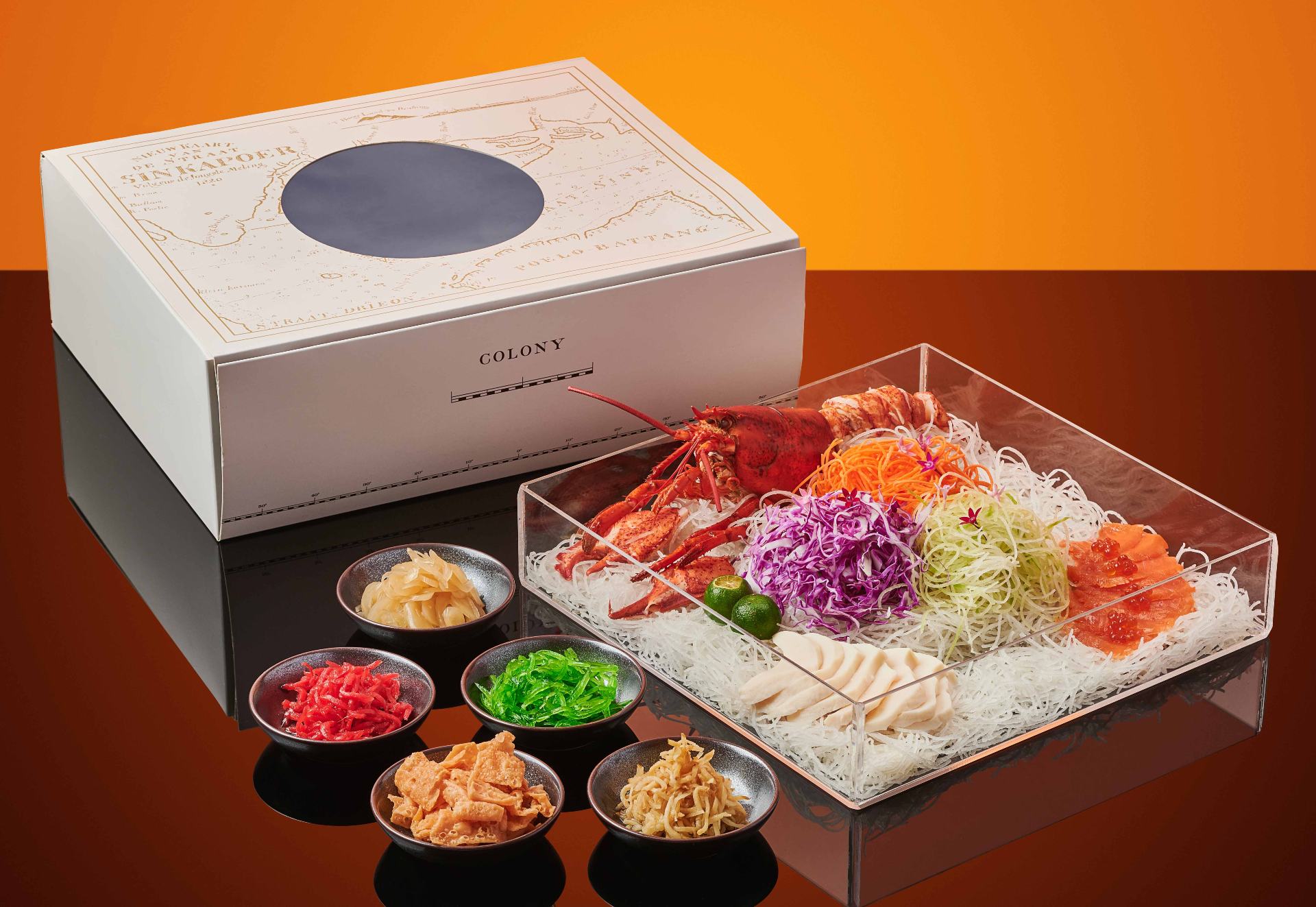 Australian Lobster and Black Caviar Yu Sheng
Every year, restaurants find ways to make yu sheng ever more extravagant. Case in point: this Australian Lobster and Black Caviar Yu Sheng (from $280) from the Michelin-starred Summer Pavilion, available only when you dine in the restaurant.
If you are planning to enjoy your yu sheng at home, there's a Boston Lobster, Sea Whelk and Smoked Salmon Yusheng ($198) from Colony Bakery situated just outside.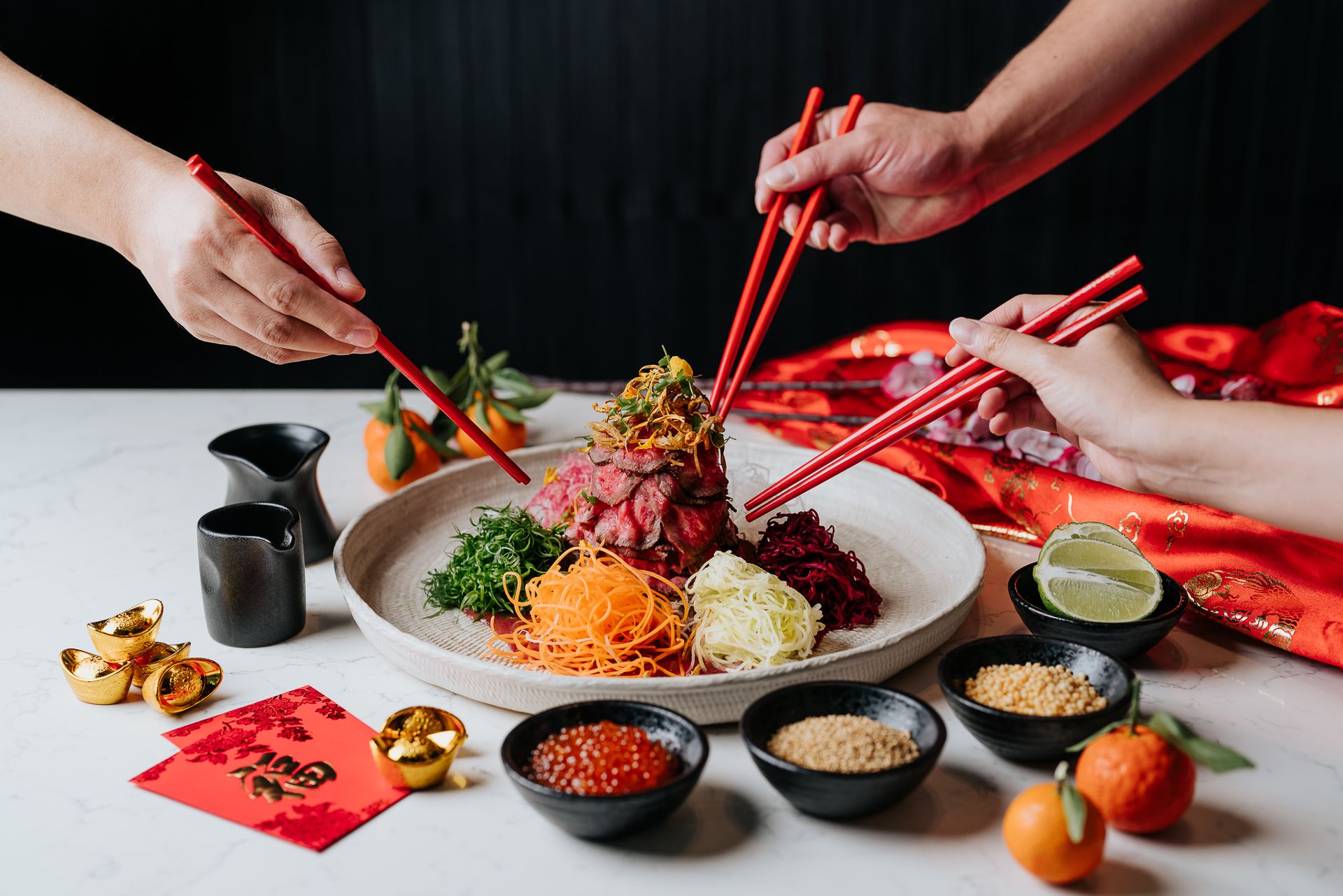 Abundance Platter (Get Ready, It's Not Fish)
When you've had one yu sheng too many and want a something different in your salad, Meadesmoore's Abundance Platter (from $78) is an interesting option to consider. In place of raw fish are slivers of charcoal-grilled Eight Blossom wagyu tri-tip MS6/7 (in case you didn't know, Eight Blossom is the brand of beef rather than an auspicious-sounding name made up just for the festive season).
The rest of this concoction remains true to the yu sheng tradition. Expect coral orbs of ikura to ensure 'yu' throughout your year, Japanese rice puffs to symbolise gold, and an ume and caramelised shallot dressing for sweetness. If you're in the it's-not-yu-sheng-until-there's-yu camp, then Meadesmoore also has an apple-cured Hamachi version.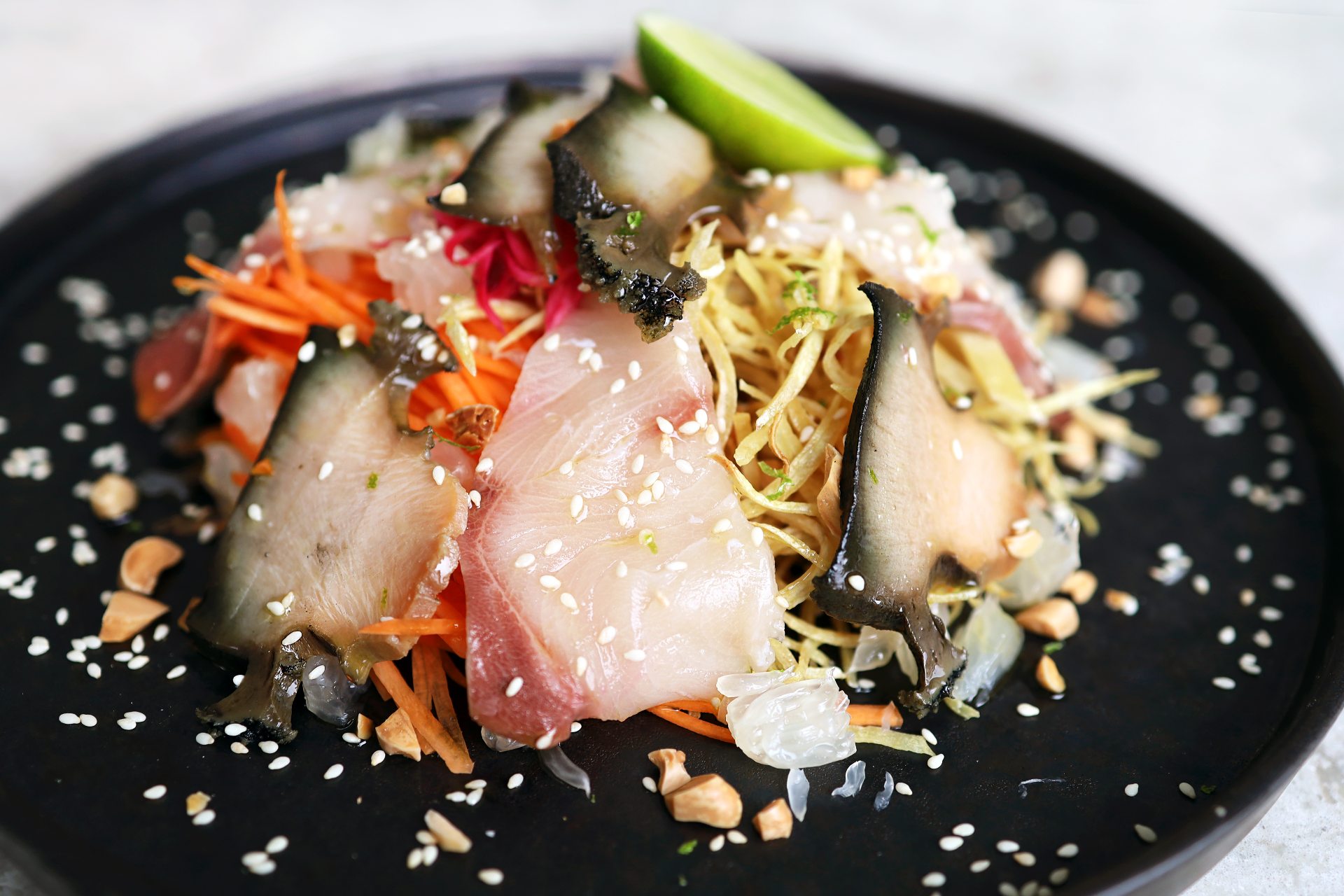 Kingfish and Sake-braised Black Abalone Yu Sheng
Bedrock Bar & Grill may be synonymous with great steaks, but evidently, they are traditionalists when it comes to Chinese New Year too. On the menu till 5 February is a Kingfish Sashimi and Sake-braised Black Abalone Yu Sheng ($88). The paper-thin slices of abalone are braised low and slow in sake for six hours, before they are added to the dish. Yum!
For the latest updates on Wonderwall.sg, be sure to follow us on TikTok, Telegram, Instagram, and Facebook. If you have a story idea for us, email us at [email protected].