Appetite For Abundance: A List Of The Yummiest Pen Cai This Lunar New Year
There are several renditions of how poon choi (in Hakka) or pen cai (Mandarin) came to be, but the general consensus is that it was first made by Hakka villagers who gathered whatever ingredients they had and cooked them in a wooden bucket sometime during the Song Dynasty (AD1132-1279). The food was then served to a visiting emperor, an emperor on the run, or a scholar-general who had retreated with this army, depending on which story you're told.
Whatever the story, it is safe to say that the first renditions of pen cai did not contain the edible treasures that we now associate them with. However, the dish has evolved to commemorate special occasions, the most important of which is Chinese New Year.
These days, pen cai is a symbol of abundance. How could it not be with its layer upon layer of premium ingredients such as abalone, prawns, roast pork, shitake mushrooms, black moss, or sea cucumber?
If you're up for some edible abundance to usher in the Lunar New Year, here are a few pen cai options that might get you on the road to a prosperous Year of the Rabbit.
Royal Seafood Pot from Red House Seafood
Red House Seafood calls its pen cai Royal Seafood Pot ($298, serves six). It heaves with the likes of fish maw, fresh scallops, crab, lobster, tiger prawns, fish puffs, fresh clams, baby bok choi and threadfin stuffed with minced pork. Think of the latter as a sort of yong tau hu, where the threadfin's flesh is picked by hand, mixed with minced pork and preserved vegetables, and then stuffed back into the fish, which is secured with scallions and pan-fried.
Into the clay pot goes an umami-rich broth made from clams, fish bones and pork ribs. As they sit in the broth, the ingredients release their aromatic flavours, saturating it even further. The result is a comforting, tasty brew that'll make you feel prosperous just from the bulging of your very satisfied belly after eating it.
Deluxe Pen Cai with Golden Broth from Crowne Plaza Changi Airport
The "golden" in this broth is imparted by the use of pumpkin, which, apart from its auspicious hue, gives it a sweet, silky lilt. Swimming in this luxurious Deluxe Pen Cai ($298, serves six) are baby abalone, sea cucumber, fish maw, Shajing dried oysters, sea prawns, conpoy, braised pork belly, and lots more.
Abundance Pen Cai from Shangri-La Singapore
Executive Chinese chef Daniel Cheung has assembled a trove of 18 prized ingredients in his Abundance Pen Cai ($488, serves eight). Think abalone, fish maw, a whole dace, sea cucumber, pork knuckle, sweet and sour prawns, goose web, soy sauce chicken and lots more. All this is carefully cooked over six hours to yield a one-pot feast fit for an emperor, general or a large group of people in the mood for a celebration.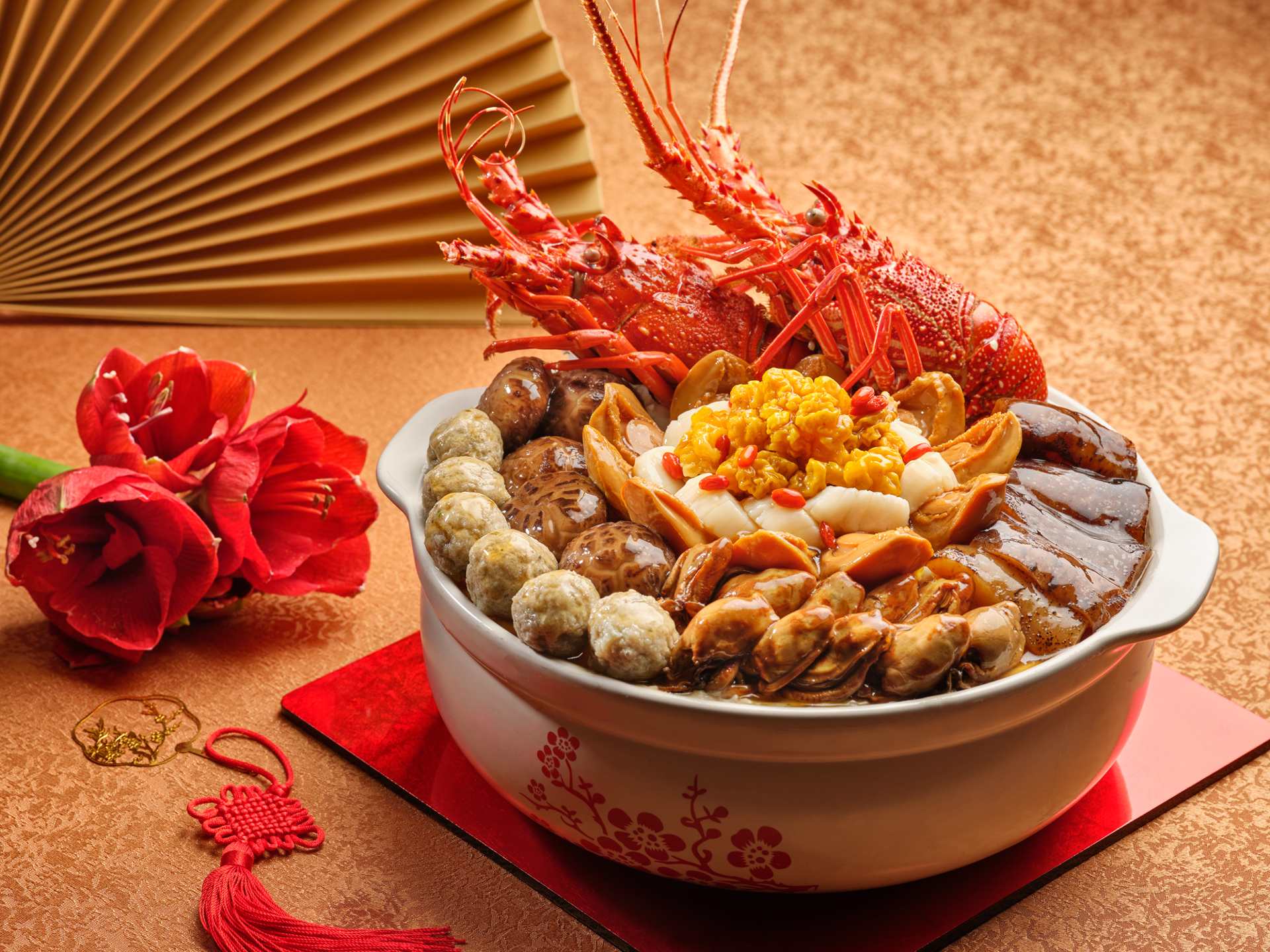 Classic and Superior Treasure Pots from Pan Pacific Singapore
At Pan Pacific Singapore's Hai Tien Lo, there are two versions of pen cai — the Classic Treasure Pot (starts from $338 for up to six people) and Superior Treasure Pot (starts from $598 for up to six people). Both are laden with the good stuff like eight-head whole abalone. In the Classic Treasure Pot, you get the abalone, bird's nest, Sakura chicken, dried scallops, wontons and broccoli. Of course, the Superior Treasure Pot is more indulgent, with the likes of dried oysters, fish maw, pork knuckle, lobster, roast duck and homemade fish bean curd.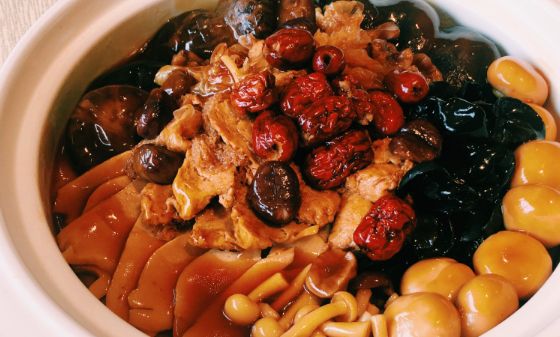 Vegetarian Deluxe Treasure Pot from Peach Blossoms
No need to miss the pen cai if you're on a plant-based diet at Peach Blossoms. The Vegetarian Deluxe Treasure Pot ($368) is its own trove of wholesome ingredients that include vegetarian abalone, bamboo pith, elm fungus, bean curd skin, red dates, flower mushrooms, baby corn, black moss and much more. There's also the Blossoming Abalone Treasure Pot that ups the ante for meat eaters with things like 10-head abalone, braised pig trotters, roast duck, dace fish balls, prawns and flower mushrooms.
For the latest updates on Wonderwall.sg, be sure to follow us on TikTok, Telegram, Instagram, and Facebook. If you have a story idea for us, email us at [email protected].