5 Times NS Was Portrayed In Film, Theatre And Singapore Literature
National Service is such a uniquely Singaporean experience, it only makes sense for our media to take inspiration from it as a vehicle for storytelling. Countless films, plays and novels have been dedicated to the subject.
To be fair, when you have a country full of men who've dedicated two years of their lives to the military, they are sure to enter the public consciousness eventually. How many times has your dad started a conversation with "During my time in the army…"
I'm pretty sure at some point in your life, you might have watched an NS-related movie, stage play or even read a novel about the subject, with the SAF being such an identifiable part of the Singapore culture.
But if you've somehow been living under a rock, here's a quintessential list of Singaporean films, theatre productions and novels that perfectly capture the NS journey.
1. Army Daze (1985-1996) - Film, Novel & Play
Plot: The story revolves around a group of 18-year-old Singaporeans from different races and cultural backgrounds as they go through their National Service and their hilarious exploits throughout their training.
Why we love it: First conceived as a novel by prolific playwright Michael Chiang in the mid-80s, he would then bring it to life on the theatre stage before it was eventually adapted into a movie in the 90s.
This was my first experience seeing the Singapore army portrayed on the big screens. As a young boy, I was immediately struck by the camaraderie and brotherhood between the characters. It was equal parts hysterical and emotional. It also felt super relatable.
I mean, who doesn't love Sheikh Haikel's portrayal of a chubby boy who dreams of being a rap star and meeting his favourite Malaysian actress Deanna Yusoff? Spoiler alert - he did!
True-blue NS moment: When the recruits attempt to learn camouflage, but really cmi!
2. Fall In! The Unofficial Guide to Surviving Basic Military Training (2020) - Book
Plot: Published by Epigram Books and written by a pair of Gen Zs, Matthew Chew and Nicholas U Jin, here's a handy manual that makes sure you won't be a blur sotong when it's time to enter Basic Military Training (BMT).
The pages contain everything you want – and need – to know about transitioning from a civilian to a recruit. Whether it's understanding the difference between an Encik and an Officer, or packing the right equipment for your 10-pack items, it's the perfect companion.
Why we love it: Till this book came along, we only had our older family members to rely on for all the army advice, which is like trusting your buddy to take care of your rifle when you need to use the loo. Pro tip: never let anyone else jaga your weapon.
You would know all this and more if you had the book as your guide. It is easy to read, comprehensive and most importantly, gives additional insight beyond the usual PR spiel. Perfect for worried boys and their kiasu parents. Do check out our previous interview with the authors of Fall In! here.
True-blue NS moment: Stressing us about the importance of Febreze. It truly is a lifesaver in a bunk full of sweaty army boys.
3. Ah Boys to Men (2012 - present) - Film series
Plot: Inspired by director Jack Neo's own army experiences, it centres around a group of army recruits undergoing National Service in Singapore. There have been four films in total and even a female spin-off.
It's the most dominant local film franchise of the 2010s and some of the highest-grossing movies in Singapore cinema history. Despite being panned by critics, they've somehow managed to gain a cult following, with the most recent instalment, Ah Girls Go Army, topping the local box office in 2022, a full decade since the first film.
Why we love it: It's essentially Army Daze for millennials and Gen Z. I will always have a personal connection with the first movie ABTM movie as it was filmed in Pulau Tekong around the same time I was going through my own BMT back in 2012.
I remember how excited I was watching the movie premiere with my then-girlfriend after booking out on the weekend. Everything felt so relatable as I was experiencing NS in real time. I just thought it was the best movie ever. Imagine how crestfallen I felt when my GF said it was lame. It was good to me, dammit!
No wonder boys could bond with each other over their army days even when it's hard to explain to their significant others. The movies just feel comforting and familiar, like Phua Chu Kang or Crime Watch. Yes, there are cliche jokes and yes, there is shameless product placement. But at the heart of it is a band of brothers maturing to become capable men.
True-blue NS moment: Anything involving Wang Weiliang's character Lobang. There's always that one fella in the bunk who will hook you up with a phone charger or e-mart item if you need one.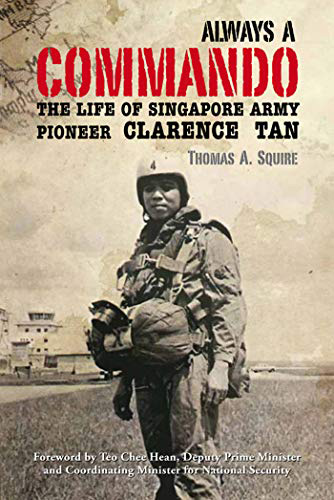 4. Always A Commando - The Life of Singapore Army Pioneer Clarence Tan (2018) - Autobiography
Plot: Best known for his role in helping to establish the Singapore Armed Forces Commando Formation and as the unit's first commanding officer, Lieutenant-Colonel (Retired) Clarence Tan's memoir is a captivating account of the pioneer officer's formative years in post-war Singapore.
Why we love it: Clarence Tan's story is a fascinating insight into the uncertainty of Singapore post-Independence and the sacrifices the people of that generation had to make to safeguard the country's future. He was one of the few soldiers that truly experienced the reality of war, fighting in the jungles of Malaysia during the Emergency and Confrontation. He even led his platoon during the racial riots in the early 60s. It is an inspiring tale that reaffirms the importance of defending our nation.
True-blue NS moment: Learning about the incredibly tough training regimen that the pioneer batch of Commandos had to go through during that period.
5. Murder At Mandai Camp & Murder At Mandai Camp: The Case Reopens (2020) - Play
Plot: During the height of the pandemic, local theatre company Sight Lines Entertainment hosted Singapore's first-ever live and interactive Zoom-based theatre production. Murder At Mandai Camp drew inspiration from army myths and urban legends that National Servicemen and Singaporeans will find eerily familiar.
Audiences are tasked as the lead investigator, to solve the mystery behind the gruesome death of a young recruit following an outfield exercise (welcome to the jungle, baby!). The show was so well-received that playwright-director Chong Tze Chien returned with a sequel just a few months later, adding popular singer Benjamin Kheng to the cast as a CID officer who reopens the cold case.
Why we love it: 2020 was a tough year for everyone but this excellent play was one of the first few productions that revived interest in the theatre scene when the industry was struggling to stay afloat during the pandemic.
Not only was it innovative to leverage Zoom, Murder At Mandai blended familiar elements of an army horror story with a well-thought-out murder mystery. It was immersive and had the support of an excellent cast driving the story forward. For those who love theatre and thrillers, it was the perfect way to spend an evening indoors.
True-blue NS moment: Mandai Camp as the setting of the grisly murder of an army recruit. Now all the boys serving their NS in that camp are going to be extra paranoid.
For the latest updates on Wonderwall.sg, be sure to follow us on TikTok, Telegram, Instagram, and Facebook. If you have a story idea for us, email us at [email protected].