They Help You Transition From Flight Simulators To Flying The Skies
Have you ever dreamed of feeling the rush of take-off, soaring through the skies, and the thrill of being in control of an aircraft? For Faris Iskandar Samat and his team at Aeroviation, helping prospective pilots transform this dream into a reality is not just a job – it's a passion.
The 30-year-old co-founded Aeroviation with his wife in 2018, with the goal of making flying affordable and accessible to everyone. They are the first in Singapore to offer training programmes for the Recreational Pilot Certificate (RPC) from Australia. Soon-to-be pilots can complete the entire course (which includes accommodation, flights, and more) within just 18 days, and for less than $17,000 – that's roughly half the cost of obtaining a local Private Pilot License (PPL).
Aeroviation students learn ground theory and practise flight simulation in Singapore, then set their sights on Australia, where they undergo 20 hours of intensive flight training before taking the crucial flight test. According to Faris, several graduates have even been recruited as cadet pilots for Singapore Airlines.
But it's not just about adult dreams taking flight. Aeroviation extends its wings to the next generation of aviation enthusiasts too. They offer classes for children and teenagers, grounded in a STEM-based curriculum developed by Faris' wife, an experienced early childhood educator. These young learners embark on a journey that goes beyond traditional education, where airport operations and air traffic control are brought to life through hands-on activities. They don pilot uniforms complete with epaulettes, as they progress up the ranks.
We speak to Faris and one of the school's alumni, Nabil, about what inspired their passion for planes and flying, and how national service provided them invaluable skills which they continue making use of in aviation.
How did your love affair with aviation begin, guys?
Faris: It all started back in secondary school when my parents used to take me to Changi Beach for picnics. At that time, my idea of flying was all about doing flips and loop-the-loops. But as I grew older and started exploring flight simulators at home, I realised it was more about aircraft management, route planning, and crew resource management. This shift in perspective sparked my interest in aviation.
Nabil: I grew up visiting Changi Airport, where my mom worked at the check-in counter for over 20 years. I've always loved planes, not just for traveling but for the fundamentals of flying itself. I signed up for Aeroviation when I was around 21 years old, right after completing my national service (NS). With the RPC I took, I was able to secure an interview with Singapore Airlines!
Give us a sneak peek into Aeroviation's programmes!
Faris: At Aeroviation, we welcome aviation enthusiasts of all ages, starting from kids as young as seven. Our programmes include the Junior Aviators (7-12 years old), the Young Aviators (13-16 years old), and the Recreational Pilot Certificate (RPC), which allows you to obtain an actual pilot's license. This programme is for those 15 and above; at that age, participants can fly the aircraft alone. Our oldest participant is currently 54.
What portion of the students at Aeroviation decide to pursue aviation seriously?
Faris: Some of our students who joined us back when they were in Pri 6 or Sec 1 have since obtained their pilot licenses – now they've grown taller and their voices have deepened! For our adult participants, we already have about 10 to 12 students who have begun their training with Singapore Airlines.
I would estimate that maybe 20% of the younger ones, don't proceed to the next stage due to various reasons, including financial constraints. Sometimes, it's not even their personal interest but more of a "passed-down interest" from their parents. However, the majority of our participants are enthusiastic to continue. They aim to achieve various milestones, like getting the first stripe, second stripe, bronze badge, gold badge, and more.
Would you say most of the young kids that sign up have a genuine interest in flying?
F aris: I think most of them are quite genuine. You'd be surprised by the kind of questions they ask at that age; it's truly amazing. They inquire about topics like the instrument landing system, mainly because there's a wealth of resources available online. I even received feedback from a mum, who said: "I've never seen my son concentrate for so long in any other classroom compared to this one!"
At what point in the course do students actually get to transition from the simulator to flying an actual aircraft?
Faris: They have flight experiences out of Seletar. It is quite expensive (about $800 per hour), but it's a way for them to apply what they've learned in the simulator. We typically advise them to book this particular experience six months after their class. This way, when they fly the actual aircraft, they have a better understanding of the process.
And have you ever had students try the actual flying experience, then come running back here for help?
Faris: (Laughs) Not really, most of them enjoy it. I remember one student who flew in very turbulent weather. He landed after just 20 minutes, his face was all red, and he was holding a barf bag. I had to reassure him that this was perfectly normal. Even on my first flight in a small aircraft, I got dizzy. Another instructor even vomited on their first flight. The idea is to make students feel comfortable with the normal aspects of flying, and they usually come back eager to learn more. Many of them also book more hours to fly at Seletar during the holidays.
How would you compare the simulator experience to actual flying?
Faris: To be completely honest, it's going to be a vastly different experience. In actual flight, you'll encounter that sensation of dropping, turbulence, and the rush of inertia. While the procedures and checklists remain the same, the "feeling" is going to be entirely different. We've received a lot of feedback from students about their first take-off experiences – that backward force pushing you into your seat, and suddenly everything accelerates rapidly. Nabil had a similar experience.
Nabil: In terms of composure, because you're flying the real thing, there's a real risk of an accident. That's when you become more cautious about your actions. I would say that the experience is a lot of fun because you can feel the turbulence itself, like being on a rollercoaster. On the simulator, you might think, "It's nothing, just a screen moving", but in real life, it's a whole different experience.
You trained Singapore's youngest female pilot, who got her RPC at the age of 17. Tell us more!
Faris: Her name is Hazeeqah, and she joined us in 2019, just before the borders closed due to the pandemic. When she arrived, she was very shy and didn't have much family support. But she had a strong desire to fly.
I remember the moment when she flew solo for the first time; she contacted me, and told me it was an amazing experience. We proudly supported her as she became the youngest female pilot. Many people thought that being from ITE meant she couldn't pursue flying, but she completely changed that perception. It was a rewarding experience to train her.
Nabil mentioned entering the world of aviation right after NS. Did your NS experiences have any impact on your aviating pursuits?
Faris: I was a firefighter Section Commander. While it may not be directly tied to aviation, it was an invaluable experience in terms of managing people and situations. Additionally, I also served as an instructor, which has helped improve my teaching skills.
Nabil: I was a Signal Operator. I was stationed in Brunei, and I communicated with pilots. Using signal sets and codes, I interacted with them regularly. It was quite enjoyable, and it helped bolster my confidence in engaging with others.
Faris: Communication is a big issue, especially for new pilots. When you're flying, you still need to communicate with air traffic controllers and other pilots. It's a shared channel, so any mistakes become audible to everyone. In fact, it's safe to say that it accounts for 40% of your training progress. In our course, students get to practice in our air traffic controller simulator to ensure phrases are articulated correctly, and the timing and pacing are accurate.
Have any famous personalities or celebrities walked through Aeroviation's doors?
Faris: Yes! Mr Masagos Zulkifli (Minister for Social and Family Development) – he supports our initiative. He wasn't too bad on the simulator; he managed to land the plane! He expressed his appreciation for the opportunities we provide to aspiring aviators.
We understand that you'll be moving out of Oxley Bizhub to a new space soon. What can we expect?
Faris: We're planning to move to a larger space in late October or early November. The new location will be approximately 5,000sqft, two and a half times bigger than our current space. The expansion will allow us to accommodate more simulators, VR set-ups, and offer even more exciting experiences for our students.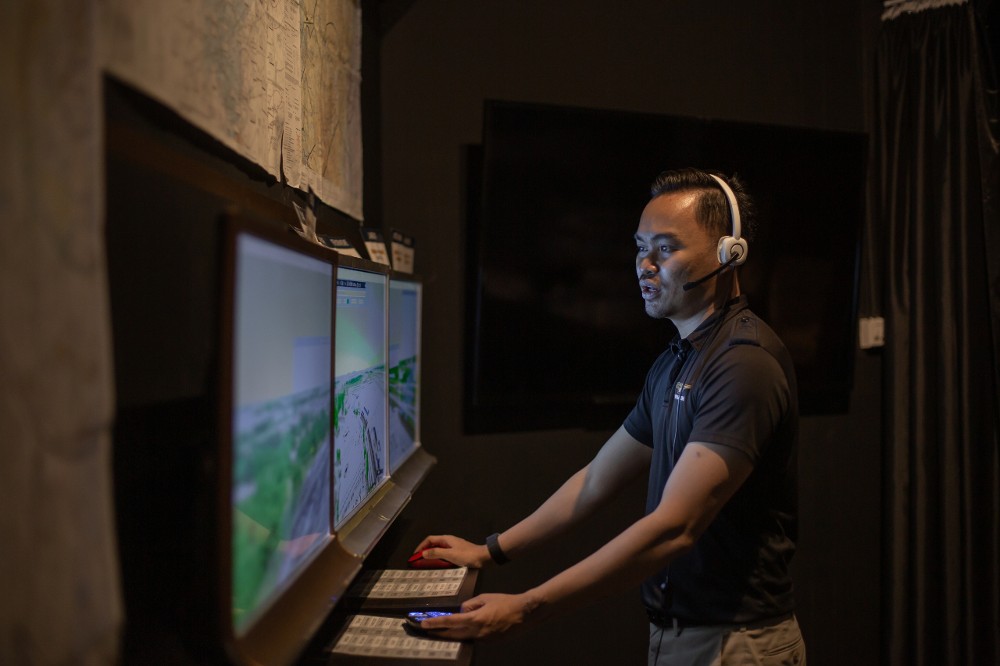 IMAGE: AEROVIATION
Very few people are very blessed to be able to pursue their passion as a career. Does running Aeroviation ever feel like work for you?
Faris: Not really. It's the students who truly motivate me. Of course, there are times when I face challenges, such as a heavy workload or issues with the simulator, as well as concerns related to finances or time constraints. However, when I take a step back, and see these students dedicating their weekends [to the courses], it gives me the drive to keep moving forward. Most of the time, it doesn't feel like work!
Nabil, you're an Aeroviation graduate, and now an instructor here, and currently a part-time student as well. What motivates you?
Nabil: It's not just about pursuing my own passion; it's also seeing young aviators who share the same drive I had when I started. I want to pass on the knowledge and experience I've gained to them so that they can broaden their understanding and achieve their goals in the future.
Visit Aeroviation's website for more deets on the Young and Junior Aviator Programme, obtaining an RPC, and the cool flight experiences you can try.
For the latest updates on Wonderwall.sg, be sure to follow us on TikTok, Telegram, Instagram, and Facebook. If you have a story idea for us, email us at [email protected].