The 'Singapore Sound' Is Hard To Define, But This Composer Has Accepted The Challenge
"Pasat" is the colloquial Hokkien term for "marketplace". "Merdu" is the Malay word for "melodious". Put them together and you get "Pasat Merdu", a phrase which offers a glimpse of not only the melting pot that is Singapore, but also the mission of a new non-profit musical entity founded by Singaporean musician and composer, Felix Phang.
"Pasat Merdu" is also Felix's name for a piece he was commissioned to write for the Singapore Symphony Orchestra's recent Temasek Foundation SSO National Day Concert 2023 held at the Esplanade Concert Hall on 13 Aug. The piece took four months from conception to completion, and its world premiere featured musicians from The Straits Ensemble on the pipa, oud, rebana, tabla and piano; Felix is the group's band leader and double bassist.
"[Ng] Tian Hui, the conductor for the National Day Concert, came across my compositions and The Straits Ensemble online, and liked the sound we produce. We got in touch and spoke about my approach to music, and he eventually asked if I was keen to write a piece for SSO's National Day Concert," says Felix. "It feels really good being able to just write what I'm interested in."
The 40-year-old – who was most recently the Head of Music & Drama Company – had a late start, beginning his musical journey at the age of 12 with the violin. "A year later, I joined my secondary school band playing the trombone and euphonium. That was when I started to develop an interest in orchestration as I was intrigued by how all the different instruments could come together to make beautiful music," recalls Felix.
"I picked up the double bass while majoring in jazz composition at Berklee College of Music. I knew I was going to be a musician when I was 15."
We talk to the father of two about the great potential of Pasat Merdu, and how it aims to engage the community and future generations.
Congratulations on the world premiere of "Pasat Merdu" at the Temasek Foundation SSO National Day Concert 2023! What was the creative process you went through to arrive at the end product?
It's really difficult to define a "Singapore sound" and I actually feel that the "Singapore sound" is already out there in many forms. My approach to this "Singapore sound" is based on using a mix of music compositional concepts from other the different cultures found in Singapore.
Eventually, the "Singapore sound" might still end up with a variety of sounds, but the structured approach of using cultural composition concepts may create some elements that people can identify with.
As for "Pasat Merdu", it will likely be used as a piece to collaborate with other orchestras, not limited to Singapore.
I've also adapted this piece for The Straits Ensemble, and we have added it to our repertoire. In fact, we will perform this adapted version during our New Sights Concert on 25 Aug.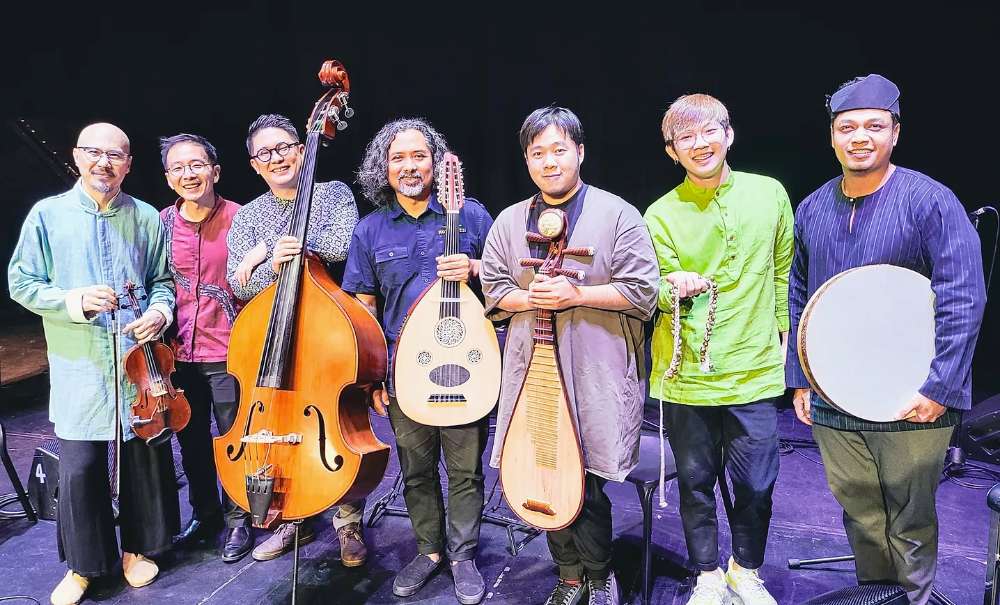 Felix (third from left) is the double-bassist and band leader of The Straits Ensemble, Pasat Merdu's flagship ensemble. | IMAGE: THE STRAITS ENSEMBLE
Not only is "Pasat Merdu" the name of your commissioned piece, it also refers to an initiative you started to explore the richness of Singapore's cultures musically. Tell us about it and what prompted you to start this project?
Pasat Merdu is a non-profit entity, with The Straits Ensemble being its flagship ensemble, that is dedicated to exploring and promoting the possibilities of new music, driven by cultural music composition concepts of our local cultures and beyond. I hope to introduce these cultural music composition concepts into the curriculum of local music institutions and government schools. I believe that through the process of learning these concepts, a pathway for an upsurge in creativity and innovation will happen, supported by reinforced cultural ties.
How does Pasat Merdu aim to engage and educate the community?
We started our first fellowship programme called the New Sights Fellowship Programme in February 2023. It was designed by The Straits Ensemble for composers to create new intercultural works of music, with a focus on the process towards creation. Fellows go through a rigorous programme of talks, performances, lectures, site visits and mentorship. They will then premiere their compositions with The Straits Ensemble, followed by a public-sharing forum of their process. We have commissioned six fellows and the concert presentation is happening on the 25 Aug.
What else can we expect from Pasat Merdu in the near future?
Our fellowship programme will be running every other year, with the year in between focused on producing, presenting and touring of intercultural music, as well as running short multicultural arts camps to engage the industry and youths in music, dance and literary arts.
For the latest updates on Wonderwall.sg, be sure to follow us on TikTok, Telegram, Instagram, and Facebook. If you have a story idea for us, email us at [email protected].